Make this popular Singapore hawker soy sauce chicken noodles in a much easier way but still delicious and flavorful. Can be made with pressure cooker or on the stove.

CANTONESE SOY/SOYA SAUCE CHICKEN
This simple soy sauce braised chicken is of Cantonese origin and I learned of this dish when I was in Singapore. They served the soy sauce chicken with noodles or rice. I love it with noodles. Usually a whole chicken is used in the recipe and then braised in soy sauce and other spices resulting in a very aromatic and dark-brown finish on the chicken. Two kinds of soy sauce are used in this recipe: light soy sauce (or usually just referred to as soy sauce) and dark soy sauce. The former is thin and salty. The latter is thicker and contributes to a rich dark brown color.
WHY YOU'LL LIKE THIS RECIPE
1. LESS INTIMIDATING
I don't like dealing with a whole chicken, so using leg quarters is an excellent option. You can use just drumsticks too if you prefer, just adjust cooking time to 15 minutes
2. PRESSURE COOKER OR ON THE STOVE. YOUR CHOICE!
My choice is always with pressure cooker 🙂 It's fast and the chicken is flavorful and tender without falling apart just yet. But if you don't have a pressure cooker, braising it on the stove is perfectly fine too
HOW TO MAKE SOY SAUCE BRAISED CHICKEN NOODLES
1. Place all the ingredients for braising in the inner pot of Instant Pot or on the pot if cooking on the stove.


2. Add the leg quarters. Cover the lid. Pressure cook on high pressure for 25 minutes and then wait for 5 minutes to release pressure. If cooking on the stove, braise for 45 minutes to 1 hour.


3. Wait for 5 minutes and then release pressure. Have a taste and adjust by adding more soy sauce and/or small pinch of sugar to your taste.


4. Remove the leg quarters into a cutting board. Gently brush with the sesame oil and soy sauce mixture. Let them rest for 5 minutes and then slice the thigh. You can leave the drumstick in whole.

PRESSURE COOKER COOKING TIME FOR USING DIFFERENT CUTS OF CHICKEN
If you use a different cut of chicken, here's the cooking time in Instant Pot pressure cooker:
1. Drumsticks: High pressure for 15 minutes
2. Boned-in thighs only: High pressure for 15 minutes
3. Whole chicken: High pressure for 23-25 minutes

WHAT TO DO WITH THE LEFTOVER BRAISING SAUCE
You can use the braising sauce to:
1. Toss with noodles
2. Make "tea" eggs. You can refer to this How To Make Chinese Marbled Tea Eggs

POSSIBLE VARIATIONS
1. MEATLESS OPTION: You can use extra-firm tofu, dried shiitake mushrooms
2. TYPE OF NOODLES: You can use angel hair pasta (which I did), other wheat noodles like ramen noodles, udon, or somen noodles
3. SERVE WITH RICE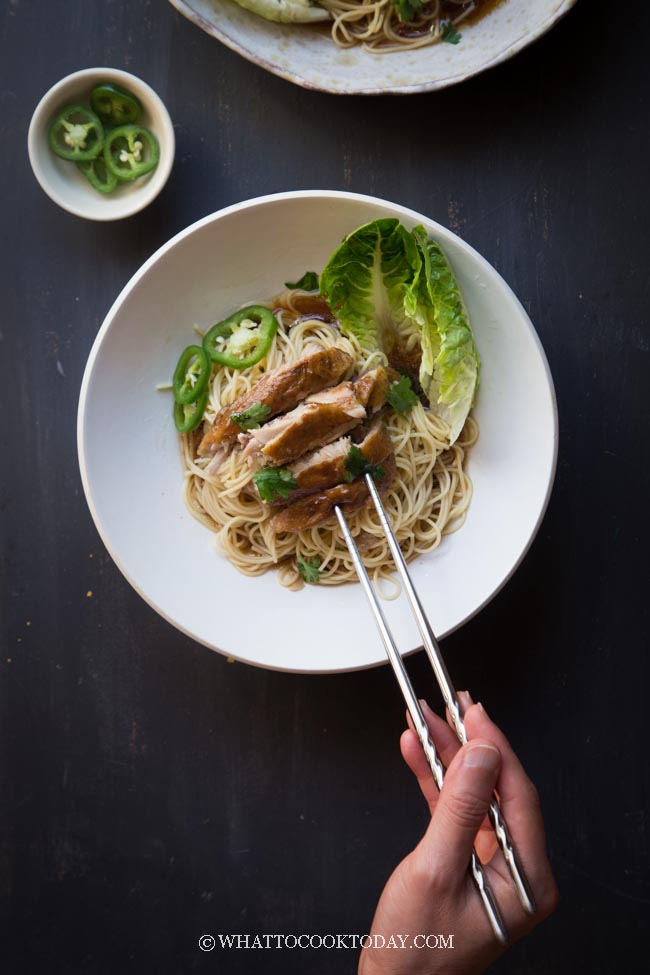 DID YOU MAKE THIS SOY SAUCE CHICKEN NOODLES (YOU JI MIAN) RECIPE?
I love it when you guys snap a photo and tag to show me what you've made 🙂 Simply tag me @WhatToCookToday #WhatToCookToday on Instagram and I'll be sure to stop by and take a peek for real!
*Recipe is written for 6-quart Instant Pot. Cooking time should remain the same for 8-quart size but will take longer to pressurize. For mini duo (3-quart), I recommend to half the recipe and use the same amount of time to cook. Cooking time doesn't change because the time is based on the size of your pot not the quantity of the food*

Soy Sauce Chicken Noodles (You Ji Mian -油鸡面 )
Ingredients
Instructions
Cooking with Instant Pot Pressure Cooker:
Place all the ingredients for braising in the inner pot of Instant Pot. Add the leg quarters. Cover the lid. Turn the steam release valve to "sealing". Press "pressure cooker" and make sure it's on "high pressure". Set timer to 25 minutes. Wait for 5 minutes and then release pressure. Have a taste and adjust by adding more soy sauce and/or small pinch of sugar to your taste. Proceed to serving
Cooking on the stove:
Place all the ingredients for braising in the pot. Bring to a boil and then put the leg quarters in. Lower the heat to simmer and then partially cover and braise for the next 45 minutes to 1 hour or until the leg quarters are tender but not falling apart yet. Have a taste and adjust by adding more soy sauce and/or small pinch of sugar to your taste. Proceed to serve
Serving:
Combine sesame oil with soy sauce to brush on the skin of the chicken. This is totally optional but it gives a nice shine and color

Remove the leg quarters into a cutting board. Gently brush with the sesame oil and soy sauce mixture. Let them rest for 5 minutes and then slice the thigh. You can leave the drumstick in whole

Cook the noodles according to the instructions on the package and then portion into an individual serving bowl

Toss the noodles with about 4-5 spoonful or more of the braising liquid. Top with slices of chicken or drumsticks. Top with some chopped green onion, fresh cilantro leaves
Notes
If you use different cut of chicken, here's the cooking time in Instant Pot pressure cooker:
1. Drumsticks : High pressure for 15 minutes
2. Boned-in Thighs only: High pressure for 15 minutes
3. Whole chicken: High pressure for 23-25 minutes
Recommended products: