This is the best and softest ogura cake (xiang si cake) with an attractive zebra pattern. Only natural flavor and coloring are used. All the tips you need to make this cake successfully. It is easier than you think.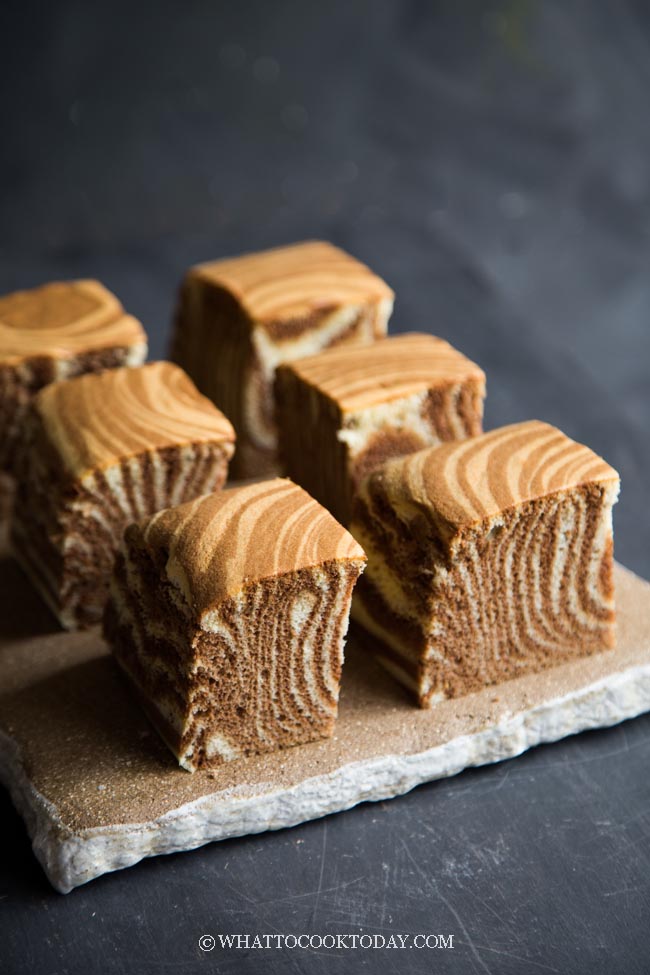 WHAT IS OGURA CAKE?
You might be thinking about Japanese cake because of its name "Ogura", which is yes, it's Japanese word. This cake is actually rooted in Malaysia. What? I know! I was surprised to learn that too. Ogura cake is a much lighter version of the popular Japanese soft cheese cake but also airy at the same time, like chiffon cake. According to wikipedia, Ogura is a Japanese surname, but it can also means Japanese red beans (hong dou in Mandarin). Hong dou has a symbolic meaning of "love" in the Chinese culture and hence it is named xiang si (love sick) cake.
DIFFERENCE BETWEEN OGURA CAKE AND JAPANESE CHEESECAKE
Like I've mentioned before Ogura cake is a much lighter version of the rich Japanese cheesecake. It only uses eggs and oil as a source of fat. The Japanese cheesecake has cream cheese and also cream added for that richness. It is very similar to chiffon cake, but not as tall. It's pretty much a hybrid between Japanese cheesecake and chiffon cake.
ROUND CAKE PAN OR SQUARE CAKE PAN
You can use either one. The round cake pan will yield a "neater" zebra pattern because it follows the shape of the pan. The square pan still yields a nice pattern too, slightly different than the round. Most importantly is to use the right size of a pan. This recipe yields a nice tall 3-inch cake if you use 7-inch square pan or 8-inch round pan. If you use anything bigger, the cake will be shorter if you are okay with that. Definitely don't use anything smaller than the size I mentioned above. The cake will overflow as it rises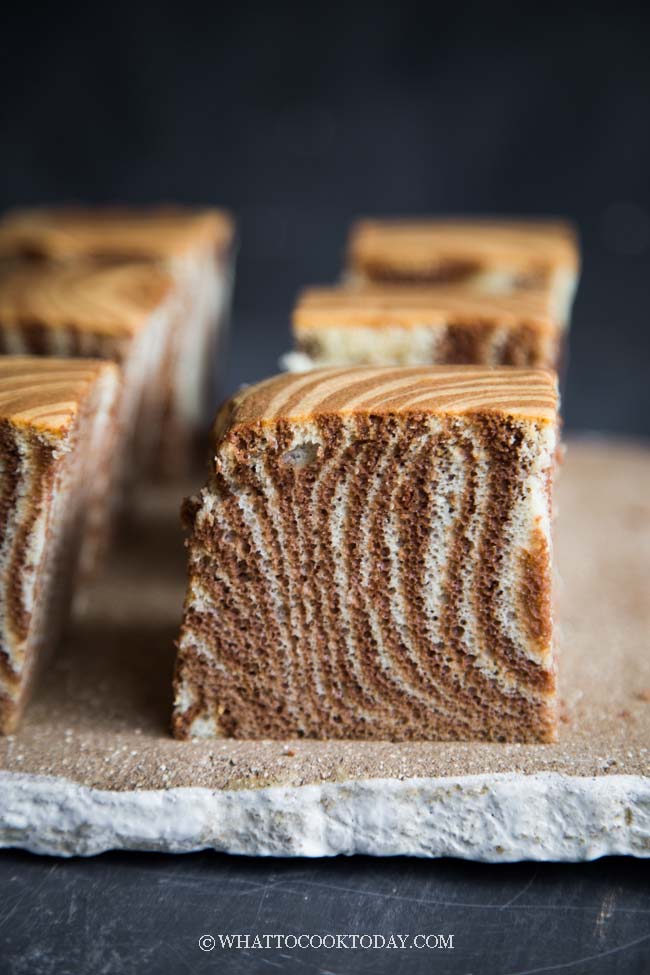 TIPS FOR MAKING OGURA CAKE SUCCESSFULLY
1. ROOM TEMPERATURE INGREDIENTS: Take the eggs and milk out from the fridge 30 minutes before you plan to make the cake is best when you can. The egg white will whip better at room temperature.
2. CLEAN BOWL AND EQUIPMENT: Greasy bowl and whip attachment are disastrous when it comes to whipping the meringues. I usually wipe the bowl and equipment with a bit of vinegar to get rid of any trace of oil
2. MERINGUE: We want to whip it to stiff but do not overwhip it or the cake may crack when you bake it
3. HOT WATER BATH: This definitely helps to prevent cracks on top of your cake during baking and yield a moister cake too
4. BAKE AT LOW TEMPERATURE
We bake at lower the temperature throughout (300 F or 150 C) and this really yields a cake that is very soft, spongy, yet sturdy and resistant to collapse. When you force a cake to rise too quickly, they will collapse and shrink when you take them out from the oven. The cake should be dry and springs back when you touch it and no longer jiggly. If it is, bake a bit longer.
HOW TO MAKE ZEBRA OGURA CAKE
1. PREPARE THE THICK BATTER
Separate 5 egg yolks from the whites


Whisk 5 egg yolks and 1 whole egg until smooth. Add oil, milk, and whisk again


Sift in both cake flour and whisk again until smooth. Strain the better if you can't get rid of lumps. Set aside


2. MAKE THE MERINGUE
Whisk the egg white over medium speed until it's foamy, then add cream of tartar (if using) and add 1/3 of the sugar and continue until you use up all the sugar. Turn the speed to high and beat until the egg white forms a stiff peak, meaning when you turn the bowl upside down, it will not drip. It holds its shape for a long time


3. FOLD THE MERINGUE INTO THE BATTER
Fold 1/3 of the meringue into the thick batter. Use a rubber spatula to fold in the meringue into the batter. Mix until the batter is incorporated. Continue with the next 1/3 and then the last 1/3 until both are incorporated


4. DIVIDE BATTER INTO TWO PORTIONS
Divide the batter into two equal parts as much as possible


Add mocha paste you prepared earlier into one of the batter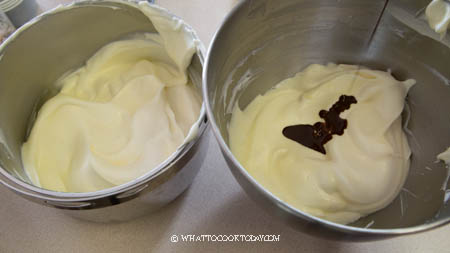 5. CREATE ZEBRA PATTERNS
It's up to you which color you want to start first, drop about 4 tablespoons of mocha batter into the center of the pan


Drop another 4 tablespoons of regular batter on top of the mocha batter.


Continue to alternate this way until you use up both batter.


You can gently shake the pan to let the batter spread as you layer the two batter


Gently lift the pan up and tap on the counter several times to pop any large air bubbles

6. BAKE IN HOT WATER BATH
Place the pan in a large pan. Very gently pour in the hot boiling water until it comes up about 1 inch of the baking pan. Place this in the middle of the oven, 3rd rack from the top for my oven. Close the oven door and bake for the next 2 hours


7. ONCE OUT OF THE OVEN
Remove from the water bath and drop the pan from about 6-7 inches height for 2-3 times. This will minimize shrinkage.


Remove the cake out from the pan by gently grabbing the parchment paper and place it on top of the cooling rack


Peel the parchment paper off the sides of the cake. Let it cools down completely


8. SERVE
Use a serrated knife to gently cut the cake. If you use regular knife, you will squish this soft airy cake
FLAVOR OR COLOR IDEAS
1. BLACK STRIPES: Replace the amount of cocoa and instant coffee with Bamboo Charcoal for black color
2. GREEN STRIPES (PANDAN FLAVOR): Omit cocoa and instant coffee and use 2 tsp of pandan extract/essence
3. GREEN STRIPES (MATCHA FLAVOR): Replace the amount of cocoa and instant coffee with matcha powder
4. RED STRIPES: Replace the amount of cocoa and instant coffee with beetroot powder
5. PURPLE STRIPES: Replace the amount of cocoa and instant coffee with ube powder


Honestly, creating the zebra pattern was kinda fun I think LOL 😉
The cake is truly soft and airy. It tastes light, not too sweet, just perfect as a lighter cake. My mom who hates cake actually likes this cake. You can definitely make it sweeter if you like, but it's just the perfect sweetness for me (not too sweet!)

DID YOU MAKE THIS SOFT OGURA XIANG SI CAKE RECIPE?
I love it when you guys snap a photo and tag to show me what you've made 🙂 Simply tag me @WhatToCookToday #WhatToCookToday on Instagram and I'll be sure to stop by and take a peek for real!


Recipe is adapted from Minta Kitchen with some adjustment to some ingredients quantity and baking temperature and time. The recipe was first published in October 2019 and recently improved and updated in September 2020 with some modifications to the recipe, new photos and video tutorial are added.
The Softest Zebra Ogura Cake (Mocha Flavor)
Ingredients
Cake batter:
100

g

egg yolks

5 egg yolks from large eggs

55

g

whole egg

from large egg

60

g

oil

80

ml

milk

you can use low fat or whole milk

80

g

cake flour
Meringue:
150

g

egg whites

from 5 egg whites from large eggs

¼

tsp

cream of tartar

or 1/2 tsp of lemon juice or vinegar

80

g

sugar
Instructions
Take the eggs and milk out from the fridge 30 minutes before you plan to make the cake. The egg white will whip better and the cake will rise better too

Preheat oven to 300 F (150 C) for conventional oven. For convection oven, set to 285 F (140 C)

Use cake pan that does not have seams so water won't leak into the pan. Your cake will be wet at the bottom if water leaks into it. If you use pan with a removable base or the pan have seams, make sure you wrap the outside with 2-3 layers of aluminum foil to prevent water from leaking into it

Brush some oil on the bottom and sides of the pan. Line an 7-inch (18 cm) square pan with a parchment paper. The best is to line two parchment papers overlapping and come up to the side so you can easily remove the cake from the pan. If you use a round pan, line the bottom with a parchment paper. Cut a strip of parchment paper (about 1.5 x the height of the pan) to line the side of the pan

Bring a large pot of water to a boil. You will pour this over a large baking pan later for the hot water bath

Mix the cocoa powder and instant coffee with 30 ml of hot water and stir to mix. Set aside to let it cools down
Prepare the thick batter:
Whisk 5 egg yolks and 1 whole egg until smooth. Add oil, milk, and whisk again. Sift in both cake flour and whisk again until smooth. Strain the better if you can't get rid of lumps. Set aside
Make the meringue:
Clean your mixing bowl by wiping it with a bit of vinegar to make sure there's no grease in a bowl. Your egg white will not beat well if there's a trace of oil

Whisk the egg white over speed 4 until it's foamy, then add lemon juice/vinegar and add 1/3 of the sugar and continue until you use up all the sugar. Turn the speed up to speed 6 and beat until the egg white start to form a firm peak with a slight bent on the tip. Lower the speed to 4 and beat for 10 seconds and then continue to lower down the speed every 10 seconds and then turn off the machine. This helps to even out large bubbles
Fold in the meringue into the thick batter:
Fold 1/3 of the meringue into the thick batter. Use a rubber spatula to fold in the meringue into the batter. Mix until the batter is incorporated. Continue with the next 1/3 and then the last 1/3 until both are incorporated
Divide batter into two (to add different colors/flavors):
Divide the batter into two equal parts as much as possible. Add mocha paste you prepared earlier into one of the batter
Create the zebra stripe pattern:
It's up to you which color you want to start first, drop about 4 tablespoons of mocha batter into the center of the pan. Drop another 4 tablespoons of regular batter on top of the mocha batter. Continue to alternate this way until you use up both batter. You can gently shake the pan to let the batter spread as you layer the two batter. Gently lift the pan up and tap on the counter several times to pop any large air bubbles
Bake the cake (in a hot water bath):
Place the pan inside another larger pan. Very gently pour in the hot boiling water until it comes up to about 1 inch of the baking pan

Place this in the middle of the oven, 3rd rack from the top for my oven. Close the oven door and bake for the next 2 hours (yes, 2 hours). Every oven is different, but my oven, which is pretty brand new and accurate, needs 2 hours at 300 F (150 C) to bake a cake this size, using a water bath method. We bake at lower temperatures throughout and this really yields a cake that is very soft, spongy, yet sturdy and resistant to collapse. When you force a cake to rise too quickly, it will collapse and shrink when you take it out of the oven. The cake should be dry to the touch and spring back when you touch it and no longer jiggly. If it is, bake a bit longer

Once out from the oven, remove from the water bath and drop the pan from about 6-7 inches height for 2-3 times. This will minimize shrinkage. If you use a square pan, remove the cake out from the pan by gently grabbing the parchment paper and place it on top of the cooling rack and peel the parchment paper off the sides of the cake. Let it cools down completely

If you use a round pan with a removable base, loosen the sides of the cake and push the cake out from the bottom and let it cools down completely then remove the bottom base. If you use a round pan without a removable base, loosen the side of the cake and put a cooling rack on top of the pan and quickly flip it over to the cooling rack, peel off the parchment paper. You can leave it to cool down this way (there will be cooling rack prints on top of the cake later, which is perfectly fine as part of the presentation) or put a plate or board on top of the cake and quickly and gently flip it back to let it cools down completely
When ready to serve:
Use a serrated knife to gently cut the cake into a desired size
Storing:
The cake can be stored at room temperature for 3 days. After that, store the leftover cake in a fridge wrap with a cling plastic wrap and try to consume in the next 3 days. The longer you keep in the fridge the drier the cake will be
Nutrition
Serving:
1
serving
|
Calories:
187
kcal
|
Carbohydrates:
17
g
|
Protein:
6
g
|
Fat:
11
g
|
Saturated Fat:
2
g
|
Polyunsaturated Fat:
3
g
|
Monounsaturated Fat:
6
g
|
Trans Fat:
0.03
g
|
Cholesterol:
144
mg
|
Sodium:
46
mg
|
Potassium:
113
mg
|
Fiber:
0.4
g
|
Sugar:
10
g
|
Vitamin A:
208
IU
|
Calcium:
33
mg
|
Iron:
1
mg