Make this super easy, light, and nourishing Chinese style sweet corn pork ribs soup with some superfood like goji berries and red dates added using Instant pot pressure cooker or on the stove.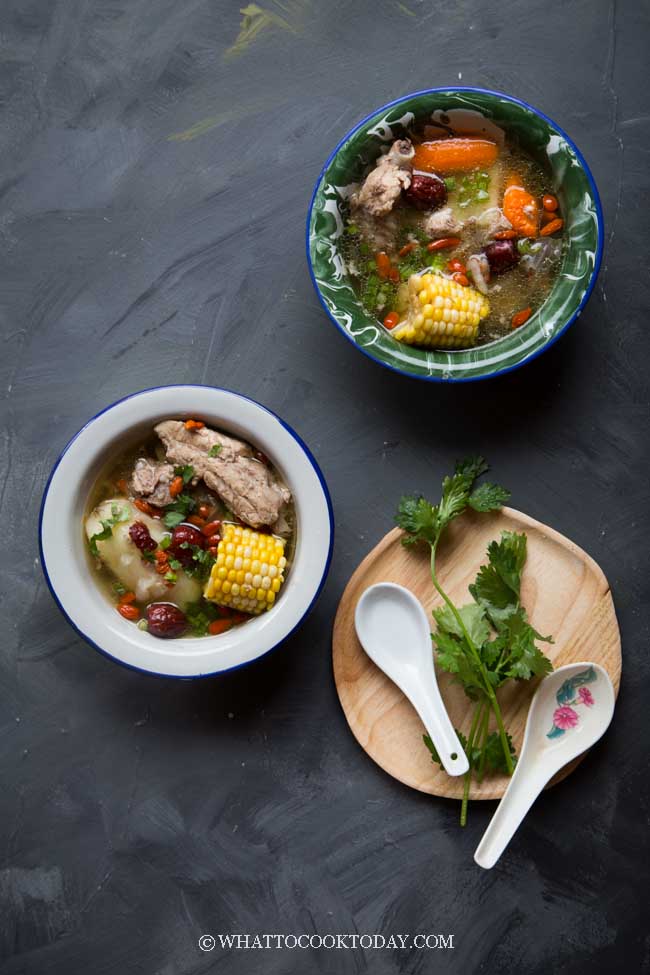 Having soup as part of a multicourse meal is pretty common in a Chinese household. It's typical to have a soup to start a meal and a sweet soup dessert like tong sui to end the meal. This sweet corn pork ribs soup is one of our family's favorite. Mom used to make it often when we were kids too.
This Chinese sweet corn pork ribs soup is one of the common soups being served in a Chinese household. It's my kids' favorite too and the best part is, you can pretty much throw everything in the pot. You can put in whatever vegetables you like. I added some Chinese dried red dates and goji berries to the soup too if you like.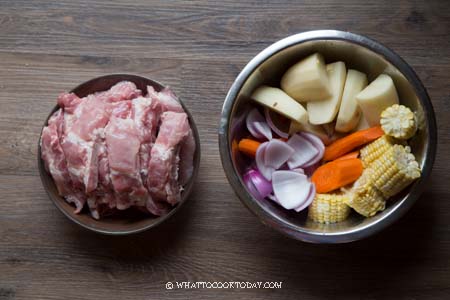 HOW TO MAKE CHINESE SWEET CORN PORK RIBS SOUP
1. BLANCH THE PORK RIBS
Bring a large pot of water to a boil. Add the pork ribs and boil for 5 minutes. Discard the water and rinse the pork ribs clean to remove any scums or impurities. Rinse the pot clean too.
2. START COOKING
If using Instant Pot Pressure cooker or pressure cooker: Place the blanched pork ribs and the rest of the ingredients except for goji berries and salt into the inner pot of Instant Pot. Pour in water just enough to cover everything in the pot.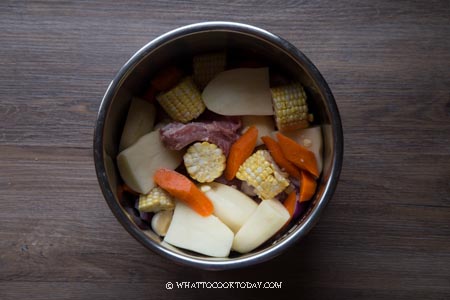 Set timer to 30 minutes. If you want tender fall off the bone tender, set it to 35-40 minutes. If you are using pork rib tips, set timer to 15 minutes. Wait 5 minutes and then release pressure fully.


3. STIR IN GOJI BERRIES AND GARNISHES
Carefully unlock the lid. Stir in goji berries. The residual heat will soften the berries. Season with salt to your taste. Garnish with chopped green onions and cilantro leaves.
If cooking on the stove: Use the same pot you use to blanch the pork but rinse it clean. Put everything inside the pot except for goji berries, salt, and potatoes. Cook for the next 1 1/2 – 2 hours for large pork ribs/spare ribs and about 45 minutes to 1 hour for pork rib tips. Add the potatoes in about 15 minutes before the end of cooking time. Stir in goji berries and garnish with chopped green onion and cilantro leaves.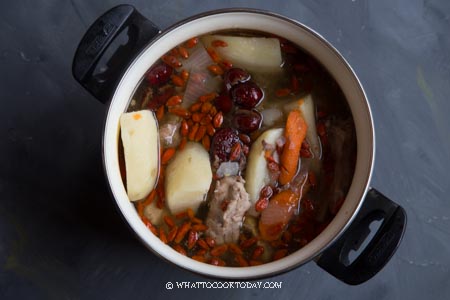 WHAT TYPE OF PORK TO USE
You can use pork ribs, pork spare ribs, or cheaper cut like pork riblets, pork rib tips, or pork neck bones in this soup.
USEFUL TIPS TO KNOW
1. TRIM OFF EXCESS FAT
When I use pork ribs or pork spare ribs, I like to use kitchen shears or knife to cut off excess fat so the soup won't be too greasy.
2. BLANCH THE PORK
Blanching helps to remove impurities and scum from the soup so you have a clearer soup, though I can tell you taste-wise it doesn't affect much IMHO.
3. CUT VEGGIES INTO LARGE CHUNKS
If you are using pressure cooker, cut the potatoes and carrots into large chunks so they won't turn into mush when being pressure cooked.
3. SEASON LAST
I like to add salt after the soup is done cooking. This way you won't be over seasoning the soup, especially if you are trying to cut down on sodium.
4. ADD GOJI BERRIES LAST
Goji berries soften quickly once they come into contact with heat. Cooking them for too long will make them turn sour.

POSSIBLE VARIATIONS
1. CONFINEMENT SOUP
This soup is also suitable for women who are doing Chinese confinement after having a baby. Add some rice wine, sesame oil and more ginger. I'm not sure about others, but corn often helped me with constipation when I was doing confinement.
2. USE DIFFERENT MEAT
You can use bone-in chicken like drumsticks, thighs, etc.
3. ADD DIFFERENT VEGGIES
Daikon, winter melon, bitter melon, napa cabbage, cabbage, shitake mushrooms or other mushrooms would be a perfect addition too.

OTHER SOUP USING PORK RIBS YOU MIGHT LIKE:
Chinese Apple Pork Ribs Soup (Instant Pot, Slow Cooker, Stove-top)
Pressure Cooker Winter Melon Pork Ribs Soup
Pork Ribs Bitter Melon Soup (Double Boiler or Pressure Cooker)
DID YOU MAKE THIS CHINESE SWEET CORN PORK RIBS RECIPE?
I love it when you guys snap a photo and tag to show me what you've made 🙂 Simply tag me @WhatToCookToday #WhatToCookToday on Instagram and I'll be sure to stop by and take a peek for real!

Chinese Sweet Corn Pork Ribs Soup
Ingredients
3

lbs

pork ribs/spare ribs/pork rib tips

2

ears

sweet corn

cut into 3 sections

2

large

potatoes

peeled & quartered

2

large

carrots

peeled & cut into large chunks

1

large

yellow/white/purple onion

peeled & quartered

8

red dates

pitted with sharp paring knife

Water

as needed
Garnishes:
1

stalk

green onion

finely chopped

Small

bunch

cilantro leaves

finely chopped
Instructions
Blanch the pork ribs:
Bring a large pot of water to a boil. Add the pork ribs and boil for 5 minutes. Discard the water and rinse the pork ribs clean to remove any scums or impurities. Rinse the pot clean too
If cooking with Instant Pot pressure cooker:
Place the blanched pork ribs and the rest of the ingredients except for goji berries and salt into the inner pot of Instant Pot. Pour in water just enough to cover everything in the pot

Cover the lid and turn the pressure valve to "sealing". Press "pressure cooker" and make sure it's on "high pressure". Set timer to 30 minutes. If you want tender fall off the bone tender, set it to 35-40 minutes. If you are using pork rib tips, set timer to 15 minutes. Wait 5 minutes and then release pressure fully

Carefully unlock the lid. Stir in goji berries. The residual heat will soften the berries. Season with sugar and salt to your taste. Garnish with chopped green onions and cilantro leaves
If cooking on the stove:
Using the same pot you use to blanch the pork earlier, add about 8 cups of water or enough to cover everything in the pot later. Bring to a boil and then add the pork ribs and everything else except for goji berries, and potatoes. Bring back to a boil and then lower the heat to let it simmer on medium to low heat for the next 1 1/2 - 2 hours for large pork ribs/spare ribs and about 45 minutes to 1 hour for pork rib tips. Add the potatoes in about 15 minutes before the end of cooking time

Stir in the goji berries after the pork ribs soup is done cooking. Have a taste and season with sugar and salt to your taste

Garnish with chopped green onion and fresh cilantro leaves
Recommended products: