Delicious, easy, and nourishing apple pork ribs soup recipe with Chinese herbs are easily made with Instant Pot pressure cooker, slow cooker, or on the stove.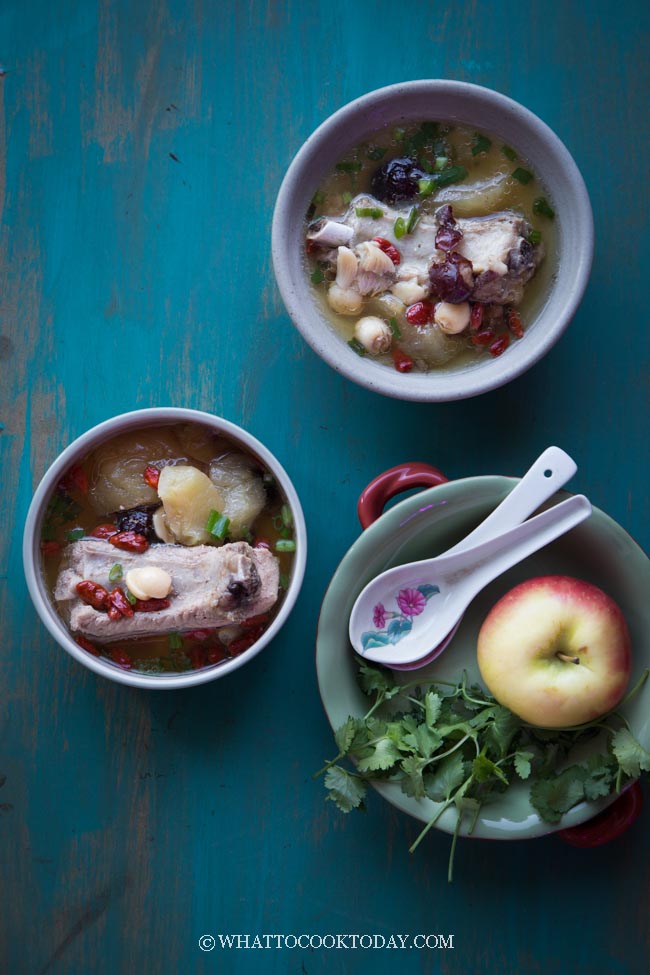 NOURISHING CHINESE APPLE SOUP
The Chinese believe that apple soup cooked with Chinese herbs is nourishing to the body. Like the popular saying that an apple a day keeps the doctor away. The apple also adds a natural sweetness to the soup. My mom made us this apple pork ribs soup pretty often when we were kids. My mom often said that this soup is good for nourishing the body and for getting rid of cough and cold.
INGREDIENTS FOR APPLE PORK RIBS SOUP
1. PORK RIBS: I bought a slab of pork ribs and then separate into an individual rib. Choose the one with less fat if possible or you can trim off excess fat.
2. APPLE: You can use any apple you like. I have tried making these soup with several different kinds and I like them best with Honey Crisp or Fuji Apples.
3. GARLIC: Use fresh garlic if possible. The garlic will be peeled and then cooked in whole. It adds a nice flavor to the soup.
4. CHINESE DRIED RED DATES: The red dates also add some sweetness to the soup. Lots of Chinese soup recipe usually call for Chinese dried red dates.
5. DRIED LOTUS SEEDS: These seeds are high in B complex and other minerals and I love lotus seeds in soup. They can be slightly crunchy if you don't cook them to the point of soft. I like them either way, soft or slightly crunchy.
6. DRIED GOJI BERRIES: Goji berries are so widely available now. I got mine from Costco and they are organic and unsulfured too.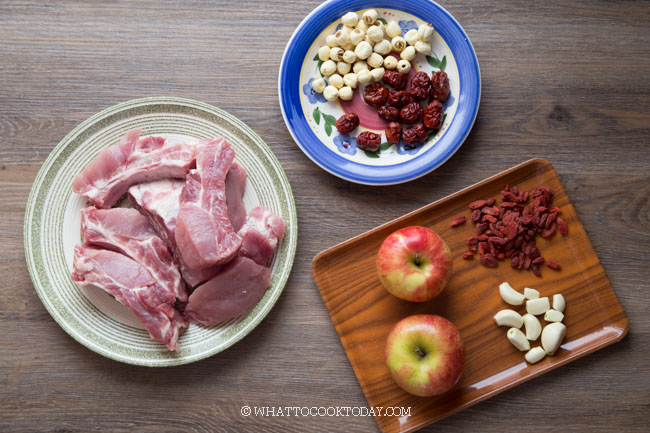 HOW TO COOK CHINESE APPLE PORK RIBS SOUP WITH PRESSURE COOKER, SLOW COOKER OR ON THE STOVE
1. PREPARE THE APPLES: You can leave the peels on the apples or peel them off. Cut into quarters and discard the apple seeds. Soak in water with 1/2 tsp of salt to prevent browning. Then discard water and rinse the apple to get rid of salt


2. PREPARE PORK RIBS : Blanch the pork ribs in boiling water for 5 minutes and then remove the scum
3. ADD EVERYTHING: Put the pork ribs and the rest of the ingredients inside the inner pot of instant pot or a large pot if cooking on the stove


4. ADD JUST ENOUGH WATER: Add just enough water until it covers everything


5. COOKING:
For Instant Pot pressure cooker: cover the lid and turn the steam release valve to "sealing". Press the pressure cooker button and make sure it's on a high and set the timer to 40 minutes for large ribs (Mine wasn't cut into smaller piece). If yours are cut into small pieces, you may only need 15 minutes. Wait 5 minutes and then release pressure.
For stove-top: Bring the water to a boil and then lower the heat to let it gently simmer for the next 1 1/2 to 2 hours or until the ribs are tender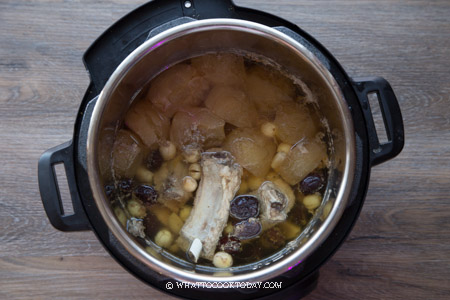 6. ADD GOJI BERRIES: Add the goji berries last after you unlock the lid for the pressure cooker and if you are cooking on the stove. The residual heat will soften the goji berries. Cooking the goji berries for too long will turn them sour


6. SEASON: Season the soup with salt to your taste
POSSIBLE VARIATIONS
PROTEIN: You can use chicken, pork loin
CHINESE HERBS OR INGREDIENTS: You can use or add different kinds of Chinese herbs or ingredients such as: ginger, ginseng, snow fungus, dried longan, dried black dates, etc. In the video, I used honey dates, red dates, sweet apricot kernels.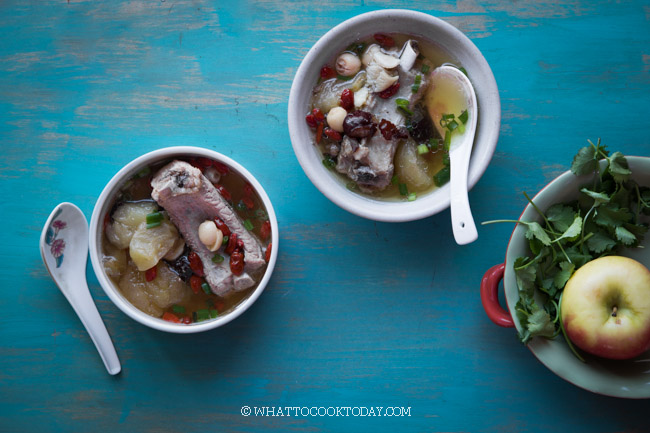 HOW TO STORE AND REHEAT LEFTOVER APPLE PORK RIBS SOUP
Storing: Keep in the refrigerator for up to 3 days.
Reheating: Simply reheat on the stove by bringing to a boil until heated through or in the microwave
DID YOU MAKE THIS CHINESE APPLE PORK RIBS SOUP RECIPE?
I love it when you guys snap a photo and tag to show me what you've made 🙂 Simply tag me @WhatToCookToday #WhatToCookToday on Instagram and I'll be sure to stop by and take a peek for real!
*Recipe is written for 6-quart Instant Pot. Cooking time should remain the same for 8-quart size but will take longer to pressurize. For mini duo (3-quart), I recommend to half the recipe and use the same amount of time to cook. Cooking time doesn't change because the time is based on the size of your pot not the quantity of the food*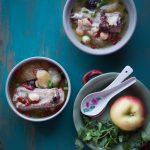 Chinese Apple Pork Ribs Soup (Instant Pot, Slow Cooker, Stove-top)
Ingredients
500

gr

pork ribs

cut into individual rib

2

large

apples

I recommend red apples like Fuji or honey crisp

8

cloves

garlic

peeled and slightly smashed

2

dried squid/cuttlefish

or 10 dried scallops

water

enough to cover

Salt to taste
Garnishes:
1

stalk

green onion

finely chopped

Small bunch of cilantro leaves for garnish
Instructions
Clean the dried Chinese herbs:
Rinse the red dates, lotus seeds, and goji berries briefly with water
Prepare the apples:
You can leave the peels on the apples or peel them off. Cut into quarters and discard the apple seeds. Soak them in water with 1 tsp of salt to prevent browning. Then discard water and rinse the apples with clean water to get rid of salt
Blanching the pork ribs:
Place pork ribs in a large pot. Add in water until it covers the pork ribs. Bring to a boil and let it boil for about 5 minutes. Turn off the heat and discard the water. Rinse the pork ribs with cold water. Rinse the pot clean with water as well
Cooking with Instant Pot pressure cooker:
Put the pork ribs and the rest of the ingredients inside the inner pot of instant pot, except for goji berries. Add water until it covers everything

Cover the lid and turn steam release valve to "sealing". Press pressure cooker button and make sure it's on high and set timer to 40 minutes. If your ribs are in small pieces, you may only need 15 minutes. Wait 5 minutes and then release pressure. Proceed to add goji berries step below
Cooking with slow cooker:
Put the pork ribs and the rest of the ingredients inside the inner pot of the slow cooker. Add water until it covers everything. Cook on low for 6 hours. Proceed to add goji berries step below
Cooking on the stove:
Put the pork ribs and the rest of the ingredients inside a large pot

Bring to a boil and then lower the heat and let it simmer for about 1 1/2 to 2 hours. Proceed to add goji berries step below
Add goji berries last:
Add the goji berries last after you unlock the lid for the pressure cooker and if you are cooking on the stove. The residual heat will soften the goji berries. Cooking the goji berries for too long will turn them sour
Season to taste:
Season the soup with salt to your taste
Recommended products: