Puffy buttery Dutch baby pancakes topped with sauteed apples are perfect for breakfast, brunch, or holiday seasons.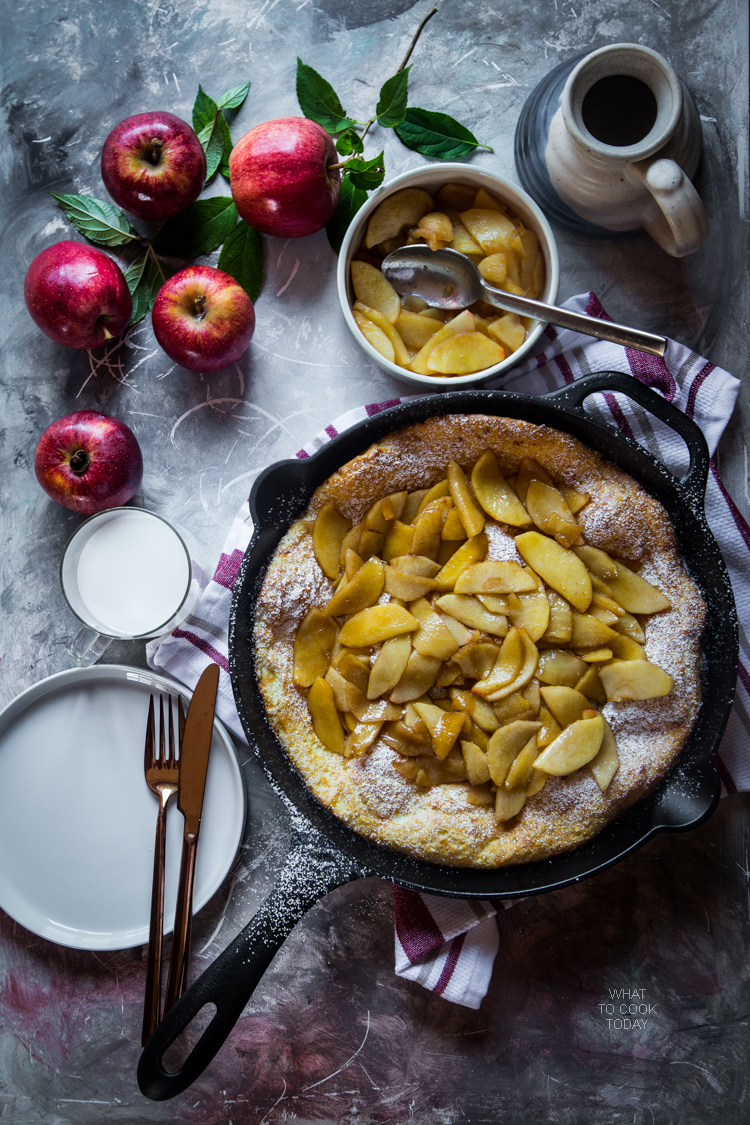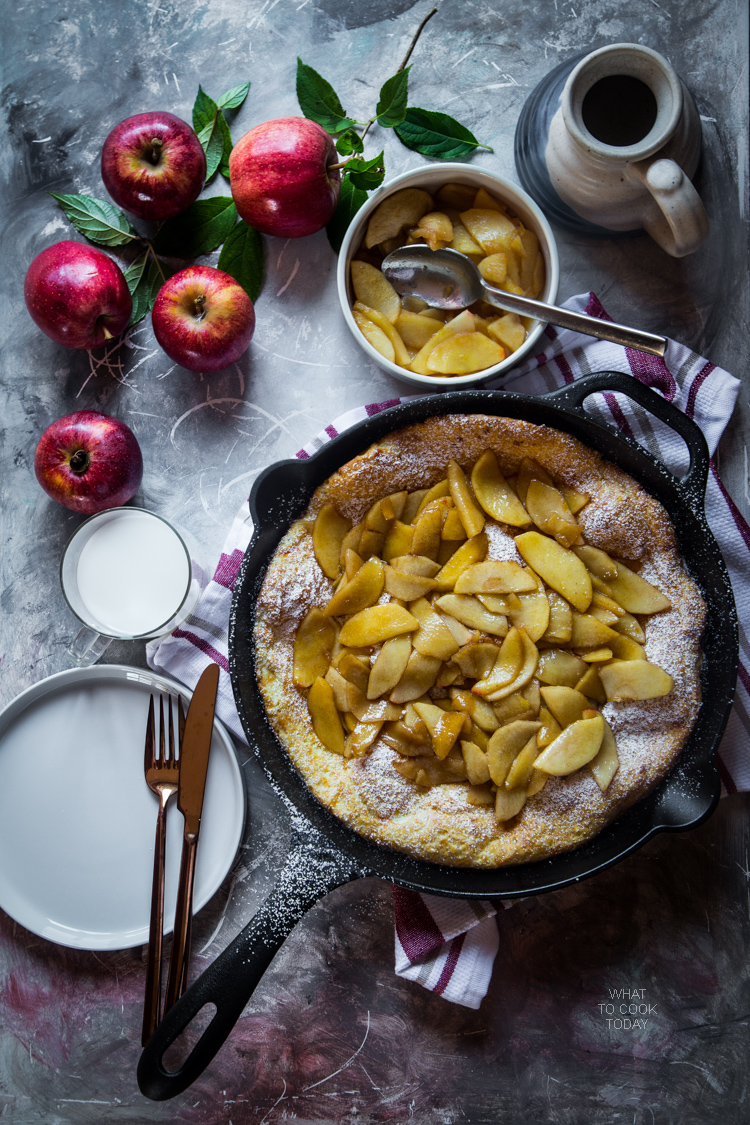 Want to start your morning right ? well, Dutch baby will do just that for you. I've heard of Dutch baby (Pannekoeken) before but I never tried it. My husband came home with a recipe of Pannekoeken one night. The recipe is from a friend at work (Thank you Marianne Hagen) and the moment I saw the picture of the puffy pancake, I just thought it's a sin not to try it. I can't tell you how good it smelled when the pancake was baking in the oven. I wished I could bottle it up as a perfume and used it as a spray to replace the febreeze we're using. I was anxiously peeking through the glass of the oven door to watch the pancake puffed up 🙂 I actually got all my props ready for photographing before the pancake was ready because I wanted to be able to just sink my teeth on this as soon as it was out of the oven. Mission accomplished. The Pannekoeken + the sauteed apple are just heavenly!! Thank you Marianne. Now, I know how good Dutch baby is 😉
Shown here is baked in 12″ Cast-iron skillet by Victoria Cookware. I love baking and cooking with this high-quality skillet.
Dutch Baby Pancakes with Sauteed Apples
Ingredients
Sauteed apples:
5

large apples

pared, cored and sliced

⅔

cup

sugar

less sugar if you like or substitute with brown sugar

¼

tsp

cinnamon powder

⅛

tsp

nutmeg powder

⅓

cup

butter

1

Tbsp

lemon juice

1

tsp

grated lemon rind
Instructions
Baking the pancake:
In a large mixing bowl, add in eggs, milk, flour, sugar, and salt. Stir to mix everything. The batter will be thin and slightly lumpy

Preheat oven to 400 F. Coat the 10-inch pie dish with the melted butter (both bottom and sides). Pour in the batter into the dish. Bake for 20 minutes (about 30 minutes on my oven) or until set and the crust is browned. If you use a cast iron, you need to bake it longer (for my case it does take me longer). DO NOT open the oven door while baking. You can peek through the glass on the oven door and see the sides of the pancake is puffing and rising up as it is baking
Cooking the apples:
In a large mixing bowl, toss to mix the apple slices with cinnamon, sugar, and nutmeg powder. In a large skillet, melt the butter and add in lemon juice and lemon rind. Let it cook until bubbly. Add in the apple mixture and saute until the apple is tender, about 5 minute (or longer if you like it much tender)
Pancake + apples:
Spoon the sauteed apple mixture into the middle of the pancake and serve immediately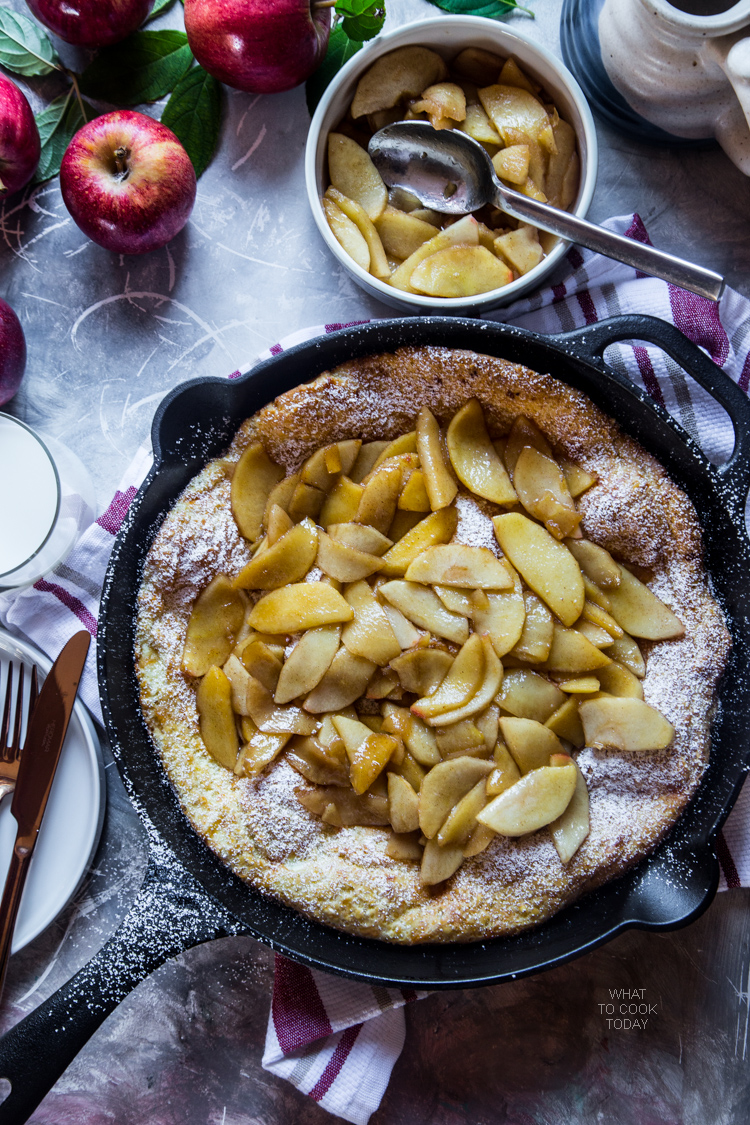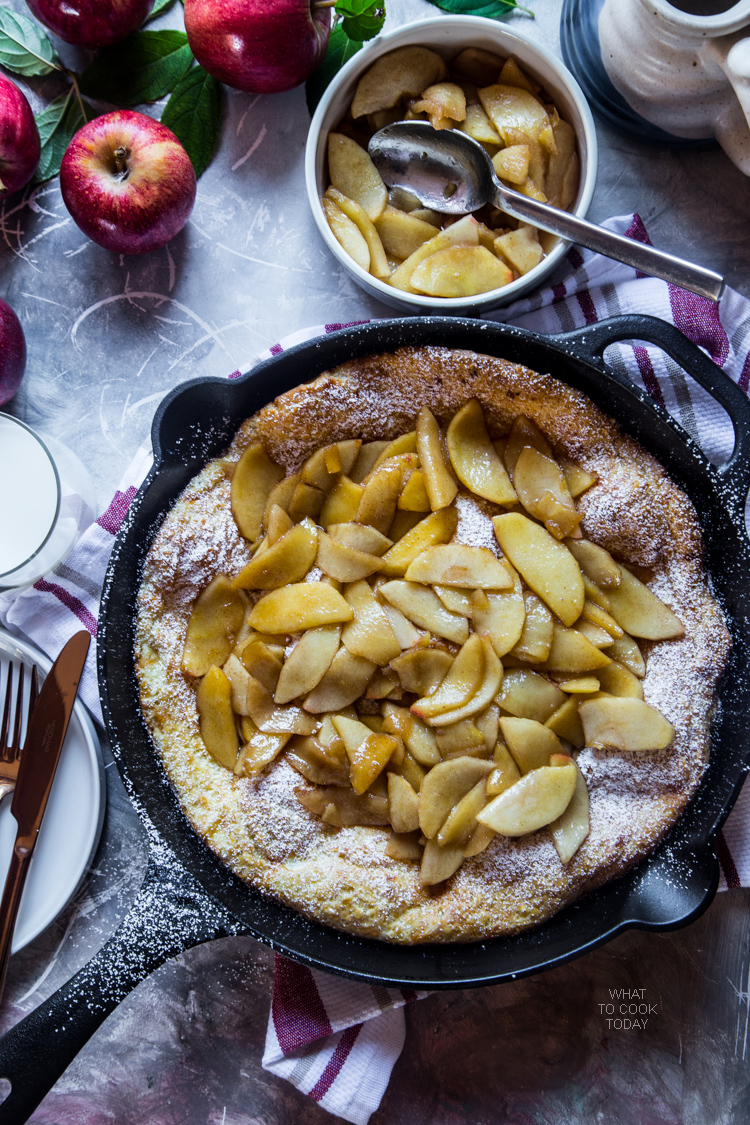 PIN IT!