Learn how to make this traditional Teochew steamed dumplings made with shredded jicama and bamboo shoots. It is easier than you think. All the tips you need to know.
BAMBOO SHOOT DUMPLINGS
Teochew soon kueh was part of my breakfast for a while when I lived in Singapore. I could just easily grab soon kueh on my way to work. Now if I want some, I need to make my own 🙂 I loved it so much probably because it reminds me of what I grew up eating when I was a kid, chai pau ubi. It has similar savory filling: shredded jicama, carrots, green beans, dried shrimp but the dough that makes the wrap has sweet potato in it. Soon kueh has bamboo shoots in the filling, which is one of the reasons why I love soon kueh. But nowadays, most ready-made soon kueh doesn't have bamboo shoots in the filling anymore 🙁
Soon kueh is usually also served with sweet dark soy sauce, chili sauce, some like to sprinkle fried shallots too.

INGREDIENTS
Here are the two types of starch/flour used to make the soon kueh dough:
– Rice flour : Contributes to the softness of the dough. Make sure you use rice flour and NOT glutinous rice flour or wheat flour/all-purpose flour. Make sure you use 100% rice flour . I use Thai three-elephant brand which is 100% rice flour.
– Tapioca starch : Contributes to the slightly chewy and resilient texture. Without tapioca starch, the dough will not be able to stretch without breaking apart. Tapioca flour and tapioca starch are the same thing in the U.S. The U.S. Asian companies tend to label it as tapioca starch and American companies label it as tapioca flour but they are the same thing. But I'm not sure if it's the same thing in Asia. So please check to make sure you use tapioca starch. Do not substitute with a different type of flour or starch as the dough will not come out right.
The veggies for fillings are made with:
Jicama (Chinese turnip/bangkuang), canned bamboo shoots strips packed in water (not brine), carrots, dried shrimp, shiitake mushrooms or black ear mushroom (I didn't use it this time)

HERE'S HOW TO MAKE SOFT SOON KUEH SKIN
1. Mix both types of flour, salt and pour in hot boiling water


2. Use a chopstick or spatula to keep stirring. The dough won't come together yet at this point


3. Use a hand to knead when it's cool enough to handle. Knead into a rough dough. Add the cooking oil and continue to knead into a smooth elastic dough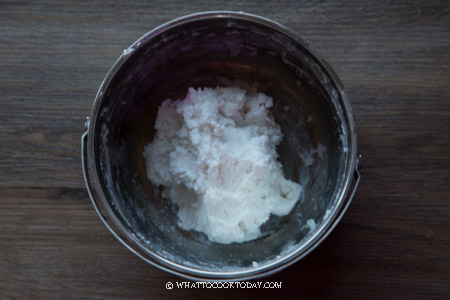 4. Cover and let it rest for at least 15 minutes or up to 1 hour. It is important to let the dough rest before you work on it.

HOW TO MAKE SOON KUEH FILLING
1. Stir fry the dried shrimp until aromatic, about 1 minute


2. Add garlic and stir fry again for another 30 seconds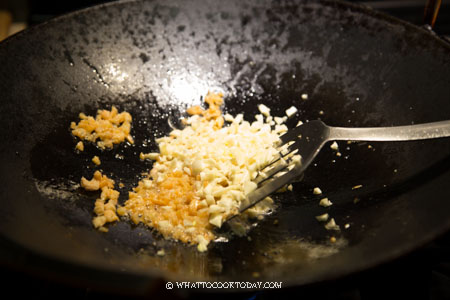 3. Add the veggies: jicama, carrots, and bamboo shoots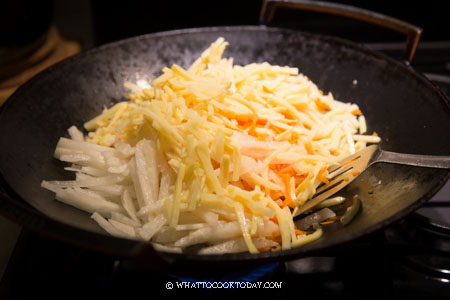 4. Add cooking wine and seasonings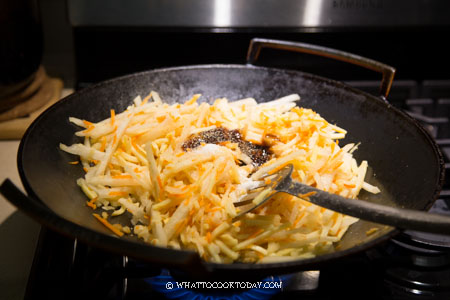 5. Stir to mix everything and have a final taste. Add more salt if needed


6. Let the cooked filling cooled down before wrapping

HOW TO WRAP SOON KUEH
Watch my video on my new favorite way of wrapping soon kueh without rolling each dough. I love the new way of wrapping because it makes the dumpling really nice and full. This step-by-step photos here were taken before I discovered this new way of wrapping. It's up to you which way you want to use.
1. Divide the dough into 30 equal pieces. Work with one dough at a time by flattened the dough and roll out into a circle, about 5-inch in diameter. Put filling in the middle


2. Fold the skin over to enclose the dumpling to form a half-circle


3. Steam the dumplings over high heat for 10 minutes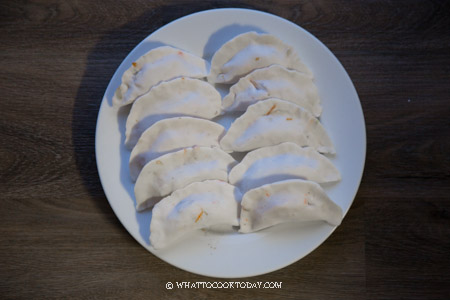 4. Brush the steamed dumpling with cooking oil. They are ready to be served

TOP TIPS YOU NEED TO KNOW
1. Make sure you use hot boiling water
The hot boiling water will partially cook the dough and change the texture of the dough that makes it so much easier to work with and you will have a nice dough that won't keep breaking when you wrap the dumplings
2. Make sure the filling has cooled down before wrapping
3. Line the steamer with banana leaves or parchment paper brushed with oil before steaming the dumplings. It will make your life so much easier
STORING AND REHEATING SOON KUEH
These soon kueh can be made ahead and steam whenever you want them. Here's how to store uncooked soon kueh:
1. Place the uncooked soon kueh on a baking sheet lined with parchment paper, not touching each other. Put in a freezer for about 1 hour. DO NOT store uncooked dumplings in the refrigerator. The dumplings will turn soggy and mushy.
2. After 1 hour, you can transfer them to freezer bag (save lots of space) and the dumplings will no longer stick to each other
Here's how to store leftover cooked soon kueh:
Cooked soon kueh can be kept in the refrigerator for up to 3 days.
Here's how to reheat frozen uncooked soon kueh:
Frozen dumplings can be steamed without thawing. Bring water in a steamer to a boil and then steam for 10 minutes. Brush lightly with cooking oil and ready to be served
Here's how to reheat leftover cooked soon kueh:
You can reheat in the microwave for a few seconds to heat up or use a steamer to steam over high heat for 5 minutes or less.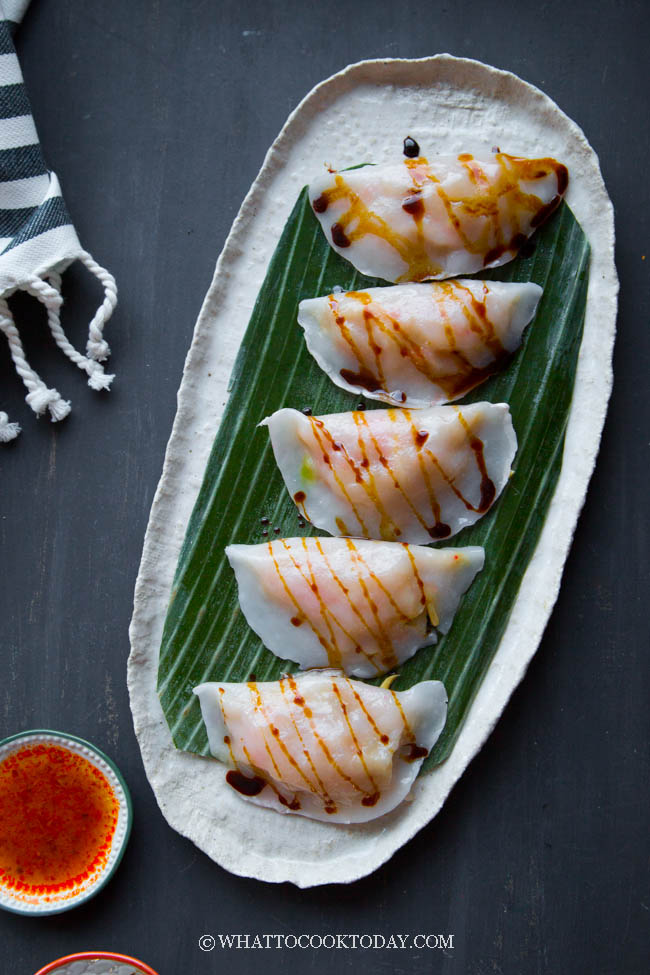 All those works, let's eat now shall we?


Recipe is adapted from here with slight modifications.
*Recipe was last tested again on April 20, 2020. The recipe has been tested vigorously several times to make sure the amount of flour/starches and water are accurate and they are accurate. Make sure you use the right type of flour/starches: 100% rice flour (not combination of rice flour with other flour/starch) and Tapioca flour/starch. Tapioca flour or tapioca starch are the same things (at least here in the U.S.). Make sure the water is boiling hot and don't add the cooking oil until you have formed a rough dough*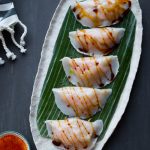 Teochew Soon Kueh (Jicama Bamboo Shoots Dumplings)
Ingredients
Dumpling skin:
275

gr

rice flour

make sure it's 100% rice flour. see notes 1

125

gr

tapioca starch

plus more for dusting as needed, see notes 2

½

tsp

salt

600

ml

hot boiling water

2

Tbsp

cooking oil
Filling:
1

kg

jicama

600

gr

bamboo shoots strips

use canned bamboo shoots packed in water (not brine)

1

large

carrot

8

cloves

garlic

finely minced

150

gr

dried shrimp

1

Tbsp

cooking wine
You will need:
Steamer

Banana leaves or parchment paper
Instructions
Prepare the veggies (can be prepared the day before):
Soak the dried shrimp in warm water while you are preparing other things. Mix the seasonings in one bowl and set aside

Peel the jicama and shred into strips. Do the same for the carrots. If you use canned bamboo shoots, get the strips bamboo shoots. Drain off the water which the bamboo shoots are packed in
Cook the filling (can be prepared the day before):
Preheat a large skillet or wok. Add cooking oil. Swirl to cover the base and side of the wok. Add dried shrimp and stir fry until aromatic, about 1 minute. Add garlic and stir fry for another 30 seconds.

Add jicama, carrots, and bamboo shoots. Stir to mix everything. Add cooking wine and seasonings. Stir to mix everything and cook until the veggies are soft and the mixture is at the dry side. Remove from the heat and let it cool down completely before wrapping. This is important
Prepare the dough (to knead by hand):
Measure out 600 ml of hot boiling water (you may need to boil about 650-700 ml of water to start with). Mix the rice flour, tapioca starch, and salt in a large mixing bowl. Use a chopstick or spatula to stir as you add the hot water in. It won't form a dough yet. The dough mixture is going to be very hot. When it's cool enough to handle, use your hand to knead until it forms a rough dough. A reader shared a very useful tip on how to handle the "hot" dough. Put on a woolen glove and then cover with a vinyl glove and start kneading the dough. Add the cooking oil and continue to knead into a smooth dough

The dough will come together as smooth and no longer sticky. Cover with a plastic wrap and let it rest for at least 15 minutes or up to 1 hour while you prepare other things. It is important to let the dough rest for at least 15 minutes before you start working on it
Prepare the dough (to knead with standmixer):
If you have a standmixer, use a dough hook attachment. Add rice flour, tapioca starch, and salt in the bowl. Turn on the machine and gradually add in the hot boiling water and knead on low speed (speed 2 on Kitchen Aid) until a rough dough forms. Then add oil and continue to knead into a smooth dough. Cover with a plastic wrap and let it rest for at least 15 minutes or up to 1 hour while you prepare other things. It is important to let the dough rest for at least 15 minutes before you start working on it
Wrapping (watch the video on my new favorite way to wrap):
After the dough is done resting, divide into about 30 equal pieces. Keep them covered and work with one at a time. Roughly roll into a ball and then flatten and roll out into about 5-inch in diameter circle

Spoon about 2 tablespoons of filling in the middle of the wrapper and fold over to form a half circle. Pinch the edge to seal. Repeat with the rest
Steaming:
Bring the water in the steamer to a boil. Line the steamer with banana leaves or parchment paper lightly brush with cooking oil. Place the soon kueh on top and steam on high heat for 10 minutes

Remove from the heat and lightly brush with cooking oil
Serving:
Serve with a drizzle of sweet soy sauce, chili sauce, fried shallots and chopped green onion if you like
Notes
I use Thai rice flour (Three elephant brand). Make sure it's 100% rice flour and not a mixture of rice flour with other flour/starch. This is very important. 
In the U.S., tapioca starch and tapioca flour are used interchangeably, but in Asia, tapioca starch and tapioca flour might be different, I'm not sure. Make sure you use tapioca starch
Recommended products: