Another great and super easy way of using up the Chinese New Year nian gao by wrapping nian gao, yam (taro), and sweet potato pieces in spring roll wrapper and then air-fried or deep-fried if you prefer.


Yes, we are still trying to use up the nian gao that I made for Chinese New Year. I do like to eat nian gao plain on its own actually, but it's also nice to use it as an ingredient in different recipes. These fried nian gao, taro, and sweet potato spring rolls are incredibly easy to put together and if you have an air fryer, you save even more on calories and get that same crispy spring rolls.
The recipe rundown
Taste: slightly sweet. This depends on how sweet your nian gao is. The sweet potato and taro don't contribute much to the sweetness
Texture: Soft and gooey inside with a crispy shell
Level: easy
Pros: the recipe is very easy to put together and even easier if you have an air-fryer to fry them

How to make fried nian gao, taro, sweet potato spring rolls with an air fryer
1. Cut the large spring roll sheets into 4 pieces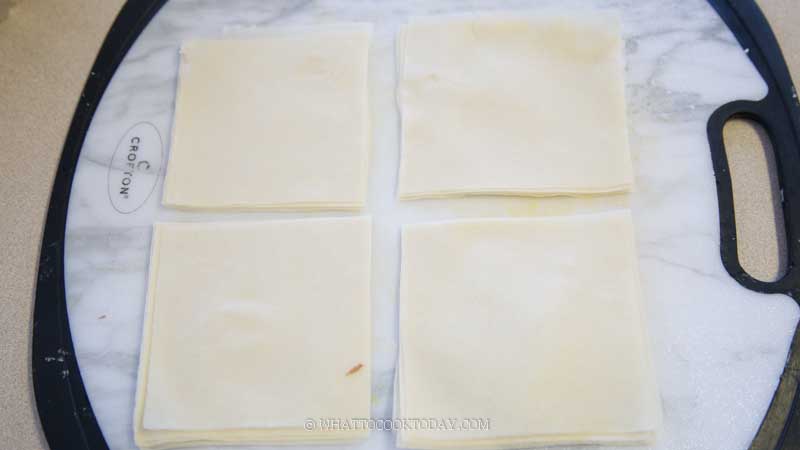 2. Don't use the freshly made nian gao. They need to be refrigerated so they are hardened. Cut into about 2 inches in length. Do the same with the sweet potatoes and taro


3. Put the sweet potatoes and taro pieces in a steamer and steam for 8-10 minutes or until fork- tender but not mushy


4. Place one piece of spring roll sheet on a working surface. Place one nian gao, sweet potato and taro pieces on the lower end of the sheet. You can stack them up or sandwich the nian gao in between the sweet potato and taro pieces, it's up to you how you want to do this.


5. Brush with the cornstarch solution on the spring roll wrapper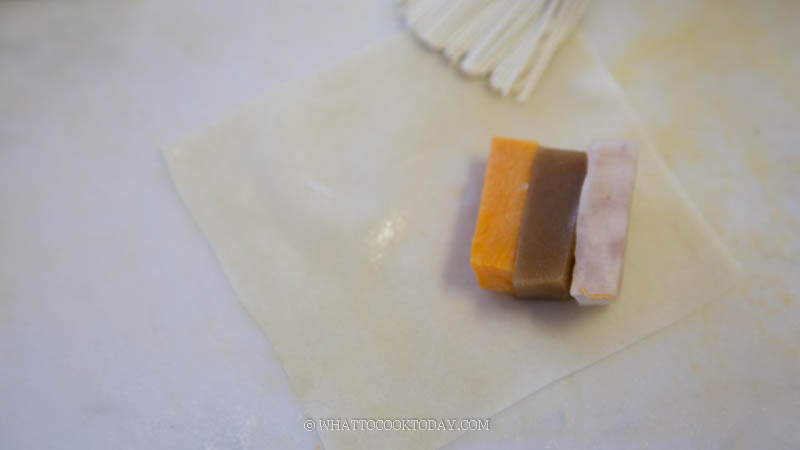 6. Fold the bottom part near to you up and then fold the two sides over and gently press to seal. Repeat with the rest of the ingredients until you get 24 mini pieces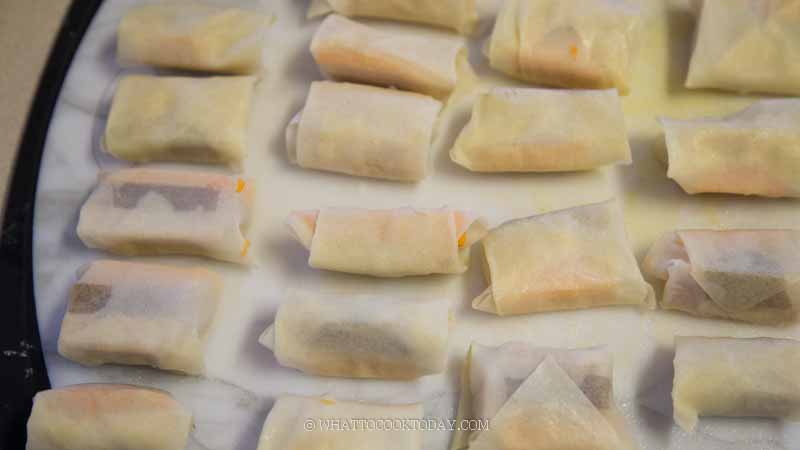 7. Lightly brush the spring roll pieces with a bit of oil all over


8. Arrange on the air fryer basket and air fry at 200 C (400 F) for about 2-3 minutes, check after about 60 seconds and see. Fry until they are golden brown and crispy. The temperature and time are just for reference. You may need to adjust accordingly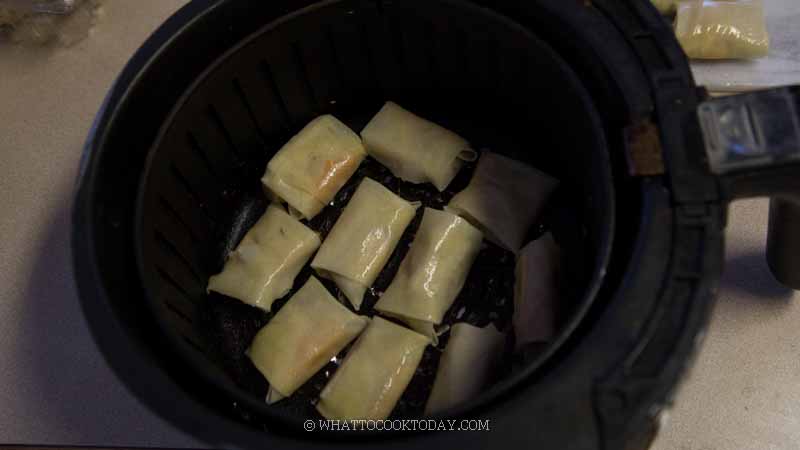 Tips for success
1. Cut the nian gao, taro, and sweet potatoes as uniformly in size as much as possible so you can get a "neat" parcel. It's easier to wrap too
2. It's important to brush the spring roll wrapper with cornstarch solution to seal it close or they will open up when you deep fry them
3. If you choose to deep-fry, make sure to fry over medium heat and not high heat

Variations
What you can put inside is really up to your creativity. You can also use pumpkin or sweet paste like mung bean paste, sweet red bean paste, sweetened red beans, lotus seeds paste to go with the nian gao pieces.
How to store and reheat
Leftover will not stay crispy. Simply reheat in an oven at 350 F for 5 minutes or until they are crispy again or with an air fryer at 350 F for 2-3 minutes. If you make a big batch, you can store them in a freezer bag, push all the air out and simply deep-fry or air fry when you want to eat them.
Did you make this easy fried nian gao, taro, sweet potato spring roll recipe?
I love it when you guys snap a photo and tag to show me what you've made 🙂 Simply tag me @WhatToCookToday #WhatToCookToday on Instagram and I'll be sure to stop by and take a peek for real!

More recipe ideas to use nian gao
Fried Nian Gao, Taro, Sweet Potato Spring Rolls (Air Fryer version)
Ingredients
10

large

spring roll sheets

or you can use 40 mini size sheets

40

pieces

sweet potatoes

about 2 inches (2.5 cm) in length

40

pieces

taro

about 2 inches (2.5 cm) in length

Cooking oil

for air-frying or deep-frying
Instructions
Cut the large spring roll sheets into 4 pieces

Cut the nian gao. Don't use the freshly made one. They need to be refrigerated so they are hardened. Cut into about 2 inches in length. Do the same with the sweet potatoes and taro

Put the sweet potatoes and taro pieces in a steamer and steam for 8-10 minutes or until fork- tender but not mushy

Place one piece of spring roll sheet on a working surface. Place one nian gao, sweet potato and taro pieces on the lower end of the sheet. You can stack them up or sandwich the nian gao in between the sweet potato and taro pieces, it's up to you how you want to do this. Brush with the cornstarch solution on the spring roll wrapper. Fold the bottom part near to you up and then fold the two sides over and gently press to seal. Repeat with the rest of the ingredients until you get 40 mini pieces
To air fry:
Lightly brush the spring roll pieces with a bit of oil all over. Arrange on the air fryer basket and air fry at 200 C (400 F) for about 2-3 minutes, check after about 60 seconds and see. Fry until they are golden brown and crispy. The temperature and time are just for reference. You may need to adjust accordingly
To deep fry:
Preheat about 1 inch of oil. When you put a skewer in the oil, there will be bubbles around it. The oil is ready, but don't fry yet. Lower to medium and wait for about 3 minutes. Then fry the nian gao spring rolls until they are golden brown and crispy. Remove and place on an absorbent paper towel

They will stay crispy for few hours, but don't expect them to stay crispy for days because there is moisture in the filling too. Simply re-crisp in the air fryer or oven for few minutes and they are as good as new
Recommended products: