Make these easy honey red beans or sweetened red beans that are used often in many Asian desserts with an Instant Pot pressure cooker without having to presoak the red beans before cooking.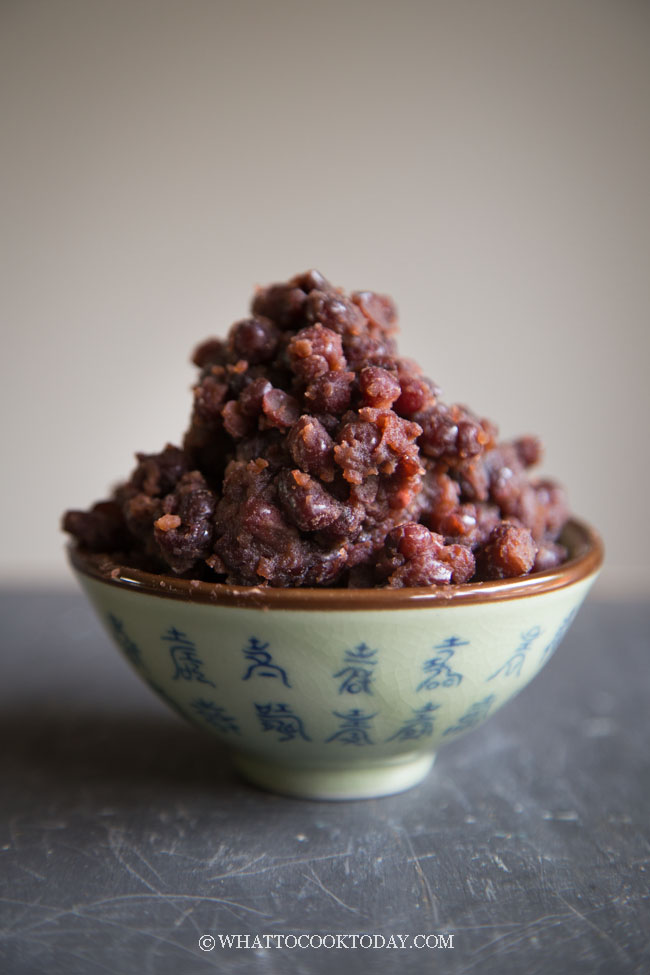 IT'S DIFFERENT FROM RED BEAN PASTE (DOU SHA)
Sweet red bean paste (dou sha) is more popular or often heard of compared to this honey red beans. 蜜紅豆 (Mi Hong Dou) literally means honey red beans. Though there's no honey used in the recipe. I guess it is named as such because it's sweet like honey? Anyway, honey red beans are similar to the Japanese's Tsubuan, the chunky type anko. Dou sha is a finely mashed smooth they sweet red bean paste and similar to the Japanese's Koshian.
You can still see the red beans shape in honey red beans and in dou sha, the bean is mashed or blended until it's smooth. Honey red beans are sometimes also known as sweetened red beans.
WHY YOU'LL LIKE THIS RECIPE
1. No soaking
There's no need to soak the beans when you cook with pressure cooker
2. Convenient
I can pretty much set and forget
3. It can be used in many Asian desserts
Honey red beans are used in desserts like es cendol/es dawet, es campur, ice kachang, grass jelly dessert, or pretty much with anything you want to use them as a topping or a filling
HOW TO MAKE HONEY RED BEANS WITH INSTANT POT PRESSURE COOKER
1. Briefly rinse the red beans in water to get rid of any impurities. Drain off water. Place the beans inside the inner pot of Instant Pot pressure cooker


2. Cover with water, about 1-inch above the beans. Close the lid and turn the steam release valve to "sealing". Press "Pressure Cooker" and make sure it's on high pressure. Set timer to 40 minutes.


3. I found that 40 minutes is perfect for the beans not to be mushy and maintain its shape but soft enough that you can mash it with your finger if you squeeze it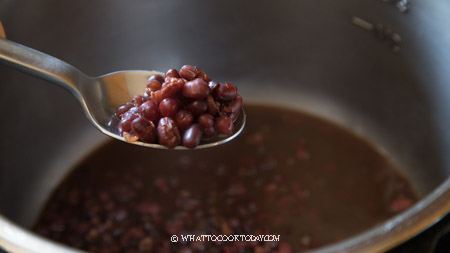 4. When the timer is up, release pressure immediately. Drain off the cooking water and return the beans to the inner pot. Add sugar and salt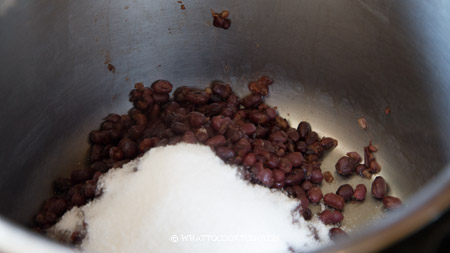 5. Turn on the saute mode and cook and stir, scraping the bottom of the pot as you cook. The sugar will melt and it will turn "watery" first


6. The sugar will slowly thicken up the mixture a bit as it caramelizes. Turn off the saute mode


7. Remove to a container and let the beans cool down completely

It's easy as that! The pressure cooker does make things a lot easier and convenient. I like that I don't have to plan ahead by soaking the beans.

DID YOU MAKE THIS EASY HONEY RED BEANS RECIPE?
I love it when you guys snap a photo and tag to show me what you've made 🙂 Simply tag me @WhatToCookToday #WhatToCookToday on Instagram and I'll be sure to stop by and take a peek for real!
Sweetened Red Beans / Honey Red Beans (蜜紅豆)- with Pressure Cooker
Ingredients
Ingredients to add last:
1

cup

sugar

(8 oz) 225 grams

¼

tsp

salt
Instructions
Briefly rinse the red beans in water to get rid of any impurities. Drain off water. Place the beans inside the inner pot of Instant Pot pressure cooker. Cover with water, about 1-inch above the beans

Close the lid and turn the steam release valve to "sealing". Press "Pressure Cooker" and make sure it's on high pressure. Set timer to 40 minutes. I found that 40 minutes is perfect for the beans not to be mushy but soft enough that you can mash it with your finger if you squeeze it

When the timer is up, do a natural release, meaning wait until the valve collapses on its own before opening the lid. Drain off the cooking water and return the beans to the inner pot. Add sugar and salt. Turn on the saute mode and cook and stir, scraping the bottom of the pot as you cook. The sugar will melt and it will turn "watery" when this happens but the sugar will slowly thicken up the mixture a bit as it caramelizes. Turn off the saute mode and remove to a container and let the beans cool down completely
Storing:
Cover the container and store in the fridge for up to one week. You can also portion them out and keep them in a freezer bag, pack them flat. Store in the freezer for up to 3 months. Simply thaw in the fridge overnight or at the counter for few hours before use
Recommended products:
YOU MAY ALSO LIKE THESE