Make this absolutely delicious, rich, and super aromatic Nyonya/Peranakan style chicken curry that you will want to make over and over again. The recipe can be done with Instant Pot pressure cooker too.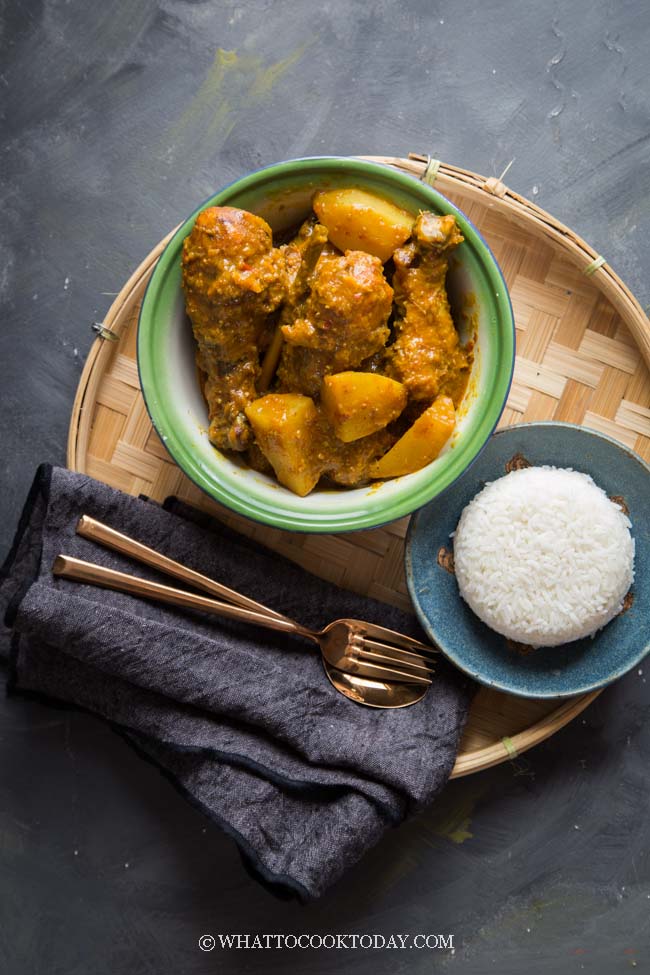 WHAT IS CHICKEN CURRY KAPITAN ?
There are so many different curries across Southeast Asia. This chicken curry Kapitan is one of my favorites and it is of Peranakan origin (fusion between Chinese and Malay). The word "Kapitan" referred to Captain/Chief. The story has it that chicken curry Kapitan was prepared by cooks to serve to the Captains/Chiefs during Western colonization in Malaysia, and hence the name curry Kapitan. Curry Kapitan has thicker gravy compared to other curry dishes you may have seen or tasted before, which could be more "soupy".
CUTS OF CHICKEN TO USE
I strongly suggest using bone-in chicken pieces like drumsticks, thighs, leg quarters (cut into smaller pieces). Smaller pieces like chicken wing sections will work too.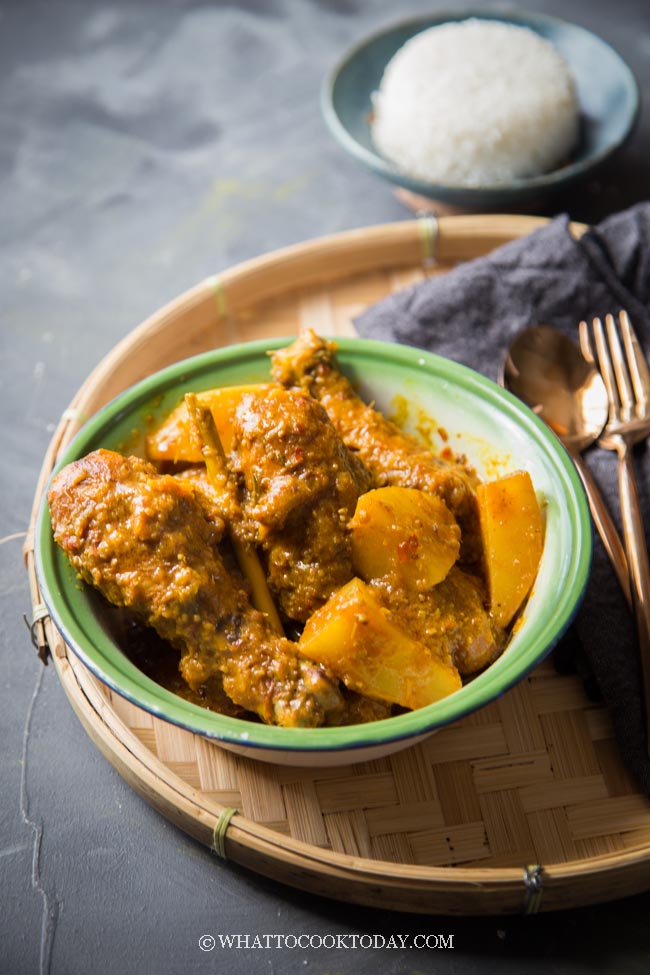 HOW TO MAKE CHICKEN CURRY KAPITAN
1. MARINATE CHICKEN
Place the chicken in a large bowl. Add turmeric powder. Small pinch of salt and 1 Tbsp of oil. Let them marinate for at least 30 minutes or overnight if you have the time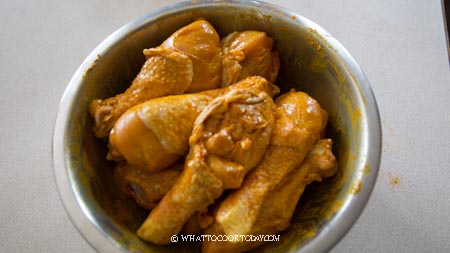 2. BROWN THE CHICKEN (IN THE OVEN OR ON THE STOVE)
You can skip this step if you cut the chicken into smaller bite-size pieces. I use large drumsticks and I find that browning/searing the chicken pieces add some extra depth of flavor. Arrange the drumsticks on the rack and broil on low heat in the oven until golden brown and then flip to the other side and broil until golden brown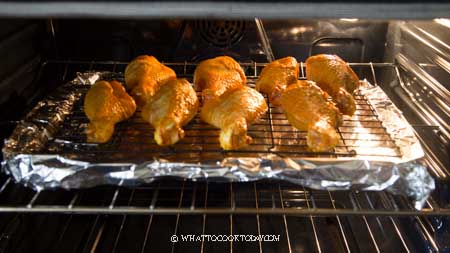 The chicken are not cooked through at this point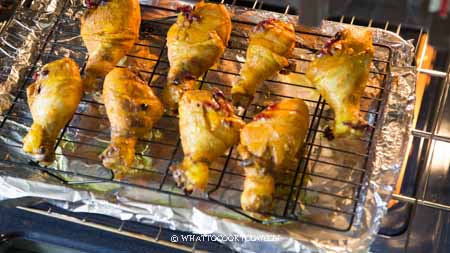 3. PREPARE SPICE PASTE
Soak the dried chili in warm water for about 10-15 minutes or until softened. Put all ingredients for spice paste in a food processor or blender and blend into a paste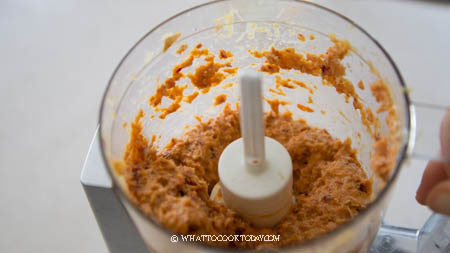 4. COOKING
Preheat 2 Tbsp of oil. Pour the blended spice in a wok and stir fry over medium heat. Saute for about 1 minute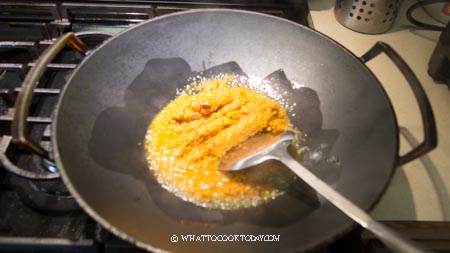 Add shrimp paste, tamarind extract, lemongrass stalks.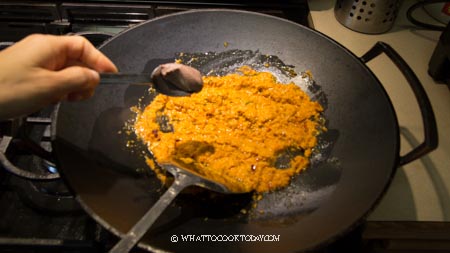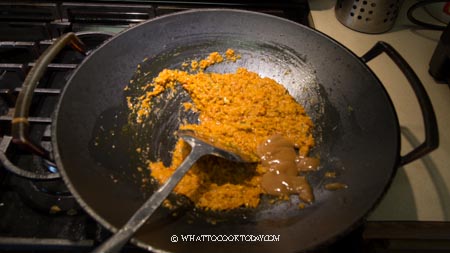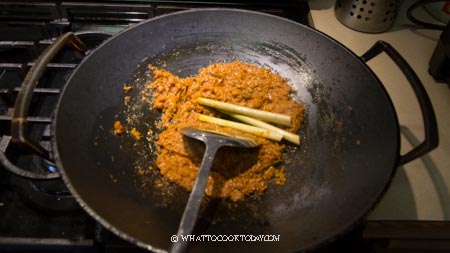 Continue to stir fry until the spice is aromatic and the oil starts to separate from the spice, about 5 minutes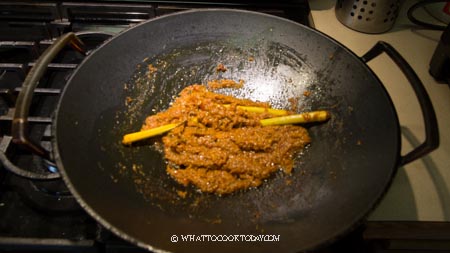 Add coconut milk and water.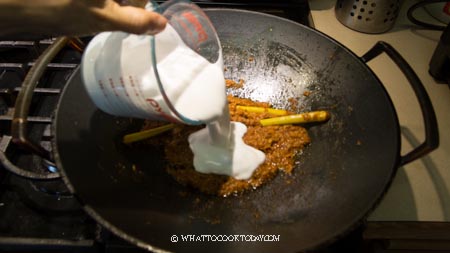 Add the chicken pieces and bring it to a boil and then lower the heat to simmer uncovered until the chicken pieces are cooked through, about 30-40 minutes (depending on the size of the chicken). 10 minutes before the end of cooking time, I added potato pieces that I quartered. If you cut them smaller, you probably only need 5 minutes to cook them. Have a final taste and add more salt and/or sugar if necessary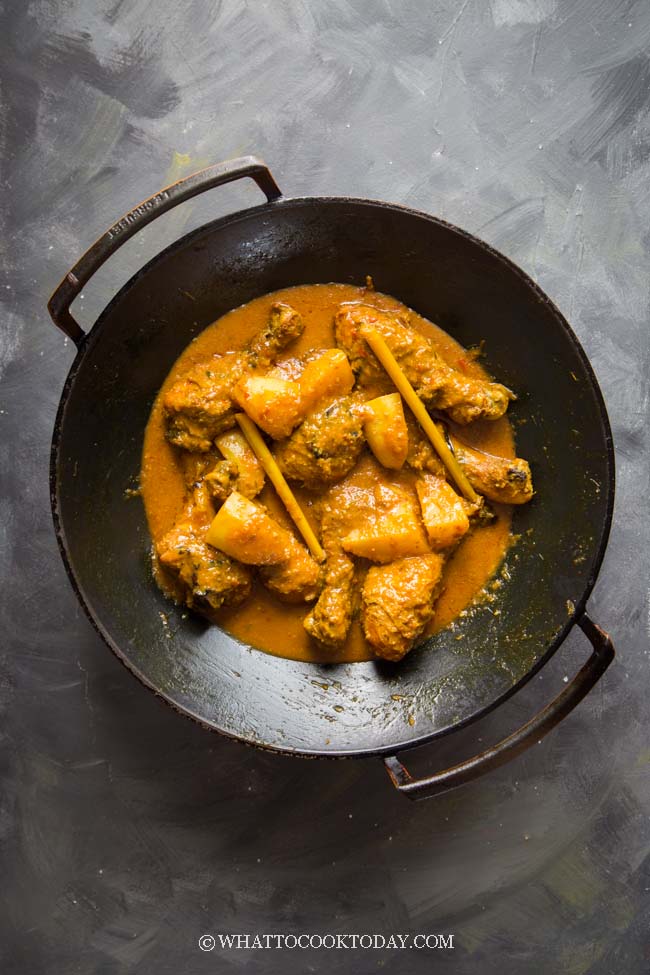 WHAT TO SERVE KARI KAPITAN WITH
They are good with rice, crusty bread to mop those sauce, the best garlic naan bread, roti jala. I have tossed the leftover sauce with some pasta before too and it was so good.
LEFTOVER TASTES BEST
If you make chicken curry Kapitan the day before, the flavor gets even better the next day, just like the case with many stews, curries, and rendang. So this is a perfect dish to cook up in big batches and eat for a few days.

DID YOU MAKE THIS CHICKEN CURRY KAPITAN RECIPE?
I love it when you guys snap a photo and tag to show me what you've made 🙂 Simply tag me @WhatToCookToday #WhatToCookToday on Instagram and I'll be sure to stop by and take a peek for real!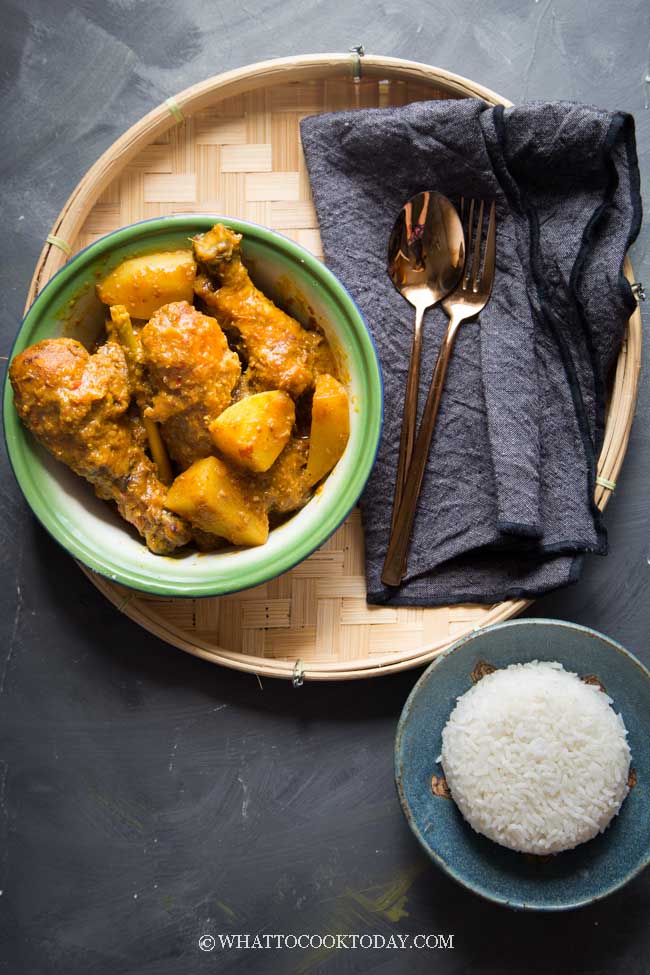 How To Cook Kari Ayam Kapitan (Nyonya Curry Chicken)
Ingredients
Instructions
Marinate the chicken:
Place the chicken in a large bowl. Add turmeric powder. Small pinch of salt and 1 Tbsp of oil. Let them marinate for at least 30 minutes or overnight if you have the time
Brown the chicken if you like (optional step):
If you don't mind the extra step, you can brown the marinated chicken pieces on a pan until the skin is golden brown on both sides, but not cooked through yet

I actually put the chicken drumsticks in the oven to broil it on low to brown the skin. I feel like it's faster that way 🙂
Prepare the spice paste:
Soak the dried chili in warm water for about 10-15 minutes or until softened. Put all ingredients for spice paste in a food processor or blender and blend into a paste. The oil will help the blending process
Cooking on the stove:
Preheat 2 Tbsp of oil. Pour the blended spice in a wok and stir fry over medium heat. Saute for about 1 minute then add kaffir lime leaves, shrimp paste, tamarind extract, green part of lemongrass stalks that we didn't blend earlier. Continue to stir fry until the spice is aromatic and the oil starts to separate from the spice, about 5 minutes

Add coconut milk and water. Add the chicken pieces and seasonings and bring it to a boil and then lower the heat to simmer uncovered until the chicken pieces are cooked through, about 30-40 minutes (depending on the size of the chicken). 10 minutes before end of cooking time, I added potato pieces that I quartered. If you cut them smaller, you probably only need 5 minutes to cook them. Have a final taste and add more salt and/or sugar if necessary. The taste should be savory, slightly spicy, with hint of sweetness and tartness
Cooking with Instant Pot:
Press saute on Instant Pot. When it's "hot", add 2 Tbsp of cooking oil. Pour the blended spice in a wok and stir fry over medium heat. Saute for about 1 minute then add kaffir lime leaves, shrimp paste, tamarind extract, lemongrass stalks (the upper green parts that we didn't blend earlier). Continue to stir fry until the spice is aromatic and the oil starts to separate from the spice, about 5 minutes

Add coconut milk and water. Scrape the bottom of the pot to make sure nothing gets stuck at the bottom of the pot as it might trigger "burn" alert by IP. Put the chicken pieces and seasonings in. Close the lid. Turn steam release valve to "sealing". Press "pressure cooker" and make sure it's on high pressure. Set timer to 15 minutes. Wait 5 minutes and then release pressure

You will end up with more liquid when you cook with IP because not much liquid evaporates. I remove the cooked chicken pieces to a plate and will continue to reduce the sauce. Press saute again to bring it back to simmer and reduce the sauce. Make sure to stir every now and then to prevent anything catches on the bottom of the pot. Add potatoes in and cook until they are soft but not mushy. When the sauce is thick enough for you, turn saute off and add chicken pieces back in or transfer out to another pot for serving
Recommended products: