Refreshing grass jelly with smooth and jiggly texture is a popular ingredient to be used in dessert and drink across Asia. This post also shows you how to prepare grass jelly cubes with grass jelly powder.


The mention of grass jelly or cincau sure brings back childhood memories. My mom made grass jelly drink often for us when we were kids. Indonesia is a hot tropical country and a glass of grass jelly drink that my mom likes to make with cold soy milk and a bit of sweetened condensed milk or palm sugar syrup was so refreshing. I like to have some shaved ice on it too but mom said it's too "cooling" and not good for health 🙂
WHAT IS GRASS JELLY/CINCAU
Grass jelly is popular throughout Asia. Cincau is what we call it in Indonesia. It's a direct translation of green grass in Chinese. Grass jelly is made from a plant of mint family. You can find them in powdered form (which is the one I use in this recipe) or in the can.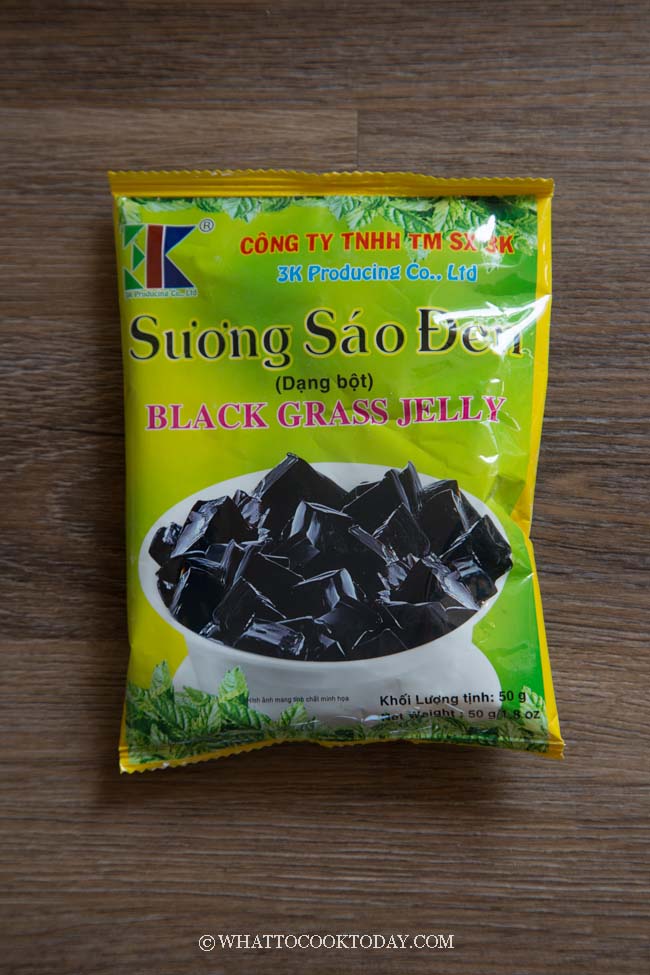 The canned grass jelly is already prepared and cubed and ready to be used in a recipe right away.
In Malaysia and Singapore, a grass jelly drink is called Michael Jackson, referencing to his Black or White song as the grass jelly is black against the contrasting milk.
GREAT AS A TOPPING TOO
Grass jelly is often used as one of the toppings in other desserts or drinks like cendol, ice kachang, es campur, boba tea.
MY VERSION OF GRASS JELLY DESSERT
Mine is like a hybrid between a drink and dessert 🙂 Here are what I put in my grass jelly dessert/drink:
1. Grass jelly cubes
2. Coconut milk sweetened with condensed milk
3. Sweetened red beans
4. Slices of mango
5. Palm seeds (attap seed)
6. Palm sugar syrup

HOW TO MAKE GRASS JELLY FROM POWDER
1. The grass jelly pack comes with sugar and a stabilizer (not sure exactly what it is) but I didn't use the stabilizer


2. Put the grass jelly powder, sugar, and I add my own sugar to make up to 1/3 cup in a saucepan. Stir to mix them


3. Add the remaining 2 cups water and continue to stir until the mixture has no lumps


4. Cook this over medium heat and continue to stir. Make sure you stir and scrape the side and bottom of the saucepan


5. The mixture will continue to get thicker in about 3 minutes or so and it will turn lumpy. Don't panic, but keep stirring


6. It will eventually turn smooth on its own. Bring it to a gentle boil for another minute and then turn off the heat


7. Pour the grass jelly mixture into a heat-proof container. I use a rectangle glass dish. Let it cools down for about 1 hour at room temperature and then transfer to a refrigerator and let it sets for at least 2 hours before cutting


8. Once it's chilled for at least 2 hours, cut into cubes and they are ready to be used


9. Keep leftover in the fridge for up to 1 week

Summer is just not complete without grass jelly drink or dessert. My kids like it with some shaved ice because it's really cooling.

DID YOU MAKE THIS GRASS JELLY DESSERT/DRINK RECIPE?
I love it when you guys snap a photo and tag to show me what you've made 🙂 Simply tag me @WhatToCookToday #WhatToCookToday on Instagram and I'll be sure to stop by and take a peek for real!

Refreshing Grass Jelly Dessert/Drink (Cincau)
Ingredients
Instructions
To make simple palm sugar syrup:
Put sugar and water in a saucepan and bring to a boil and cook until sugar dissolves. Remove from the heat and let it cools down completely before using
To make grass jelly cubes:
The grass jelly pack comes with sugar and a stabilizer (not sure exactly what it is) but I didn't use the stabilizer. Put the grass jelly powder, sugar, and I add my own sugar to make up to 1/3 cup in a saucepan. Stir to mix them and then add the remaining 1/3 cup water and continue to stir

Cook this over medium heat and continue to stir. Make sure you stir and scrape the side and bottom of the saucepan. The mixture will continue to get thicker in about 3 minutes or so and it will turn lumpy. Don't panic, but keep stirring. It will eventually turn smooth on its own. Bring it to a gentle boil and then turn off the heat

Pour the grass jelly mixture into a heat-proof container. I use a rectangle glass dish. Let it cools down for about 1 hour at room temperature and then transfer to a refrigerator and let it sets for at least 2 hours before cutting
To make grass jelly drink:
Mix chilled milk of your choice with condensed milk. You can adjust how sweet you want it to be. Portion some grass jelly cubes in a tall glass. Pour in the milk. Add some palm sugar syrup if you like. Some people like to use iced coffee or milk tea instead of just milk
To make grass jelly dessert:
Portion out the grass jelly mixture into a bowl or glass. Add some sweetened red beans, coconut milk, fresh fruit of your choice, palm seeds, and a drizzle of palm sugar syrup. Top with some shaved ice too if you like and drizzle more palm sugar syrup