Learn how to make the best cendol with great soft and bouncy texture served with coconut milk and coconut sugar syrup and other toppings. Naturally gluten-free and vegan. No artificial color.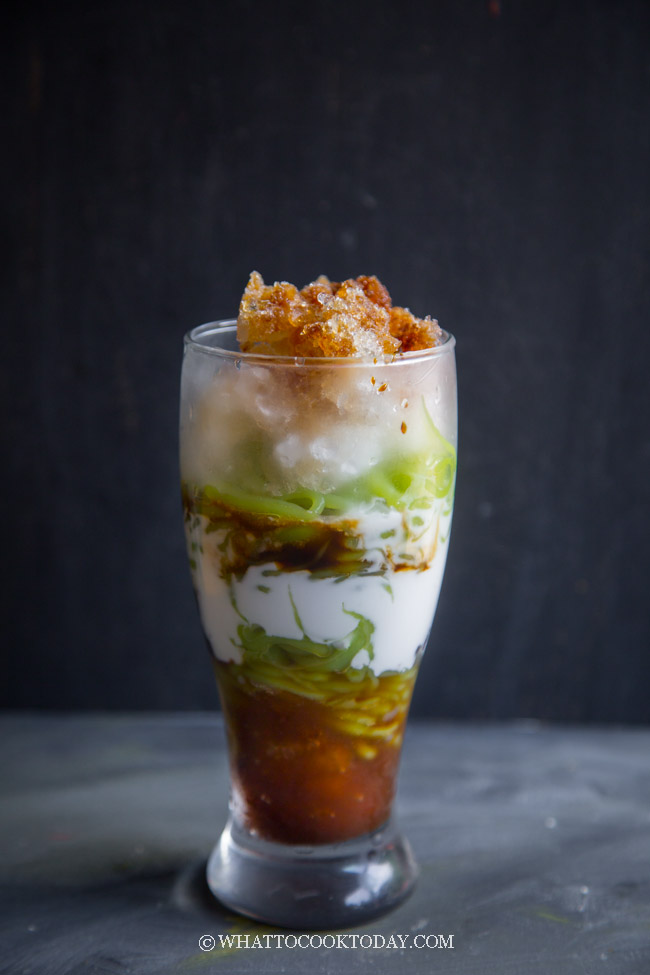 POPULAR DESSERT ACROSS SOUTHEAST ASIA
Cendol is a very popular drink/dessert in Indonesia and other Southeast Asian countries. Cendol  might possibly originated in Java and it is called dawet. In Singapore and Malaysia it is called chendol. In Thailand, it is known as lod chong / lot chong. In Vietnam, it is known as che banh lot. A mixture of flours, sugar, pandan juice, and coconut milk is cooked until really thick and then pour into a cendol press while it is hot and pressed into short noodle-like strands collected in a large bowl of ice water to let the cendol firm up. These strands of cendol are then served with palm sugar syrup, coconut milk, and other toppings.
CENDOL PRESS / LOT CHONG PRESS / BANH LOT MAKER
Cendol is made by using a cendol press to push out the cooked dough to form noodle-like strands, though shorter in this case.
This is my favorite one to use. It's easy to work with. This is how it looks like. I feel like it's more ergonomic because both hands can hold on to the handles on the side and more power to push it down


It has two pieces, the container with holes and the pusher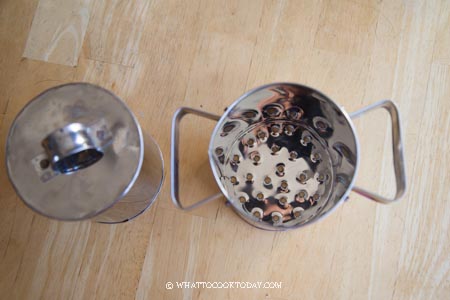 You pour the cooked cendol dough in here and they will be pressed out through those holes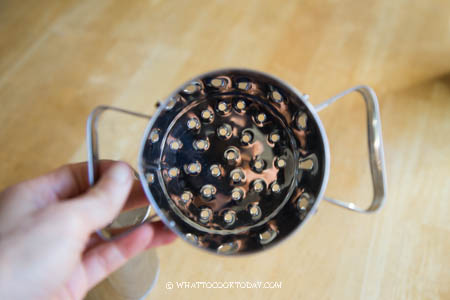 The top part is to push the cooked cendol out into short noodle strands

Another type that my mom got me is made of plastic. It is still a good one, but a bit more resistant when you try to push the cendol strands out. It's harder to push with one hand from the top compared to the model above. It also contains two pieces and works based on the same concept. You fill up the cooked dough in the white part and use the green part to push them through the holes at the bottom.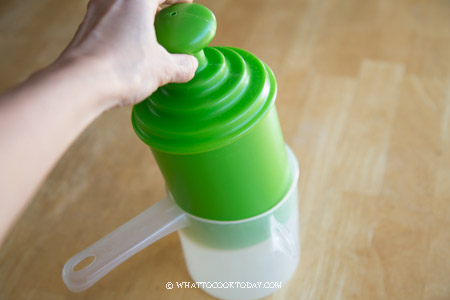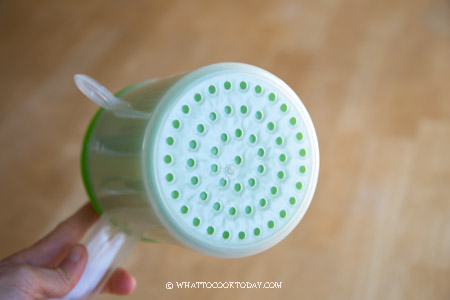 MAKING CENDOL WITHOUT A CENDOL PRESS
There are several ways you can do this:
1. STRAINER/COLANDER WITH LARGE HOLES
I used to use this strainer with large holes in it. I used the back of the spoon to press the dough through the holes.
Cendol makes with this makeshift cendol maker are much shorter, at least in my case, but, it doesn't alter the taste in anyway, just doesn't look as "nice" 🙂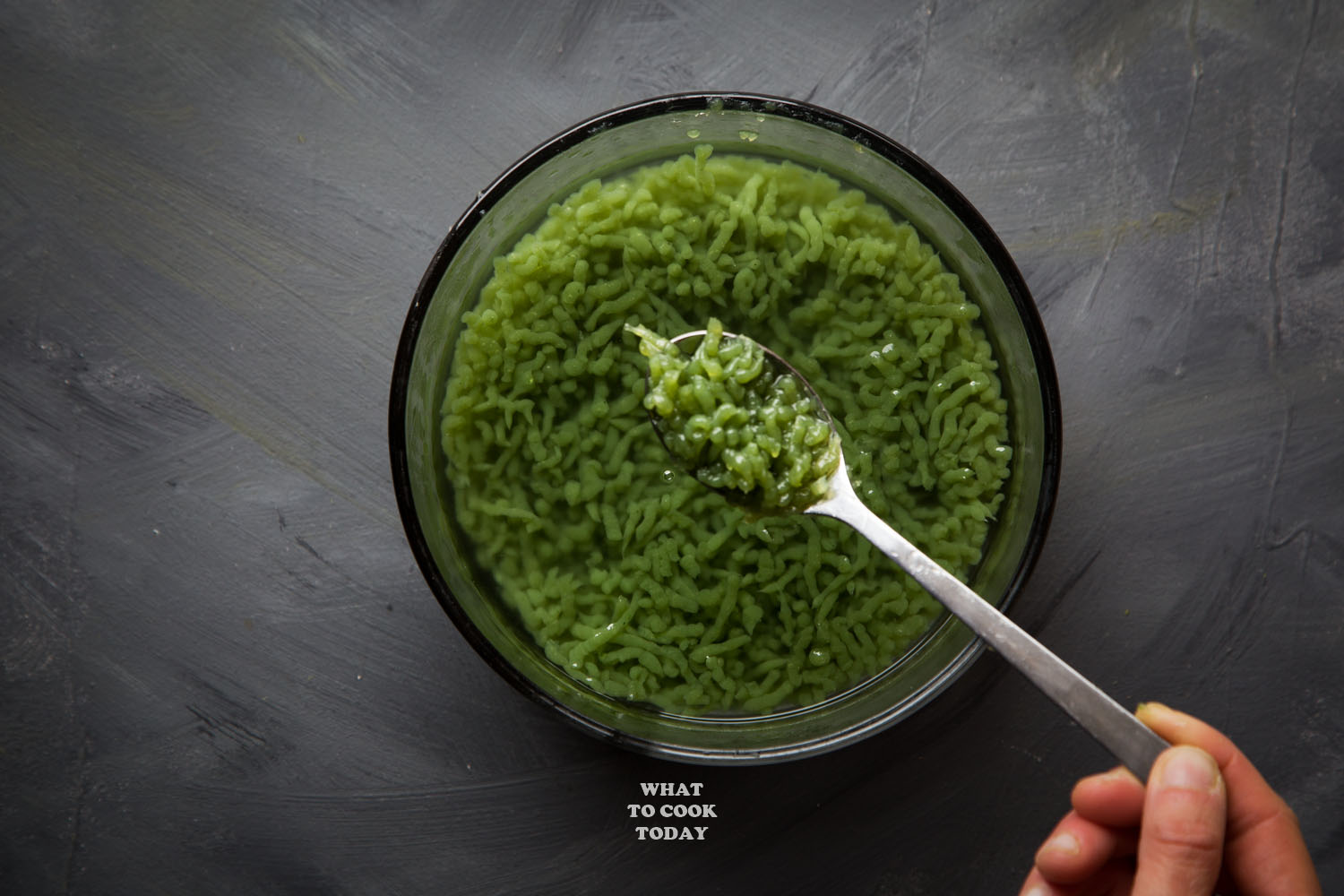 2. PLASTIC BAG (MY LEAST FAVORITE WAY)
You can transfer the cooked dough into a plastic bag and then snip the point and squeeze out each strand. This is my least favorite because the cooked dough is hot and holding the hot plastic bag (even after wrapped in a cloth) is no fun and it takes forever to do this too, but it can be done.
3. POTATO RICER WITH LARGE HOLES
4. FOOD MILL
SPECIAL INGREDIENT TO MAKE CENDOL
If you look at the ingredient list, most of the ingredients can be easily found, except for mung bean starch. Not every Asian store carry this, but majority will. Mung bean starch is sometimes labeled as green pea flour or green bean flour.
If you don't have mung bean starch, you can also substitute with hun kwe flour

HOW TO MAKE CENDOL
1. Mix all the flour, sugar, alkaline water (if using), and pandan juice mixture in a saucepan. Stir until smooth and no lumps. Cook under medium heat and keep on stirring.


You will feel the liquid started to get heavy and thickened at about a 3-minute mark. Continue to stir until it is really thickened and turns into translucent.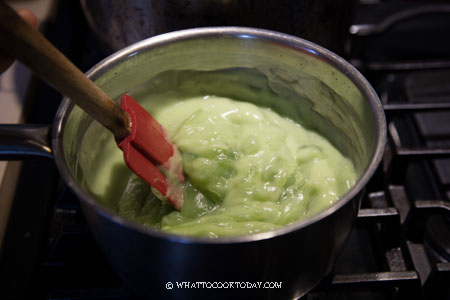 Don't stop cooking yet. Cook until it starts to bubble (meletup letup) and cook for another 3 minutes. The whole process may take about 10-12 minutes.


Transfer half of it into the cendol maker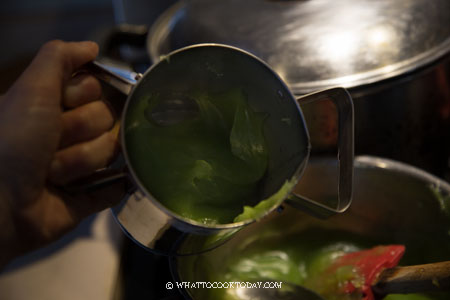 Press the pandan jelly into the container with ice cubes under it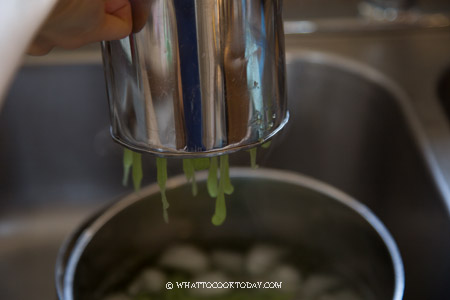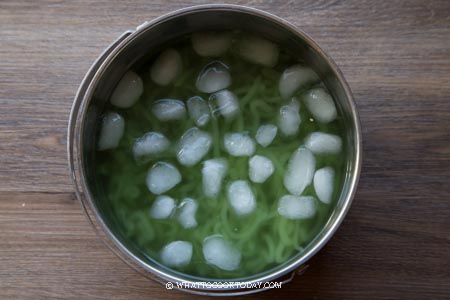 They will solidify once it comes in contact with the cold ice water. Continue to do this until you are done with the dough. Leave the cendol in the cold water for 15 minutes so they will firm up nicely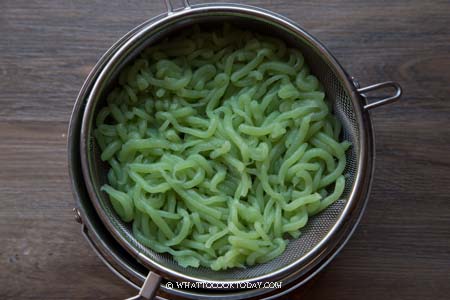 The cendol can be used to make es cendol like in this post or for other desserts like es kachang. Some people even used it in baking like to make cendol agar agar cake, or cendol pudding.
You can serve cendol with minimal toppings like this only has coconut milk and palm sugar syrup.
Or you can use a tall glass and load it up with more toppings and shaved ice on top

I haven't had cendol for ages! The last time I made this was 6 years ago! geez!!! Whether you serve it in a bowl or a glass, I will polish it off. My two kiddos declare that cendol is one of the best things on earth and I can only agree wholeheartedly! The texture of this cendol is just spot on. Soft and slightly bouncy.

DID YOU MAKE THIS ES CENDOL / DAWET RECIPE?
I love it when you guys snap a photo and tag to show me what you've made 🙂 Simply tag me @WhatToCookToday #WhatToCookToday on Instagram and I'll be sure to stop by and take a peek for real!

Es Cendol / Dawet (Pandan Jelly Dessert)
Ingredients
Pandan Juice:
10

pieces

pandan leaves

if frozen, thawed

500

ml

water

100

ml

coconut milk
Coconut sugar syrup:
350

gr

coconut sugar

or gula Jawa

150

gr

sugar

100

ml

water

3

pandan leaves

knotted
You will also need one of the followings:
Cendol maker

Skimmer with large holes

A large pot with lots of ice water with some ice cubes in it

keep it chilled in the refrigerator while you are preparing the cendol
Other optional toppings:
Instructions
Preparing pandan juice:
Cut the pandan leaves into smaller pieces. In a food processor, blend pandan leaves with 500 ml of water and then strain to get the greenish juice. Make sure you end up with 500 ml of liquid, if not add more water to make up to it. Squeeze the pandan leaves too and you'll be surprised by how much more liquid in there
Preparing the toppings:
Place coconut milk and salt in a small saucepan and bring to a gentle simmer for about 3 minutes, do not boil. Remove from the heat and store in a glass jar or heat-proof container

Give the saucepan a quick rinse and then add all ingredients for coconut syrup and bring to a boil to melt the sugar and continue to simmer until it comes to a syrup consistency. Remove from the heat
Making cendol:
Mix all the flour, sugar, alkaline water (if using), and pandan juice , and cocout milk in a saucepan. Stir until smooth and no lumps. Cook under medium heat and keep on stirring. You will feel the liquid started to get heavy and thickened at about a 3-minute mark. Continue to stir until it is really thickened and turns into translucent. Don't stop cooking yet. Cook until it starts to bubble (meletup letup) and cook for another 3 minutes. The whole process may take about 10-12 minutes

Transfer half of it into the cendol maker and squeeze out the pandan jelly into the container with ice cubes under it. If you use a strainer with large holes, use the back of the spoon to push it down and it will come out looking like wobbly worms from the other end of the strainer

They will solidify once it comes in contact with the cold ice water. Continue to do this until you are done with the dough. Leave the cendol in the cold water for 15 minutes so they will firm up nicely
To assemble into basic cendol:
Portion out the cendol into a bowl. Pour in some coconut milk followed by 2-3 Tbsp of palm sugar syrup. Serve with some shaved ice on top and more drizzle of palm sugar syrup if you like. Serve immediately
To assemble into es cendol with other optional toppings:
Es cendol is usually served in a tall glass or glass jar. Put some sweetened red beans, grass jelly cubes, sweetened jack fruit, palm seeds, cendol, top with some coconut milk. Top with some shaved ice and drizzle some palm sugar syrup
How to store leftover cendol:
Leftover cendol jelly can be kept in a container and put in a fridge for up to 3 days. I won't keep it any longer than that if possible. Do not freeze
Nutrition
Serving:
50
g
|
Calories:
214
kcal
|
Carbohydrates:
16
g
|
Protein:
4
g
|
Fat:
15
g
|
Saturated Fat:
13
g
|
Sodium:
69
mg
|
Sugar:
6
g