Learn how to make one of the easiest durian Basque cheesecake with creamy and melty inside using an air-fryer or baked in the oven. The recipe is gluten-free.

After making pandan basque cheesecake, there is no turning back. I'm no fan of regular cheesecake, but this basque cheesecake is my kind of cheesecake. Easy to make, creamy and melty inside. Well, traditionally it's not melty, but the Japanese version is creamy and melty, which I totally love..love..love!!
My husband loves durian and this is one of the way to use up that durian flesh. It's absolutely amazing if you love this king of fruit.
The recipe rundown
Taste: Flavorful aroma from the durian with its sweet taste and a slight tang from the cream cheese. They pair so perfectly
Texture: Creamy and melty
Level: Easy
Pros: this is the kind of cheesecake that is impossible to fail because it's already a failed cheesecake if you ask me 🙂 (in a good way!)
The burnt look of this cake is so deceiving. They say not to judge the book by its cover. You will love what you see and taste on the inside.

Ingredients
1. Durian
You can use any of your favorite durian flesh in this recipe
2. Cream cheese
Use a cream cheese block and not the spread type
3. Sugar
I use granulated sugar. You can use caster sugar too
4. Eggs
I usually use large eggs (55-58 grams with a shell) in my recipe
5. Cornstarch
This acts as a binder in the recipe. You can use potato starch (not potato flour) too.
6. Evaporated milk
Evaporated is more concentrated but without any added sugar like condensed milk. You can also use thick coconut milk or heavy cream
What you need to make this recipe
1. Blender
2. Parchment paper
3. 6 inches round pan
4. Oven or air fryer
How to easily make durian basque cheesecake
1. Preheat oven at 480 F(250 C). If using air fryer, preheat at 400 F (200 C) for at least 5 minutes. Line your pan with a parchment paper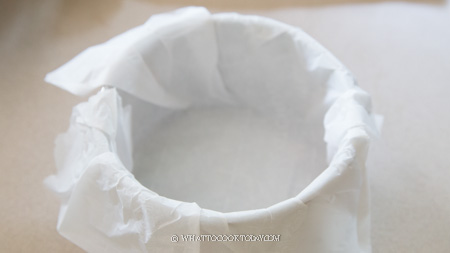 2. Place all ingredients in a blender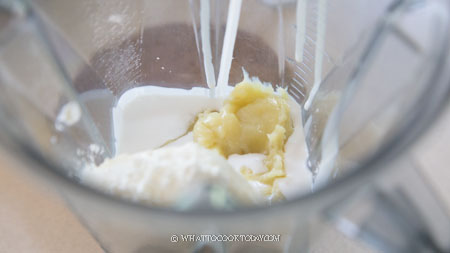 3. Blend until smooth. If you worry about large bubbles appearing on the inside of the cake, you can wait for about 10 minutes for the bubbles to settle down after blending. I didn't do this actually and find it just fine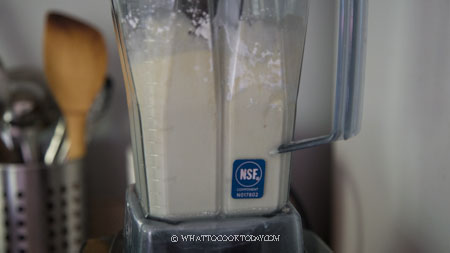 4. Pour the cake batter into the pan. The batter is supposed to be runny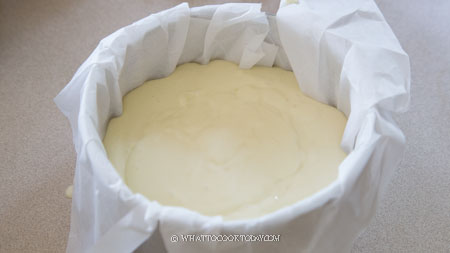 5. Run a skewer or chopstick around the cake to pop any bubbles


6. Place the pan on the 3rd rack from the top (middle of the oven). Bake at 480 F (250 C) for 22-25 minutes. It took my oven 22 minutes for a melty creamy inside.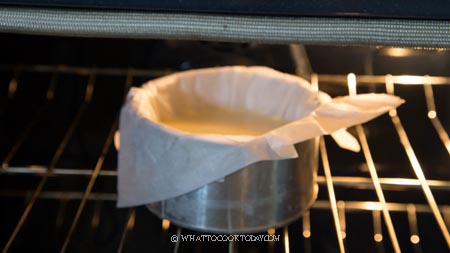 7. If the top is not burnt enough for you, turn on the broiler function on your oven on high and broil for a minute or so. Do not walk away during this time. The cheesecake will be jiggly when you gently shake the pan and it's normal. You want it to be jiggly


8. Let the cake cools down completely at room temperature. This will take few hours. The cake may sink a bit in the middle as it cools down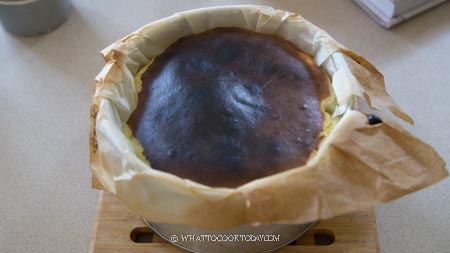 9. Cover with a cling wrap and store in the fridge for at least 6 hours before slicing

I can't wait for the next day to slice this baby up!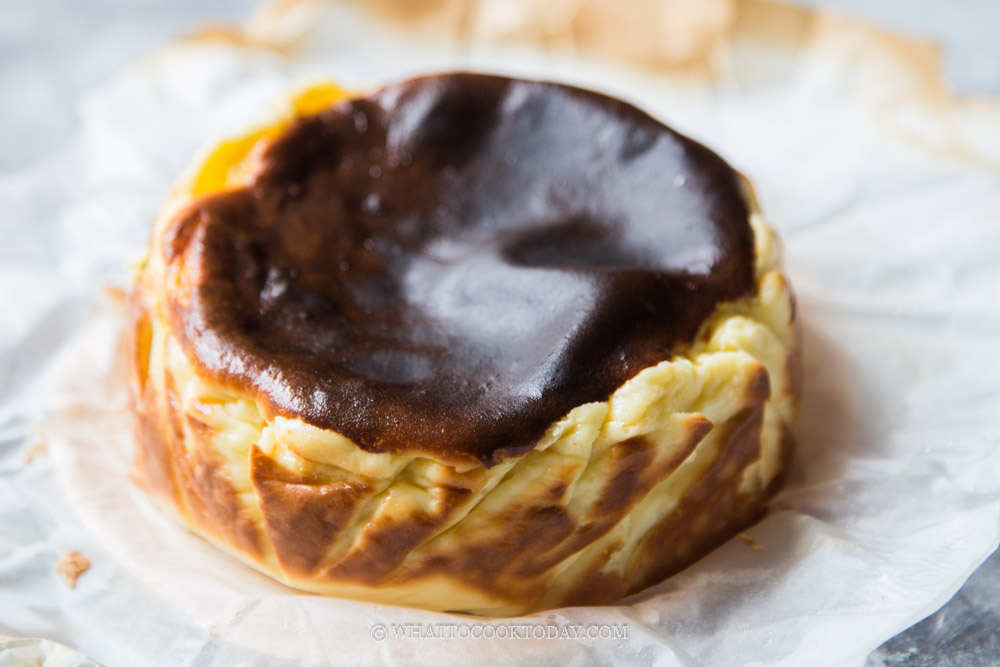 How to store
They can be kept in the refrigerator for up to one week (didn't last that long at ours). I don't recommend freezing as it changes the texture.

Did you make this easy durian basque cheesecake recipe?
I love it when you guys snap a photo and tag to show me what you've made 🙂 Simply tag me @WhatToCookToday #WhatToCookToday on Instagram and I'll be sure to stop by and take a peek for real!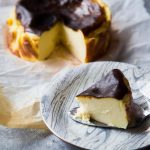 Easy Durian Basque Burnt Cheesecake (Oven or Air Fryer)
Ingredients
226

gr

cream cheese

150

gr

durian pulp

40

gr

sugar

3

large

eggs

12

gr

cornstarch

125

ml

evaporated milk

you can use heavy cream too
Instructions
Line a 6 inch round pan with parchment paper on the bottom and side of the pan. Preheat oven at 480 F(250 C). If using an air fryer, preheat at 400 F (200 C) for at least 5 minutes.

Place all ingredients in a blender and blend until smooth. If you worry about large bubbles appearing on the inside of the cake, you can wait for about 10 minutes for the bubbles to settle down after blending. I didn't do this actually and find it just fine

Pour the cake batter into the pan. The batter is supposed to be runny. Use a skewer or chopstick to pop any bubbles
Baking in the oven:
Place the pan on the 3rd rack from the top (middle of the oven). Bake at 480 F (250 C) for 22-25 minutes. It took my oven 22 minutes for a melty creamy inside. If the top is not burnt enough for you, turn on the broiler function on your oven on high and broil for a minute or so. Do not walk away during this time. The cheesecake will be jiggly when you gently shake the pan and it's normal. You want it to be jiggly
Baking in the air fryer:
Place the pan in the basket of the air fryer and bake for 10 minutes at 400 F (200 C) and then lower temperature to 350 F (180 C) for 10 minutes. If you prefer the cheesecake to be more firm on the inside instead of melty and creamy, add another 2-5 minutes, but you want the cheesecake to be still "jiggly" when you pull it out from the air fryer. You will get that gooey melty center
Cool down the cake:
Let the cake cools down completely at room temperature. This will take few hours. The cake may sink a bit in the middle as it cools down. Cover with a cling wrap and store in the fridge for at least 6 hours before slicing
Nutrition
Serving:
1
serving
|
Calories:
263
kcal
|
Carbohydrates:
19
g
|
Protein:
7
g
|
Fat:
18
g
|
Saturated Fat:
9
g
|
Trans Fat:
1
g
|
Cholesterol:
140
mg
|
Sodium:
179
mg
|
Potassium:
259
mg
|
Fiber:
1
g
|
Sugar:
10
g
|
Vitamin A:
702
IU
|
Vitamin C:
5
mg
|
Calcium:
107
mg
|
Iron:
1
mg