This is probably one of the easiest cheesecakes I have ever made in my life. All ingredients are mixed in the blender and then baked in the air fryer (or oven) to give you the best Japanese-style melty creamy Basque Burnt Cheesecake. It is gluten-free, low carb, and keto-friendly!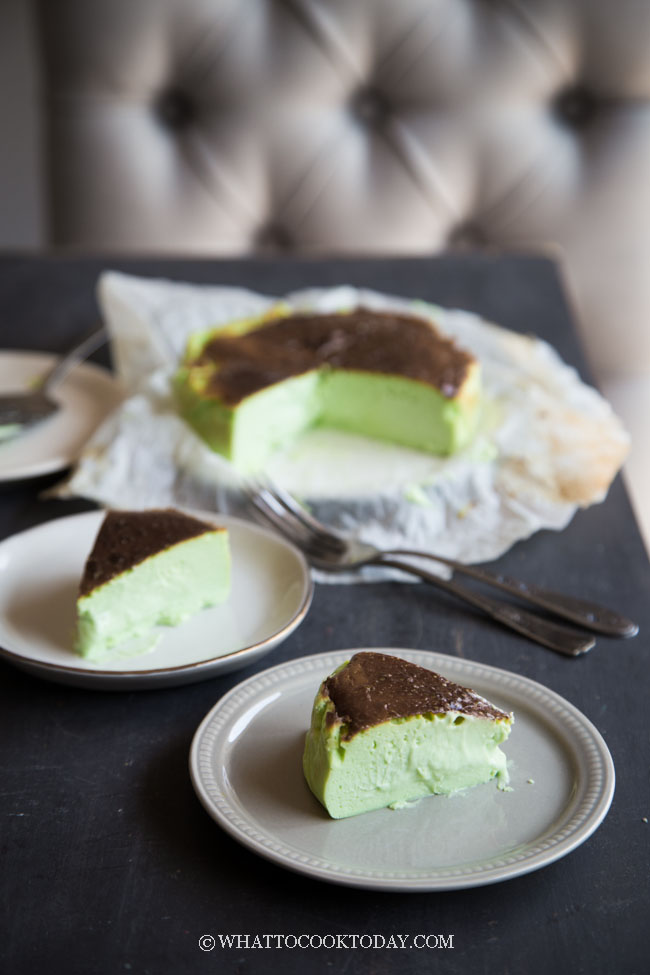 Oh, basque burnt cheesecake…basque burnt cheesecake. Where have you been my whole life! I'm not really a fan of cheesecake, well, except for fluffy and light Japanese cheesecake. I don't really care for cloyingly sweet and dense cheesecake. Japanese-style basque burnt cheesecake is not the dense type of cheesecake for sure!
WHAT IS BASQUE BURNT CHEESECAKE BY THE WAY?
At home, I actually called this a "messed-up cheesecake" or an"impossible-to-fail cheesecake". Why? Unlike the conventional cheesecake, this cheesecake has no crust, it is cooked at very high temperature so the surface is burnt and has super dark burnt color, then it sinks when it cools down. Not the prettiest cake you imagine. That's a basque burnt cheesecake for you! It is originated in the Basque country by a chef and hence the name! Though the Japanese do add their own twist by making the inside melty and gooey.
WHAT DOES IT TASTE LIKE?
Japanese style basque burnt cheesecake is not a super light and fluffy type of cheesecake, but it's not dense like the American cheesecake either. In fact, this pandan basque burnt cheesecake has a melty creamy inside, which I truly love. The burnt surface doesn't taste burnt in case you are wondering. It has that wonderful caramelization paired with the rich melty creamy inside. It is such a treat! And I'm not even a cheesecake person to begin with, but I will eat basque burnt cheesecake.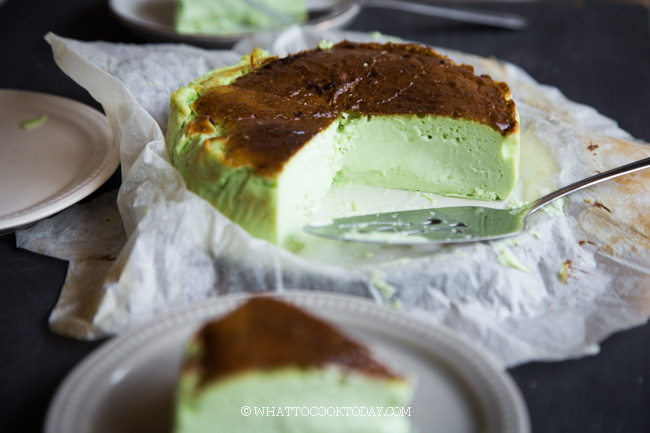 WHY YOU'LL LIKE THIS RECIPE
1. It's almost impossible to fail this recipe. Like for real! Even if you have never make a cheesecake before, you should probably start with this basque cheesecake
2. All you need is a blender. There is no need to wait for the cream cheese to soften and all other extra steps. Just put everything inside a blender and few seconds later you have your cake batter ready to be baked
3. Melty and creamy inside. Oh..that part is so addicting (to me at least)
4. This recipe is actually gluten-free and keto-friendly.
INGREDIENTS
You may see slight variants in ingredients and methods of preparing basque cheesecake. These are what I use:
1. Cream cheese
I use Philadelphia cream cheese block. Do not use a cream cheese spread (whipped cream cheese). You can use any other brand of cream cheese block
2. Sugar
I use granulated sugar. For keto friends, you can definitely use keto-friendly sugar like monk fruit sweetener, which you can substitute 1 to 1 with regular sugar if I'm not mistaken
3. Eggs
I use large eggs that weigh about 50 grams each without the shell
4. Heavy cream
Basque burnt cheesecake usually use heavy cream, but I use coconut milk because pandan and coconut milk just goes together so well
5. Pandan extract
I used my own homemade pandan extract, which is why the color is very pale. If you want a greener color, you can add store-bought pandan paste/essence
6. Cornstarch
The cornstarch acts as a binder to this cake and at the same time, turning this cake into a gluten-free basque cheesecake 🙂
HOW TO EASILY MAKE JAPANESE PANDAN BASQUE BURNT CHEESECAKE IN THE AIR FRYER OR OVEN
1. Preheat your air fryer at 400 F (200 C) for 5 minutes. If using an oven, preheat oven at 480 F(250 C)
2. Place all ingredients in a blender and blend until smooth


If you worry about large bubbles appearing on the inside of the cake, you can wait for about 10 minutes for the bubbles to settle down after blending. I didn't do this actually and find it just fine


3. Line a 6 inch round pan with a parchment paper on the bottom and side of the pan. Pour the cake batter into the pan


4. The batter is supposed to be runny. Run a skewer or chopstick all around the batter to pop any bubbles (as shown in the video)


5. Place the pan in the basket of the air fryer and bake for 10 minutes at 400 F (200 C) and then lower temperature to 350 F (180 C) for 10 minutes. If baking in the oven, place the pan on the 3rd rack from top (middle of the oven). Bake at 480 F (250 C) for 22-25 minutes. If the top is not burnt enough for you, turn on the broiler function on your oven on high and broil for a minute or so. Do not walk away during this time or you will really burnt it to the ground LOL. Took me 22 minutes for a melty creamy inside.


6. The cheesecake will be jiggly when you gently shake the pan. That's the way it supposed to be. Let the cake cools down completely at room temperature. This will take few hours


7. The cake may sink a bit in the middle as it cools down (though didn't happen with mine). Cover with a cling wrap and store in the fridge for at least 6 hours before slicing

I'm trying my best to show you the melty creamy part in the middle of the cake. I hope you can see it. It's pretty obvious in the video.

IMPORTANT TIPS
1. Pan size
I use 6 x 3 inch round pan and it has no removable bottom. This is the size that fits into my air-fryer. If you want to use a larger size, your cheesecake will be shorter. This will affect baking temperature and time. I recommend for the amount of the ingredients calls for in this recipe, stick with a 6-inch round pan
2. Baking temperature and time
If you use a larger size pan, let's say 7 or 8 inches round pan, the cake will be way shorter, so you are running a chance of overcooking the inside of the cheesecake. In this case, I recommend doubling the recipe so that the cake will not be overcooked on the inside but baking temperature and time remains the same
TROUBLESHOOTING
1. My basque cheesecake sink in the middle
This is the way it supposed to be. The edge of the cake is usually cooked through and the middle is still "wet" and will give you that melty creamy texture when it cools down. So the middle will naturally sink of course! You are doing the right thing!
2. My basque cheesecake cracks
If your cake cracks, that means you have overcooked it. Pay attention to the baking temperature and time. Every oven may differ slightly and you may need to experiment to decrease cooking time and/or increase baking temperature so we can get the top to be burnt without overcooking the inside
3. My basque cheesecake is not cooked through
Congrats! you did it right! that's why I said this is a "messed-up cheesecake". It supposed to be undercooked in the middle part of the cake. When you pull the cake out from the air fryer or oven, it jiggles (watch the video if you need a clue)
HOW TO STORE BASQUE BURNT CHEESECAKE
Once the cake has cooled down completely at room temperature, wrap with a cling wrap to cover and store in the fridge for at least 6 hours before slicing. Then any leftover must be kept in the refrigerator for up to one week. I do not recommend freezing
DID YOU MAKE THIS JAPANESE PANDAN BASQUE BURNT CHEESECAKE RECIPE?
I love it when you guys snap a photo and tag to show me what you've made 🙂 Simply tag me @WhatToCookToday #WhatToCookToday on Instagram and I'll be sure to stop by and take a peek for real!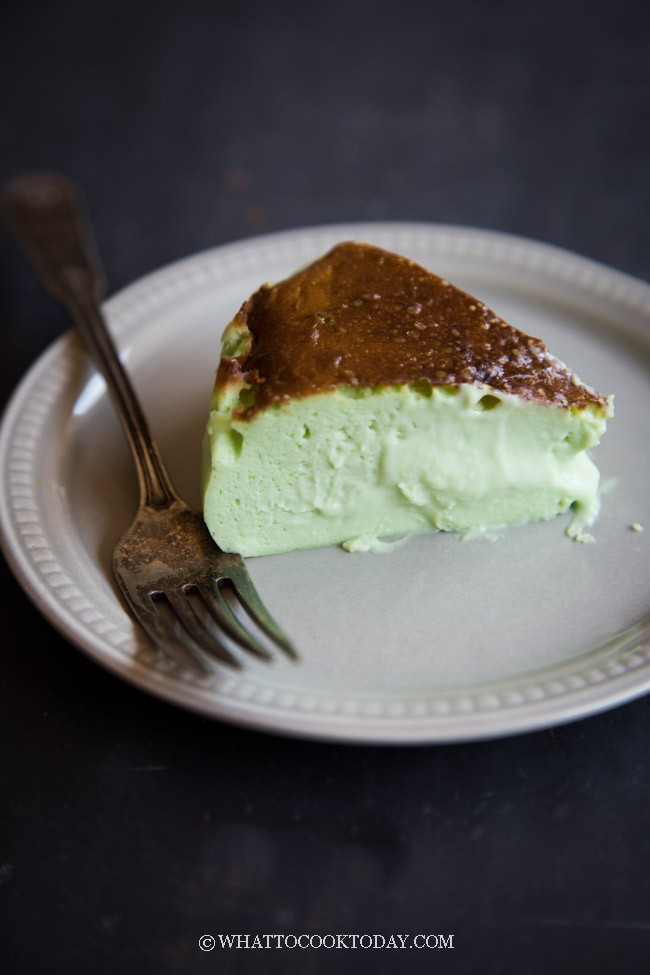 Air Fryer Pandan Basque Burnt Cheesecake (with Melty Creamy Inside)
Ingredients
226

gr

cream cheese

1 block

60

gr

sugar

3

large

eggs

(about 50 grams each without the shell)

125

ml

heavy cream

see notes 1

12

gr

cornstarch
Pandan flavor:
1

Tbsp

homemade pandan extract

(concentrated)

½

tsp

store-bought pandan extract/essence

optional
Instructions
Preheat your air fryer at 400 F (200 C) for 5 minutes. If using an oven, preheat oven at 480 F(250 C).

Line a 6 inch round pan with a parchment paper on the bottom and side of the pan
Blender method:
Place all ingredients in a blender and blend until smooth. If you worry about large bubbles appearing on the inside of the cake, you can wait for about 10 minutes for the bubbles to settle down after blending. I didn't do this actually and find it just fine

Pour the cake batter into the pan. The batter is supposed to be runny. Use a skewer or chopstick to pop any bubbles (as shown in the video)
Without blender method:
Make sure your cream cheese and eggs are at room temperature. Cream cheese should be soft. Cream sugar and cream cheese together on medium speed until smooth and no more grainy sugar. Scrape the side of the bowl

Add eggs one at a time and beat on medium until combined. Scrape the side of the bowl again. Add pandan extract and pandan essence if using

Whisk the heavy cream and the corn starch in a separate bowl until combined. Add this mixture to the cream cheese mixture and mix on a medium speed again until combined

Pour the cake batter into the pan. The batter is supposed to be runny. Use a skewer or chopstick to pop any bubbles (as shown in the video)
Baking in the air fryer:
Place the pan in the basket of the air fryer and bake for 10 minutes at 400 F (200 C) and then lower temperature to 350 F (180 C) for 10 minutes. If you prefer the cheesecake to be more firm on the inside instead of melty and creamy, add another 2-5 minutes, but you want the cheesecake to be still "jiggly" when you pull it out from the air fryer. That's the way it supposed to be
Baking in the oven:
Place the pan on the 3rd rack from the top (middle of the oven). Bake at 480 F (250 C) for 22-25 minutes. Took me 22 minutes for a melty creamy inside. If the top is not burnt enough for you, turn on the broiler function on your oven on high and broil for a minute or so. Do not walk away during this time or you will really burn it to the ground LOL. The cheesecake will be jiggly when you gently shake the pan. That's the way it supposed to be
Cool down the cake:
Let the cake cools down completely at room temperature. This will take few hours. The cake may sink a bit in the middle as it cools down. Cover with a cling wrap and store in the fridge for at least 6 hours before slicing
How to store the cake:
The burnt cheesecake can be store in the fridge for about 1 week. I don't recommend freezing the cake
Notes
You can also use cow's milk, nut milk, coconut milk
Recommended products:
YOU MAY ALSO LIKE THIS