Nothing beats an easy, flavorful, and quick to make Taiwanese style cold noodles made with peanut sauce and simple seasonings. It can be served as a side dish or can be made a complete meal. Step-by-step photos and a short video tutorial are included.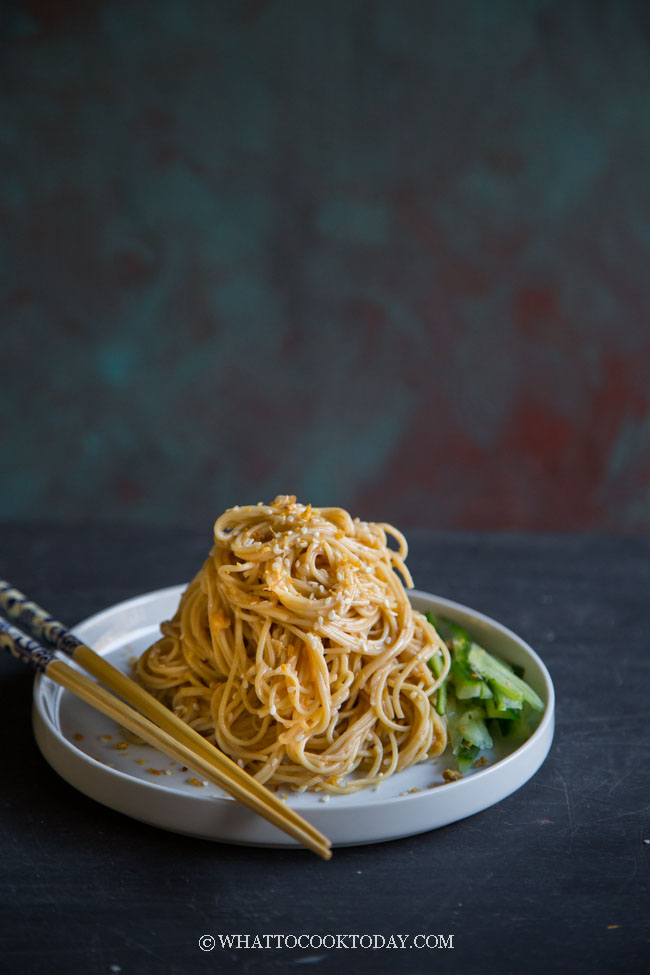 I'm sharing one of my family's favorite cold noodle dishes. I love the fact that they are so easy to make and highly customizable. So if you are out of certain ingredients, you can always replace them with something else or add what you like or take out what you don't like and you will still end up with a delicious and quick meal.
INGREDIENTS
1. What kind of noodles to use?
For this particular post, I used dried wheat noodles, which works out perfectly. I have also tried it with spaghetti, egg noodles, and instant ramen noodles and they work great as well. Buckwheat noodles, somen noodles, or any of your favorite noodles will work with this recipe as well.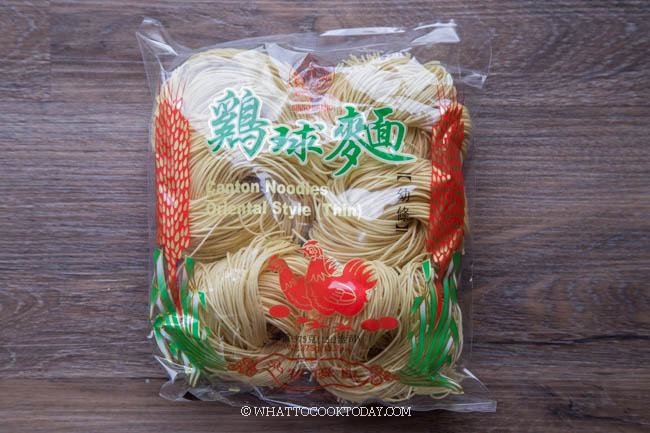 2. Peanut sauce, sesame paste, or peanut butter?
In Taiwan, cold noodles are usually made with homemade peanut sauce and/or sesame paste (not tahini paste). Some cooks like to combine both or use either one. I didn't make the homemade peanut sauce, but I use store-bought organic creamy peanut butter. So good and so much more convenient. Do use high-quality peanut butter that you like. If you like some texture, you can even use crunchy peanut butter
3. Sesame oil
I used roasted white sesame oil. Roasted black sesame oil works great too
4. Chinese black vinegar (Chinkiang black vinegar)
If you can't find Chinese black vinegar, you can use rice vinegar or apple cider vinegar too. It's not exactly the same, but it will contribute to that hint of tartness to the finished dish
5. Soy sauce
I use regular light soy sauce. You can use reduced-sodium or tamari to suit your dietary needs
6. Sugar
You would be wondering why we need to add sugar to a noodle dish. Sugar does add some hint of sweetness to this noodle, without being too much. I like to add a small amount of sugar in cooking too because it does bring out flavor
7. Toasted white sesame seeds
I usually get white sesame seeds that are already toasted, if yours haven't been toasted, I highly recommend doing so because toasting adds that nuttiness. Plain white sesame seeds have no flavor at all. Feel free to use toasted black sesame seeds too for color contrast
8. Fried garlic bits
This is optional. I bought store-bought garlic bits and used this as a topping. You can skip if you prefer
9. Cucumber
I used Persian cucumber because they are less watery and very crispy compared to regular cucumber. You can also use English cucumber, baby cucumber or pickling cucumber too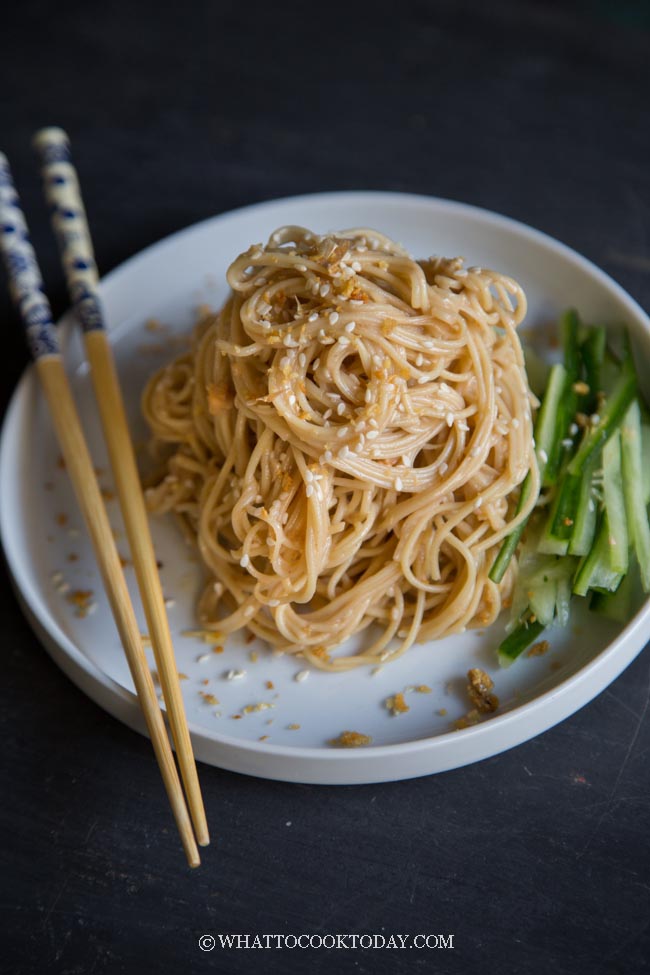 HOW TO MAKE TAIWANESE COLD NOODLES WITH PEANUT SAUCE
1. Cook the noodles according to the instruction on the package. Make sure you don't overcook the noodles. It should be "al dente" (firm to bite). Rinse the cooked noodles under cold running water to stop the cooking process. Cover with a cling wrap and refrigerate in the fridge to chill the noodles if you want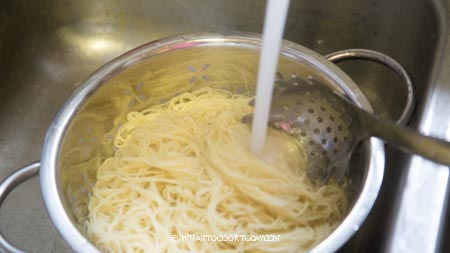 2. Mix all ingredients for dressing in a mixing bowl. Whisk to combine everything. The amount of ingredients for dressing is just a reference. Feel free to add more or reduce some according to your preference. The sauce should be savory, tangy, a hint of spicyness (if you use chili oil) and sweetness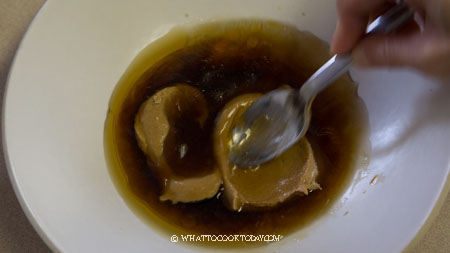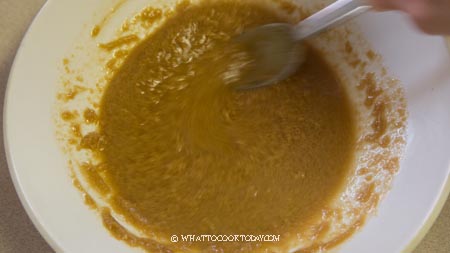 3. I toss the cooked noodles with the dressing directly and then top with cucumber, toasted sesame seeds and garlic bits.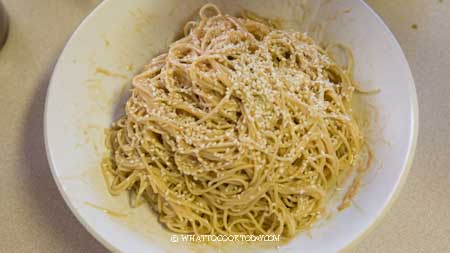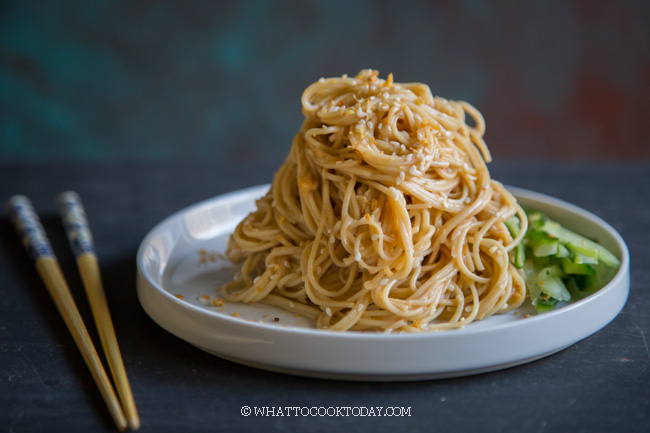 CUSTOMIZE YOU OWN
This noodle dish can be served as is or you can add more veggies and protein to make it a complete meal.
1. Veggies
You can use strips of bell peppers, strips of carrot, strips of white radish/daikon, beansprouts, shredded purple cabbage, etc
2. Protein
You can use leftover rotisserie chicken, shredded chicken meat, strips of egg omelette, fried eggs, soft-boiled eggs, strips of pan-fried tofu, edamame beans, etc
This cold noodle dish is very easy to make and you can make the sauce ahead and in bigger batch and keep them in a fridge or freezer, so I can easily use it when I want some cold noodles. What can I say, I can't have enough.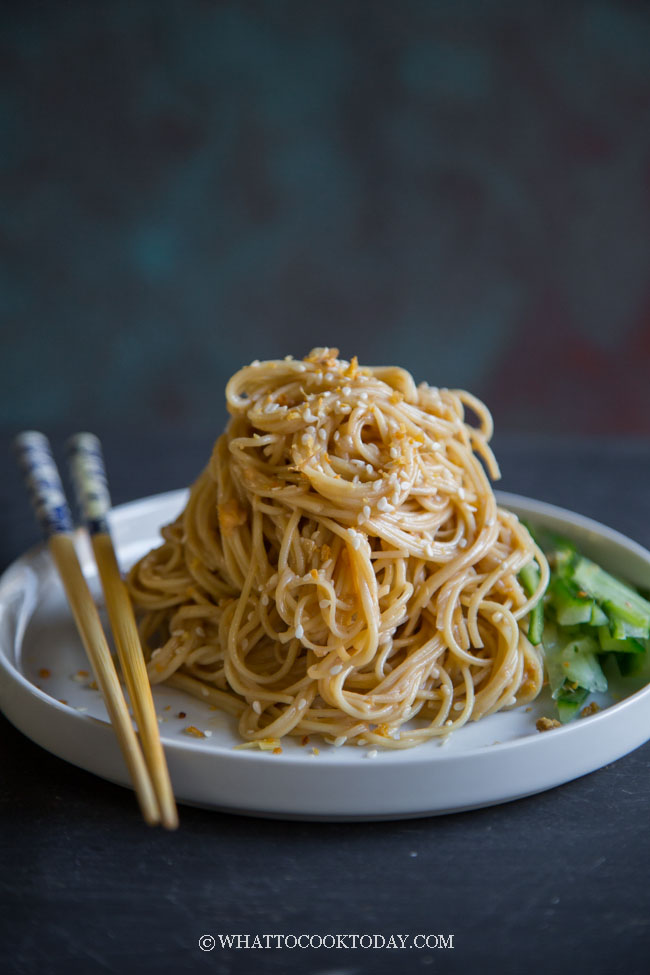 DID YOU MAKE THIS EASY TAIWANESE COLD NOODLE RECIPE?
I love it when you guys snap a photo and tag to show me what you've made 🙂 Simply tag me @WhatToCookToday #WhatToCookToday on Instagram and I'll be sure to stop by and take a peek for real!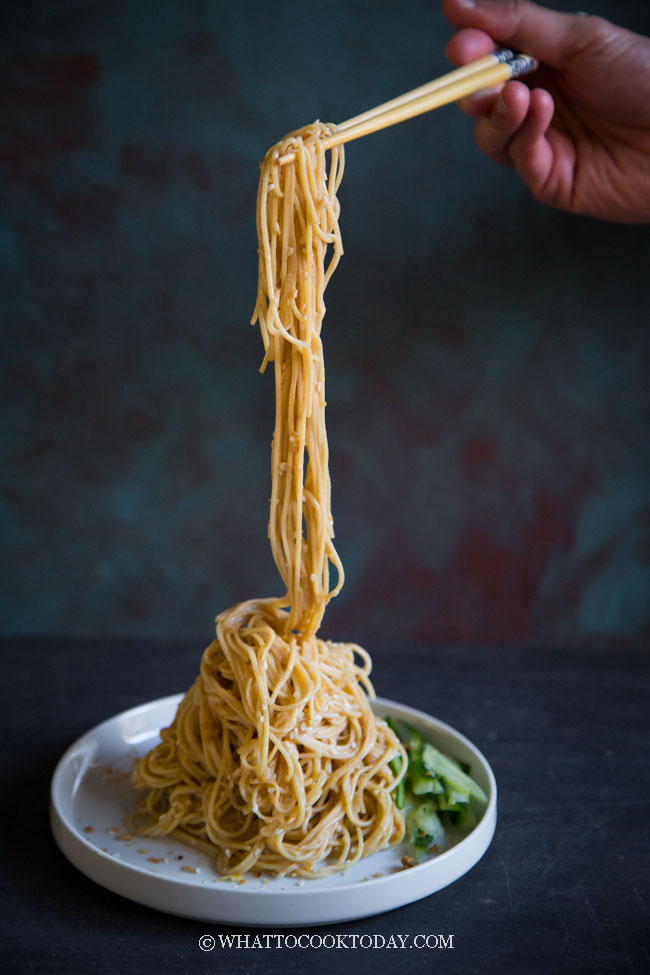 Recipe was last published in 2011 and has been updated with improved recipe, photos, and video on October 16,2020.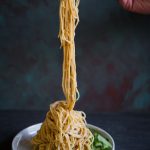 Easy Taiwanese Cold Noodles with Peanut Sauce (Liang Mian / 涼麵)
Ingredients
200

gr

dried wheat noodles

or noodle of your choice
Toppings:
Persian or English cucumber

White sesame seeds

toasted

Fried garlic bits
Instructions
Cook the noodles:
Cook the noodles according to the instruction on the package. Make sure you don't overcook the noodles. It should be "al dente" (firm to bite)

Rinse the cooked noodles under cold running water to stop the cooking process. Cover with a cling wrap and refrigerate in the fridge to chill the noodles if you want
Prepare the cucumber:
Halve the cucumber lengthwise and then use a spoon to scoop out the seeds. Halve the cucumber again horizontally then cut into strips
Prepare the dressing:
Mix all ingredients for dressing in a mixing bowl. Whisk to combine everything. The amount of ingredients for dressing is just a reference. Feel free to add more or reduce some according to your preference. The sauce should be savory, tangy, a hint of spicyness (if you use chili oil) and sweetness
To serve:
I toss the cooked noodles with the dressing directly and then top with cucumber, toasted sesame seeds and garlic bits. OR you can portion the noodles and cucumber into an individual serving bowl. Spoon some sauce on the side of the bowl. Garnish with toasted sesame seeds and garlic bits. Everyone can mix their own dressing with the noodles
To store:
The dressing can be made ahead of time and stored in the fridge for up to one week. All you need to do is to cook some noodles and add some veggies when you want some liang mian
Recommended products: