Learn how to cook mee sua and to make it into simple delicious noodle soup that is usually served for a Chinese birthday celebration or also known as longevity noodles.
BIRTHDAY MEE SUA NOODLE SOUP
I call this birthday mee sua/mee suah noodle soup because my mom likes to prepare mee sua noodle soup for a birthday celebration. Mee sua noodle is usually thin and long, so it represents longevity (long life). My mom usually will make Red Eggs for birthday celebration too.
WHAT IS MEE SUA/MEE SUAH NOODLE
Mee sua or 麵 線 is also known as wheat vermicelli or flour vermicelli noodle. They are very thin and long. It is originated in Fujian, China. It is made of wheat and it is not gluten-free. Unlike the rice vermicelli noodle, which is also thin and almost has the same look at a glance, it is made with rice and it's gluten-free. They are completely different types of noodles. This version I have is a Chinese white mee sua. There is also a red mee sua, which is unique to the Taiwanese. I have never had red mee sua myself, but I heard that the red mee sua is more resilient and can resist longer cooking.
It's not easy to find mee sua here, but the Asian store I usually go to finally have them in stock and needless to say, I bought home several packs lol! There is a well-known brand that my mom likes to use and the mee sua is packed in a red box. My mom told me before that their mee sua are the best. This is from the old photo I took like almost 8 years ago when my mom brought me some from Indonesia 🙂


I don't have much choice here and whatever they have at the Asian store is what I can get sadly! This brand I get is actually pretty good (not sponsored). Much much better than different brands I have gotten before in the past.


Mee sua usually comes in bundles like this too. Dried mee sua noodles are extremely brittle. They break into small pieces easily. So make sure you store them properly so they don't get squished into tiny pieces and you won't have "longevity" noodle anymore.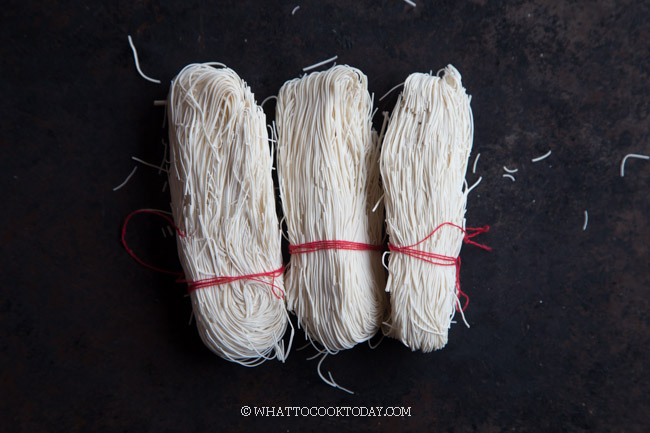 Mee sua is made with wheat flour and salt. So the mee sua noodles are naturally very salty. Certain brands of mee sua are saltier than the others. My mom usually rinses them briefly in water before cooking to get rid of some saltiness. This brand I got is actually not as salty. I also cook the mee sua separately (instead of cooking it in the soup) and that also helps to get rid of extra saltiness. This mee sua isn't treated with any chemicals and safe to be eaten without having to rinse the noodles.

SUBSTITUTION
If you can't find mee sua, don't fret. Most of the time I couldn't find them. You can substitute mee sua with Japanese somen noodles, which is also salty and thin like mee sua. In fact, to be honest, I like somen than mee sua 🙂 Somen takes a bit longer to cook compare to mee sua, but the texture is better I think and it's not as easy to overcook compare to mee sua.
HOW TO COOK MEE SUAH
1. COOK MEE SUA DIRECTLY IN THE SOUP
Depending on what kind of dish you are going to prepare, mee suah usually is used to make noodle soup. If you are making a dish like Easy Taiwanese Oyster Mee Sua (Orh Ah Mee Sua), the mee sua is cooked directly in the broth, making the final dish all gooey and thick because of the starches from the noodles leech into the broth.
2. COOK MEE SUA SEPARATELY
I usually cook mee sua noodles separately and then serve it with the soup so the soup is clear and not gooey or cloudy. Here's how:
1. Bring a large pot of water to a boil. Add bundles of mee suah. Mee suah take 1 minute or less to cook. Don't overcook them.


2. Drain off water and refresh with cold water and it is ready to be served with a soup

HOW TO PREPARE MEE SUA NOODLE SOUP
1. PREPARE SIMPLE ANCHOVY STOCK
You can skip this and use store-bought chicken or vegetable stock if you prefer. Bring 1.5 litre of water to a boil. Add ikan bilis and seasonings.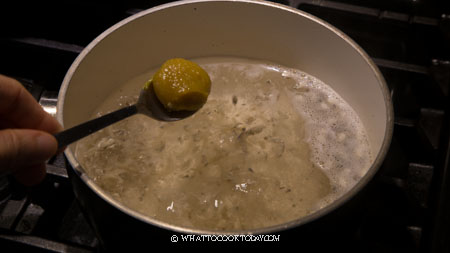 Bring back to a boil and then lower the heat to simmer for 30 minutes. Add seasonings and adjust to suit your taste. Strain the soup base and discard the solid


2. COOK THE MEAT PASTE, POACH EGGS, AND BLANCH VEGGIE
Bring the soup base back to a boil. Scoop about 1-2 teaspoons of the meat paste and drop into the soup. Cook until the meat paste float to the top and double check if they are cooked through and no longer pink inside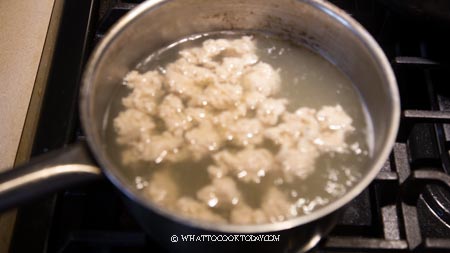 Crack in eggs, one at a time and cook until the whites are no longer translucent


Bring a small pot of water to a boil and blanch veggie until soft but not mushy and then refresh with cold water


3. SERVING
Portion out some of the meat, eggs, veggies, and generously ladle the hot soup over the noodles. Garnish with chopped green onion and fried shallots. Serve immediately

CUSTOMIZE YOUR OWN
I made mee sua noodle soup very often too even if there's no birthday celebration. My kids love it a lot. If I don't have much left in the fridge, we just have the noodle soup with poached eggs or fried eggs, or leftover rotisserie chicken with whatever vegetables I have such as carrots, cabbage, and I usually boil this with the stock. Really, make it your own 😉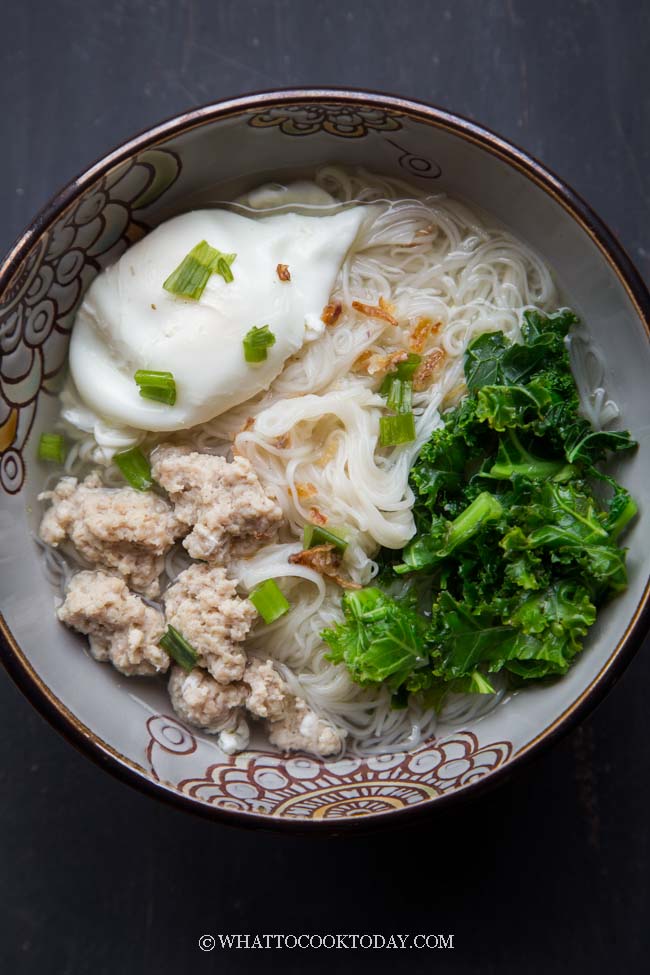 DID YOU MAKE THIS MEE SUAH NOODLE SOUP RECIPE?
I love it when you guys snap a photo and tag to show me what you've made 🙂 Simply tag me @WhatToCookToday #WhatToCookToday on Instagram and I'll be sure to stop by and take a peek for real!

How To Cook Mee Suah Noodle Soup (Wheat/Flour Vermicelli)
Ingredients
Vegetables of choice: (Choose any one of these or your own choice)
2

cups

curly kale

2

bundles

baby bok choy

2

cups

yu choy
Garnish with:
1

stalk

green onion

finely chopped
Instructions
Marinate the pork:
Mix all the ingredients for the pork and let it marinate for about 30 minutes
Prepare the soup base:
Bring 1.5 litre of water to a boil. Add ikan bilis and seasonings. Bring back to a boil and then lower the heat to simmer for 30 minutes. Add seasonings and adjust to suit your taste. Strain the soup base and discard the solid
Cook mee suah noodles:
Bring a large pot of water to a boil. Add bundles of mee suah. Mee suah take 1 minute or less to cook. Don't overcook them. Drain off water and refresh with cold water and portion into an individual serving bowl. 4 bundles should be enough for 4 servings, but if you want more, feel free to cook more
Blanch veggie:
Bring a small pot of water to a boil. Cook veggie briefly until just soft, but not mushy and then refresh with cold water and set aside
Putting everything together:
Bring the soup base back to a boil. Scoop about 1-2 teaspoons of the meat paste and drop into the soup. Cook until the meat paste float to the top and double check if they are cooked through and no longer pink inside

Crack in eggs, one at a time and cook until the whites are no longer translucent
Serving:
Portion out some of the meat, eggs, veggies, and generously ladle the hot soup over the noodles. Garnish with chopped green onion and fried shallots. Serve immediately
Recommended products:
YOU MAY ALSO LIKE THESE RECIPES USING MEE SUA