Simple effective ways of dying eggs red with food coloring and natural dyes from onions and beetroots. Perfect for celebrations like Eastern Orthodox Easter red eggs, Chinese celebrations like birthdays, baby one-month celebration, etc.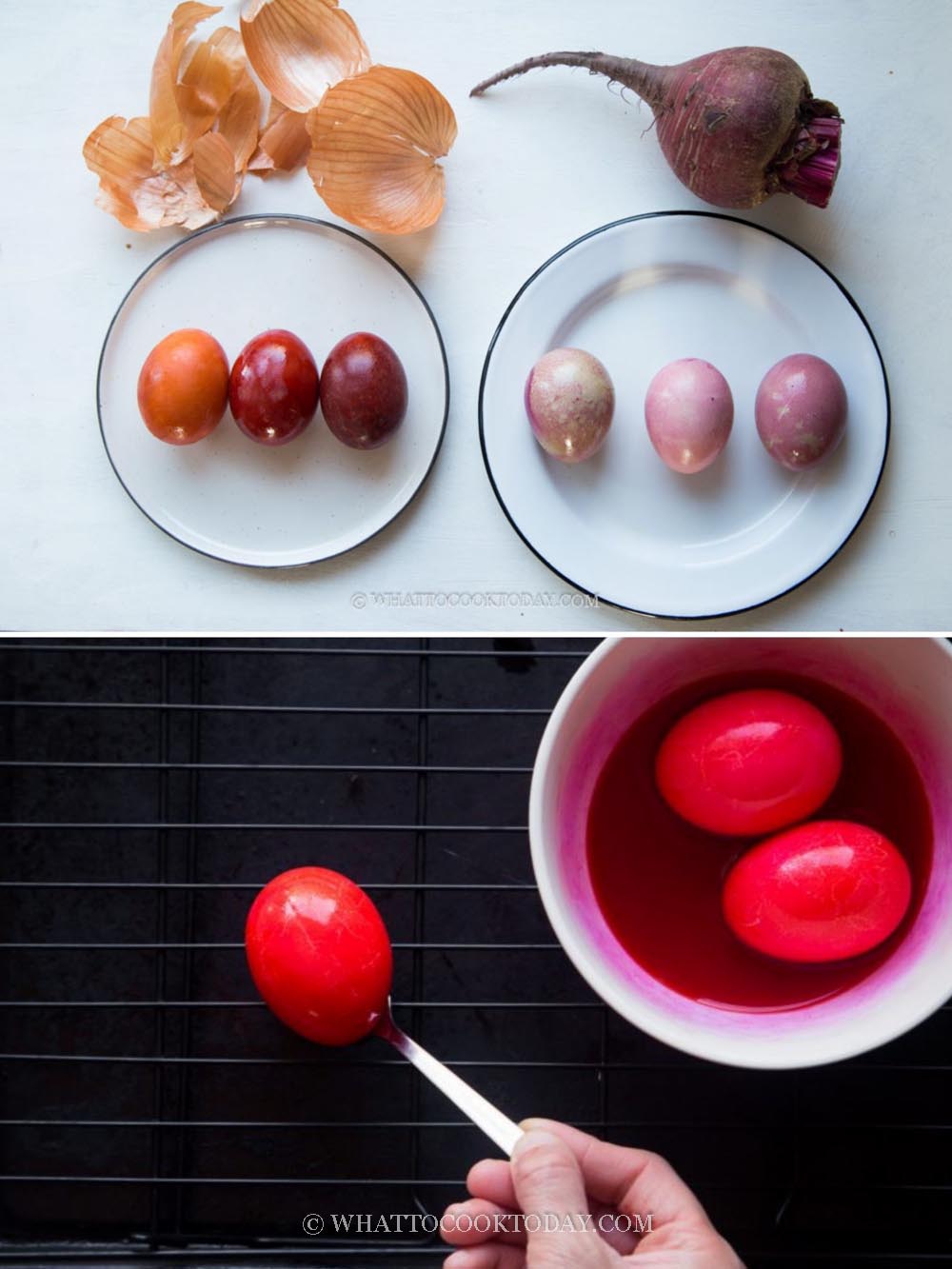 One of the food colorings that is depleted the quickest more than any color in our house, is RED. I usually only made red eggs. Red eggs are usually prepared for celebration in the Chinese culture. Whether to celebrate birthdays, baby's one-month celebration, weddings, etc, you will see these red round eggs around. Red eggs represent happiness and renewal of life. But I've also learned that red eggs are also popular for Eastern Orthodox Easter celebration. The red eggs represent the blood of Christ.
My first time making red eggs on my own was when my daughter turned one year old. I felt a bit incompetent all of a sudden because I had never dyed any eggs before. I grew up in Indonesia and we didn't color or dye eggs for Easter. I did call my mom and asked her how to dye red eggs (What to do without mom really!
WHY DO WE NEED VINEGAR TO COLOR EGGS?
It's all down to chemistry. I'm no chemist but from what I understand, food coloring or food dyes rely on the acidic environment to work well. The vinegar provides that acidity to helps the color clings to the shells of the eggs.
WILL NATURAL DYES WORK?
Yes, natural dyes work. The color is usually more muted and they need a longer time. The eggs need to be soaked longer. The longer you soak, the more intense the color will be.
HOW TO MAKE RED-SHELLED EGGS USING NATURAL DYE FROM YELLOW ONION SKIN
It's amazing how the papery skin of yellow onion can contribute to a vibrant intense red I was looking for. Here's how:
1. Remove the papery skin from the yellow onion
2. Put the skin, water, and vinegar in a non-reactive pot.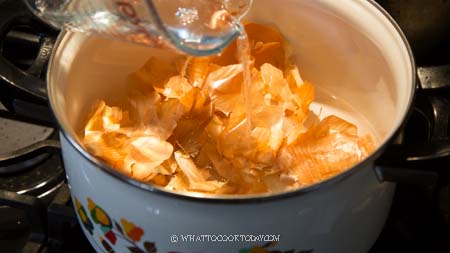 3. Bring to a boil and then lower the heat, cover, and let it simmer for 30 minutes.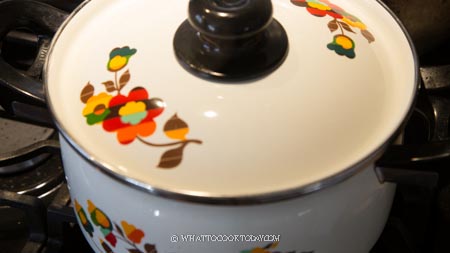 4. Turn off the heat and strain the liquid


5. Place eggs in a jar, enough for the eggs you want to dye. Pour the hot liquid dye to cover the eggs and let them soak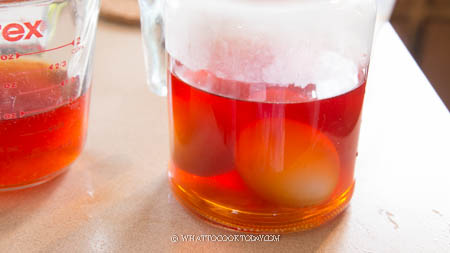 6. I'm surprised by how intense the red can be using yellow onion skin. It's amazing. Soaking for 1 hour produces a more orange hue almost red color. If you want a lighter vibrant red, 3-4 hours of soaking is sufficient. 12 hours of soaking produces a very intense red, almost a bit at the dark side, 24 hours of soaking turn the eggs into dark brown color
HOW TO MAKE RED-SHELLED EGGS USING NATURAL DYE FROM BEETROOTS
Beetroot juice produces a much subtle pastel color. It's more pink than red. It's perfect for Easter eggs. If you want a much intense red, you want to use yellow onion skin instead.
1. Peel and cut the beetroots into chunks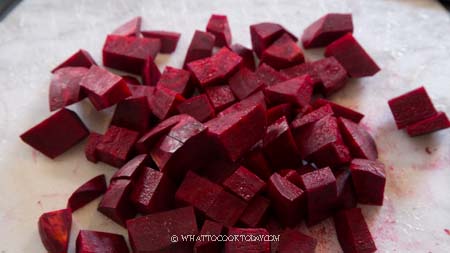 2. Add water and vinegar into a non-reactive pot


3. Bring to a boil and then cover and lower the heat to let them simmer for 30 minutes.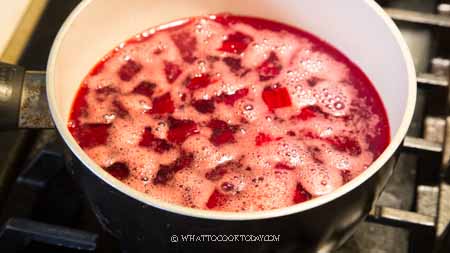 4. Strain the liquid for the dye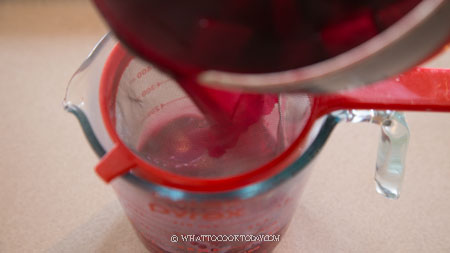 5. Place eggs in a jar, enough for the eggs you want to dye. Pour the hot beet juice to cover the eggs and let them soak


6. Remove the eggs from the jar and place them on a wire rack to dry for about 30 minutes to 1 hour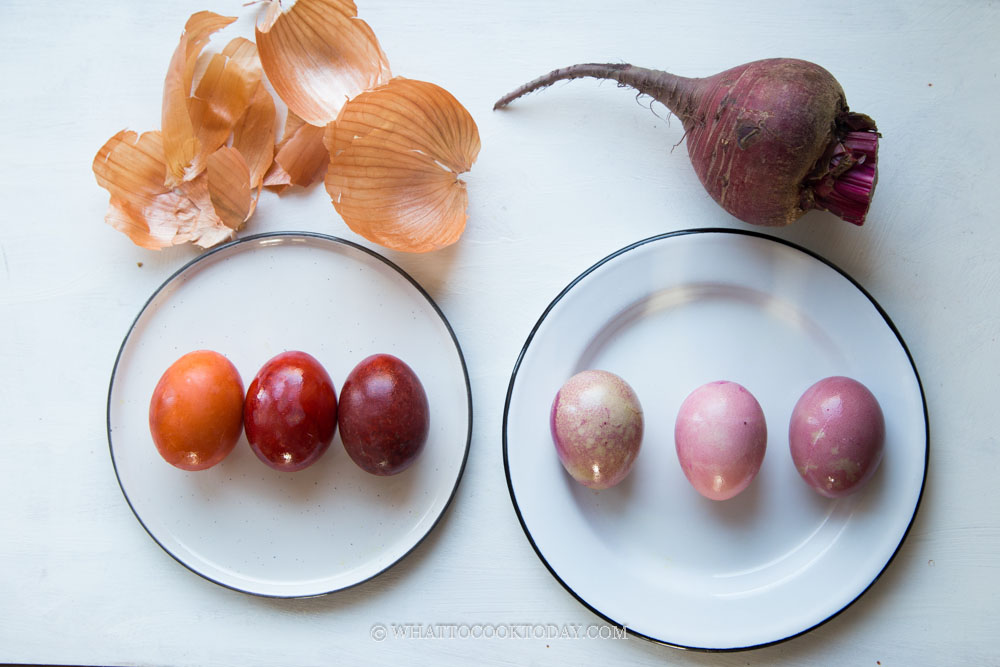 IN CONCLUSION
If using yellow onion skin: soak for 3-4 hours to get brighter/vibrant red, but not too dark. Please make sure the liquid is hot so the color clings to the shell
If using beetroot juice: soak for at least 12-24 hours for a deeper pink color. Please make sure the liquid is hot so the color clings to the shell
HOW TO MAKE RED-SHELLED EGGS USING ARTIFICIAL RED FOOD COLORING
1. UPDATE: Using hard-boiled eggs that are still hot/warm actually gives a better result. The red color will be evenly distributed
2. Put 1 teaspoon of vinegar to warm water. Drop about 20-35 drops of red food coloring (the amount is just an estimate. It really depends on how red you want it to be too and the brand of your red dye!)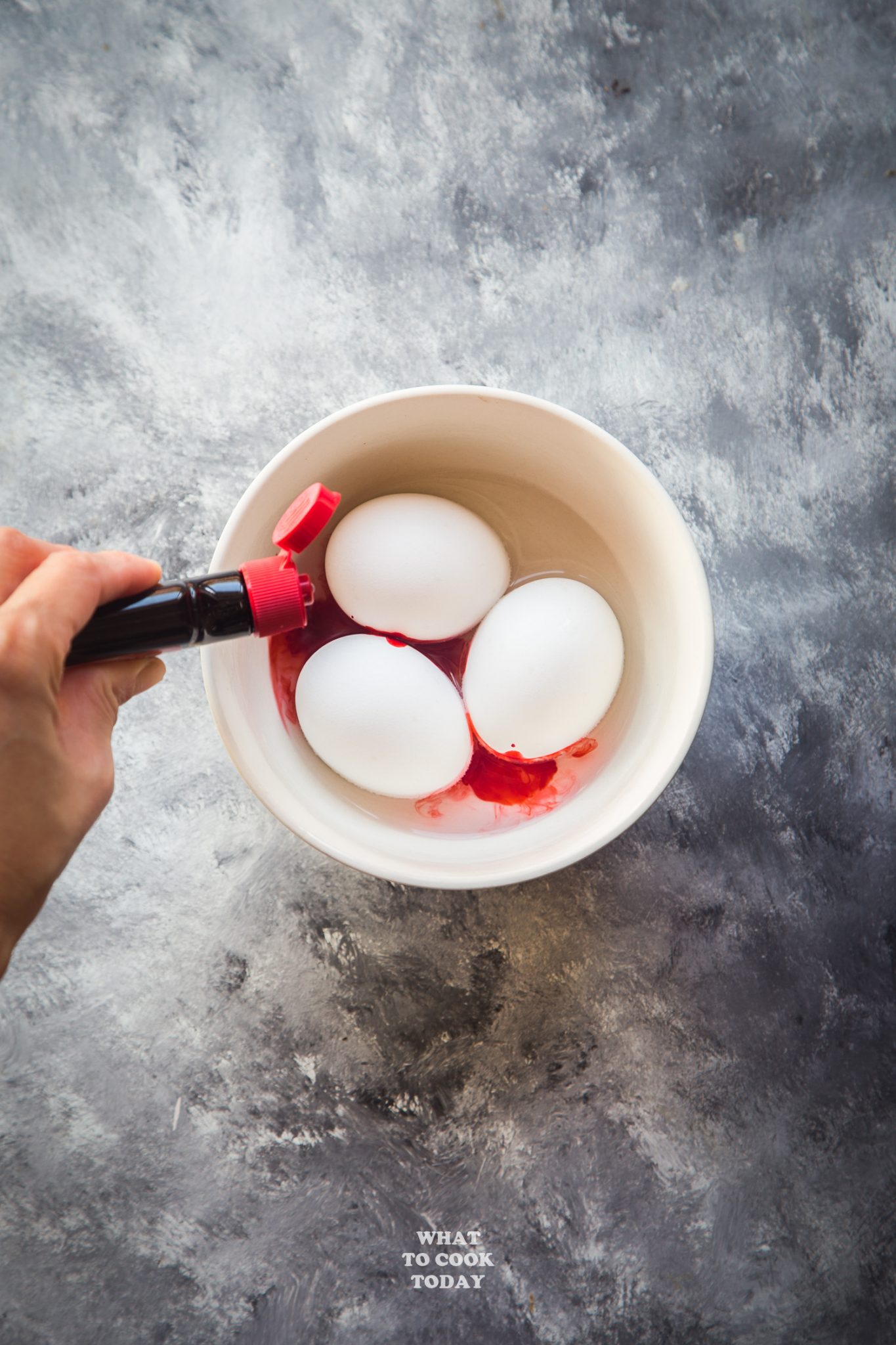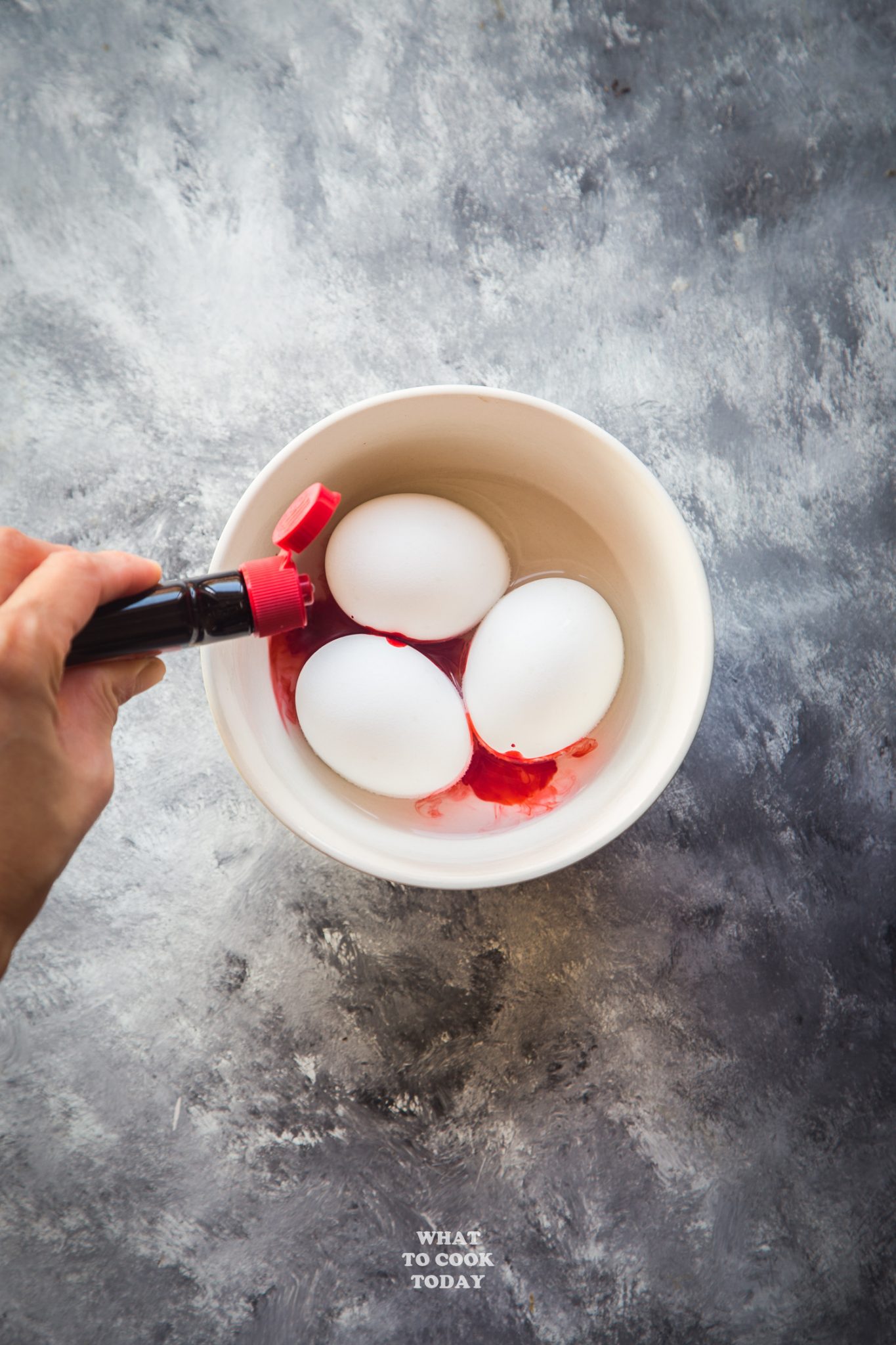 3. Use a spoon to spoon the red liquid all over the eggs, turn the eggs around and repeat the same action. You will see that the red color starts to cling to the shells and the color will keep getting deeper and deeper. I recommend doing 2-3 eggs at a times max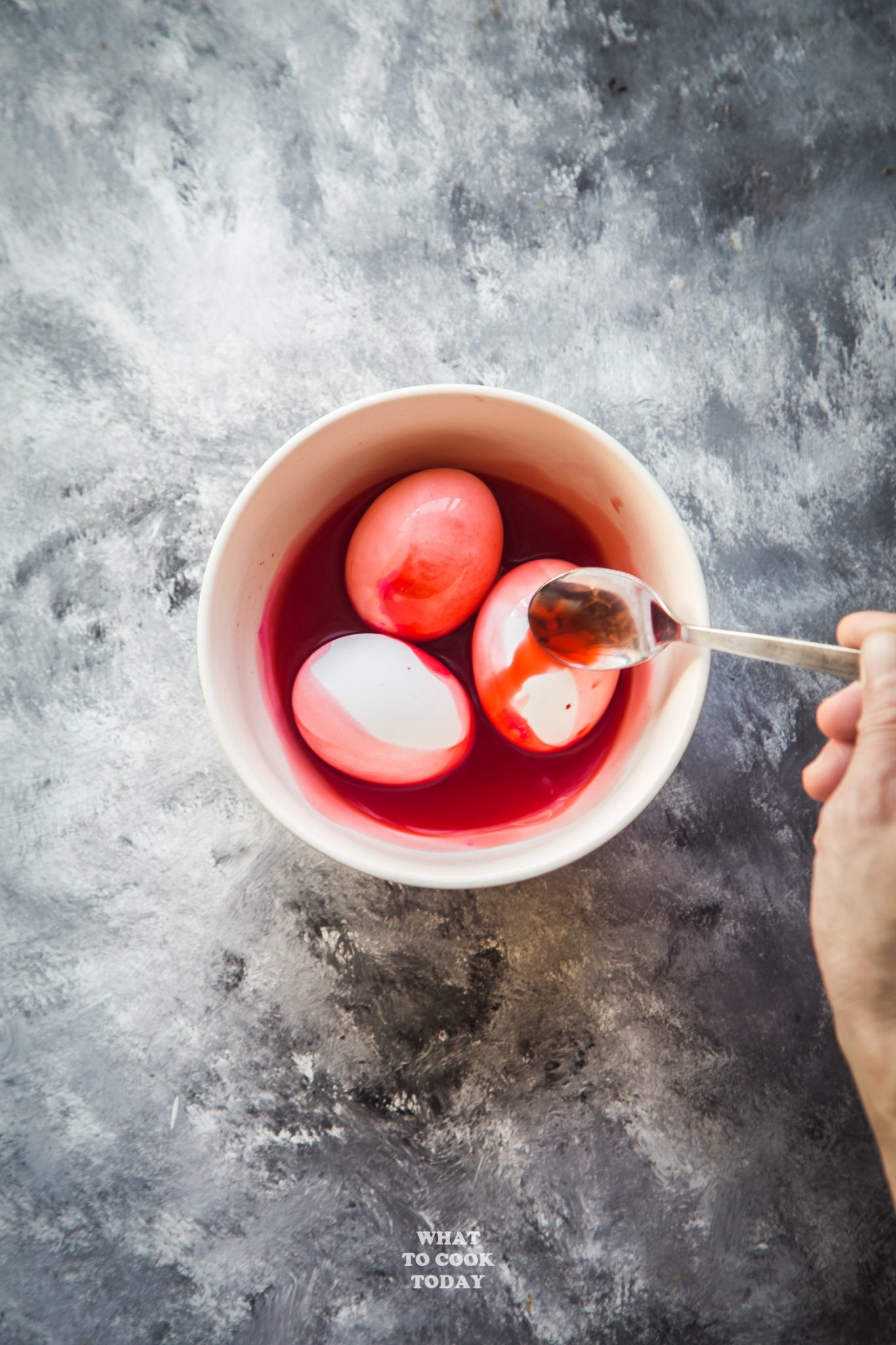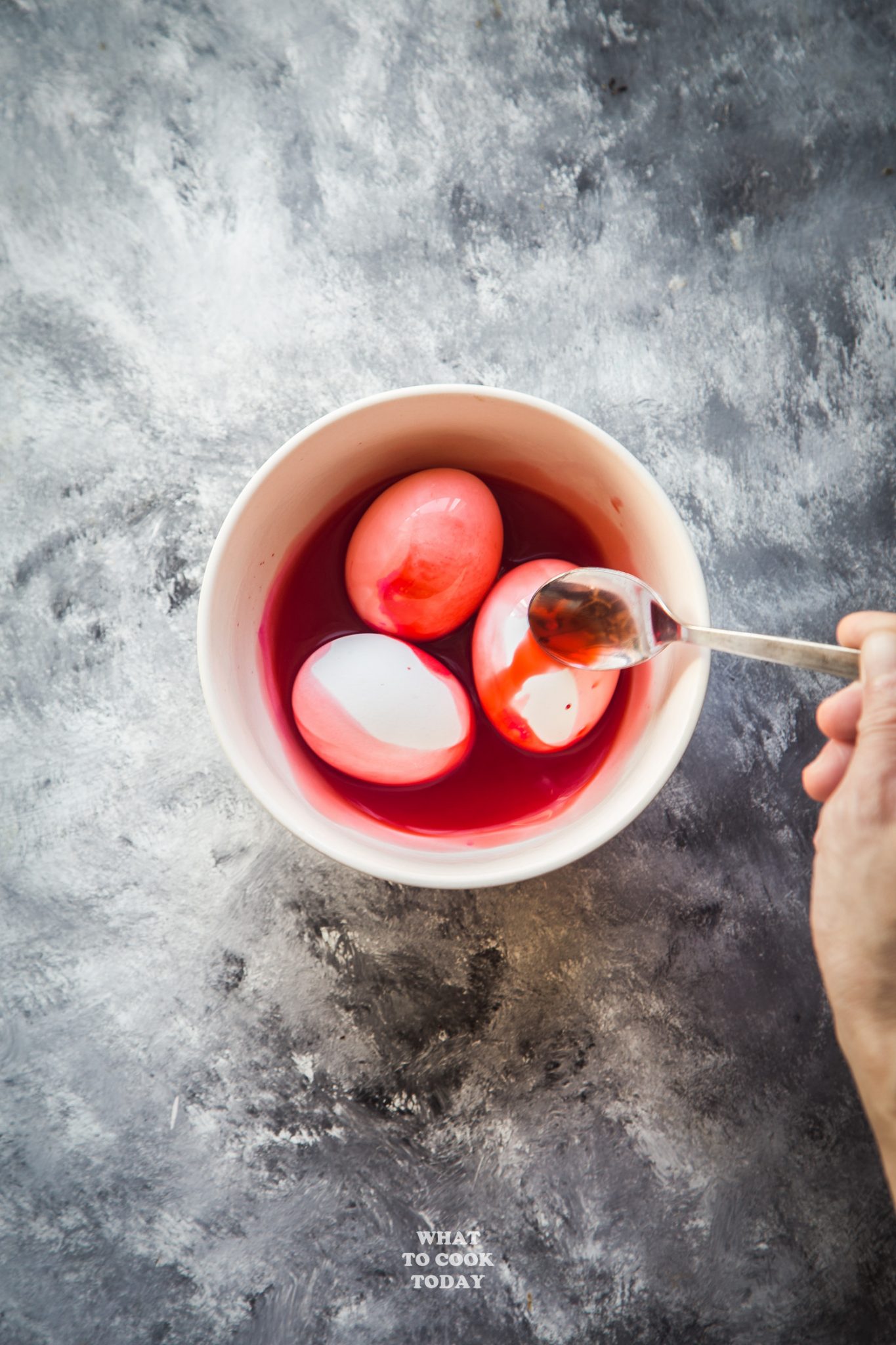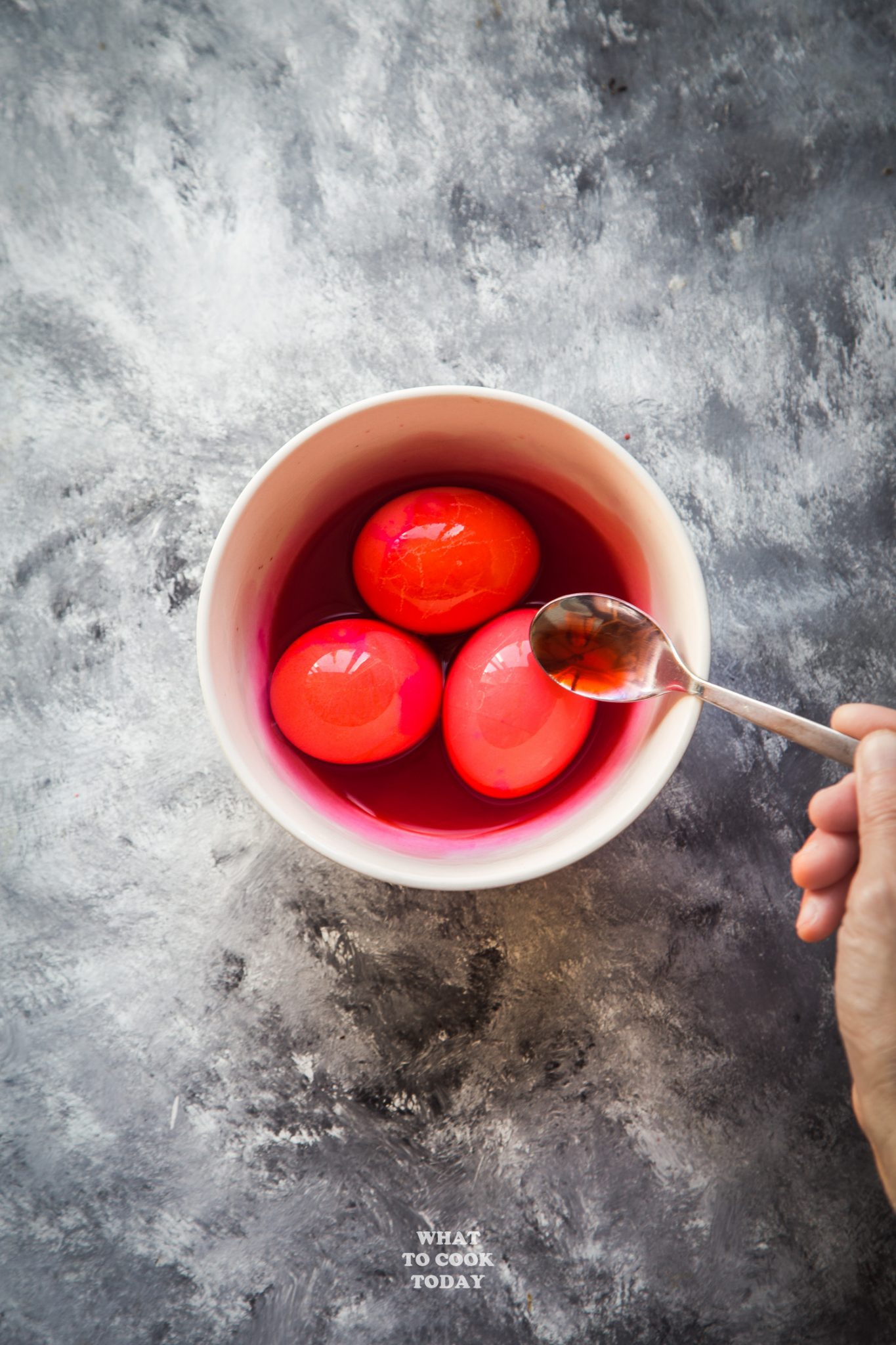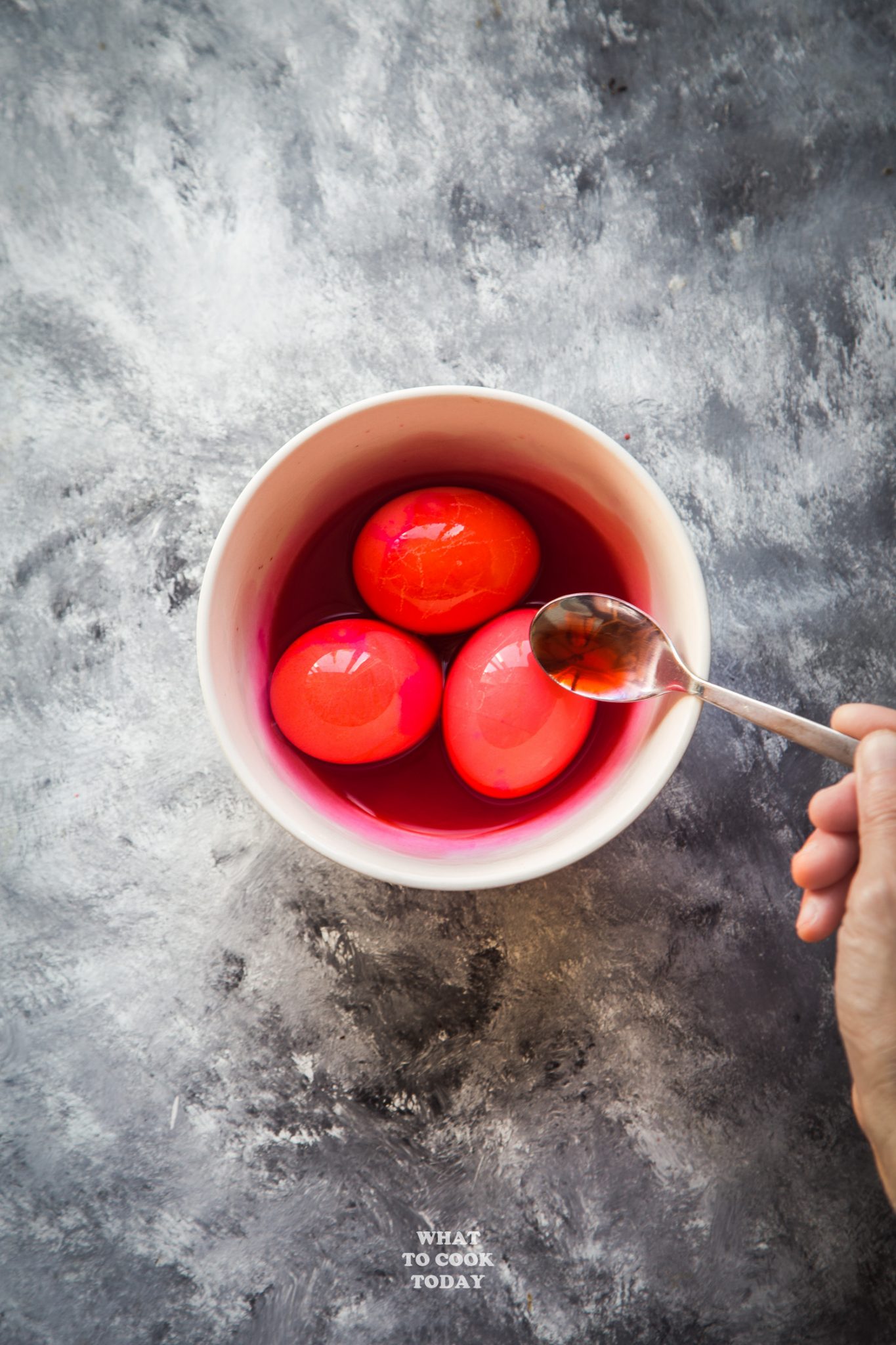 4. Place the dyed eggs on a rack to let them air dry. They should be safe to touch after about 30 minutes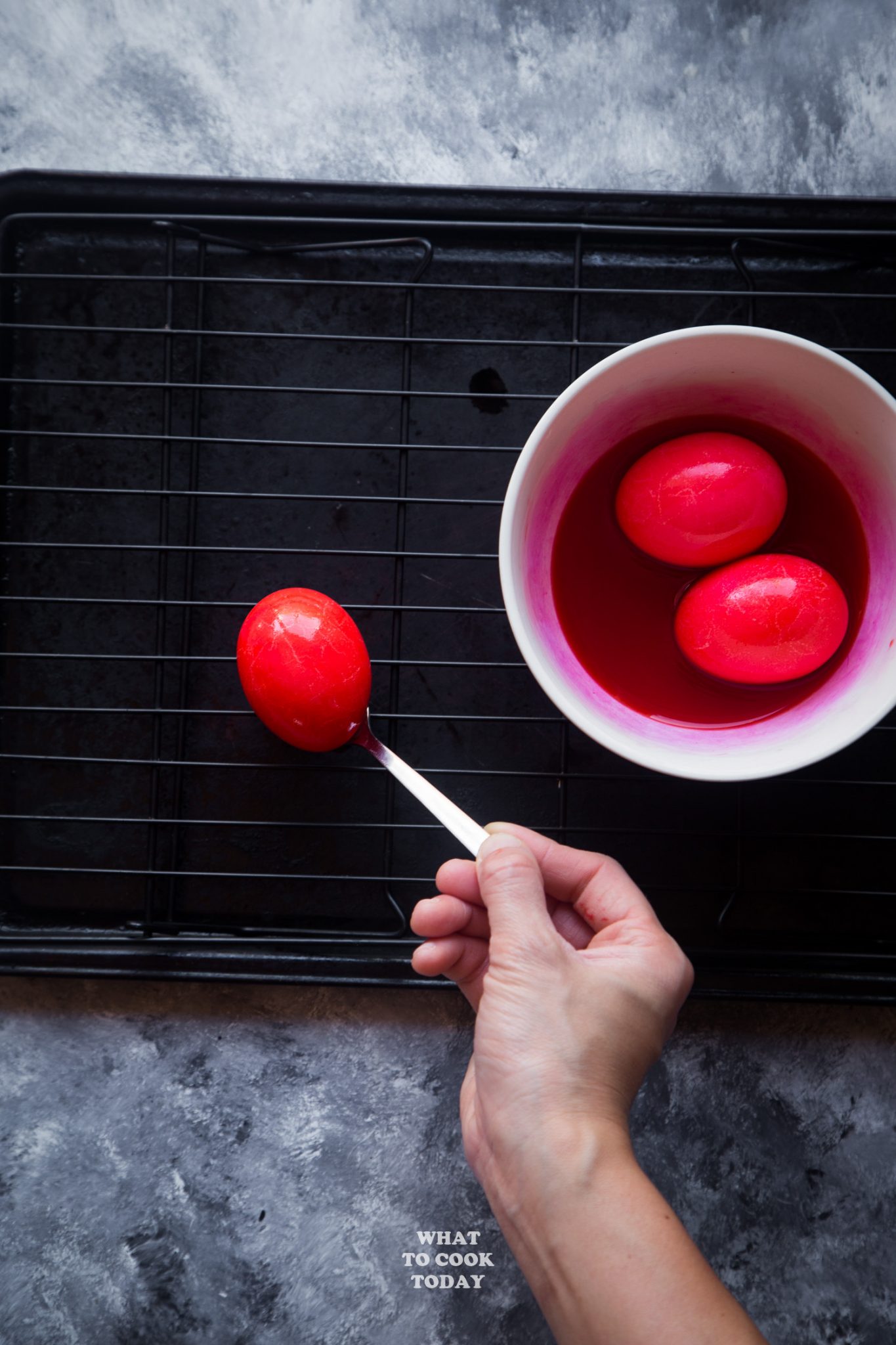 CAN I USE POWDERED DYE?
My mom usually uses a powdered food coloring that is available everywhere where she lives, but liquid or gel food coloring is more common here in the U.S. She said the powdered version gives a stronger nicer color. You will need to follow the instruction on how to use powdered dye/food coloring instead.
CAN I USE GEL FOOD COLORING TO DYE EGGS?
No, not to dye eggs. I've tried that before (what was I thinking!). The gel won't dissolve in the water properly.
CAN I DYE BROWN EGGS?
You certainly can. In fact, I grew up with brown eggs and my mom colored brown eggs for our birthday celebration. You just have to remember that you have a brown base to work with instead of white, so the color may come out darker. It also takes a bit longer to color brown eggs compared to white eggs. So you may need to play around on how much food coloring you need to get to the shade you like or in the case of natural dyes, how long you need to soak to get the color you want.
CAN I JUST LET THE EGGS SIT IN THE DYE?
For artificial food coloring: I found that it's not the amount of time the eggs sit inside the liquid that makes the color vibrant or not. I found that when I scoop the liquid all over the eggs with a spoon and you turn the eggs around as you are doing it really helps the eggs to pick up the color.
For natural dyes: you need to let them soak. The longer they soak, the deeper/brighter the color will be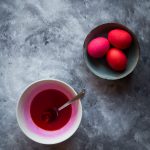 How to make red-shelled eggs (with natural dyes or food coloring)
Ingredients
Hard-boiled or soft-boiled white shelled eggs

brown-shelled eggs will yield darker color
Using red food coloring:
1

tsp

vinegar

½

cup

hot boiling water

25

drops

red food coloring

may need more depending on your food coloring and if you use brown eggs

Cooling rack

with a tray lined with paper towel underneath
Using skins from the yellow onion (for about 5 eggs or so):
5

large

yellow onions

3

Tbsp

white vinegar

4

cups

water
Using beetroots (for about 5 eggs or so):
500

gr

beetroots

3

Tbsp

white vinegar

4

cups

water
Instructions
Using artificial red food coloring:
UPDATE: Using hard-boiled eggs that are still hot/warm actually gives a better result. The red color will be evenly distributed

In a glass bowl, mix hot water (make sure it's hot so the color clings better), vinegar, and food coloring

Put the eggs in a bowl and use a metal spoon to scoop the red liquid onto the eggs, turning to make sure color evenly coats the eggs, you need to be patient and continue to spoon it over as you turn, this may take between 2- 5 minutes or longer for white shelled eggs and you may need around 8 minutes for brown shelled eggs. You will see the color will get deeper and deeper as you spoon the liquid all over the eggs to color them

Place the dyed eggs on the rack to drain. They will dry off in few minutes, but don't be tempted to touch them yet. They should be safe to touch after about 30 minutes
Using beetroots:
Peel and cut the beetroots into chunks. Add water and vinegar into a non-reactive pot. Bring to a boil and then cover and lower the heat to let them simmer for 30 minutes. Strain the liquid for the dye

Place eggs in a jar, enough for the eggs you want to dye. Pour the beet juice while it's still hot to cover the eggs and let them soak. The longer they soak, the more vibrant the color will be. The color from beet juice is more pastel and not as intense even after 24 hours of soaking. It gives more pink than red. It's a beautiful color for Easter eggs, but if you are looking or red, it may not be as red as you think

Remove the eggs from the jar and place them on a wire rack to dry for about 30 minutes to 1 hour
Using yellow onion skin:
Peel the papery yellow skin from the onion. The peeled onion can be saved in the fridge for about 2 weeks, but try to use them as soon as you can

Put the skin, water, and vinegar in a non-reactive pot. Bring to a boil and then lower the heat, cover, and let it simmer for 30 minutes. Turn off the heat and strain the liquid

Place eggs in a jar, enough for the eggs you want to dye. Pour the liquid dye while it's still hot, to cover the eggs and let them soak. I'm surprised by how intense the red can be. Soaking for 1 hour produces a more orange hue almost red color. If you want a lighter vibrant red, 3-4 hours of soaking is sufficient. 12 hours of soaking produces a very intense red, almost a bit at the dark side, 24 hours of soaking turn the eggs into dark brown color

Remove the eggs from the jar and place them on a wire rack to dry for about 30 minutes to 1 hour
The finishing touch (optional):
You can use non-stick spray or a bit of oil to rub on the shell of the eggs to give you a shinier shell so the color looks more lively and not as muted
Notes
I use synthetic food coloring and usually, it works. I'm not sure how the natural food coloring will work
You may like these too