How to make red-shelled eggs – A simple effective way of dying eggs red or any colors with food coloring that is commonly seen for celebrations like Eastern Orthodox Easter red eggs, Chinese celebration like birthdays, baby one-month celebration, etc. 
One of the food colorings that is depleted the quickest more than any color in our house, is RED. I usually only made red eggs. Red eggs are usually prepared for celebration in the Chinese culture. Whether to celebrate birthdays, baby's one-month celebration, weddings, etc, you will see these red round eggs around. Red eggs represent happiness and renewal of life. But I've also learned that red eggs are also popular for Eastern Orthodox Easter celebration. The red eggs represent the blood of Christ.
My first time making red eggs on my own was when my daughter turned one year old. I felt a bit incompetent all of a sudden because I had never dyed any eggs before. I grew up in Indonesia and we didn't color or dye eggs for Easter. I did call my mom and asked her how to dye red eggs (What to do without mom really!
WHY DO WE NEED VINEGAR TO COLOR EGGS?
It's all down to chemistry. I'm no chemist but from what I understand, food coloring or food dyes rely on the acidic environment to work well. The vinegar provides that acidity to helps the color clings to the shells of the eggs.
WILL NATURAL DYES WORK?
I've seen people dying eggs using natural colors derived from onions, cabbage, and other ingredients. They should work too, but the color is usually more muted. You may need to dip and redip several times until you are happy with the color hue you want. Addition of vinegar also helps like in the case of using a synthetic dye.
CAN I USE POWDERED DYE?
My mom usually uses a powdered food coloring that is available everywhere where she lives, but liquid or gel food coloring is more common here in the U.S. She said the powdered version gives a stronger nicer color. You will need to follow the instruction on how to use powdered dye/food coloring instead.
CAN I USE GEL FOOD COLORING TO DYE EGGS?
No, not to dye eggs. I've tried that before (what was I thinking!). The gel won't dissolve in the water properly.
CAN I DYE BROWN EGGS?
You certainly can. In fact, I grew up with brown eggs and my mom colored brown eggs for our birthday celebration. You just have to remember that you have a brown base to work with instead of white, so the color may come out darker. It also takes a bit longer to color brown eggs compared to white eggs. So you may need to play around on how much food coloring you need to get to the shade you like
CAN I JUST LET THE EGGS SIT IN THE DYE?
I found that it's not the amount of time the eggs sit inside the liquid that makes the color vibrant or not. I found that when I scoop the liquid all over the eggs with a spoon and you turn the eggs around as you are doing it really helps the eggs to pick up the color.
HOW TO MAKE RED-SHELLED EGGS
1. Make sure the hard-boiled eggs are not warm and at least room temperature
2. Put 1 teaspoon of vinegar to warm water. Drop about 20-35 drops of red food coloring (the amount is just an estimate. It really depends on how red you want it to be too and the brand of your red dye!)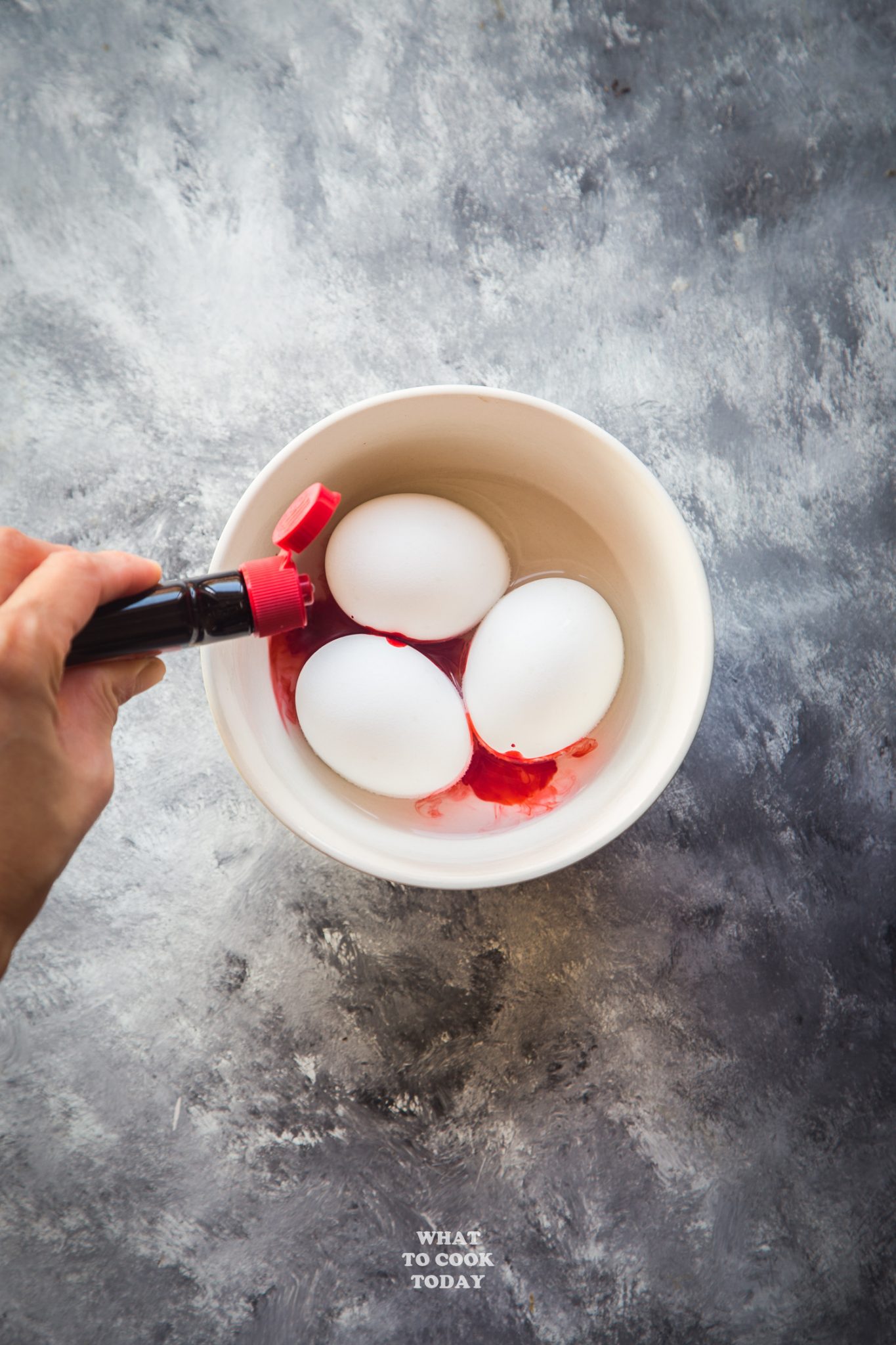 3. Use a spoon to spoon the red liquid all over the eggs, turn the eggs around and repeat the same action. You will see that the red color starts to cling to the shells and the color will keep getting deeper and deeper. I recommend doing 2-3 eggs at a times max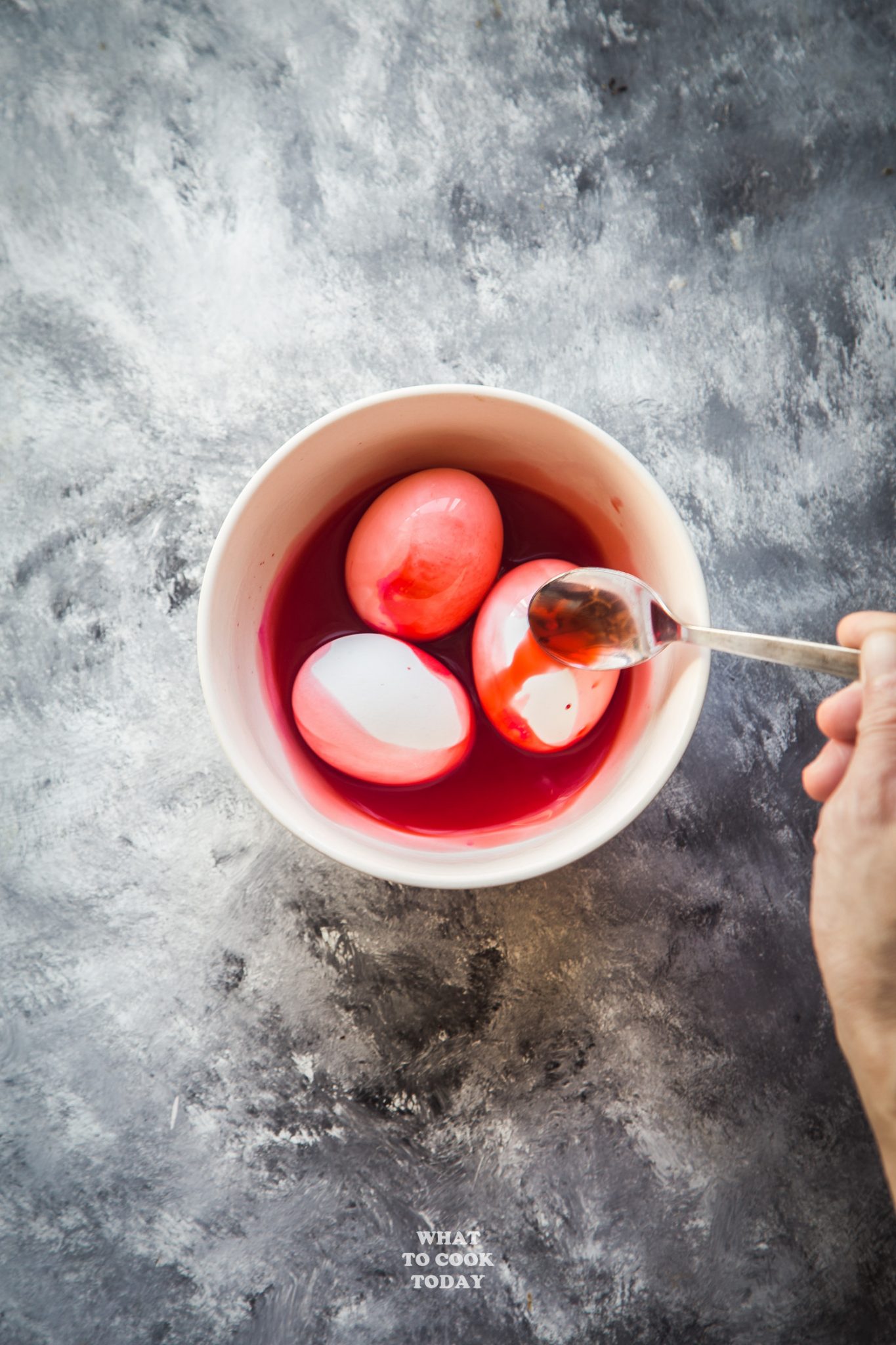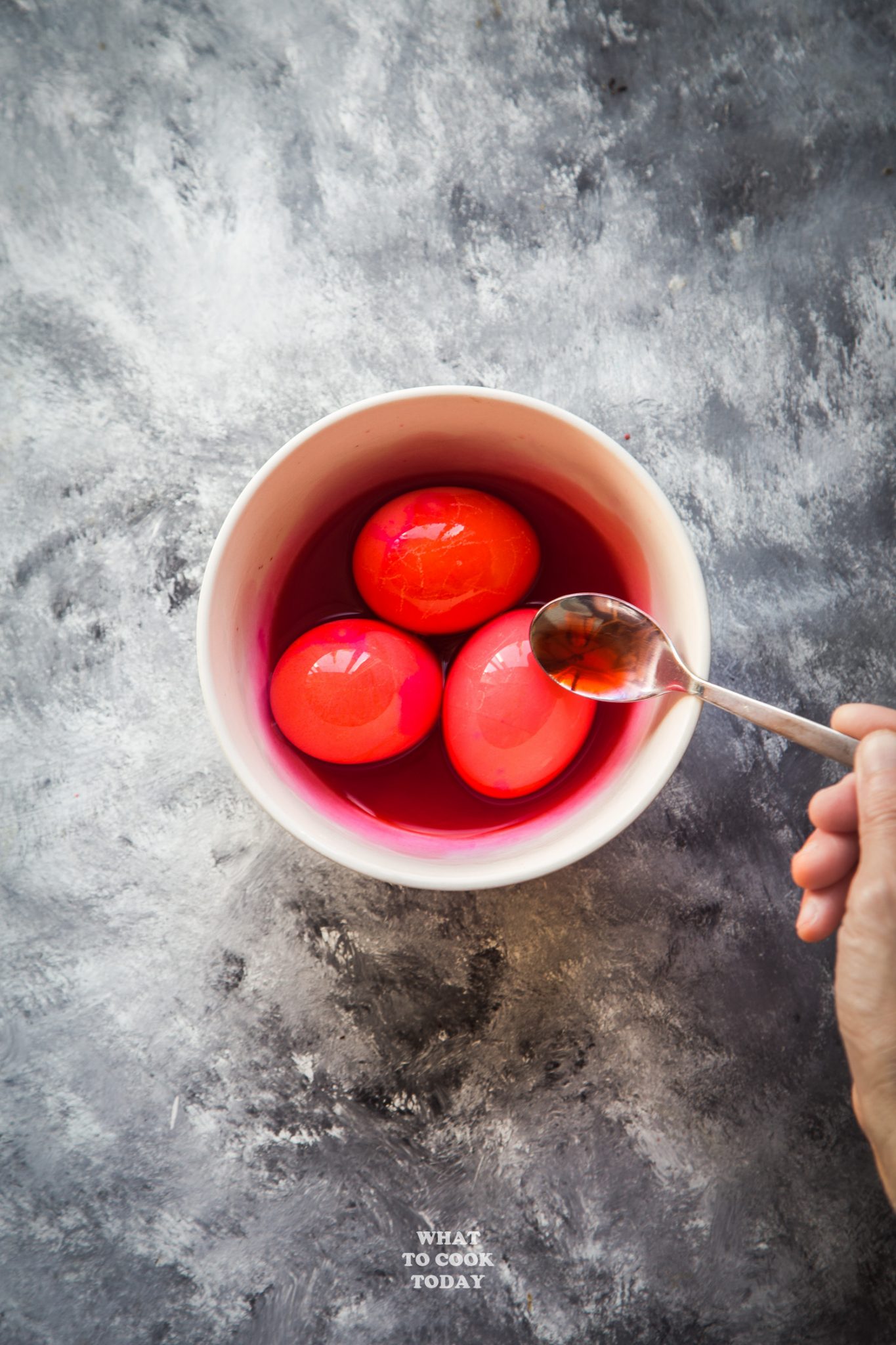 4. Place the dyed eggs on a rack to let them air dry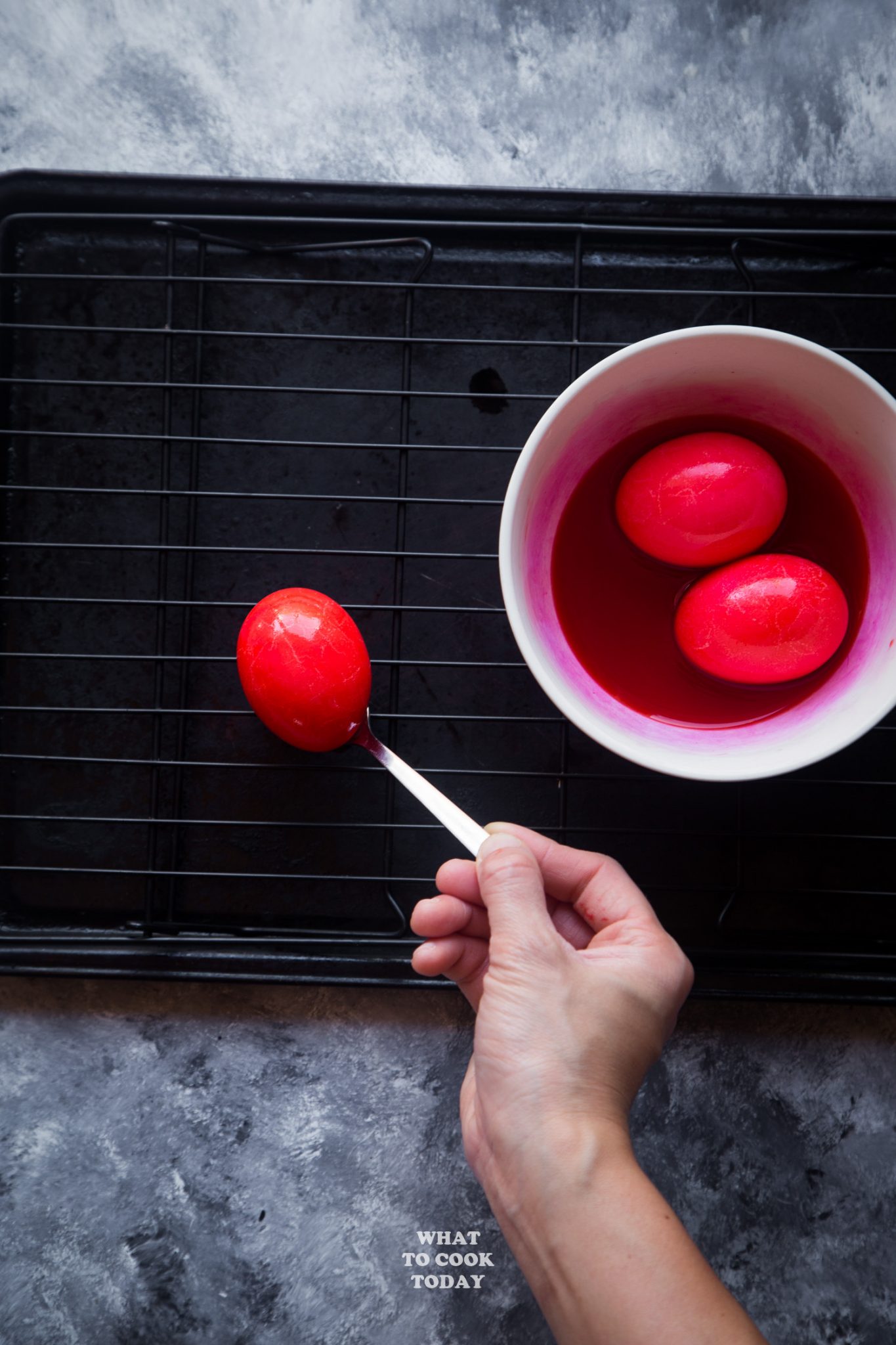 How to make red-shelled eggs
A simple effective way of dying eggs red or any colors with food coloring that is commonly seen for celebrations like Easter, Chinese celebration like birthdays, baby one-month celebration. It works for any color too.

PIN RECIPE
PRINT RECIPE
Ingredients
Hard-boiled white/brown eggs will work

1

tsp

vinegar

1/4

cup

hot water

25

drops

red food coloring

may need more depending on your food coloring

Cooling rack

with a tray lined with paper towel underneath
Instructions
Make sure the hard-boiled eggs are cold or at least room temperature and not warm before dying the eggs

In a glass bowl, mix hot water, vinegar, and food coloring

Few at a time, put the eggs in a bowl and use a metal spoon to scoop the red liquid onto the eggs, turning to make sure color evenly coats the eggs, you need to be patient and continue to spoon it over as you turn, this may take between 2- 5 minutes or longer for white shelled eggs and you may need around 8 minutes for brown shelled eggs. You will see the color will get deeper and deeper as you spoon the liquid all over the eggs to color them

Place the dyed eggs on the rack to drain. They will dry off in few minutes, but don't be tempted to touch them yet. I would even leave them overnight in the refrigerator if you have time
Notes
I use synthetic food coloring and usually, it works. I'm not sure how the natural food coloring will work
This blog post contains affiliate links. I earn a small commission when you made purchase at no extra cost to you. Learn more.
You might want to check out other recipes using hard-boiled eggs:
Gulai Telur Padang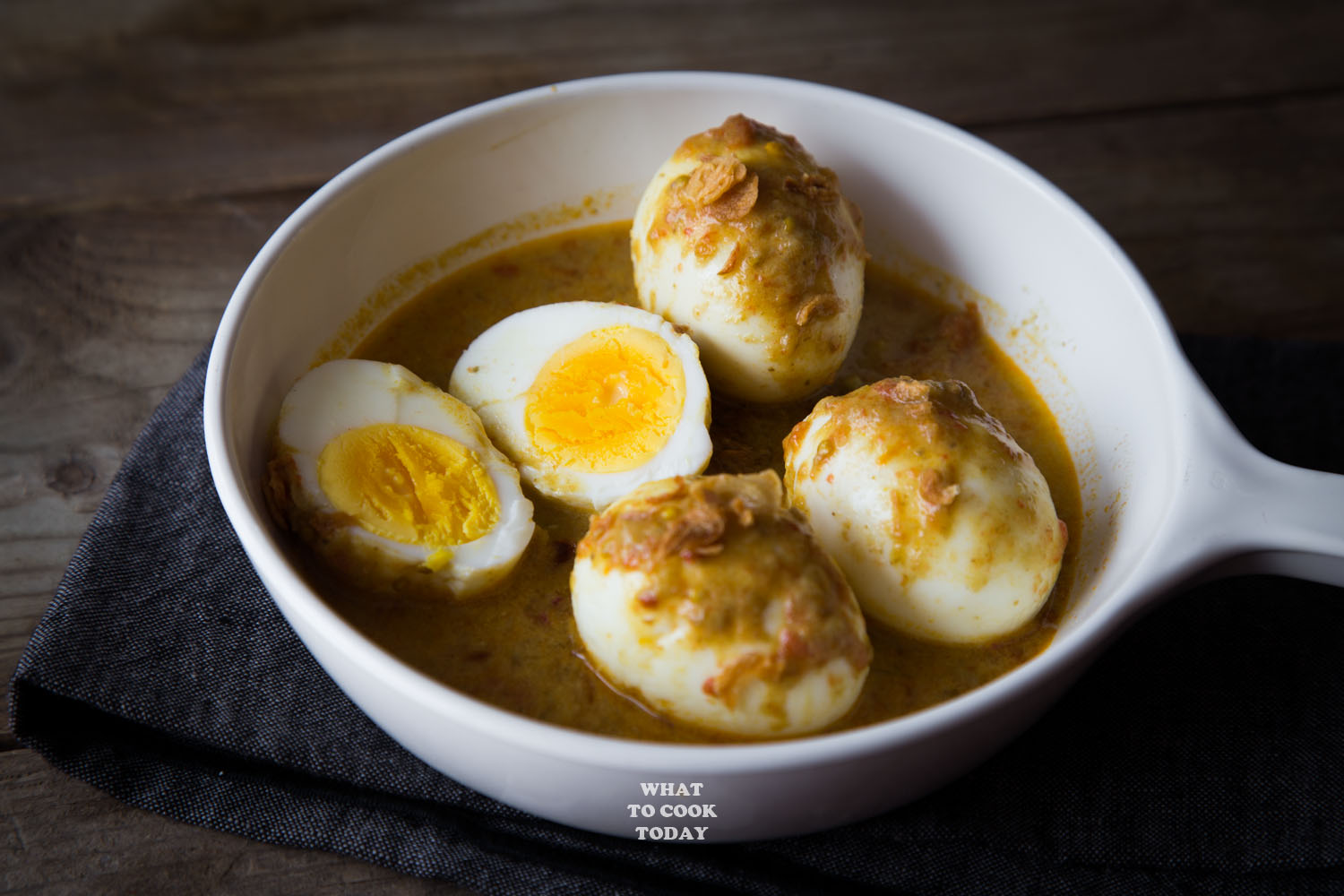 Thai Son-in-law Eggs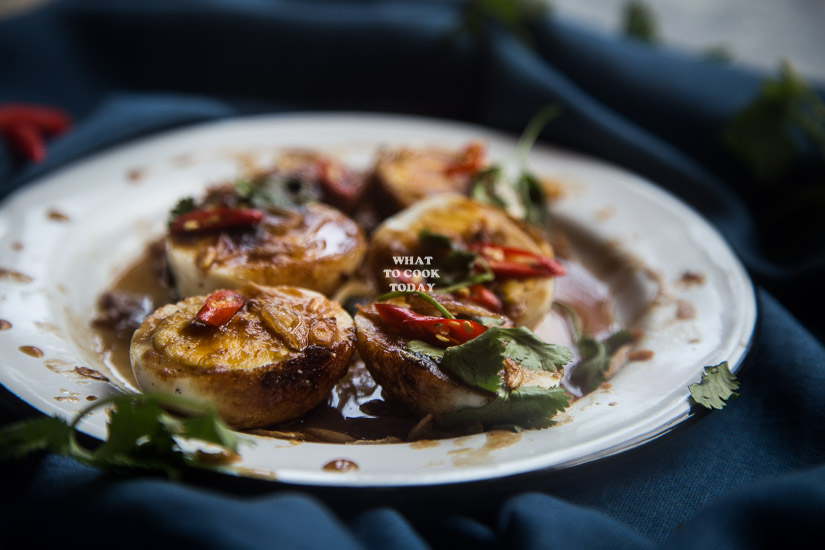 Marbled Tea Eggs