Flat egg noodles (mee pok) are tossed in savory, tangy, and umami sauce and topped with fish balls, fish cakes, and minced pork is a popular Singapore hawker food that you can easily make at home with this step-by-step recipe and a video for your reference.


Fishball mee pok and bak chor mee are a few of my favorite Singapore hawker foods that I had on a weekly basis when I lived there. It started out as a weekend breakfast my sis and I often had, then I often had fishball mee pok for lunch too. Fishball mee pok is usually served with a soup on the side. I always "special ordered" mine with "no lard" and with a bit of soup on the noodles ha..ha..! so technically not really a mee pok tah, but I was trying to cut back on some calories LOL!
WHAT IS MEE POK
I learned of the term mee pok when I was in Singapore. It is basically egg noodles that are flat and wider compared to the regular round and thin egg noodles.
How To Make Fish Ball Mee Pok Noodle (Mee Pok Tah)
The preparation for fishball mee pok is actually very similar to bak chor mee. Here's how:
1. Bring the chicken broth to a boil. Add ikan bilis and seasonings. Lower the heat and let it simmer gently for 30 minutes. Season to your taste


2. Add fish balls and fish cakes into the soup them up. The ones I bought are already precooked


3. Bring a pot of water to a boil. Add the beansprouts and blanch for 10 seconds or so and then refresh with cold water. Set aside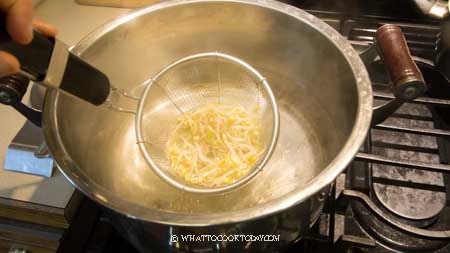 4. Prepare the tossing sauce by mixing everything together in an individual serving bowl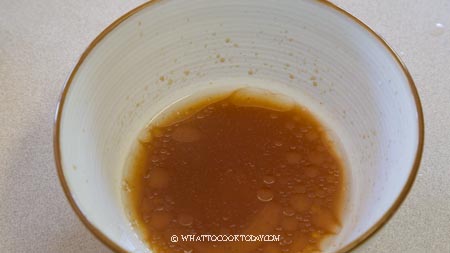 5. Bring a large pot of water to a boil. Loosen the egg noodles with your hand if they come in tight bundles


6. Place the noodles in the noodle blanching basket and cook for about 45 seconds and use chopsticks on the other hand to stir the noodles while cooking. Remove from boiling water and rinse in cold water to stop the cooking process. Shake off any excess water and put it in a serving bowl. Toss the noodles with the sauce


7. Portion the minced pork for 1 portion in an empty bowl. Ladle the hot broth over the meat. Use the back of the ladle to gently break up the meat. Let them sit for about 5 minutes. This will not fully cook the meat


8. Bring the broth back to a boil. Transfer the minced pork back to the noodle blanching basket and submerge this into the hot broth and use a chopstick to gently break up the meat. Only cook until the meat is no longer pink and cooked through. Do not overcook them. Top the meat on top of the noodles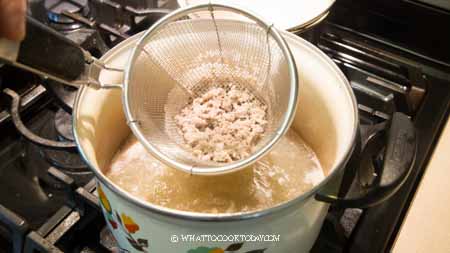 9. Portion the fish balls, minced pork, beansprouts, and garnish with 1-2 pieces of lettuce, garnish with chopped green onion. Serve the soup on the side if you want and serve immediately

INGREDIENT SUBSTITUTIONS
1. Noodles
If you can't find the same noodles I use, any egg noodles (thin or wide) or wonton noodles will work here
2. Protein
Instead of minced pork, you can use minced chicken, minced turkey
3. Black vinegar
If you can't find Chinese black vinegar, you can use rice vinegar. It just to contribute to a bit of sourness

DID YOU MAKE THIS FISH BALL MEE POK RECIPE?
I love it when you guys snap a photo and tag to show me what you've made 🙂 Simply tag me @WhatToCookToday #WhatToCookToday on Instagram and I'll be sure to stop by and take a peek for real!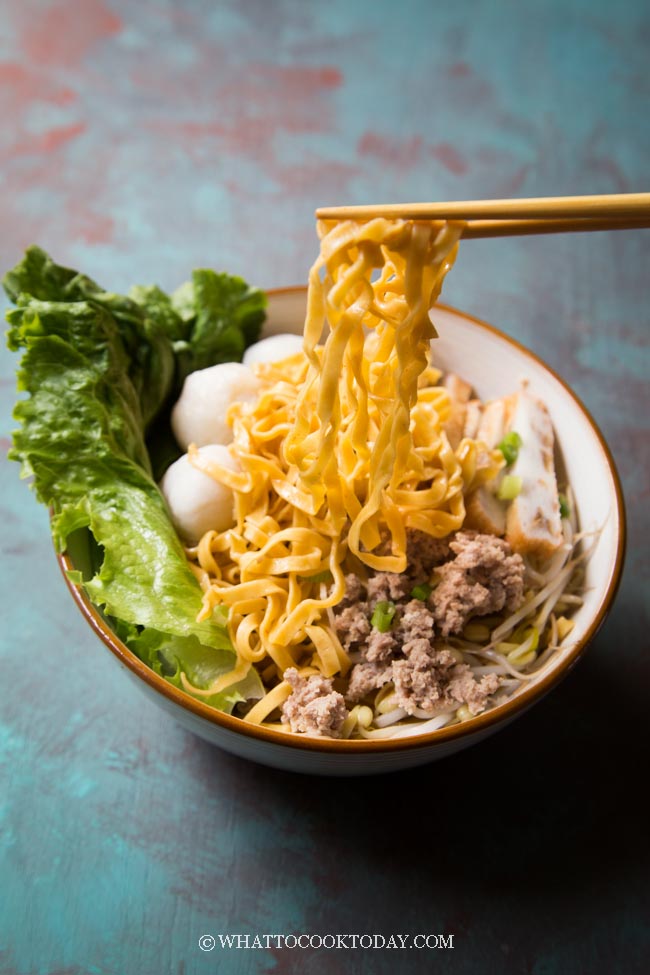 Fish Ball Mee Pok Noodle (Mee Pok Tah)
Ingredients
4

bundles

egg noodles

mee pok

12

fish balls

1

large

fish cake

cut into slices
Tossing sauce (per serving) - the amount is just for reference, adjust to your taste:
1

tsp

shallot oil or garlic oil

1

tsp

fish sauce

1

tsp

soy sauce

1

tsp

black vinegar

1

tsp

chili paste

or use ketchup if you don't want it spicy

2

Tbsp

anchovy stock your prepared
Instructions
Prepare the stock:
Bring the chicken broth to a boil. Add ikan bilis and seasonings. Lower the heat and let it simmer gently for 30 minutes. Season to your taste

Add fish balls and fish cakes into the soup them up. The ones I bought are already precooked
Marinate the pork:
Marinate the minced pork with the seasonings in a bowl for 15 minutes. Cover and keep in the refrigerator
Blanch the veggie:
Bring a pot of water to a boil. Add the beansprouts and blanch for 10 seconds or so and then refresh with cold water. Set aside
Cook the noodles:
Prepare the tossing sauce by mixing everything together in an individual serving bowl

Bring a large pot of water to a boil. Loosen the egg noodles with your hand if they come in tight bundles. Place the noodles in the noodle blanching basket and cook for about 45 seconds and use chopsticks on the other hand to stir the noodles while cooking. Remove from boiling water and rinse in cold water to stop the cooking process. Shake off any excess water and put it in a serving bowl. Toss the noodles with the sauce
Cook the meat:
Portion the minced pork for 1 portion in an empty bowl. Ladle the hot broth over the meat. Use the back of the ladle to gently break up the meat. Let them sit for about 5 minutes. This will not fully cook the meat

Bring the broth back to a boil. Transfer the minced pork back to the noodle blanching basket and submerge this into the hot broth and use a chopstick to gently break up the meat. Only cook until the meat is no longer pink and cooked through. Do not overcook them. Top the meat on top of the noodles
Serving:
Portion the fish balls, minced pork, beansprouts, and garnish with 1-2 pieces of lettuce, garnish with chopped green onion. Serve the soup on the side if you want and serve immediately
Recommended products: