Barley drink is lightly sweetened with candied winter melon is a popular beverage in Asia. They can be cooked on the stove, slow cooker, or in the pressure cooker.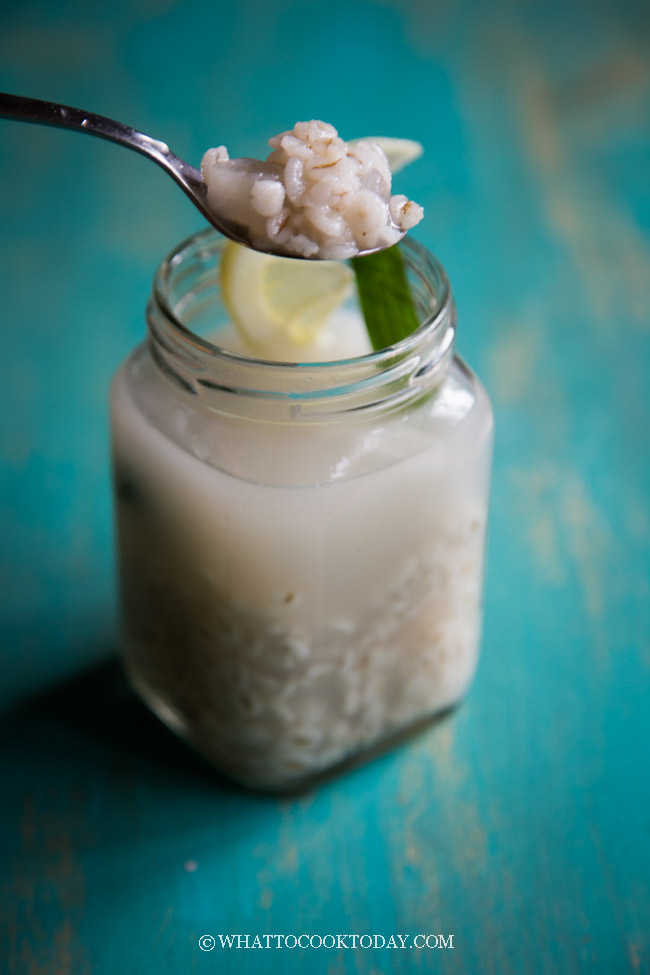 BARLEY AND TRADITIONAL CHINESE MEDICINE
Mom used to make this barley with candied winter melon drink on a weekly basis when we were kids. Barley is considered a "cooling" or "cold" ingredient in Traditional Chinese Medicine (TCM). In Asia, barley drink is usually made to "cool" down any signs of "heat" ("yang" energy). This "heat" is not the temperature heat we are talking about, it's not a fever (though you may have a fever too). It's all about balancing the Yin (cold) and the Yang (heat). Too much of either one is not good. When we show signs of being "heaty" such as: sore throat, cough with phlegm, ulcers in the mouth, sometimes chapped lips, or flushed face, my mom would make us barley drink to help ease the uncomfortable symptoms.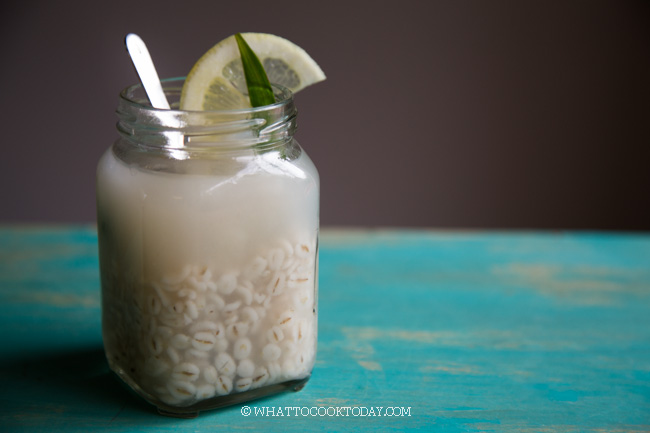 INGREDIENTS
1. Barley
Usually, mom will use Chinese barley, also known as job's tears (Coix seeds). They are rounder, fuller and slightly bigger in size compared to pearl barley. They look like barley, but actually does not belong to the barley family. But because of its appearance, they are still called barley. I can't find them here. So I sometimes used pearl barley or pressed barley
2. Candied winter melon
I can't find candied winter melon either. I have them because my mom bought them all the way from Indonesia. You can definitely omit this and use your choice of sweetener. Rock sugar is often used to sweeten beverage and dessert in Asia
3. Lemon
It adds a nice refreshing lemon scent to the beverage. Slightly tart in a pleasant way
4. Rock sugar (if needed)
Rock sugar is available in almost any Asian grocery store
5. Pandan leaves (optional)
Pandan leaves is a quintessential ingredient in Southeast Asia and I like to add it to this beverage as it give a nice aroma, but you can absolutely skip this if you don't want
HOW TO MAKE BARLEY CANDIED WINTER MELON DRINK WITH LEMON
1. If you plan to cook on the stove, soak Chinese barley (coix seeds/job's tears) in water for at least 1 hour. If you use pearl or pressed barley, soak for about 30 minutes. No soaking needed if you use a pressure cooker or slow cooker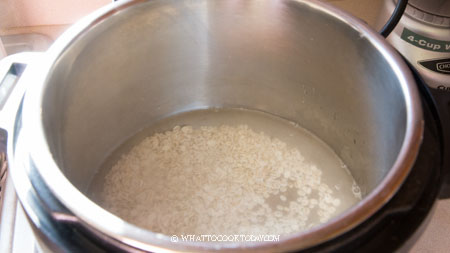 2. Rinse the barley in several changes of water. Put in a pot or in the inner pot of pressure cooker or slow cooker


3. Add water, candied winter melon, and pandan leaves in. If you use rock sugar, add them in last after the barley is done cooking. If cooking on the stove, bring to a boil and then lower the heat to let it simmers. Cover with a lid and cook for the next 40 minutes or until the barley are soft
4. If cooking with an Instant pot pressure cooker. Turn the pressure release valve to "sealing". Press the "pressure cooker" and make sure it's on high pressure and set the timer to 15 minutes. For slow cooker, cook on slow for 8 hours


5. When it's done cooking, stir in the rock sugar (if using). The rock sugar will slowly melt
6. Serve the drink warm with some cooked barley in the cup and add lemon slices. You can also chill it in the fridge and add lemon slices just before serving
DID YOU MAKE THIS BARLEY CANDIED WINTER MELON DRINK WITH LEMON RECIPE?
I love it when you guys snap a photo and tag to show me what you've made 🙂 Simply tag me @WhatToCookToday #WhatToCookToday on Instagram and I'll be sure to stop by and take a peek for real!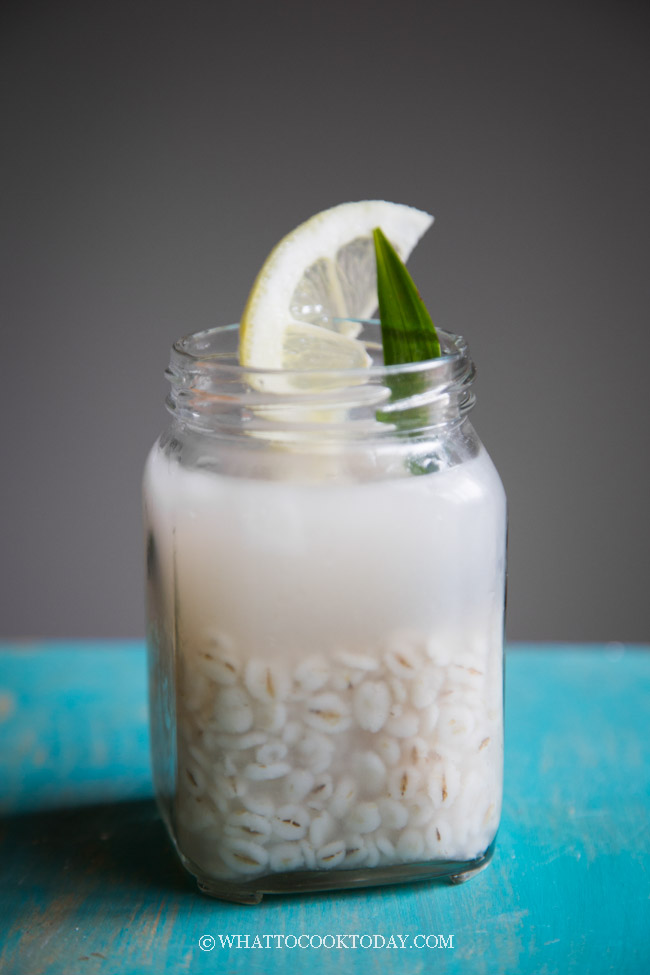 Barley Candied Winter Melon drink with Lemon
Ingredients
200

gr

pearl barley

see notes 1

100

gr

candied winter melon

4

pandan leaves

knotted

8

cups

water

plus more as needed

1

lemon

sliced
Instructions
Cooking on the stove:
If you use Chinese barley (coix seeds/job's tears), soak in water for at least 1 hour. For other type of barley, soak for about 30 minutes in water

Rinse the barley in several changes of water. Put in a pot or in the inner pot of pressure cooker or slow cooker

Add water, candied winter melon, and pandan leaves in. If you use rock sugar, add them in last after the barley is done cooking. Bring to a boil and then lower the heat to let it simmers. Cover with a lid and cook for the next 1 hour or until the barley are soft
Cooking with Instant Pot pressure cooker:
There is no need to soak the barley if you cook with a pressure cooker

Add water, candied winter melon, and pandan leaves in. If you use rock sugar, add them in last after the barley is done cooking. Turn the pressure release valve to "sealing". Press the "pressure cooker" and make sure it's on high pressure and cook for 15 minutes and then do natural release

When it's done cooking, stir in the rock sugar. The rock sugar will melt
Cooking with a slow cooker:
There is no need to soak the barley if you cook with a slow cooker

Add water, candied winter melon, and pandan leaves in. If you use rock sugar, add them in last after the barley is done cooking. Cook on low for 8 hours
To serve:
Serve the drink warm with some cooked barley in the cup and add lemon slices. You can also chill it in the fridge and add lemon slices just before serving
Notes
If you are using Chinese barley (job's tears/coix seeds), I recommend soaking them for at least 1 hour before cooking on the stove. No soaking necessary if you use a pressure cooker or a slow cooker
YOU MAY ALSO LIKE THESE