Bandrek (Sundanese Sweet and Spicy Hot Drink)- Traditional comforting hot, spicy, and sweet drink originated from West Java made with aromatic spices and herbs. Bandrek is great to keep the body warm.
BANDREK, ME, AND DAD (in heaven)
Bandrek (pronounced as BUN DRAG) brings a sweet memory of my dad to me. My dad was the one who introduced me to this bandrek. I used to go for a jogging with my dad on weekend morning when I was probably around 10 or so. Super early, as a matter of fact, 5 am and waking up in the morning was quite a drag! believe me on that one! I wasn't looking forward to the run if you ask me. I was looking forward to a few things actually. First, the Vespa ride. I love riding on the Vespa with my dad. The cool air in the morning blew on my face, the quiet street and town, the sunrise. Second, this bandrek drink. My dad would make a stop halfway to make sure I got my dose of bandrek. The locals in Indonesia believe that bandrek helps to prevent cold and keep your body warm especially if the weather is cool. Third, the BREAKFAST!! The half-boiled fresh eggs from free-range chickens ;), the kue kue (Indonesian-style cakes). Those are some of the best time spent with my dad. Now, I understand why making great memories with your loved ones is so important. Those memories keep the person you love alive in your heart 🙂 I miss you so much dad!
SO WHAT IS BANDREK YOU WOULD ASK?
Bandrek is a very popular hot beverage originated from the West Java. The Sundanese people who live in that area where the weather is much cooler compared to the rest of Indonesia, concocted bandrek to keep their bodies warm. Bandrek is made with aromatic spices commonly used in Indonesia. The beverage is also flavored with herb like lemongrass and screwpine leaves (pandan leaves) and then lightly sweetened with gula Jawa (Indonesian palm sugar/coconut sugar). It is usually served hot and that's why it is so comforting. Condensed milk (susu kental) is usually added for extra sweetness and we call that bandrek susu.

WHAT DOES BANDREK TASTE LIKE?
Ginger is used by many in Asia to keep the body warm. Bandrek has a very distinctive aroma and taste of ginger and other spices and herb. So it tastes "spicy" because of the ginger. You can feel it in your throat and tummy as it goes down. It's very comforting especially if the weather is cold. It's slightly sweet and highly aromatic. Our house smelled amazing as the bandrek is simmering on the stove.

INGREDIENTS USED IN BANDREK
Spices: Ginger, Cinnamon, Cloves, Cardamom
Herbs: Lemongrass, Screwpine leaves (pandan leaves)
Taste: Palm sugar/coconut sugar, condensed milk
BANDREK SUSU
If you add milk, usually condensed milk in Indonesia, you have yourself bandrek susu. Susu means milk in Indonesian. I like bandrek with or without susu.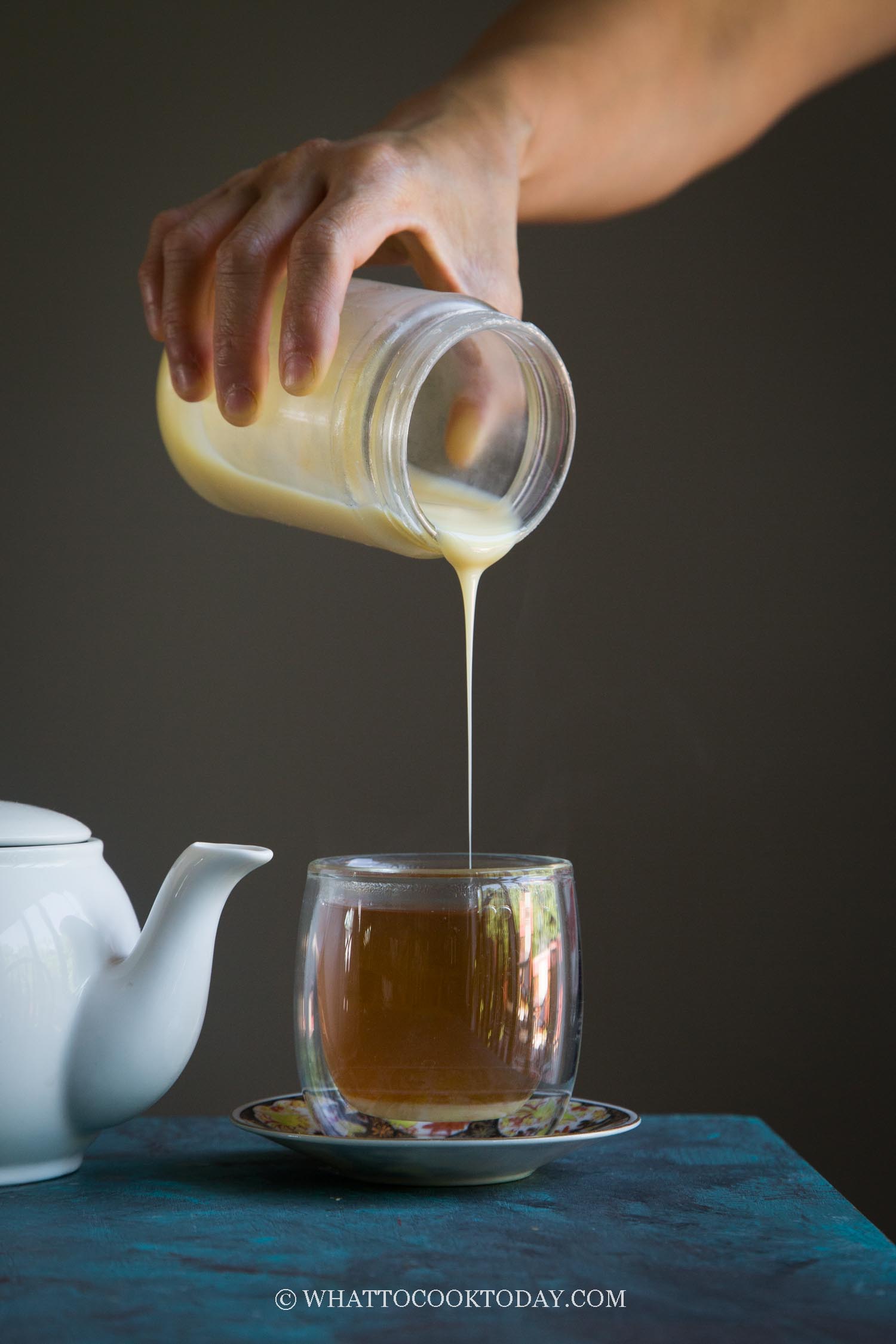 TIPS ON HOW TO MAKE GOOD BANDREK
1. Spices and herbs
The spices and herbs I use in this recipe is just a minimum. Some people may add other spices like star anise, black peppercorns, coriander seeds, etc. It's really up to you. The most important ingredient is the ginger.
2. Use old ginger
Old ginger has more of that "spicy" taste, which is good for a hot drink like bandrek
3. Slice the ginger
Instead of keeping the ginger whole while you are simmering the drink, mom taught me to slice the ginger instead as this will help to release more aroma and that "spicy" taste of ginger
4. Gently simmer bandrek
Once it comes to a boil, lower the heat to let it gently simmer to let the spices and herbs infuse the drink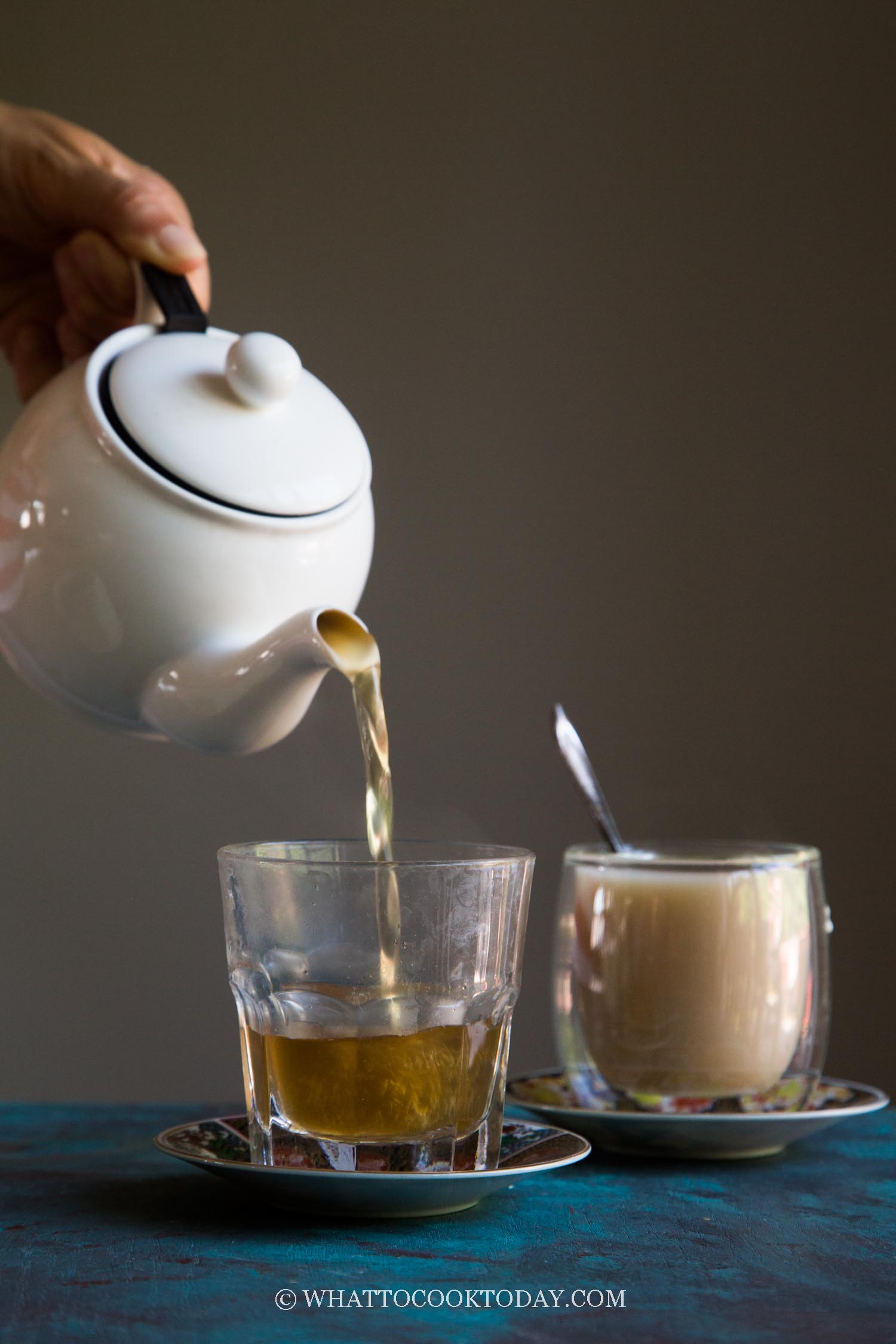 This blog post contains affiliate links. I earn a small commission when you made purchase at no extra cost to you. Learn more.
Recipe was originally published in 2013 and now updated with new photos.
Bandrek (Sundanese Sweet and Spicy Drink)
Ingredients
4

cups

water

4

Tbsp

Palm sugar or coconut sugar

more to taste
Spices:
100

gr

old ginger

peeled and cut into thin slices

1

large cinnamon stick

5

whole cloves

1

tsp

cardamom seeds
Herbs:
3

stalks

fresh lemongrass

2

pandan leaves

knotted
Serve with (optional):
Instructions
In a medium-sized saucepan, add spices and herb. Bring to a boil then lower the heat to let it gently simmer until the spices and herb release a wonderful aroma, about 20 minutes. Add in the gula Jawa and stir until it dissolves. Close the lid in the saucepan and let it steeps further for another 15 minutes.

Strain the beverage into serving glasses

Add 1-2 tsp of condensed milk to your taste if you like. Serve immediately
Notes
You can add condensed milk, or often called "Bandrek Susu" in Indonesian language if you like. It tastes really good with condensed milk as well 🙂