Seafood Egg Foo Young with Gravy is an Asian-American style omelette made with crab meat and other seafood and some vegetable. Egg foo yong is often served with thick gravy. A perfect easy Asian recipe you will love.
WHAT IS EGG FOO YONG?
Egg foo yong (芙 蓉 蛋)/ Fu Rong Dan is an egg dish said to be originated from China. However, this dish is also being enjoyed a lot in other parts of Asia. The egg is usually beaten and mix with meat and/or seafood and some vegetables and then fried until puffy. It's more of a large size puffy fried eggs rather than omelette if you ask me.
TRADITIONAL EGG FOO YOUNG VS ASIAN AMERICAN EGG FOO YOUNG
Traditional egg foo young usually isn't served with gravy. It is served as is. The Asian American version comes with a gravy. I didn't know about this until I saw how it was served in Chinese restaurant that serves Asian American cuisine here in the U.S.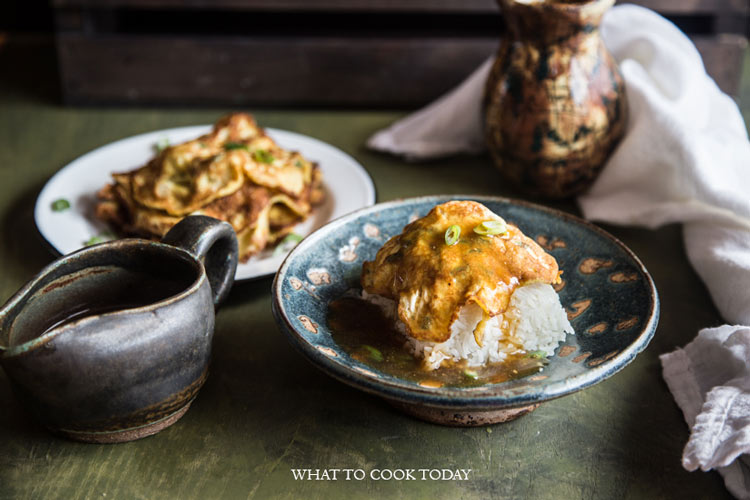 HOW TO COOK SEAFOOD EGG FOO YOUNG
1. In a large mixing bowl, crack in 6 eggs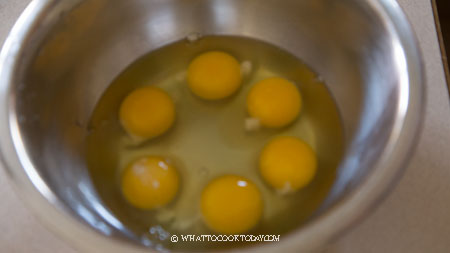 2. Add the crab meat, shrimp, carrots, seasonings, sesame oil, and green onion (white parts) and whisk to combine everything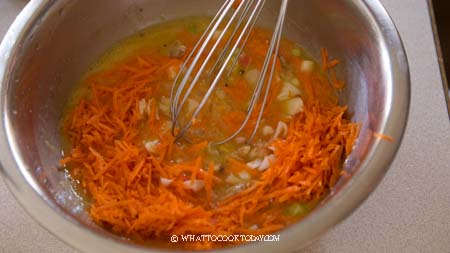 3. Wipe the wok or skillet clean with a paper towel and heat up the wok or skillet until really hot. Pour in 1/3 cup of oil. Use your turner or spatula to spread the oil throughout the sides of the wok. Ladle about 1/3 of the egg mixture into the wok or skillet. Do not stir. you will see the edges of the eggs bubbles up and grows bigger and gets crispy. Let it cook over medium heat now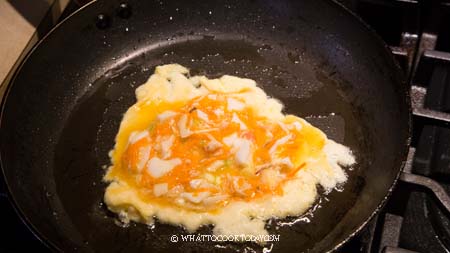 4. When the bottom of the egg is set, about 3 minutes or so. Gently flip it over and cook for another 2-3 minutes or until the eggs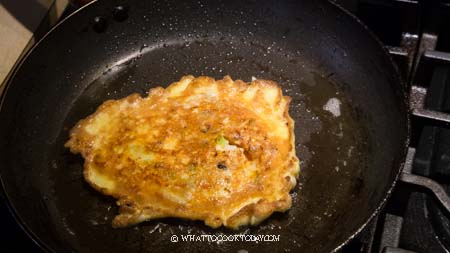 5. To prepare the gravy, mix all ingredients in a saucepan and stir until smooth and then put on the stove and cook over medium heat until the gravy is thickened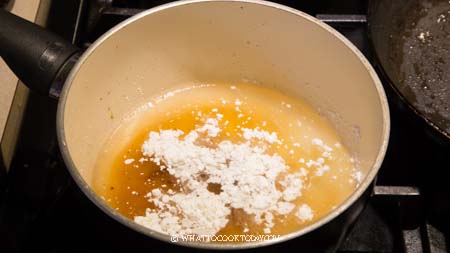 6. To serve, drizzle the gravy over and garnish with chopped green onion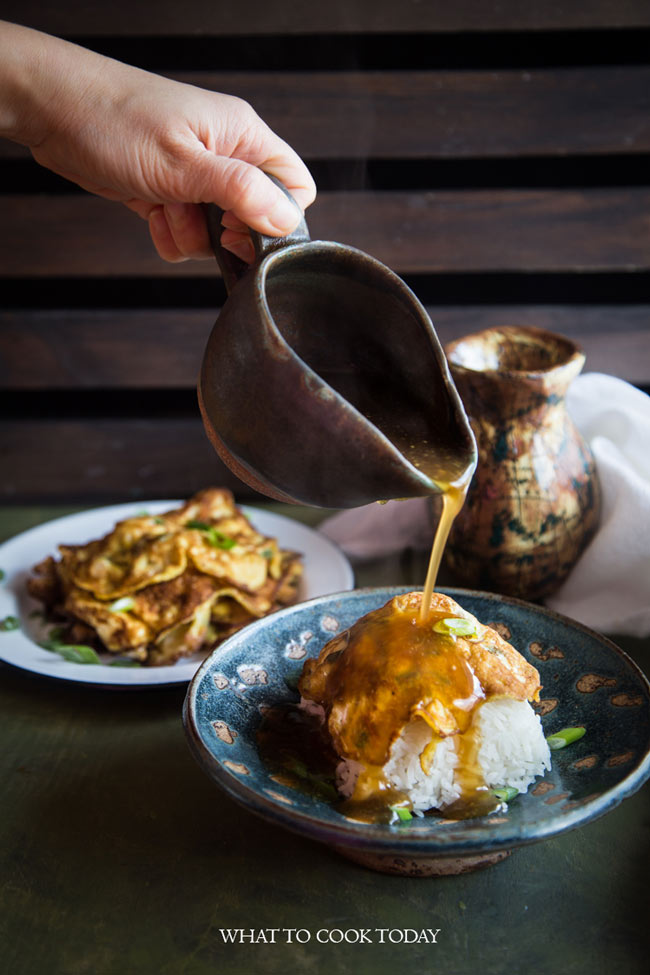 TIPS ON HOW TO MAKE REALLY GOOD CRAB EGG FOO YOUNG AT HOME
1. Combination of ingredients
Egg foo young often has this combination: protein (meat/seafood) + veggies. You will commonly see seafood like crab meat lumps and/or shrimp + veggies like shredded bean sprouts, shredded carrots.
2. Cook the protein separately
If you choose to use raw meat like chicken or pork or seafood like shrimp, cook them first. The eggs do not take long to cook and so we don't want to end up with uncooked protein in your egg foo young.
3. Don't be skimpy on the oil
You seriously cannot just pan fry the eggs with just a smear of oil. If you want a really puffy and crispy on the edge egg foo young, you need that oil. It's not really as much as deep-frying, but you need that oil to cook the egg foo young properly.
4. Cook in batches
You can pour in all the egg mixture in one go, but you probably will have a hard time cooking and turning it later without breaking the egg foo young. I'm not a pro so I decided to cook this in 3 batches. You can probably try 2 batches too. It's more manageable IMHO.
5. Whisk the gravy ingredients really well
The gravy contains cornstarch, which acts as a thickening agent. Make sure you whisk it well before pouring into the saucepan to cook AND while you are at it, do not stop stirring until the sauce has thickened
6. Pour the gravy over only when you are ready to serve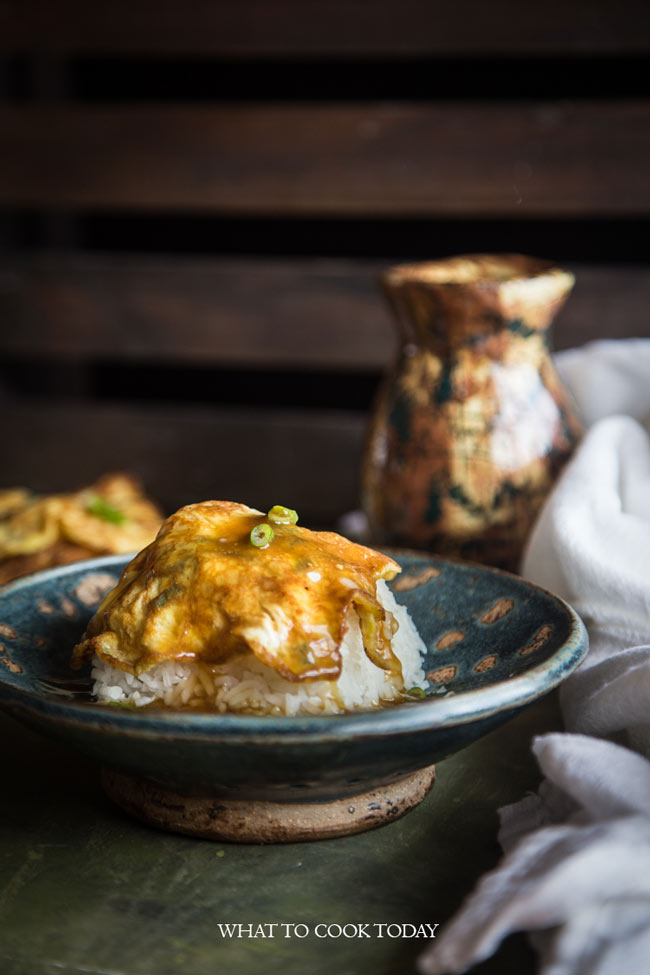 VARIETIES YOU CAN DO WITH EGG FOO YOUNG
1. Use pork or chicken
Use about 100 gr of pork tenderloin or boneless skinless chicken breast/thighs. Cut them into small bite-size and marinate with 1 tsp of soy sauce, 1/4 tsp of sugar, 1 tsp of sesame oil and then stir fry them briefly until cooked through
2. Other vegetables you can use
I suggest to use only 1 or 2 varieties of veggies and keep it simple. Choices can be shitake mushrooms (soaked and thinly sliced), shredded cabbage, mung bean sprouts, shredded bamboo shoots
DID YOU MAKE THIS EASY SEAFOOD EGG FOO YOUNG RECIPE?
I love it when you guys snap a photo and tag to show me what you've made 🙂 Simply tag me @WhatToCookToday #WhatToCookToday on Instagram and I'll be sure to stop by and take a peek for real!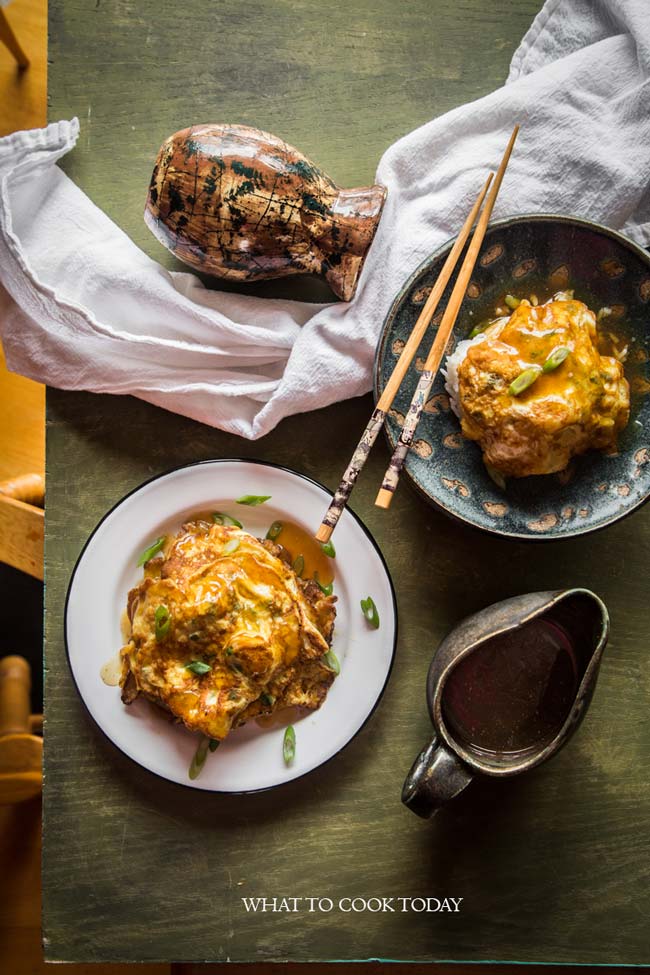 *The recipe was last published in 2012 and it has been improved and also to include a recipe video on 12 October 2020*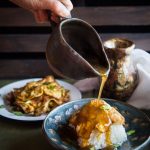 How To Make Really Good Crab Egg Foo Young with Gravy
Ingredients
6

large

eggs

(beaten)

1

tsp

sesame oil

to cook the shrimp

1

tsp

garlic

minced

½

cup

shredded carrot

60

gr

crab meat lump

60

gr

peeled and deveined medium to large shrimp

(cut into small chunks)

⅓

cup

cooking oil

or more as needed, to cook the egg
Gravy:
1

cup

chicken stock

1

tsp

sesame oil

1

Tbsp

oyster sauce

1

tsp

soy sauce

or more to taste

1

tsp

sugar

1 ½

Tbsp

cornstarch

you can use potato starch too

1

stalk

green onion

white parts, finely chopped. Save the green part for garnish
Instructions
Cook the protein separately:
If using shrimp or other meat like chicken, preheat a wok or skillet until hot. Add 1 tsp of oil. Use a spatula or turner to spread the oil evenly throughout the wok. Add shrimp and cook until it turns pink and cooked through, about 1 minute or if you use chicken, cook until they turn opaque and cooked through. Dish out and let it cool down a bit
Prepare the egg mixture:
Whisk the eggs with seasonings, sesame oil, and garlic. Add the crab meat, shrimp, carrots, and green onion (white parts) and whisk to combine everything
Cooking the egg foo young (in batches) :
Wipe the wok or skillet clean with a paper towel and heat up the wok or skillet until really hot. Pour in 1/3 cup of oil. Use your turner or spatula to spread the oil throughout the sides of the wok. Ladle about 1/3 of the egg mixture into the wok or skillet. Do not stir. you will see the edges of the eggs bubbles up and grows bigger and gets crispy. Let it cook over medium heat now

When the bottom of the egg is set, about 3 minutes or so, gently flip it over and cook for another 2-3 minutes or until the eggs are cooked

Repeat with the next batch. Add more oil to fry the eggs as needed
Making the gravy:
To prepare the gravy, mix all ingredients in a saucepan and stir until smooth and then put on the stove and cook over medium heat until the gravy is thickened
Serving:
Pour the gravy over the egg foo young or serve the sauce on the side if you prefer. Garnish with some chopped green onion and serve immediately

Recommended products: