Egg foo yong is an Asian-style omelette made with seafood like shrimps and very often crab meat lumps with some vegetables such as carrots, water chestnuts, green beans, etc. Egg foo yong is often served with thick gravy. A perfect easy Asian recipe you will love.
WHAT IS EGG FOO YONG?
Egg foo yong (芙 蓉 蛋)/ Fu Rong Dan is an egg omelette dish said to be originated from China. However, this dish is also being enjoyed a lot in other parts of Asia. Let's take Indonesia for example. This dish is known as foo yong hai in Indonesia. I grew up with this dish and so I consider this as one of my comfort food. Egg foo yong is also a very common dish you'll see on the menu at Chinese restaurants in Indonesia too. People of all ages love this dish.
This egg foo yong I made is more of a Chinese Indonesian style as that's what I grew up with. It is super easy to make and quite a fulfilling dish to serve with rice and other dishes. It's always my favorite to eat and I haven't had it for a long long time and this was the first time I made it since I moved here. I think everyone should have this egg foo yong recipe in their recipe archives.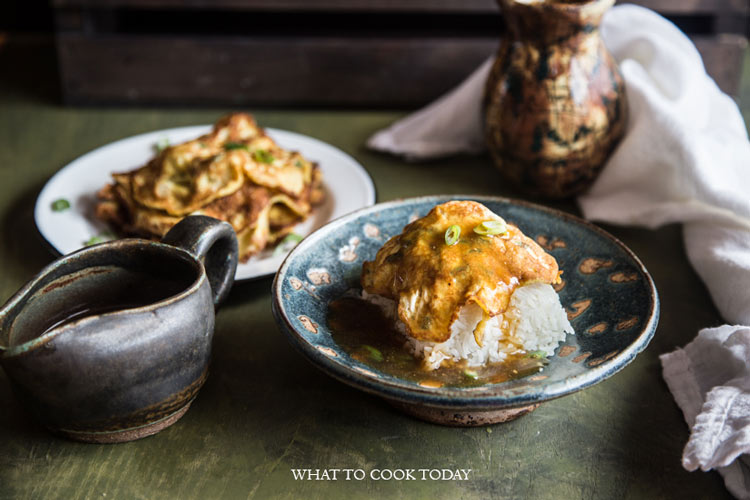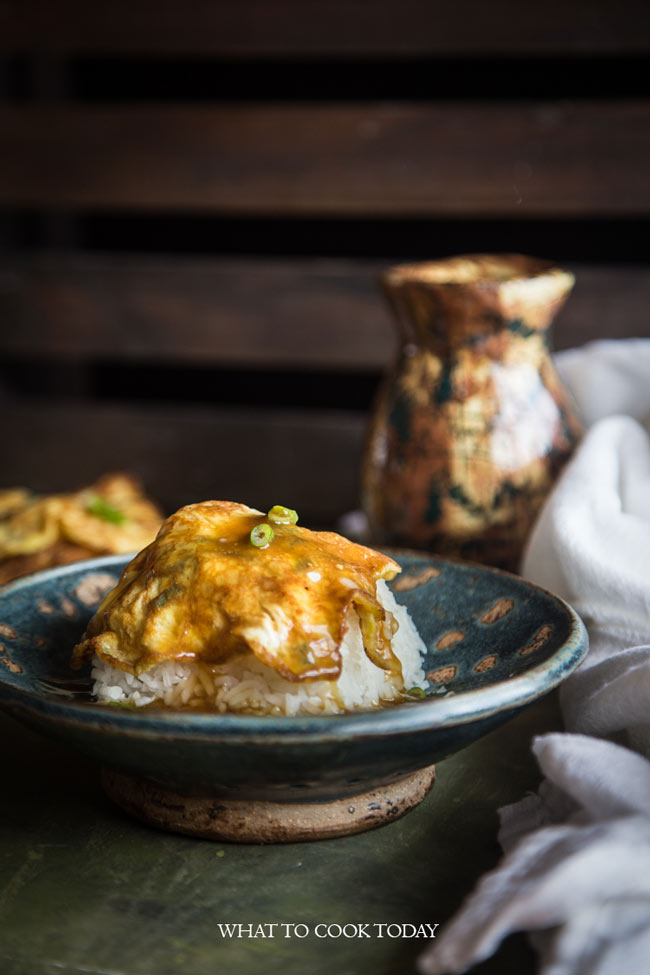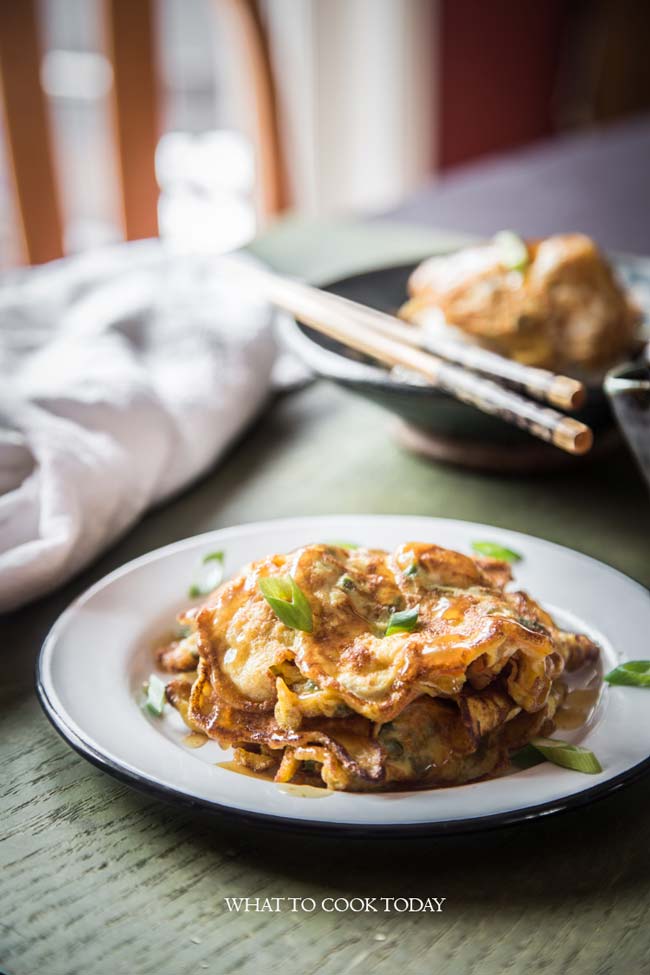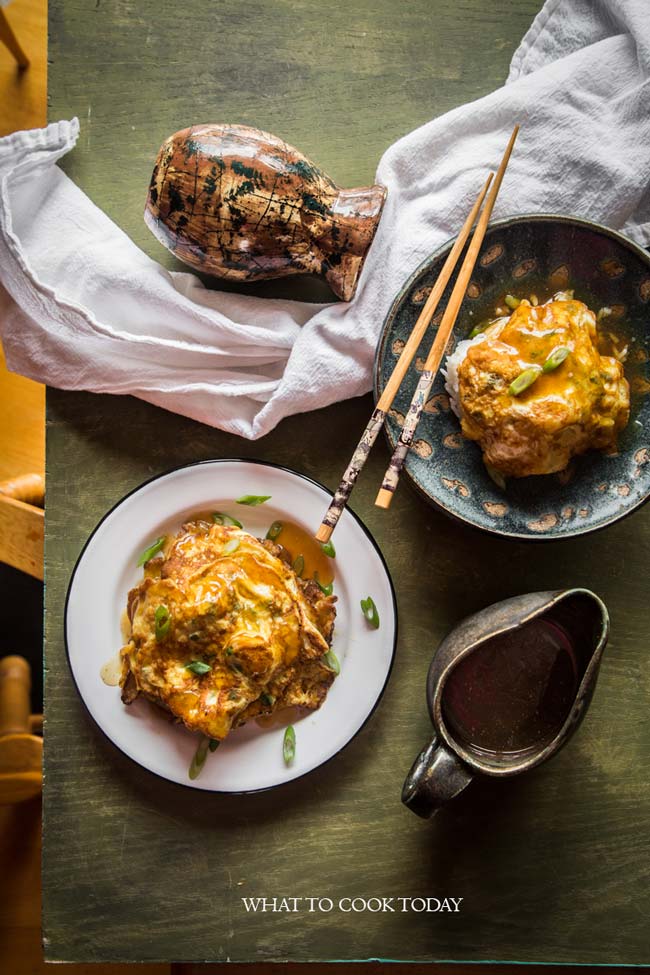 This post contains affiliate links, which support this site at no extra cost to you. Learn more.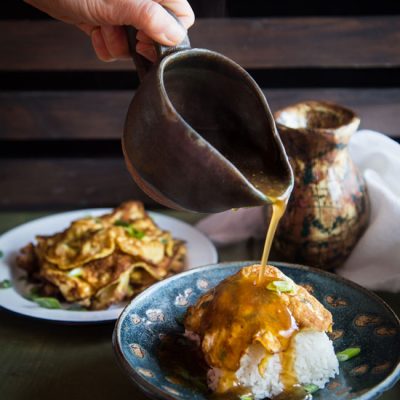 Egg Foo Yong (Asian omelette with gravy)
Egg foo yong is an Asian-style omelette made with seafood like shrimps and very often crab meat lumps with some vegetables such as carrots, water chestnuts, green beans, etc. Egg foo yong is often served with thick gravy. A perfect easy Asian recipe you will love
Print
Ingredients
6

eggs

(beaten)

1

large onion

(diced)

6

oz

peeled and deveined medium to large shrimp

(cut into small chunks)

3

oz

crab meat lump

1/2

cup

finely chopped green beans

1

large carrot

(peeled and shred into long pieces)

Dash of salt and pepper
Gravy:
1

Tbsp

cooking oil

2

cloves

garlic

(grated)

1

cup

chicken stock

1

Tbsp

soy sauce

1

Tbsp

shao xing wine/dry sherry

2

tsp

sugar

1

Tbsp

cornstarch + 1 Tbsp water

Salt to taste

Garnish:

1

stalk

green onions

(sliced thinly at angle)
Instructions
Preheat about 2 Tbsp of oil in the wok or skillet. Add in the onions and stir-fry until it is fragrant and soft, about 1 minute

Add the shrimp and stir-fry until they turn pink and then add the carrots and green beans pieces and continue to stir-fry for another 2 minutes or until they are soft and cooked. Set aside and let it cool down completely

Add the shrimp and veggie mixture and crab meat into the beaten eggs. Add dash of salt and pepper

Wipe the wok or skillet clean with a paper towel and heat up about 1 Tbsp of cooking oil. When the oil is hot, ladle in about 1/2 cup of the egg mixture onto the wok or skillet. When the bottom of the egg is set, turn it over and let it cook at the other side. Turn the omelette over to a serving dish and repeat with the rest of the egg mixture. You may need to add oil each time as you do this. Stack all the cooked omelette on top of each other and prepare the gravy
Making the gravy:
In a small sauce pot, preheat cooking oil. Add in garlic and saute for 30 seconds. Pour in the chicken stock, soy sauce, wine and sugar. Bring it to a boil and then lower the heat and let it simmer for about 3 minutes. Stir in the corn starch mixture and continue to stir until the sauce is thickened
Serving:
You may either serve the egg foo yong with the gravy on the side or pour the gravy on top of the egg foo yong. Sprinkle with some sliced green onions and serve immediately
Other recipes with eggs you might like:
Marbled tea eggs
Kopi tiam soft-boiled eggs
Ma Po Steamed Eggs
Khai Look Khoey (Thai Son-in-law Eggs)
Cambodian pork omelette
Eggs in tomatoes and green chili
Eggs with sambal (Sambal telur)
Chinese egg dumplings (Dan jiao)