Steamed whole fish dressed with simple seasoning and aromatic fried ginger strips and wolfberries (goji berries). The recipe is suitable for everyday home cooking or as part of a confinement diet.

A simple and clean tasting steamed whole fish like this is one of my favorite things to prepare. I'm a huge fan of fish since I was a kid. I also want to get my kids used to eat more whole fishes and not just fillet fishes. They love the idea too.
What kind of whole fish to use
You can use tilapia, seabass, red snapper, white pomfret, grouper, really, any of your favorite fish would work here.
I use seabass in this post.
How to steam whole fish with crispy ginger topping
1. Line a plate with 3 stalks of the white part of the green onion


2. Put the fish on top. This prevents the fish from sticking to the plate and the fish cooks evenly on both sides too


3. Bring water in the steamer to a boil. Steam over high heat for 10 minutes. Then turn off the heat and let it sit in the steamer for 2 minutes


4. Remove the fish and discard any liquid that is collected on the plate. Pour the dressing over the fish. Arrange the green part of the green onion, goji berries, and minced garlic on top


5. Preheat a skillet and add sesame oil. Fry the ginger strips until crispy


6. Arrange the crispy ginger strips on top of the fish and then pour the hot oil on top to let the oil scalds the garlic and green onion strips. The fish is ready to be served

Tips for success
1. I suggest buying whole fish that has been scaled and gutter. It just makes your life easier not having to do that at home
2. Julienne the ginger as thinly as possible so they get crispy
3. Discard the steaming liquid that is collected on the plate as the liquid can be fishy
4. Make sure the oil is really hot so it will "cook" the garlic and green onion strips on top
All in all, this is a really simple dish to prepare and the taste is pretty clean and simple with nice colors from the goji berries and green onion. The contrast of texture of the smooth texture of the fish flesh with the crispy ginger is great too.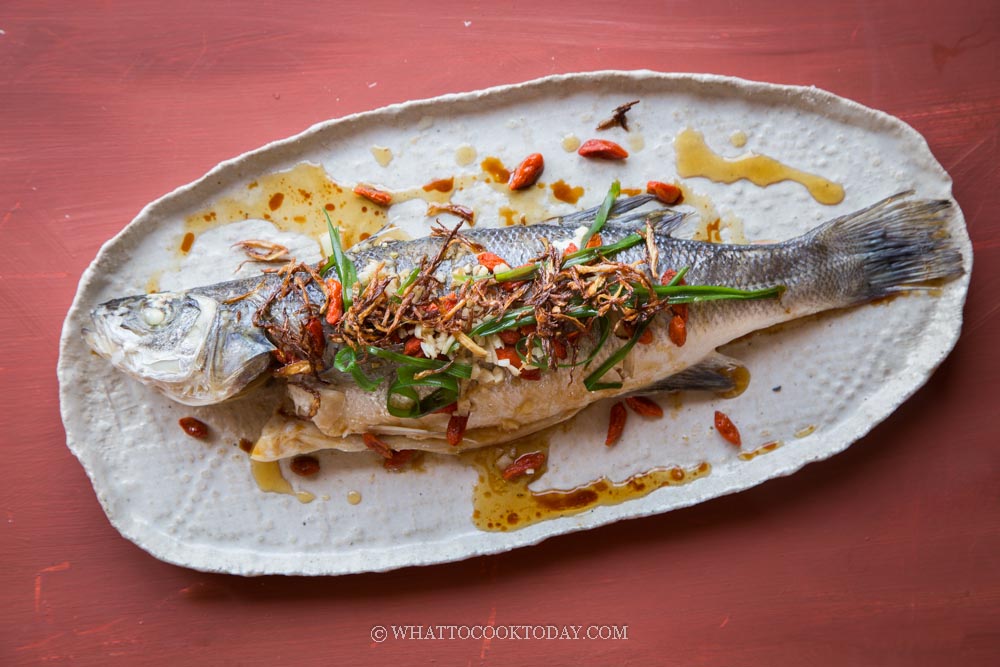 Did you make this recipe?
I love it when you guys snap a photo and tag to show me what you've made 🙂 Simply tag me @WhatToCookToday #WhatToCookToday on Instagram and I'll be sure to stop by and take a peek for real!

Easy Steamed Whole Fish with Crispy Ginger
Ingredients
500

grams

whole fish

red snapper, white pomfret, tilapia, sea bass

10

gr

wolfberries

3

stalks

green onion

2

Tbsp

sesame oil

1

tsp

garlic

finely minced

30

gr

ginger

cut into thin strips
Instructions
Separate the green part of green onions from the whites. We will use the white part to rest the fish on top. Shred the green part into thin long strips

Soak the dried wolfberries in warm water until soften. Discard the water
Prepare the fish:
I bought a whole fish that has been scaled and gutted. Simply clean fish by rubbing some salt on the skin and inside. This will help to remove fish odor and retain moisture and freshness of the fish when cooked. Rinse off and pat the fish really dry with an absorbent paper towel. 

Make 3 slits on the flesh where it is the thickest
Steam the fish:
Line a plate with 3 stalks of the white part of the green onion (as shown in the photo above). Put the fish on top. This prevents the fish from sticking to the plate and the fish cooks evenly on both sides too. Steam over high heat for 10 minutes. Then turn off the heat and let it sit in the steamer for 2 minutes

Remove the fish and discard any liquid that is collected on the plate. Pour the dressing over the fish. Arrange the green part of the green onion, goji berries, and minced garlic on top
Fry the ginger strips:
Preheat a skillet and add sesame oil. Fry the ginger strips until crispy
Put everything together:
Arrange the crispy ginger strips on top of the fish and then pour the hot oil on top to let the oil scalds the garlic and green onion strips. The fish is ready to be served
Recommended products:
Nutrition
Serving:
1
serving
|
Calories:
196
kcal
|
Carbohydrates:
3
g
|
Protein:
26
g
|
Fat:
9
g
|
Saturated Fat:
2
g
|
Cholesterol:
63
mg
|
Sodium:
464
mg
|
Potassium:
446
mg
|
Fiber:
1
g
|
Sugar:
1
g
|
Vitamin A:
90
IU
|
Vitamin C:
2
mg
|
Calcium:
23
mg
|
Iron:
1
mg