Homemade white lotus seed paste is much wholesome, healthier, and less sweet compared to commercially prepared lotus seed paste that is cloyingly sweet. The lotus paste is suitable as filling for mooncakes, other pastries, and steamed buns.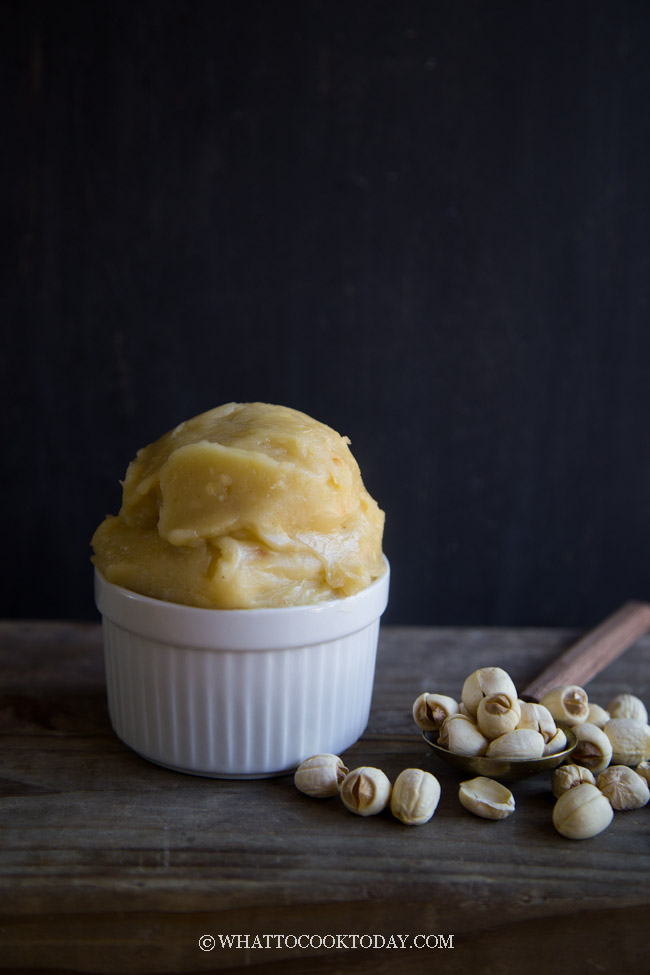 I never really like store-bought traditional baked mooncakes because the filling is usually loaded with an insane amount of sugar, fats, preservatives, additives (that's why they could last a year without refrigeration!!). Sweet lotus paste is one of the popular fillings you will find in the Chinese mooncakes. I like to make my own lotus seed paste because it is way healthier, less sweet, and more wholesome.
INGREDIENTS
1. DRIED LOTUS SEEDS
Get the peeled dried lotus seeds from any Asian store. It's one thing less to do.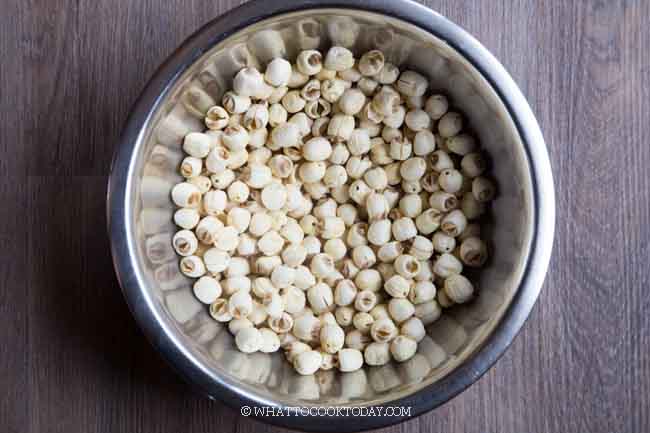 2. SUGAR
Fine white sugar/castor sugar is perfectly fine here. Some people use brown sugar for a more "caramelized" look.
3. OIL
Any neutral-tasting cooking oil such as vegetable oil, canola oil, avocado oil, grapeseeds oil is perect
4. MALTOSE
You can easily find maltose at most Asian grocery store. Maltose is also known as malt sugar. It has been used for thousands of years since the Shang dynasty in China. Maltose is made by fermenting rice and malt. Don't be mistaken with Golden Syrup (invert sugar syrup). Maltose has been used a lot in Chinese pastries, sweets, cooking, and as medicine for a long time. It has a very neutral thick consistency, and not as sweet compared to honey or regular sugar. Maltose is almost similar to brown rice syrup, but brown rice syrup only has 50 % maltose. Maltose can prevent crystallization and also helps to prolong shelf-life. It gives that Peking duck and Chinese Char siu their nice glossy shine, and in this case, it gives the lotus paste a sticky and shiny texture
SUBSTITUTE FOR MALTOSE
You may not find maltose, but if you see rice malt syrup, that is the same thing with maltose. If you can find either one, you can use honey, brown rice syrup, or corn syrup. They are not exactly the same, but the closest you can get. Please note that all these substitute are much sweeter compared to maltose, so you may need to reduce the amount of sugar a little bit
HOW TO MAKE LOTUS PASTE FROM SCRATCH
1. Soak the lotus seeds in water for at least 4 hours or overnight.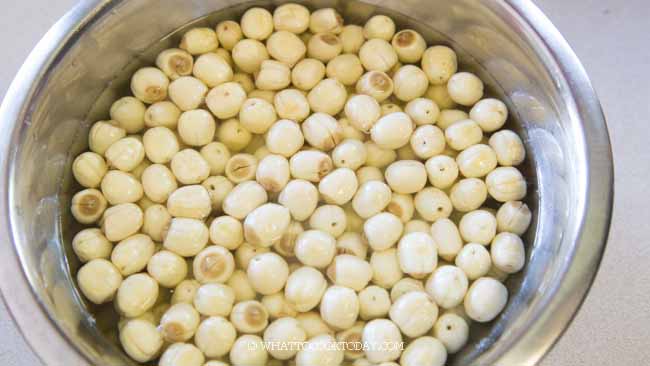 2. Once they are soft, split open and remove the greenish core. Those cores are bitter.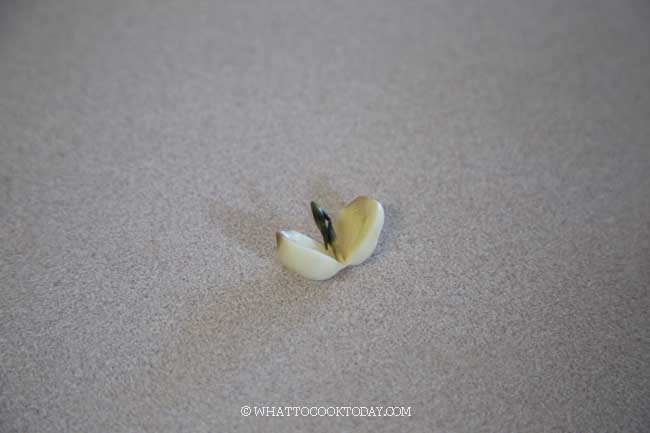 3. Proceed to cook either with a pressure cooker or boiling on the stove.
Pressure cook on high pressure for 20 minutes or boil on the stove for 1 hour or until softened


4. Put the cooked lotus seeds in a blender. Blend until it is of a muddy paste consistency. You may add some of the cooking liquid, tablespoon by tablespoon to help you blend. Place the pureed seeds on a skillet. Add sugar and cook until the sugar melts.


5. Add 1/3 of the oil and keep stirring until the oil is absorbed before adding the next 1/3. Continue to do this until you use up all the oil.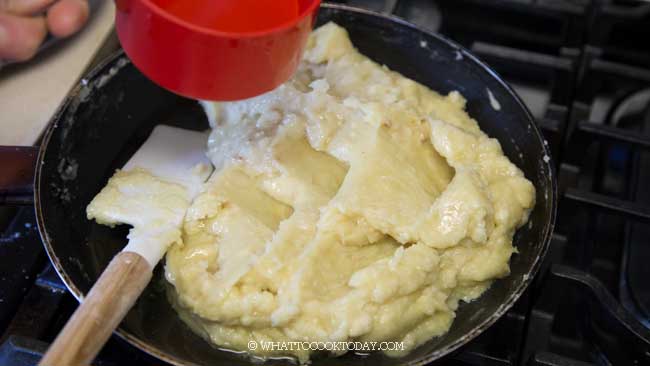 6. The mixture will start to look shiny and no longer sticky. When you get to this point, add the maltose and stir until it is all combined. The end result will be a shiny and smooth paste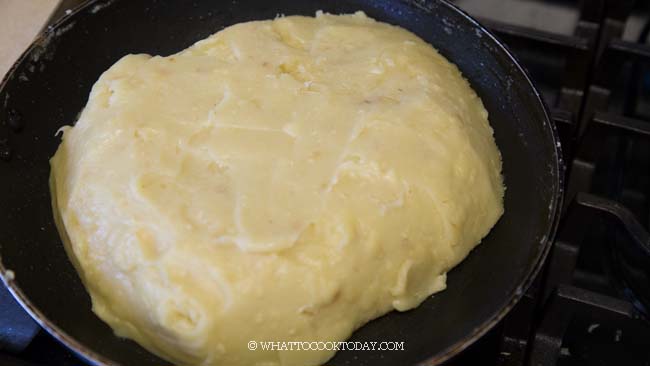 7. Let the paste cools down completely before using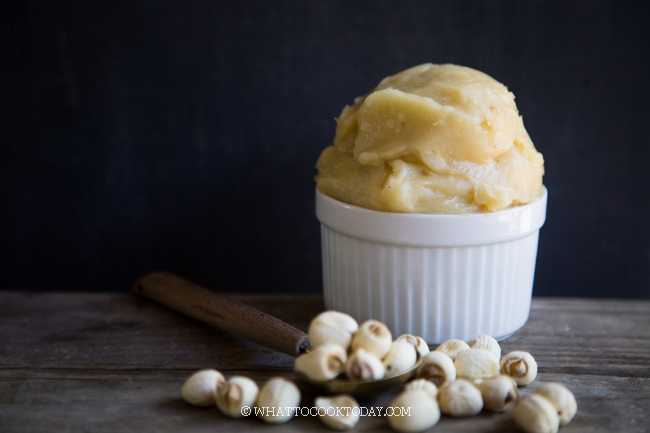 HOW TO STORE LOTUS PASTE
REFRIGERATOR: Spread the paste on a plate to let it cools down completely. Cover and keep them in the refrigerator for up to 2 weeks.
FREEZER: You can freeze them in the freezer for up to 3 months and bring them to room temperature before using
OTHER USE FOR LOTUS SEED PASTE
Besides as a filling for traditional baked mooncake, you can use this as a filling for other types of pastries like this Teochew Spiral Thousand Layer Mooncake, Shanghai Mooncake, Mung Bean Paste Cake, Snow Skin Mooncake, Steamed Buns, as a filling for baked buns

DID YOU MAKE THIS EASY HOMEMADE LOTUS SEED PASTE RECIPE?
I love it when you guys snap a photo and tag to show me what you've made 🙂 Simply tag me @WhatToCookToday #WhatToCookToday on Instagram and I'll be sure to stop by and take a peek for real!
Easy Homemade White Lotus Seed Paste (For Mooncakes)
Ingredients
300

gr

peeled dried lotus seeds

250

gr

sugar

250

ml

cooking oil

neutral-tasting

30

gr

maltose
Instructions
Soak the lotus seeds and remove the bitter cores:
Soak the lotus seeds in water for at least 4 hours or overnight. Once they are soft, split open and remove the greenish core. Those cores are bitter. Proceed to cook either with a pressure cooker or boiling on the stove
Cook the lotus seeds using Instant Pot pressure cooker:
Put the soaked lotus seeds in the inner pot of Instant Pot. Pour in water, to cover about 1 inch above the seeds. Close the lid and turn the steam release valve to sealing. Set the time to 15 minutes and to make sure it's on "high pressure". Do natural release and save some of the cooking liquid, maybe about 1 cup, to help you blend later. Drain off the rest of the liquid
Cook the lotus seeds on the stove:
Put the soaked lotus seeds in a large pot and cover with water, about 1-inch above the seeds. Bring to a boil and then lower the heat to let it simmer. Partially cover the pot to prevent it from boiling over. Cook until the seeds are soft, about 1 hour or so. Save about 1 cup of the cooking liquid to help with blending later
Blend the seeds:
Put the cooked lotus seeds in a blender. Blend until it is of a muddy paste consistency. You may add some of the cooking liquid, tablespoon by tablespoon to help you blend
Cooking:
Place the pureed seeds on a skillet. Add sugar and cook until the sugar melts. This will make the mixture a bit watery, don't worry. Add 1/3 of the oil and keep stirring until the oil is absorbed before adding the next 1/3. Continue to do this until you use up all the oil

The mixture will start to look shiny and no longer sticky. When you get to this point, add the maltose and stir until it is all combined. The end result will be a shiny and smooth paste
Cool down:
Spread the paste on a plate to let it cools down completely. Cover and keep them in the refrigerator for up to 2 weeks. You can freeze them in the freezer for up to 3 months and bring them to room temperature before using
If you plan to make your own traditional baked mooncakes, you may be interested in these: