I'm sharing my aunt's best old-fashioned yeast potato doughnuts or what we call donut kentang in Indonesia. It is seriously so light, fluffy, and irresistible. Doughnuts can be shaped the old-fashioned way by hands or using a doughnut cutter.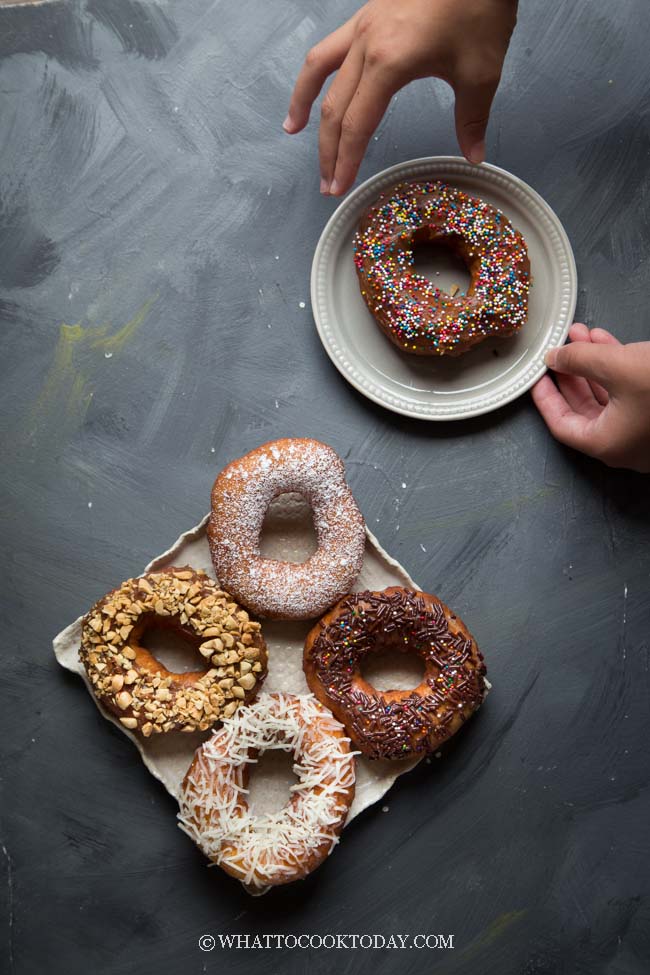 Potato doughnuts are not of Indonesian origin of course. This is of Western influence, but I grew up eating this old-fashioned donut kentang too. Here in the U.S., some call potato doughnuts as spudnuts. Something about how it was made the old-fashioned way, yeasted dough, shaping them by hands, the irregular shape of the doughnuts, have that appeal to me (besides the taste of the doughnut itself of course!).
TRULY THE BEST POTATO DOUGHNUTS I'VE EVER TASTED!
I was asking for my aunt's other recipe and she sent this donut kentang recipe along with that other recipe. I've been wanting to make old-fashioned potato doughnuts but that thought has been on the back burner for the longest time, until a few days ago I decided, what the heck, it's time to roll the sleeves up and try it. My aunt told me this donut kentang recipe was a REALLY good recipe. After making it three times just from this week alone, I will have to agree. I have to make it three times because they were gone so fast!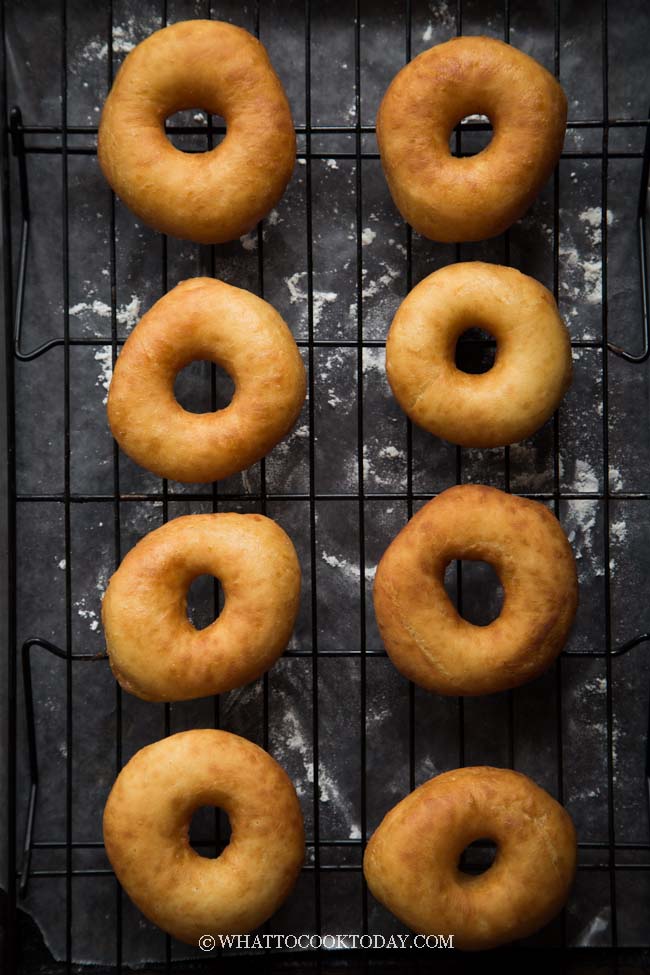 WHY YOU'LL LIKE THIS RECIPE
1. It's a classic
While I like baked doughnuts too, but seriously…nothing beats homemade old-fashioned yeasted potato doughnuts!!! period.
2. Not much kneading
You don't even need a stand mixer. I did it because I was just lazy! My aunt did it by hands and this is not a dough that you need to knead until it's smooth and elastic like my Hokkaido milk bread recipe. Nothing like that!
3. The doughnuts stay soft and light for days
I leave them at room temperature for two days covered with a plastic wrap and they stay soft, light, and not greasy
WHAT DOES POTATO DOUGHNUTS TASTE LIKE ?
It doesn't taste like potatoes if that's what you are wondering. You can't even tell if there are potatoes in the doughnuts
THE PURPOSE OF POTATOES IN THE DOUGH
Potatoes give a soft and light texture to your dough. It's amazing what the potatoes can do. Even with bread that made with potatoes, I can tell the difference! It's so good!
WHAT TYPE OF POTATO TO USE ?
It really doesn't matter what type you use if you ask me 🙂 I have tried Russet and Yukon potatoes and I'm not an expert enough to notice any difference, to be honest. My aunt has no idea what type of potatoes they have in Indonesia, "It's just potatoes" she said. Potato it is folks!!
HOW TO MAKE YEASTED POTATO DOUGHNUTS (DONUT KENTANG FROM SCRATCH)
1. PREPARE THE DOUGH
Put all the ingredients for the dough (except for water) in a mixing bowl.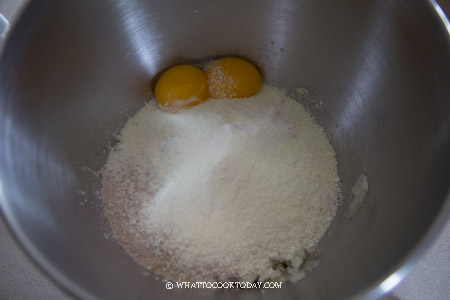 I use a stand mixer. Start mixing and I add the lukewarm water tablespoon by tablespoon until it comes into a dough that is just slightly sticky to touch. It's not going to be a super smooth dough, but the dough will be soft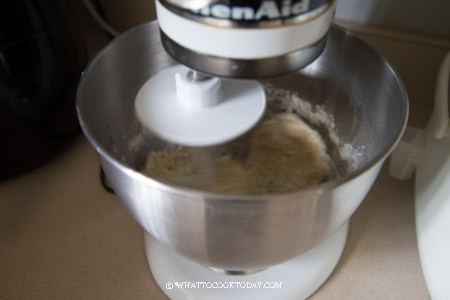 2. 1st PROOFING
Cover and let it proof at a warm place until double in size


I use my oven's bread proof function and it took about 1 hour for it to double in size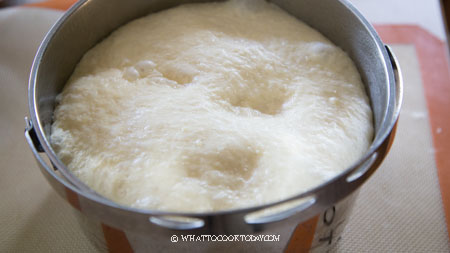 Line a baking sheet with a parchment paper and lightly dust with some all-purpose flour and set aside
3. SHAPE
IF SHAPE BY HANDS
Lightly dust your working surface and hands with some flour. Deflate the dough and transfer the dough to the working surface


Divide the large dough into 14 pieces, roughly about 50 grams each, don't have to be exact


Lightly dust the dough with some flour as needed. Flatten the dough slightly, about 1/2-inch in thickness.


Poke your thumb through the middle of the dough


Stretch it to form a hole in the middle and to shape like a ring


Place the shaped dough on a baking sheet you prepared earlier. Cover them with a dry cloth while shaping the rest


IF USING ROUND CUTTER
Lightly dust your working surface and rolling pin with some flour. Deflate the dough and transfer the dough to the working surface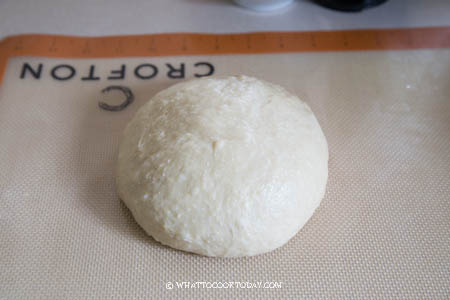 Roll the dough out using a rolling pin to about 1/2-inch in thickness. Lightly dust with some flour if it gets sticky


Use a 2 1/2 – 3 inch round cutter to cut out the shape. Gather the extra dough together to form a dough again and roll it out and cut again. This way, no dough is wasted. You may get about 14-16 doughnuts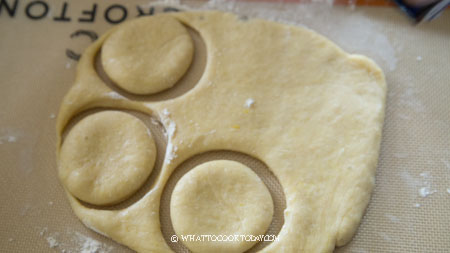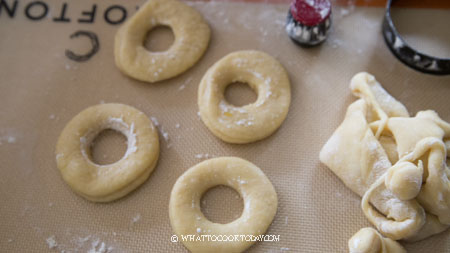 Place the shaped dough on a baking sheet you prepared earlier. Cover them with a dry cloth while shaping the rest


4. 2ND PROOFING
Let the shaped doughnuts proof again until they double in size again, may take 30-40 minutes at a warm place
5. FRYING
Heat up about 2 inches of oil in a frying pan or skillet. If you dip a bamboo skewer or chopstick into the oil and there are bubbles around it, the oil is ready. Lower the heat to between medium and low (at least on my stove). Every stove may be different, you will figure out yours after frying one or two doughnuts how much you need to lower or increase the heat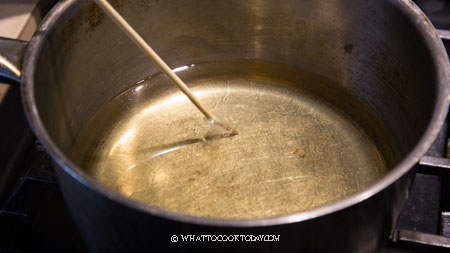 Gently pick up one doughnut and lower it into the hot oil


Gently nudge to roll it around as it fries. The doughnut will puff up evenly and it will brown evenly too. Watch the heat as it browns quickly if your heat is too high and the dough will still be wet inside


Fry until they are nicely golden brown but not too dark. Remove from the oil into an absorbent paper towel to drain off excess oil. I then transfer them to a cooling rack. Continue frying the rest. I fried one at a time for the best result

These were shaped by hands. You can see the irregular and large holes in the middle. My aunt said "not pretty, the holes are too big" ha..ha..! This photo was also taken the first time I made them and the heat was a bit too high and so they are much darker.

I use a makeshift round cutter by using a round egg ring and a small round cap to cut the holes. They did look better with more uniform shapes. This was my 3rd time making the doughnuts and the skill has definitely improved slightly LOL!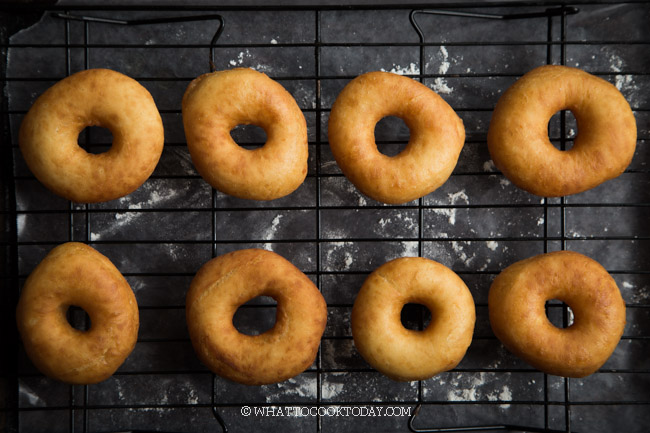 IMPORTANT TIPS
1. Steam the potatoes instead of boiling. The drier the potatoes, the lighter your doughnuts going to be. Boiling will make the potato more "wet". If you want to use leftover mashed potatoes, you can too as long as there is no garlic or other flavor in it 🙂
2. Watch the heat. Most articles I've read about frying doughnuts will say to fry at a temperature of about 375 F. I didn't measure my temperature, but I dip a skewer in the oil and when I see bubbles around it, the oil is ready. Then I LOWER the heat between medium and low. The doughnuts fry beautifully at this heat level and no it's not greasy at all if you are wondering. It's amazingly light and airy
3. Turn it around as it fries. I was told to fry it about 2-3 minutes on each side before flipping, but from the three times I've made these doughnuts, I found that, similar to making ham chim peng or you tiao, the dough puffs up very evenly and brown evenly when I gently flip it around as it fries.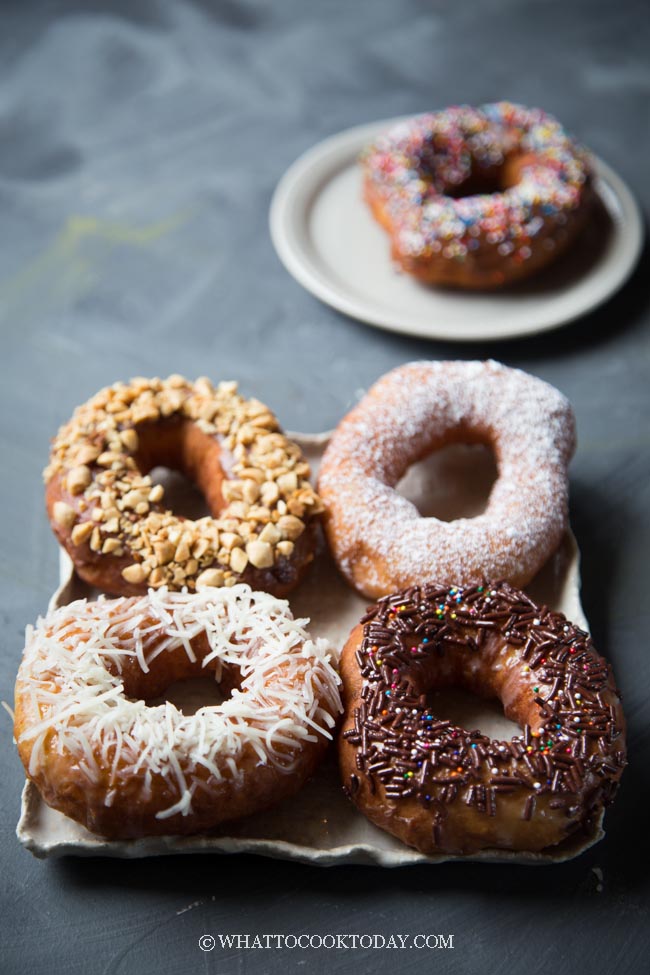 IDEAS FOR TOPPINGS
In Indonesia, I grew up with the old-fashioned donut kentang with chocolate rice sprinkles and grated cheese as toppings. Many years later during my teenager years, Dunkin Donuts opened in my little hometown and we were in trouble 🙂 I'm never really a big fan of doughnuts with glazed toppings though, but my kids love them LOL! Here are the 4 simple toppings I did:
1. A simple icing sugar glaze with chocolate rice sprinkles
2. A spread of Nutella with chopped roasted peanuts (unsalted)
3. A good old dusting of icing sugar
4. A simple icing sugar glaze with grated cheese (Edam, Gouda, or white cheddar)

Look at how light and airy the doughnut is!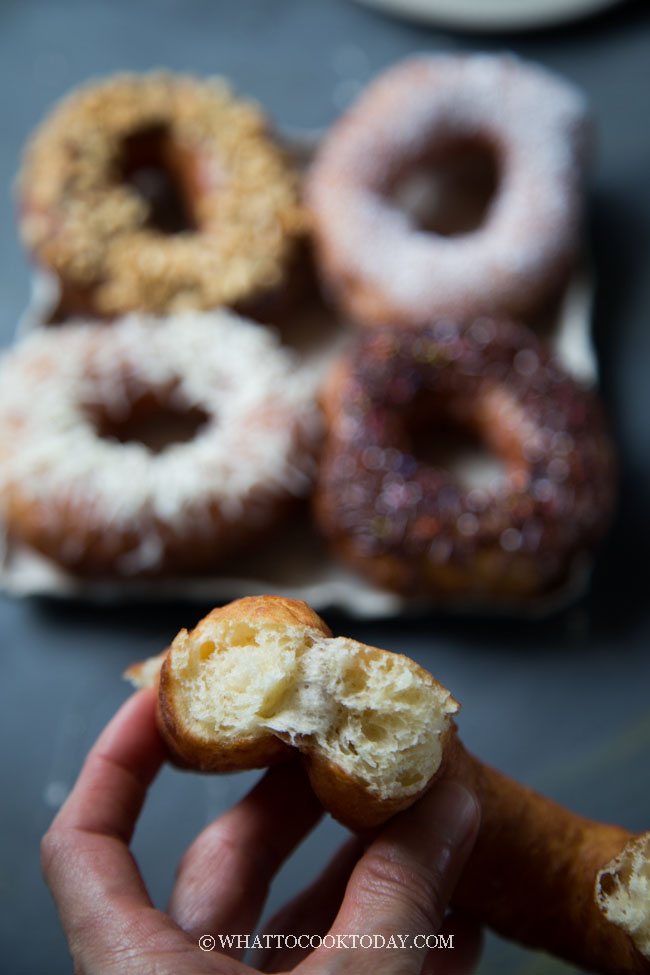 HOW TO STORE AND REHEAT HOMEMADE DOUGHNUTS
STORING: Only glaze the doughnuts you plan to serve on the same day. You can keep the rest of the plain doughnuts at room temperature for 2 days in a cool dry place. For longer storage, carefully wrap each in an aluminum foil and then place in a freezer bag and freeze them for up to 3 months
REHEATING: Simply reheat them in an oven, wrapped in a foil at 350 F for 10 minutes or until heated through. Glaze them after that if you like
DID YOU MAKE THIS OLD-FASHIONED YEAST POTATO DOUGHNUTS RECIPE?
I love it when you guys snap a photo and tag to show me what you've made 🙂 Simply tag me @WhatToCookToday #WhatToCookToday on Instagram and I'll be sure to stop by and take a peek for real!
The Best Old-Fashioned Yeast Potato Doughnuts (Donut Kentang)
Ingredients
250

gr

all-purpose flour

1 1/2 cups + 5 Tbsp, plus more for dusting

125

gr

mashed potato

4.5 oz or about 1/2 cup

50

gr

sugar

1/4 cup

¼

tsp

salt

5

gr

instant yeast or active dry yeast

1 1/2 tsp

25

gr

milk powder

3 Tbsp

50

gr

softened butter

3 1/2 Tbsp

2

egg yolks
To add as needed:
60

ml

lukewarm water

about 4 Tbsp, or more as needed
For frying:
Peanut oil, vegetable oil, or shortening
Instructions
Prepare the dough:
Put all the ingredients for the dough (except for water) in a mixing bowl. I use a standmixer. Start mixing and I add the lukewarm water tablespoon by tablespoon until it comes into a dough that is just slightly sticky to touch. It's not going to be a super smooth dough, but the dough will be soft
1st proofing:
Cover and let it proof at a warm place until double in size. I use my oven's breadproof function and it took about 1 hour for it to double in size

Line a baking sheet with a parchment paper and lightly dust with some all-purpose flour and set aside
Shape by hands:
Lightly dust your working surface and hands with some flour. Deflate the dough and transfer the dough to the working surface. Divide the large dough into 14 pieces, roughly about 50 grams each, don't have to be exact

Lightly dust the dough with some flour as needed. Flatten the dough slightly, about 1/2-inch in thickness. Poke your thumb through the middle of the dough and stretch it to form a hole in the middle and to shape like a ring

Place the shaped dough on a baking sheet you prepared earlier. Cover them with a dry cloth while shaping the rest
If using a round cutter:
Lightly dust your working surface and rolling pin with some flour. Deflate the dough and transfer the dough to the working surface. Roll the dough out using a rolling pin to about 1/2-inch in thickness. Lightly dust with some flour if it gets sticky

Use a 2 1/2 - 3 inch round cutter to cut out the shape. Gather the extra dough together to form a dough again and roll it out and cut again. This way, no dough is wasted. You may get about 14-16 doughnuts

Place the shaped dough on a baking sheet you prepared earlier. Cover them with a dry cloth while shaping the rest
2nd proofing:
Let the shaped doughnuts proof again until they double in size again, may take 30-40 minutes at a warm place
Frying:
Heat up about 2 inches of oil in a frying pan or skillet. If you dip a bamboo skewer or chopstick into the oil and there are bubbles around it, the oil is ready. Lower the heat to between medium and low (at least on my stove). Every stove may be different, you will figure out yours after frying one or two doughnuts how much you need to lower or increase the heat

Gently pick up one doughnut and lower it into the hot oil and gently nudge to roll it around as it fries. The doughnut will puff up evenly and it will brown evenly too. Watch the heat as it browns quickly if your heat is too high and the dough will still be wet inside

Fry until they are nicely golden brown but not too dark, about 2 minutes total. Remove from the oil into an absorbent paper towel to drain off excess oil. I then transfer them to a cooling rack. Continue frying the rest. I fried one at a time for the best result
Frost or decorate as you wish:
Once the doughnuts have cooled down, you can frost them with any icing, glaze, or sugar toppings you like
Store:
Only glaze the doughnuts you plan to serve on the same day. You can keep the rest at room temperature for 2 days in a cool dry place. For longer storage, carefully wrap each in an aluminum foil and then place in a freezer bag and freeze them for up to 3 months

Simply reheat them in an oven, wrapped in a foil at 350 F for 10 minutes or until heated through. Glaze them after that if you like