This super easy and fun mooncake is made with mung bean paste as skin and red bean paste (dou sha) as a filling. Another variety of snow skin mooncake that our family enjoys.

HOW THIS MUNG BEAN PASTE BECOME A CAKE INSTEAD OF A FILLING
As its name implies, this cake is made with a mung bean paste that is usually used as filling for many of the Asian pastries, cakes, and bread. The inspiration actually came from my daughter ha! I was actually making this mung bean paste as a filling for ang ku kueh, but my daughter saw the mooncake mould that was lying around on the countertop after making this Shanghai Mooncake, said something like this "What if you make a cake with this mom?" At first I didn't give much thought about it until I kept cooking the paste and the dough-like consistency convinced me that the idea was actually do-able. So I started to google around and sure enough, mung bean paste cake has been around. It's no new invention! So, instead of being used as a filling, the mung bean paste is being made as a skin (wrapper) for a sweet dou sha filling instead. If you are looking for how to make mung bean paste filling recipe, the same recipe can be used too!

INGREDIENTS
1. SPLIT MUNG BEANS
Split mung beans have their greenskin removed and then split in half. The cooking time is much shorter compared to the whole green mung beans. Split mung beans are also knowns as moong dhal or mung dal. They are available in Asian grocery store.
2. SUGAR
I used regular white sugar. I toned down the amount of sugar used in this recipe because I'm using it as a skin instead of as a filling and there's also a sweet red bean paste filling inside. If you plan to use it as a filling, you can double the amount of the sugar or to your taste.
3. SALT
A little bit of salt sure brings out a great flavor of the paste.
4. COOKING OIL
Some people like to use butter. I use regular neutral-tasting cooking oil such as grapeseeds oil.
5. CORNSTARCH
Cornstarch acts as a binder in this recipe.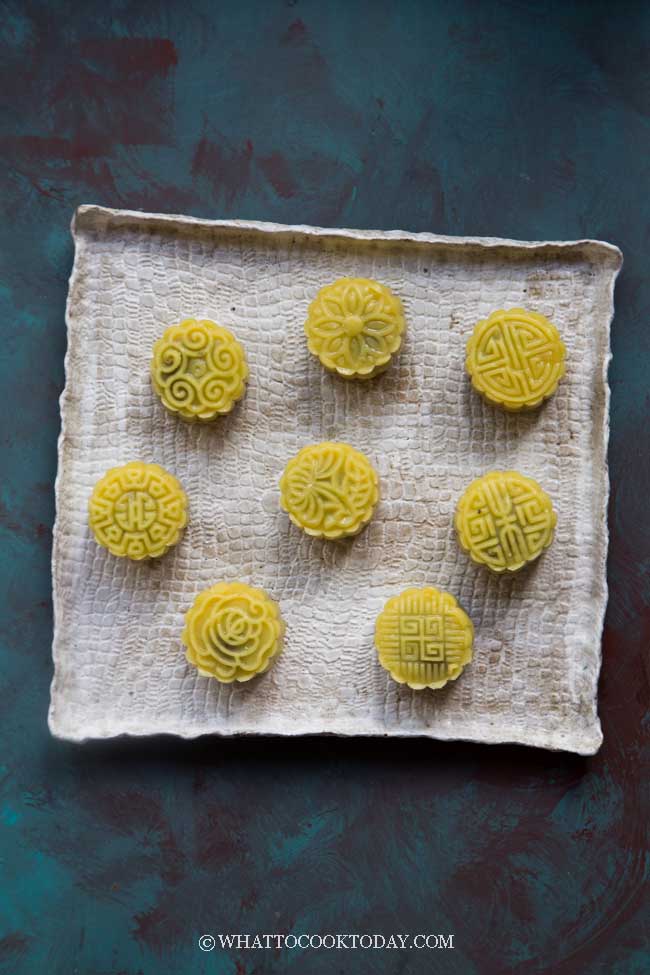 HOW TO MAKE MUNG BEAN PASTE
1. SOAK: Soak the mung beans for at least 4 hours.
2. COOK: If cooking on the stove, drain off water and add fresh water and boil over high heat for 15-20 minutes or until the beans can be easily mashed when you squeeze with your finger. Drain off excess water.
If using Instant Pot pressure cooker, pressure cook on high for 5 minutes. Wait 5 minutes and then release pressure. Drain off excess liquid.
3. BLEND:Transfer cooked beans to a blender or use an immersion blender and process into smooth paste.
4. COOK AGAIN: Transfer to a saucepan. Add cooking oil, sugar, and salt and keep stirring until the bean paste started to leave the side of the pan. Sprinkle in the cornstarch and keep stirring to cook the starch, about 5 minutes.


The bean paste is ready when it's shiny and no longer sticky.


Transfer to a shallow platter and spread it out to let it cool down completely.

HOW MAKE MUNG BEAN PASTE CAKE WITH DOU SHA FILLING
Refer to this post: how to make the dou sha filling
1. PORTION: Lightly oil the palms of your hands. Portion the mung bean paste into 12 portions, weighing about 30 grams each. Portion the dou sha filling into 12 portions as well, about 20 grams each. The total amount of 50 gr will fit into 50 gr mooncake mould. Adjust this amount according to the size of your mooncake mould


2. WRAPPING: Lightly brush some oil the mooncake mould. Take one mung bean dough and flatten into about 4-inch circle. Place the dou sha filling in the middle.


Wrap the mung bean dough around it. Roll it into round balls with your oiled palms. Repeat with the rest of the bean paste. Keep them covered with plastic wrap.


3. USE MOONCAKE MOULD: Place this inside the cavity of the mooncake mould and gently press it out. Repeat with the rest.


4. CHILL: Place them inside a container with a lid and let them chill in the refrigerator for at least one hour. They will firm up further and enjoy.

Once the cake has firmed up, they have nice soft texture to it. My mom surprised that the whole mooncakes were made with two types of sweet bean paste 🙂 This mung bean paste cake is one of my daughter's favorite mooncakes.

Mung Bean Paste Mooncake (with Dou Sha Filling)
Instructions
Soak the mung beans in water for at least 4 hours. Prepare the dou sha filling as directed in the recipe link above, preferrable one day before too
If cooking the mung beans on the stove:
Drain off water. Cover the beans with fresh water, just enough to cover the beans and steam over high heat for 15-20 minutes or until the beans can be easily mashed when you squeeze with your finger. Drain off excess water
If cooking the mung beans in Instant Pot pressure cooker (no soaking needed):
Put the beans inside the pressure cooker, add water, about 1-inch above the beans. Close the lid and press "pressure cooker" and make sure it's on "high pressure" and set timer to "5 minutes". Wait 5 minutes and then release pressure. Drain off excess water
Blending:
Transfer the cooked beans to a blender or use an immersion blender and process into smooth paste
Cooking:
Transfer to a saucepan. Add cooking oil, sugar, and salt and keep stirring until the bean paste started to leave the side of the pan. Sprinkle in the cornstarch and keep stirring to cook the starch, about 5 minutes. The bean paste is ready when it's shiny and no longer sticky

Transfer to a shallow platter and spread it out to let it cool down completely. You can use it on the same day too once it has cooled down completely. If you plan to store it, It's important to let the paste cool down completely before you cover so condensation won't accumulate and make the paste wet. Then cover with cling wrap in the refrigerator until ready to be used
Wrapping:
Lightly oil the palms of your hands. Portion the mung bean paste into 12 portions, weighing about 30 grams each. Portion the dou sha filling into 12 portions as well, about 20 grams each. The total amount of 50 gr will fit into 50 gr mooncake mould. Adjust this amount according to the size of your mooncake mould

Lightly brush some oil the mooncake mould. Take one mung bean dough and flatten into about 4-inch circle. Place the dou sha filling in the middle. Wrap the mung bean dough around it. Roll it into round balls with your oiled palms. Repeat with the rest of the bean paste. Keep them covered with plastic wrap

Place this inside the cavity of the mooncake mould and gently press it out. Repeat with the rest.

Place this on a platter and let them chill in the refrigerator for at least one hour. They will firm up further and enjoy. They can be kept in the refrigerator for up to one week. I do not recommend freezing as the texture will not hold up well