You have to try this Suzhou style savory mooncakes stuffed with pork filling enclosed in a flakiest crust to believe how tasty they are! They can be baked in the oven or cooked on the pan.
THE GOOD NEWS IS THEY ARE SO EASY TO MAKE!
Seriously…this Suzhou pork mooncake is probably one of the best I've ever tasted! My mom absolutely loves this! and I couldn't tell you how proud I was when mom gave her big thumbs up 😉 9 years ago, she was the one who cooked for me all the time when she visited us. Now, I'm happy to be able to make something for her to eat, and a good one too!
I'm not kidding when I said these Suzhou pork mooncakes aren't difficult to make at all. It's very similar to making Spiral Curry Puff. The filling is made with pork and seasonings and ingredients I would use to make pork dumplings.
TYPE OF FAT/OIL TO USE FOR SUZHOU MOONCAKE
1. LARD: Lard would be my number one choice here to make an aromatic and flaky crust for this Suzhou mooncake. Traditional Suzhou mooncake or pretty much any baked mooncakes or Chinese pastries are usually made with lard. My mom will render some lard from time to time using pork fat, but you can get ready-made lard too.
2. COOKING OIL: Cooking oil would be my second choice here. Any neutral-tasting cooking oil will work. I use grapeseeds oil (because that's what I use for cooking). They make really flaky crust too.
HOW TO MAKE SUZHOU PORK MOONCAKE
1. PREPARE THE FILLING
Place all ingredients for filling in a mixing bowl. Use a chopstick in one direction until it forms a paste. Cover and set aside to chill in the refrigerator while you prepare the doughs. You can make this the day before.


2. MAKE THE OIL DOUGH
Mix the oil and flour in a small mixing bowl and knead into a smooth non sticky dough. Cover and chill the dough in the fridge for 30 minutes to 1 hour
3. MAKE THE WATER DOUGH
Place all the ingredients for water dough in a mixing bowl, except for the water. Start with half of the amount of water first. You may not need all the water, you may need more. It all depends on how much water the flour absorbs. Chill the dough in the fridge for 30 minutes to 1 hour
4. PORTION THEM OUT: Portion the oil and water dough into 7 doughs each and roll them into balls.


5. PUT WATER AND OIL DOUGH TOGETHER: Get one water dough and one oil dough. Flatten the water dough into about 4-inch disc. Place one oil dough in the middle of the water dough. Wrap the water dough around the oil dough. Now you have a large dough ball. Repeat with the rest.


6. ROLL THEM OUT:Keeping them covered, get one dough. Use a rolling pin to roll into an oval shape.


Roll it up into a swiss roll.


Turn 90 degrees so it's vertical now.


Use a rolling pin to roll it out to the side into an oval again.


Roll it up into a swiss roll.


Cut the roll into two rolls.


Place the cut side down. Repeat with the rest of the dough. Keeping them covered. Now you have total of 14 doughs.


7. WRAPPING: Preheat oven to 375 F if you plan to bake them instead of cooking on the pan. Get one dough. Flatten with your palm.


Use a rolling pin to roll it out into about 4-5 inch disc, slightly thicker in the middle.


Scoop about 1 Tbsp of filling into the middle.


Wrap the dough around it and slightly pinch to seal. Place the seam side down and use your palm to gently flatten it into a disc, about 1-inch thick. Repeat with the rest.


Place them on a baking sheet lined with parchment paper.


8. COOKING: If cooking in the oven: Bake in a preheated oven at 375 F for 15 minutes and then flip over to let the other side brown, another 10-15 minutes. Remove from the oven after that and let them cool down completely on the rack.
If cooking on the pan: Preheat a non-stick pan over medium heat without oil. Place the mooncake on the pan, seam sides down and cook over medium heat until golden brown. The skin will start to flake too. Flip over and cook the other side is brown too and the filling is cooked through.


RELATED READING: SHANGHAI MOONCAKE WITH RED BEAN PASTE FILLING
The flaky crust makes you think that these Suzhou mooncakes are difficult to make, but in reality, if you know how to mix and roll dough with a rolling pin, you can do this! No fancy or special equipment needed!

HOW TO STORE LEFTOVER SUZHOU MOONCAKE
ROOM TEMPERATURE: They can be kept at room temperature (if humidity is not bad) for 3 days max. After that they need to go in the refrigerator or freezer
REFRIGERATOR: They can be kept in the fridge for up to 2 weeks. Simply bake in a preheated oven or air-fryer at 350 F for 5-8 minutes or until heated through
FREEZER: For longer storage, store them in the freezer. Put them on a baking sheet lined with a parchment paper, not touching each other and freeze for about 1 hour. Transfer to a freezer bag or container and they can be kept for up to 3 months. When ready to eat, do not thaw, simply bake in a preheated oven or air-fryer at 350 F for 10-15 minutes or until heated through.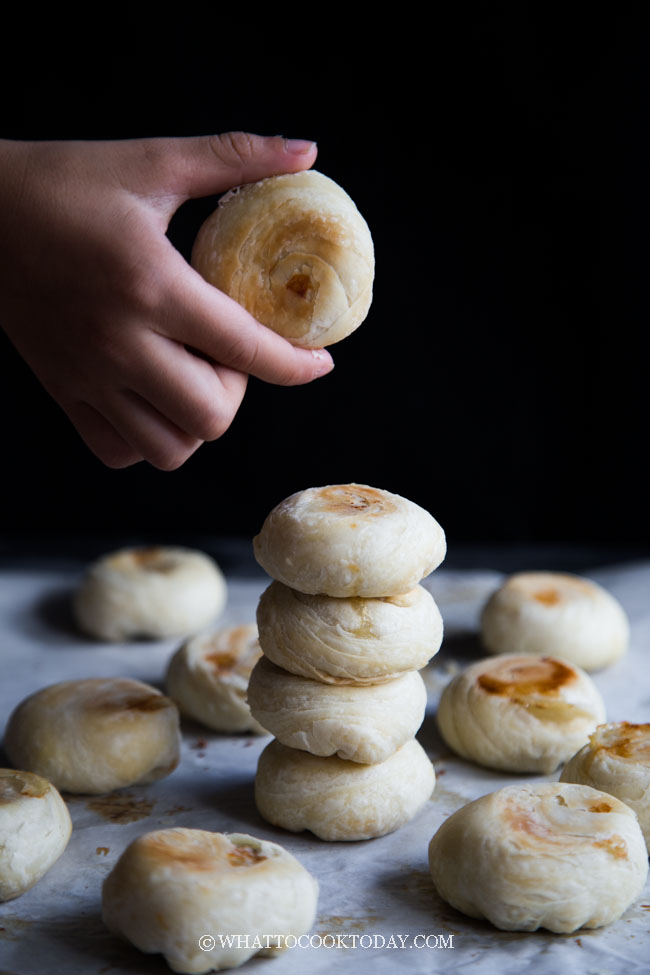 Don't say I didn't warn you! These mini Suzhou mooncakes went fast at our house. They didn't even last for 2 days!

DID YOU MAKE THIS SUZHOU PORK MOONCAKE RECIPE?
I love it when you guys snap a photo and tag to show me what you've made 🙂 Simply tag me @WhatToCookToday #WhatToCookToday on Instagram and I'll be sure to stop by and take a peek for real!

The Flakiest Suzhou Pork Mooncake Ever!
Ingredients
Filling:
180

gr

ground pork

about 6 oz

2

stalks

green onion

finely chopped

1

tbsp

sesame oil

1/4

tsp

salt

or more to taste

1/4

tsp

sugar

1

Tbsp

cornstarch
Instructions
Prepare the filling:
Place all ingredients for filling in a mixing bowl. Use a chopstick in one direction until it forms a paste. Cover and set aside to chill in the refrigerator while you prepare the doughs. You can make this the day before
Make the oil dough:
Mix the oil and flour in a small mixing bowl and knead into a smooth non-sticky dough. Cover and set aside. Cover and chill it in the fridge for about 30 minutes to 1 hour so the dough is not too crumbly
Make the water dough:
Place all the ingredients for water dough in a mixing bowl, except for the water. Start with half of the amount of water first. You may need all the water or more, you may not. Knead into a soft non-sticky dough. If it's too dry, you can add a bit more water. Cover and chill it in the fridge for about 30 minutes to 1 hour so the dough is not too crumbly
Rolling and wrapping:
Portion the oil and water dough into 7 doughs each and roll them into balls. Keep them covered. Get one water dough and one oil dough. Flatten the water dough into about 4-inch disc. Place one oil dough in the middle of the water dough. Wrap the water dough around the oil dough. Now you have a large dough ball. Repeat with the rest

Keeping them covered, get one dough. Use a rolling pin to roll into an oval shape. Roll it up into a swiss roll. Turn 90 degrees so it's vertical now. Use a rolling pin to roll it out to the side into an oval again. Roll it up into a swiss roll. Cut the roll into two rolls

Place the cut side down. Repeat with the rest of the dough. Keeping them covered. Now you have total of 14 doughs

Preheat oven to 375 F. Get one dough. Flatten with your palm. Use a rolling pin to roll it out into about 4-5 inch disc, slightly thicker in the middle. Scoop about 1 Tbsp of filling into the middle. Wrap the dough around it and slightly pinch to seal. Place the seam side down and use your palm to gently flatten it into a disc, about 1-inch thick. Repeat with the rest. Place it on a baking sheet lined with parchment paper
Baking:
Bake in a preheated oven at 375 F for 15 minutes and then flip over to let the other side brown, another 10-15 minutes. Remove from the oven after that and let them cool down completely on the rack
If cooking on the stove:
Preheat a non-stick pan over medium heat without oil. Place the mooncake on the pan, seam sides down and cook over medium heat until golden brown. The skin will start to flake too. Flip over and cook the other side is brown too and the filling is cooked through