A one-pot soup filled with the savory and natural sweetness of seafood like crab meat, surimi suspended in a thickened egg-drop soup, sweet corn, and tofu cubes. This easy home-cooked dish is comforting and easy to put together.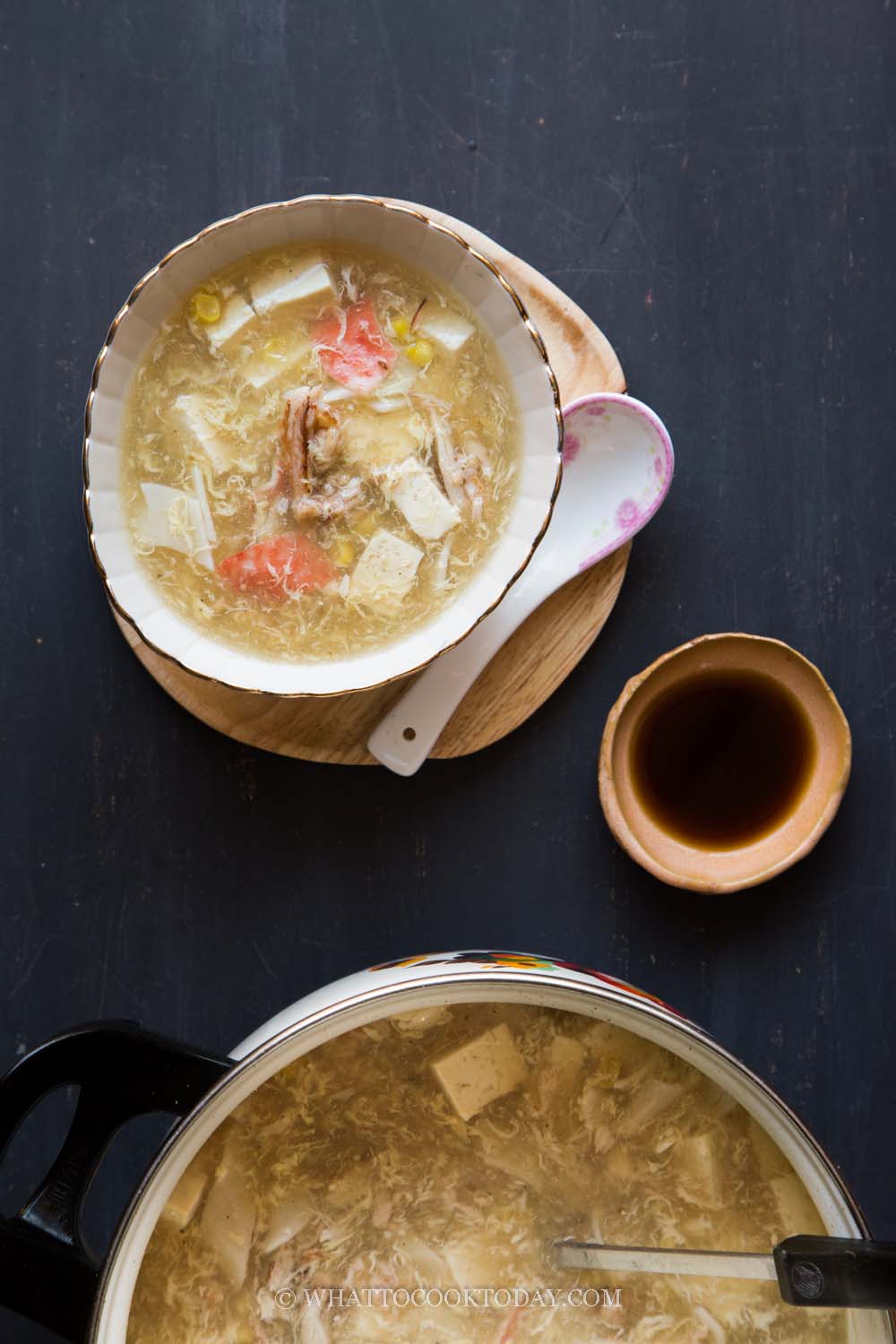 My mom liked to make this tofu crab meat soup when we were kids. I love seafood of any kind since I was a kid. I'm happy to say that my son is the same way too. My daughter, not so much, but she will eat fishes, crabs, lobsters, but not so much of other shellfish. But both kids do enjoy this one-pot tofu crab meat soup. This recipe is also perfect for easy weeknight cooking because it's pretty effortless to put together.
The recipe rundown
Taste: Savory and naturally sweet because of the seafood
Texture: Smooth and thick because the soup is thickened with cornstarch solution
Level: Easy
Pros: Very easy to put together and what you can put in there is very flexible too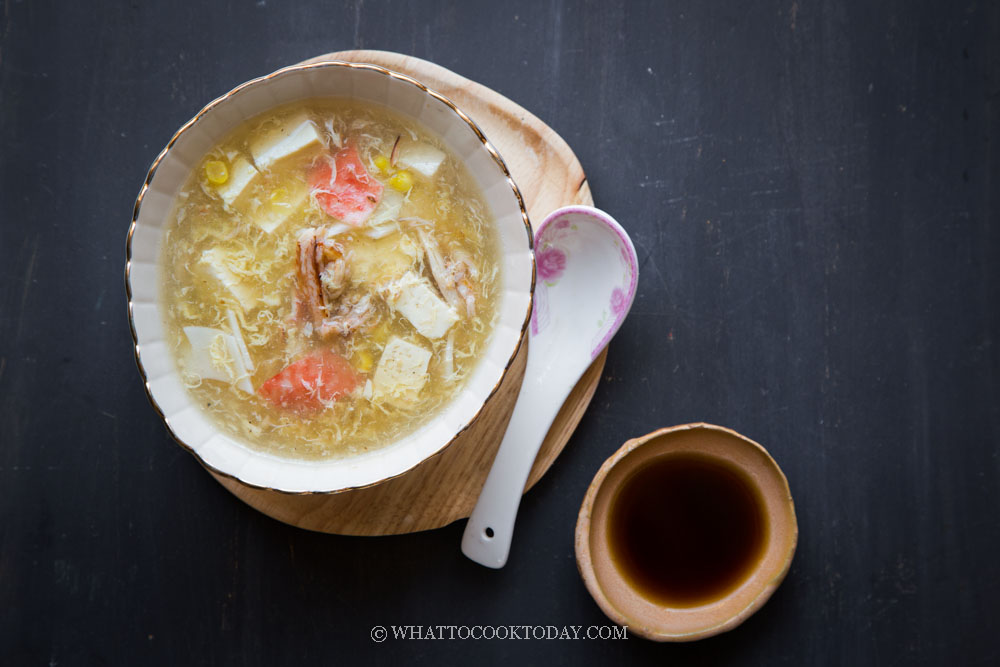 How to make one-pot tofu crab meat soup
1. Preheat a heavy-bottom large pot. Add cooking oil and stir fry garlic and ginger slices until aromatic, about 1 minute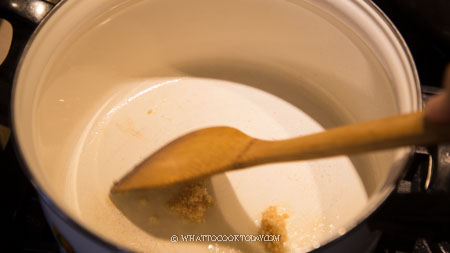 2. Deglaze with chicken broth and scrape the bottom of the pan to loosen any bits that caught at the bottom of the pot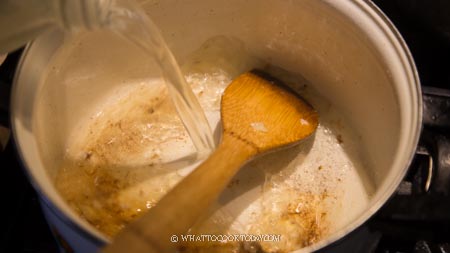 3. Bring to a boil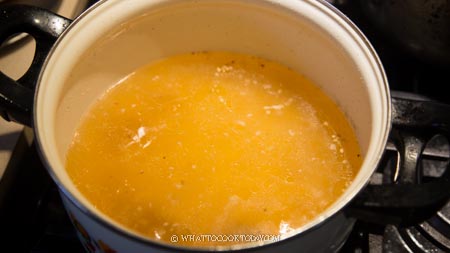 4. Add crab meat, surimi, sweet corn kernels, and tofu. Bring back to a gentle simmer. Add seasoning and simmer for about 1 minute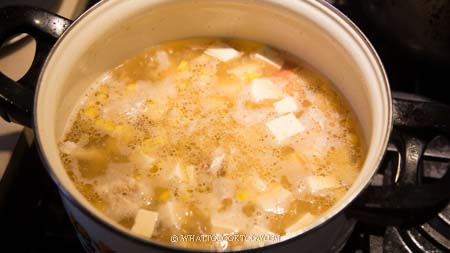 5. While one hand is stirring, gradually in a steady stream, add the beaten egg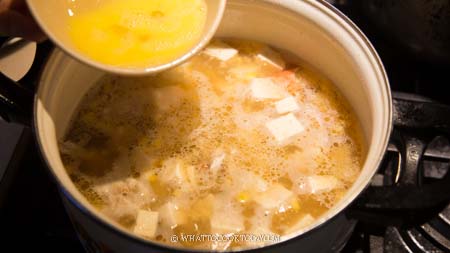 6. Keep stirring so it has the egg drop effect. Have a taste and adjust seasoning to your preference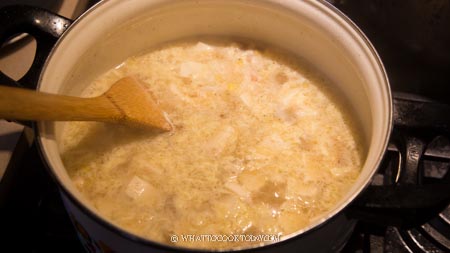 7. Combine the cornstarch with water. Stir to mix it well. While one hand is stirring, pour in the cornstarch solution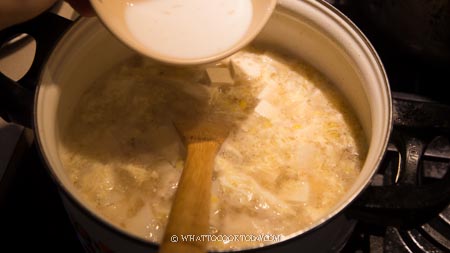 8. Keep stirring until the soup is thickened. Turn off the heat and portion out the soup and serve with Chinese black vinegar on the side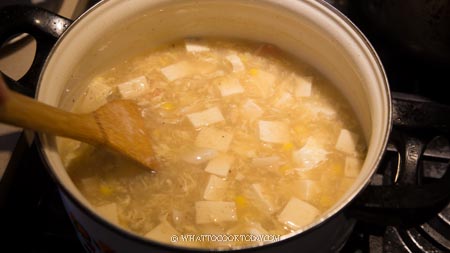 My husband and I like to serve this type of soup with a dash of Chinese black vinegar. The tartness pair well with seafood-based soup like this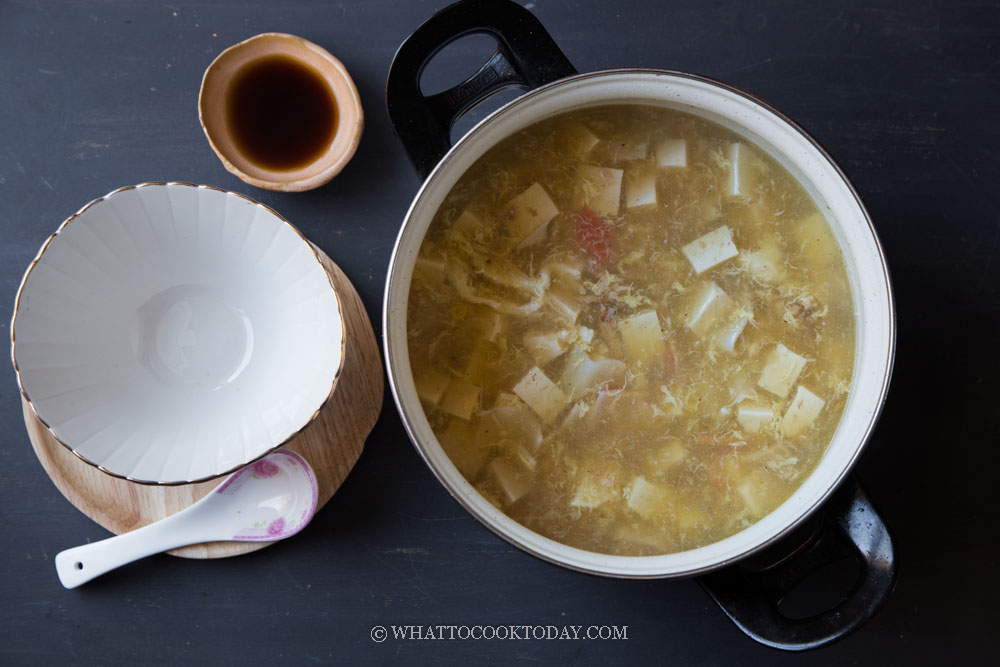 Variations
There are so many things you can add to this soup. You can add mushrooms, use mixed veggies instead of just sweet corn. You can also use minced or small pieces of pork or chicken instead of seafood if seafood is not your thing. Sometimes my kids like to top with something crunchy like those crunchy egg noodle strips, or crunchy wonton wrappers that I cut into strips and brush with a bit of oil and air fry until they are crispy.
If you cook this as part of the confinement diet, I suggest adding more ginger, sesame oil to your taste.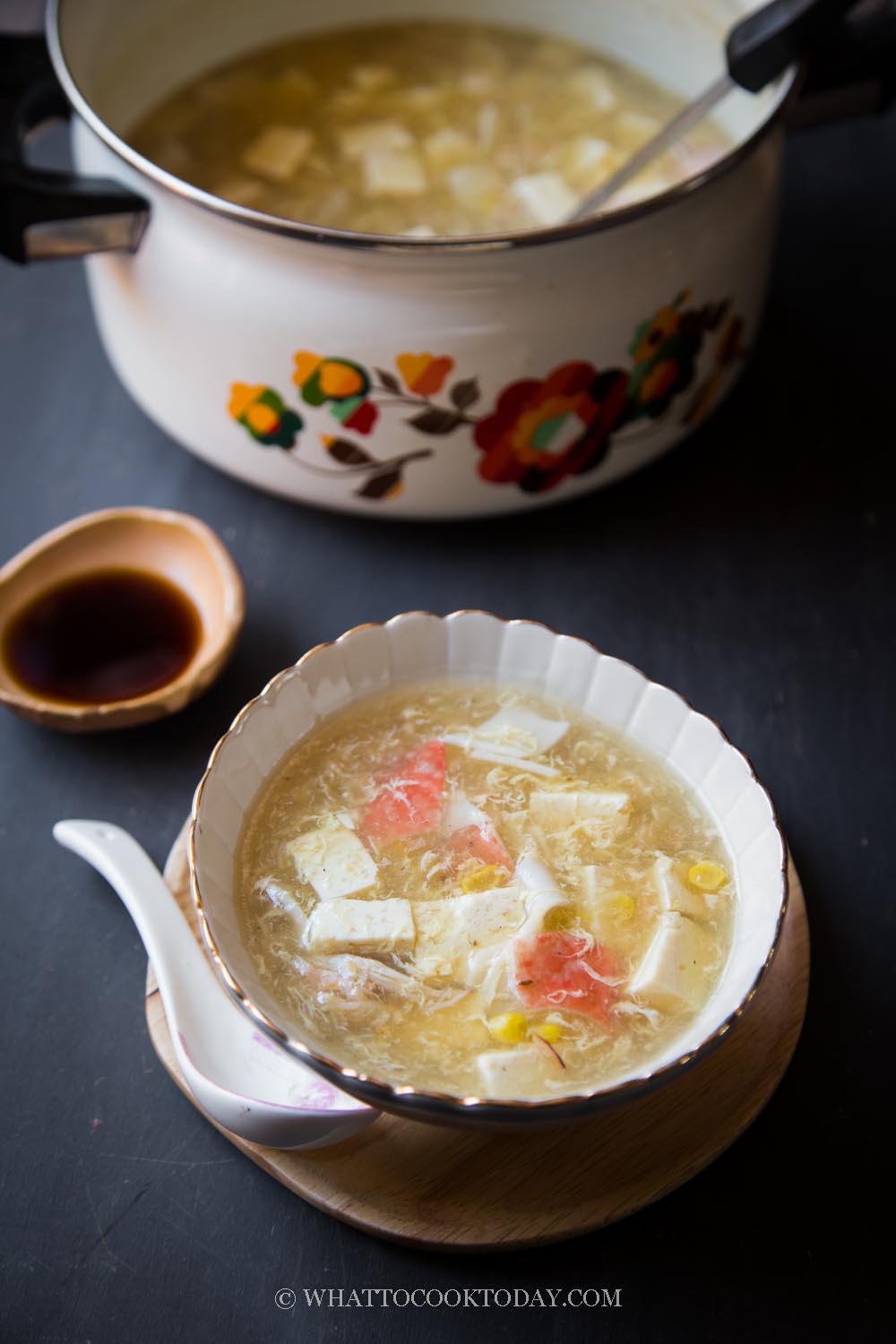 How to make ahead
If you want to make it ahead, do not thicken the soup until you are ready to serve. You can make in big portion and then portion into serving portions and freeze them for up to one month. When ready to serve, simply reheat on the stove and thicken it right then and there.
Did you make this one-pot tofu crab meat soup recipe?
I love it when you guys snap a photo and tag to show me what you've made 🙂 Simply tag me @WhatToCookToday #WhatToCookToday on Instagram and I'll be sure to stop by and take a peek for real!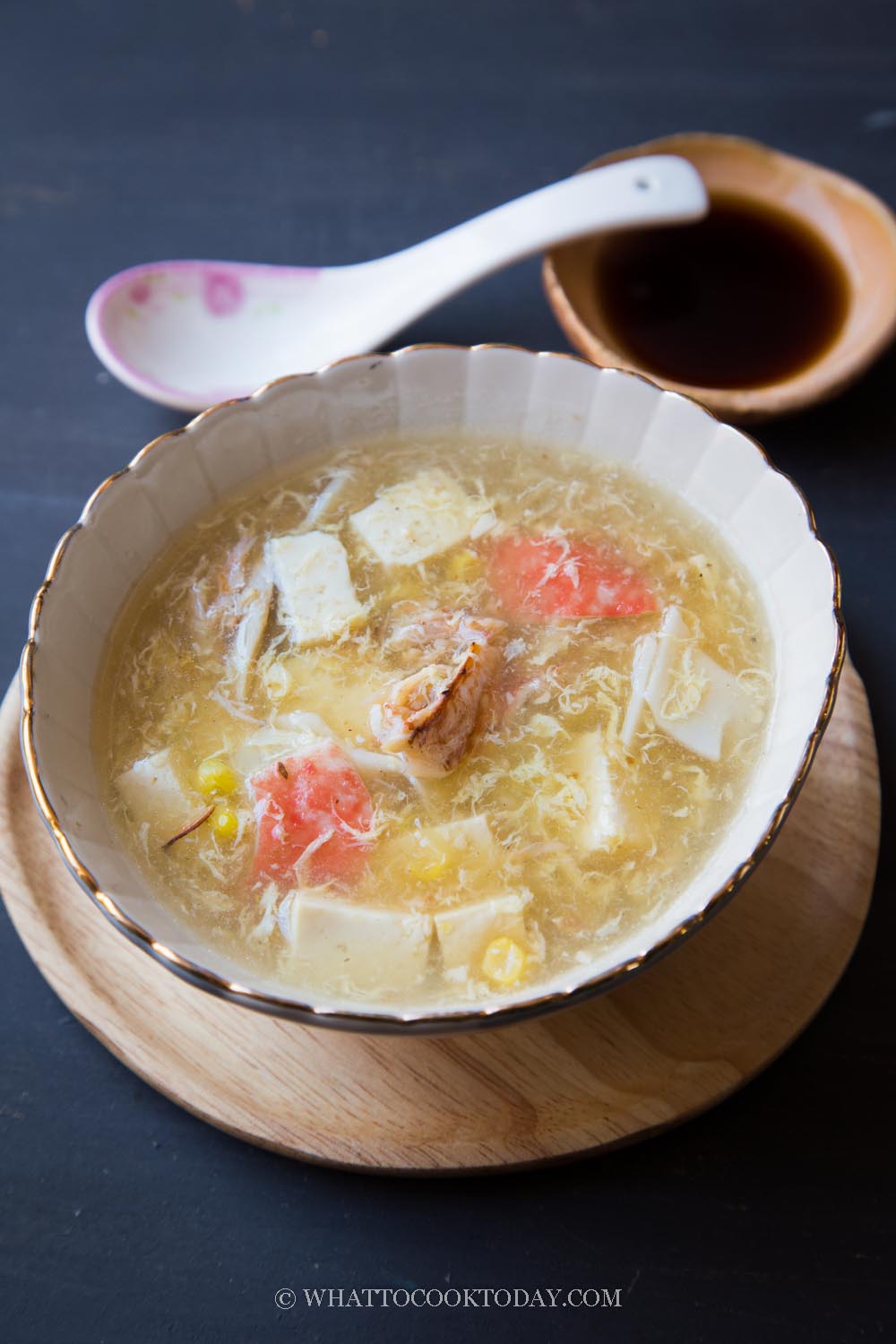 Easy One-Pot Tofu Crab Meat Soup
Ingredients
Instructions
Cut the tofu into 1-inch cube and set aside. Preheat a heavy-bottom large pot. Add cooking oil and stir fry garlic and ginger slices until aromatic, about 1 minute. Add the chicken broth

Deglaze with chicken broth and scrape the bottom of the pan to loosen any bits that caught at the bottom of the pot and bring to a boil. Add crab meat, surimi, sweet corn, and tofu. Bring back to a gentle simmer. Add seasoning and simmer for about 1 minute. While one hand is stirring, gradually in a steady stream, add the beaten egg and keep stirring so it has the egg drop effect. Have a taste and adjust seasoning to your preference

Combine the cornstarch with water. Stir to mix it well. While one hand is stirring, pour in the cornstarch solution and keep stirring until the soup is thickened. Turn off the heat and portion out the soup and serve with Chinese black vinegar on the side
Recommended products:
Nutrition
Serving:
1
serving
|
Calories:
286
kcal
|
Carbohydrates:
24
g
|
Protein:
26
g
|
Fat:
11
g
|
Saturated Fat:
1
g
|
Trans Fat:
1
g
|
Cholesterol:
67
mg
|
Sodium:
712
mg
|
Potassium:
382
mg
|
Fiber:
1
g
|
Sugar:
6
g
|
Vitamin A:
147
IU
|
Vitamin C:
4
mg
|
Calcium:
29
mg
|
Iron:
1
mg