You will love this Mexican Polvorones de naranja or orange shortbread cookies. It has a light and crisp texture when you bite on it and crumbly inside with an amazing aroma of orange.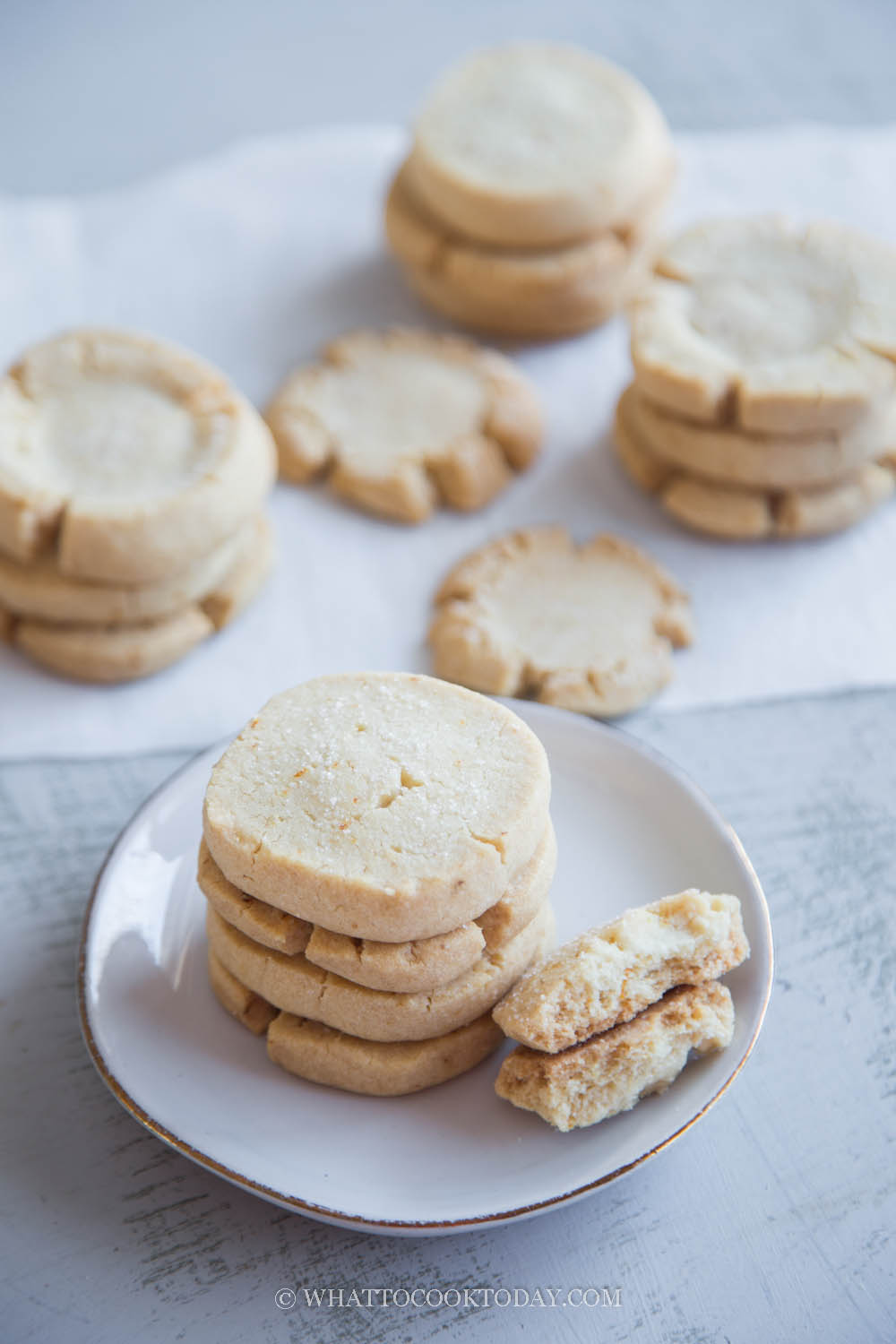 What is Polvorones De Naranja?
Polvorones De Naranja / Orange Dusts cookies are popular shortbread cookies across the Mexico. Each part of Mexico has its own version of Polvorones De Naranja. According to The Best of Mexico cookbook, by Susanna Palazuelo, the name comes from the word Polvo (dust), referring to their light consistency. This recipe uses orange peel and orange extract, which really gives the shortbread cookies a very refreshing zesty aroma. Some other popular varieties include ground nuts, star anise, and cinnamon. IMHO, the polvorones de naranja is kind of a hybrid between shortbread and sugar cookies. It's not a true shortbread because usually, shortbread doesn't use eggs and leavening agents like baking powder and baking soda.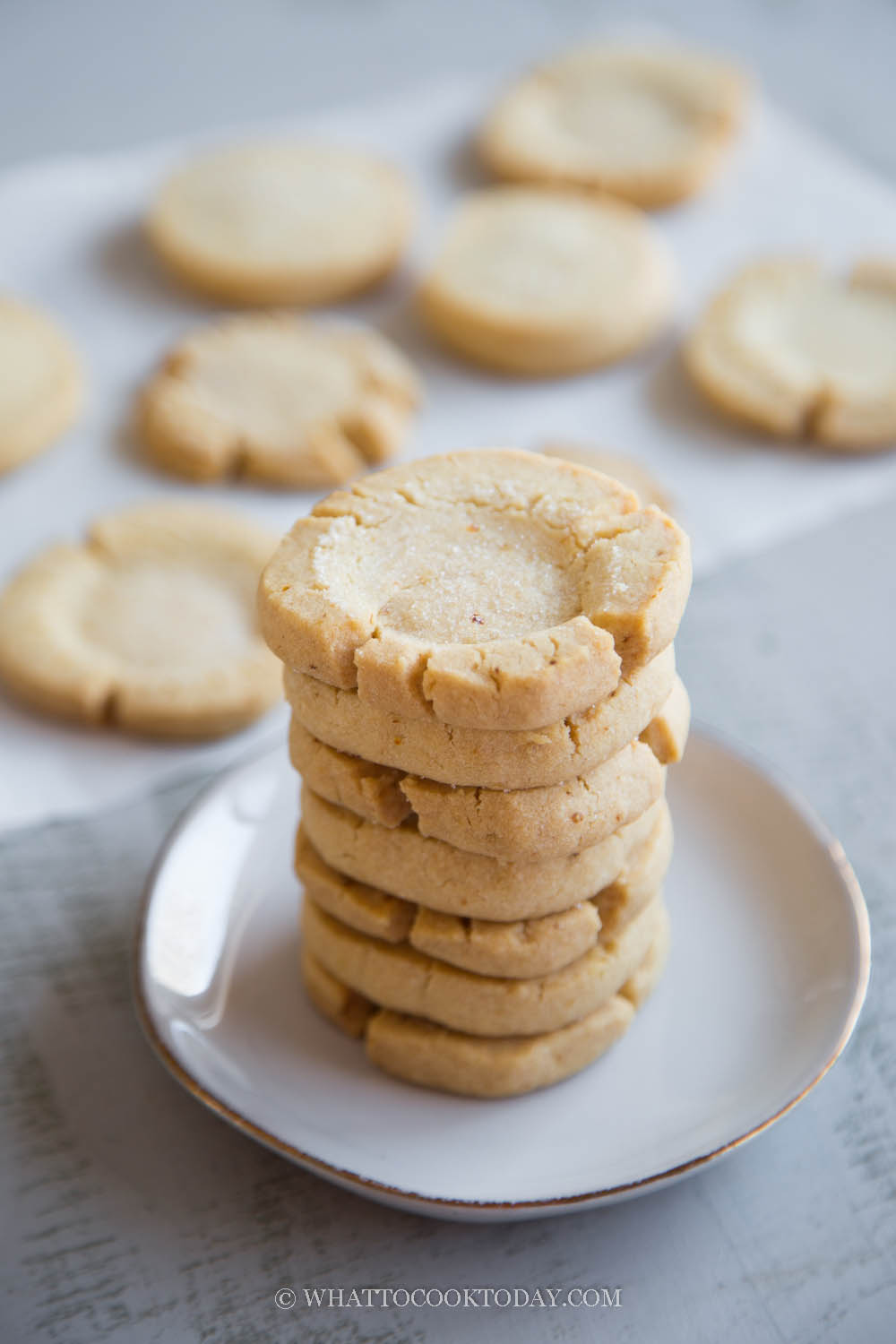 Ingredients
1. Vegetable shortening
Most Mexicans uses vegetable shortening to make polvorones de naranja. Some mix half butter and half shortening. I used all vegetable shortening. You can use butter-flavored shortening if you want that buttery flavor. Shortening yields much tender cookies compared to butter, though of course if you use all butter, it will be more flavorful, but keep in mind that if you switch to all butter, your cookies will spread a lot for sure and you need to chill the dough in the fridge for at least 1 hour. I don't have to chill the dough since I use shortening
2. Orange zest
The orange zest gives a nice refreshing zest to the shortbread cookies
3. Orange extract
It's not a must but I feel like it gives extra boost of orange flavor
4. All-purpose flour
5. Granulated sugar
6. Eggs
I use room temperature large eggs, usually weighing about 50 grams without the shell
7. Baking powder and baking soda (optional)
Many Mexicans use these two leavening agents in their polvorones de naranja recipe to my surprise. My guess is so the cookies can "expand" creating that crackles or cracks. True shortbread cookies do not have any leavening agents. But again, these are Mexican style shortbread cookies. So, it's up to you if you want to use these two or not. I did use them in the recipe
How to make polvorones de naranja
1. Preheat oven to 325 F (160 C). Line a large baking sheet with parchment paper. Beat shortening and sugar until they are creamy. You can use a hand mixer or stand mixer or do it manually with a whisk, beat for about 4-5 minutes with hand mixer and about 3 minutes with a stand mixer.


2. Add the egg and mix until combined. Add orange zest, orange extract and stir to combine.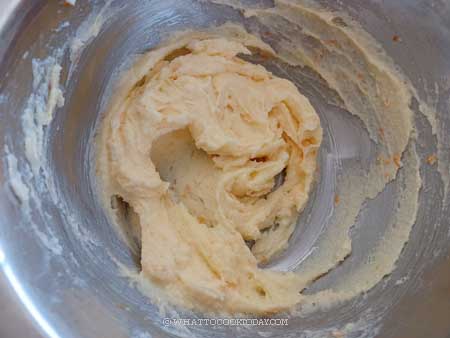 3. Add flour and salt (and baking powder and baking soda if using) and knead into a dough


4. It may seem really dry at first but just keep kneading and it will come into a dough


5. Divide the dough into two so it's easier to work with. Shape them into log shapes, roughly about 2 1/2 to 3 inches in diameter


6. Use a serrated knife to cut into 1-inch thick slices


7. Arrange them on prepared baking sheets, about 2 inches apart. Dip a bottom of a smooth cup, smaller than the diameter of the cookie (I used the bottom of 1/4 cup measuring cup) in granulated sugar and then gently press the middle of the cookie to create a round indentation (refer to the photo above). You can just leave it as-is if you don't want to create indentations on the cookies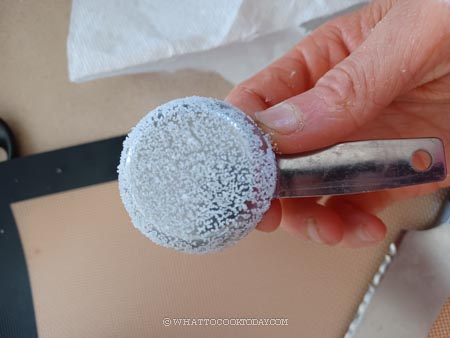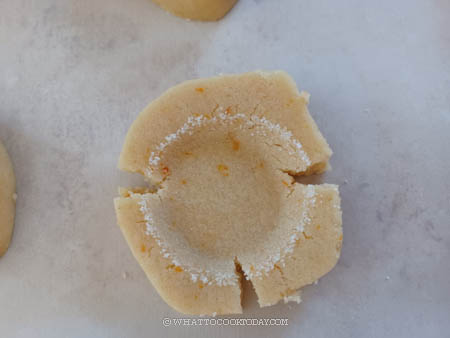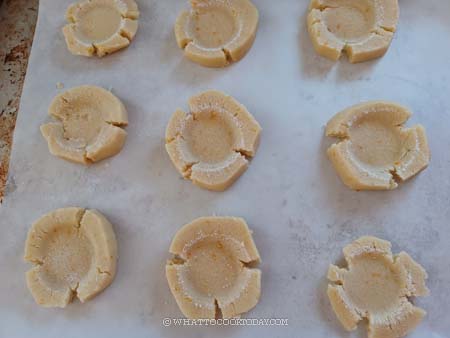 8. Bake in a preheated oven for 18-20 minutes or until cookies are lightly golden brown. Let them cool on the rack for 1 minute and then transfer to a cooling rack to let them cool down completely. The texture will be crunchy when you take that first bite and melt in the mouth on the inside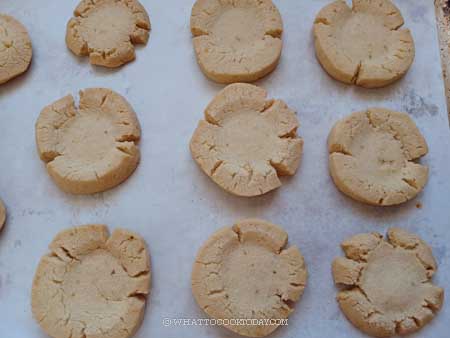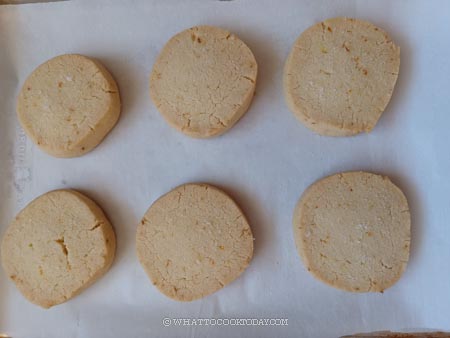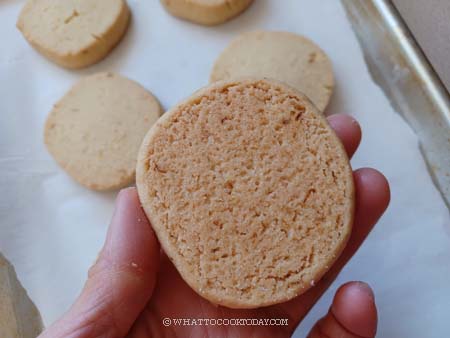 Polvorones de Naranja is very easy to make but it has that addicting texture and the orange scent that I really enjoy.
Did you make this polvrones de naranja recipe?
I love it when you guys snap a photo and tag to show me what you've made 🙂 Simply tag me @WhatToCookToday #WhatToCookToday on Instagram and I'll be sure to stop by and take a peek for real!

Recipe is adapted from here
How To Make Traditional Polvorones de Naranja (Orange Shortbread Cookies)
Ingredients
250

gr

shortening

225

gr

sugar

plus more for dipping

1

large

egg

beaten

Zest of 2 large oranges

1

tsp

orange extract
Instructions
Preheat oven to 325 F (160 C). Line a large baking sheet with parchment paper
Prepare the cookie dough:
Beat shortening and sugar until they are creamy. You can use a hand mixer or stand mixer or do it manually with a whisk, beat for about 4-5 minutes with hand mixer and about 3 minutes with a stand mixer. Add the egg and mix until combined. Add orange zest, orange extract and stir to combine. Add flour and pinch of salt (and baking powder and baking soda if using) and knead into a dough. It may seem really dry at first but just keep kneading and it will come into a dough

Divide the dough into two so it's easier to work with. Shape them into log shapes, roughly about 2 1/2 to 3 inches in diameter. Use a serrated knife to cut into 1-inch thick slices

Arrange them on prepared baking sheets, about 2 inches apart. Dip a bottom of a smooth cup, smaller than the diameter of the cookie (I used the bottom of 1/4 cup measuring cup) in granulated sugar and then gently press the middle of the cookie to create a round indentation (refer to the photo above). You can just leave it as is if you don't want to create indentations on the cookies
Bake:
Bake in a preheated oven for 18-20 minutes or until cookies are lightly golden brown. Let them cool on the rack for 1-2 minutes and then dip in more sugar while still warm if you like. Then transfer to a cooling rack to let them cool down completely. The texture will be crunchy when you take that first bite and melt in the mouth on the inside
Recommended products:
Nutrition
Serving:
1
cookie
|
Calories:
166
kcal
|
Carbohydrates:
20
g
|
Protein:
2
g
|
Fat:
9
g
|
Saturated Fat:
2
g
|
Polyunsaturated Fat:
2
g
|
Monounsaturated Fat:
4
g
|
Trans Fat:
1
g
|
Cholesterol:
6
mg
|
Sodium:
20
mg
|
Potassium:
21
mg
|
Fiber:
1
g
|
Sugar:
8
g
|
Vitamin A:
10
IU
|
Vitamin C:
1
mg
|
Calcium:
8
mg
|
Iron:
1
mg