I'm sharing how to cook whole grain red rice in a rice cooker, Instant Pot pressure cooker, and on the stove. No soaking is necessary and all the tips you need to know. A video tutorial is included.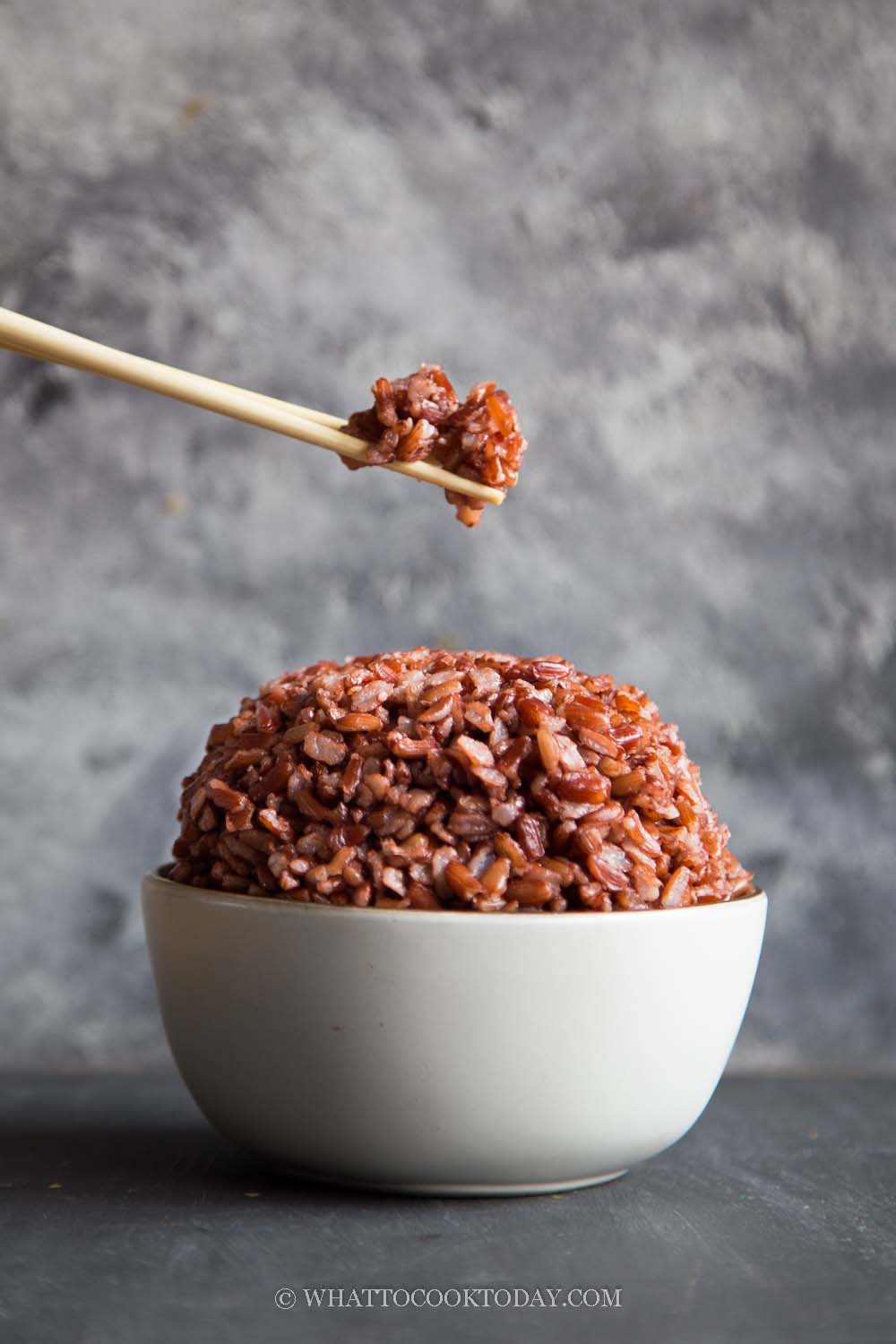 What is red rice?
In this post, I'm referring to actual whole-grain red rice, not the white rice that is cooked with tomatoes or tomato paste to make it red. Whole grain red rice only has its husk removed and still has its bran and all other layers intact. The red color comes from the pigment anthocyanin. There are so many different varieties of red rice but two of the most common I known of is the Bhutan red rice or Himalayan red rice, which is considered medium-grain red rice and so when you cook it, it tends to be stickier. The one I'm showing here is Thai red rice or known as cargo rice. The color is reddish with a tinge of brown. It is considered long-grain red rice. The texture is firmer and not sticky after cooking.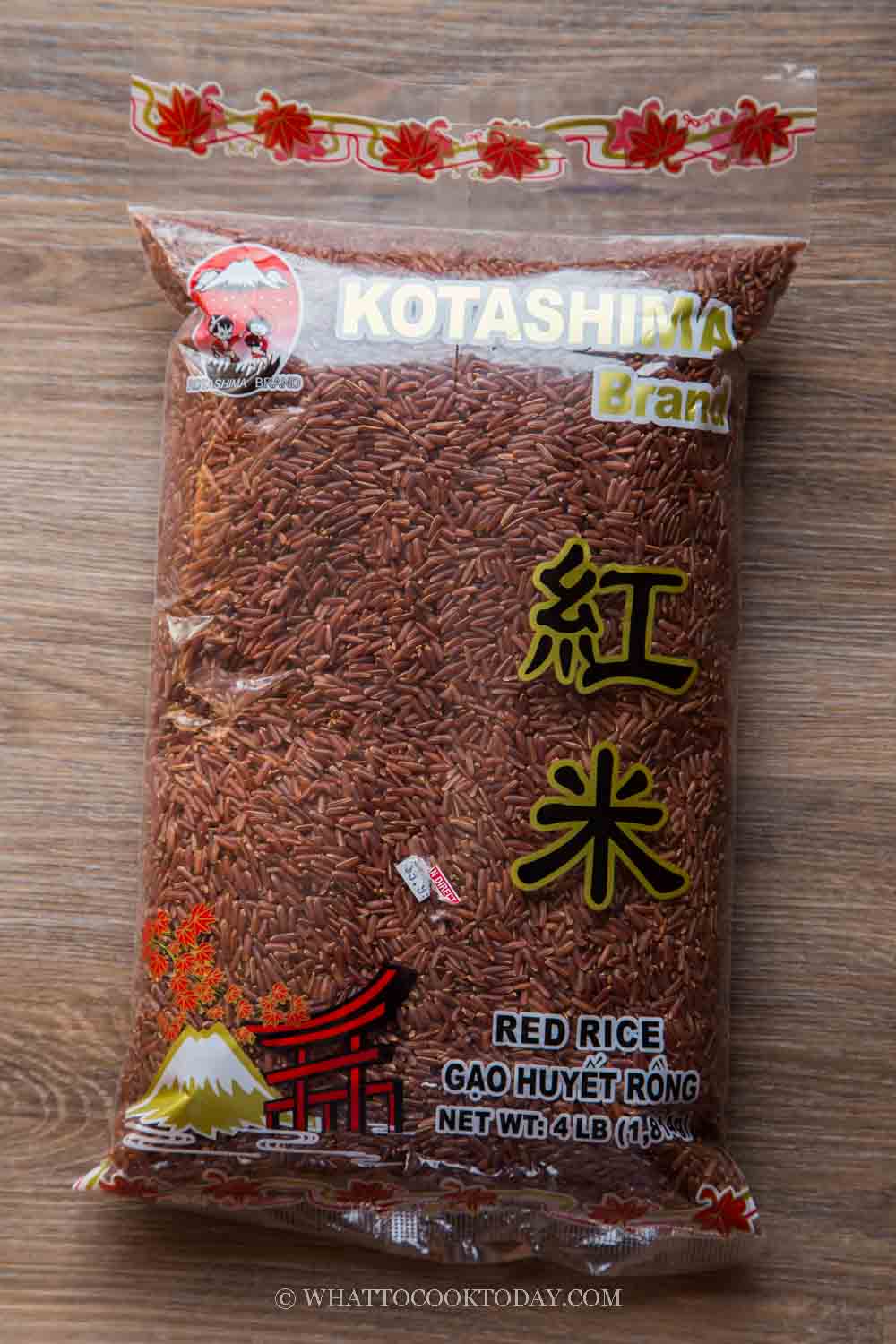 Benefits of red rice
If you purchase whole-grain red rice, it has all three layers: bran, germ, and endosperm. It is highly nutritious and a good source of fiber. Its reddish color from anthocyanin and its antioxidant properties is another reason why you want to include red rice on a regular basis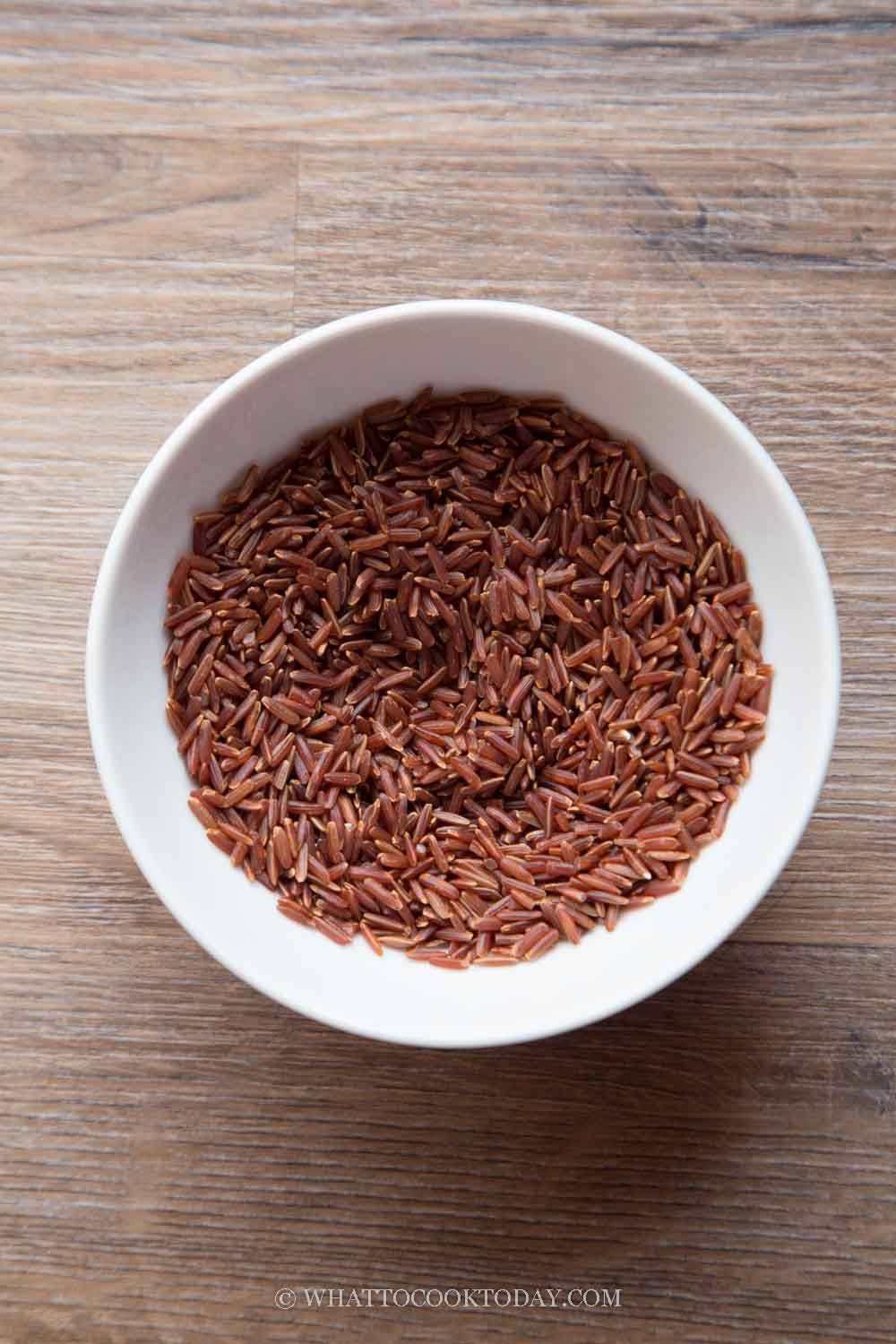 Taste and texture of red rice
Red rice has a pleasant nutty aroma that I really like. The texture of cooked red rice is slightly firm and chewy on the outside because of the bran, but soft on the inside when it's perfectly cooked, which I enjoy.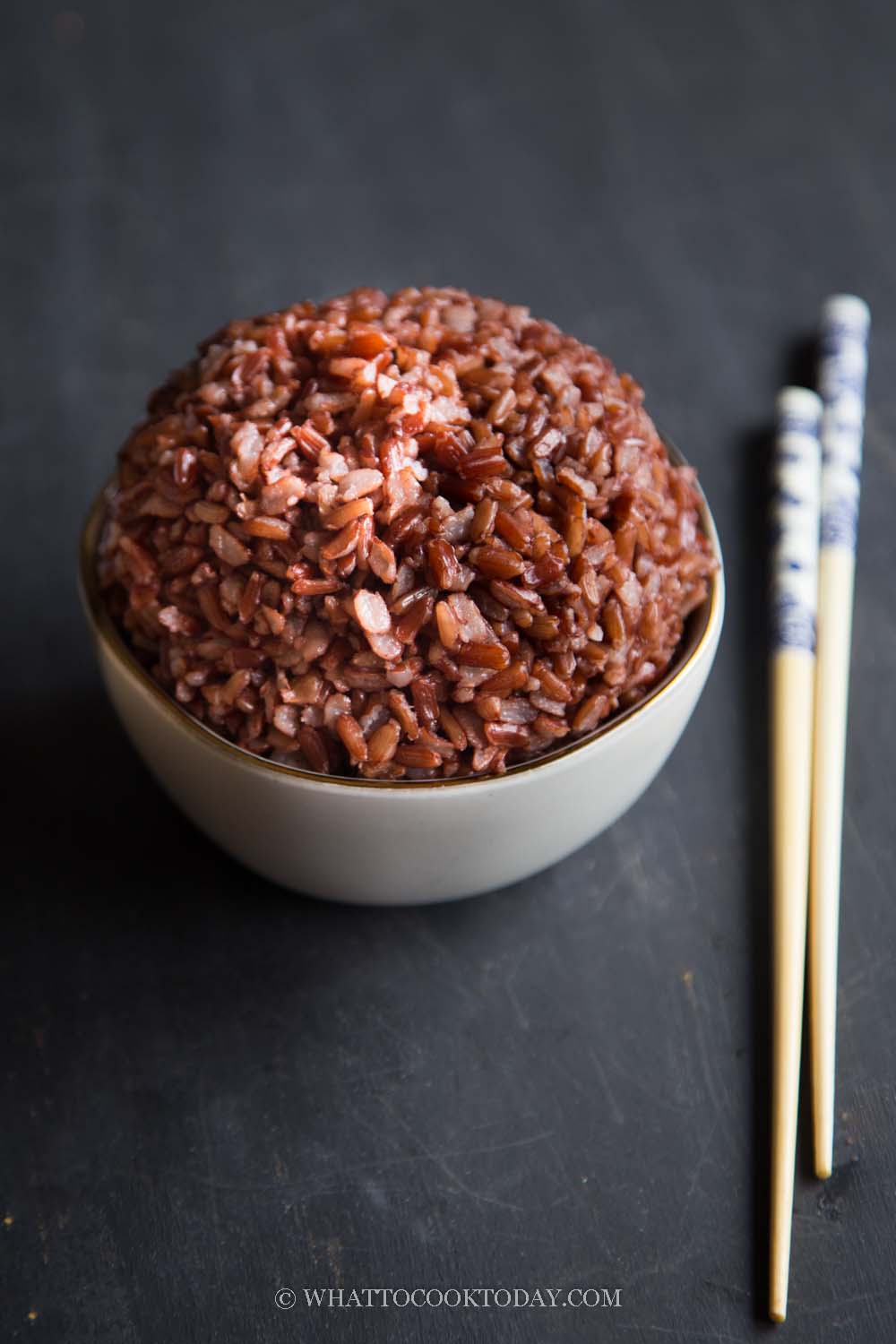 Do I need to soak red rice before cooking?
You don't have to, but if you want to, it does cut down on the cooking time if you cook on the stove. You can soak for 2 hours or overnight prior to cooking and then discard the water and proceed with the recipe and cooking time.
What to serve with red rice
1. Eat it as is
I treat red rice like plain white rice. We eat them as part of a multi-course meal with entrees and veggies.
2. Make fried rice
Yes, we can make fried rice with any kind of rice 🙂 Especially after refrigeration, the rice will be perfect for making fried rice
3. Make a salad or rice bowl
Top your red rice with any veggies, protein, or side dishes you want
4. Make a quick congee/porridge
I blender the rice up to break it down and add water or broth and cook to the consistency I like (thin or thick)
How to store cooked red rice
You can keep leftover in the fridge or if you are make the rice in a big batch and then freeze it in an individual serving portion. Here's how:
1. Let the cooked rice cools down completely
You can cool them down quickly by spreading the cooked rice on a large plate or baking tray
2. You can store leftover in an air-tight container for about one week
3. For longer storage, portion out into a serving size you like and double wrap it with a cling wrap. Repeat with the rest. Put them inside a freezer bag, push all the air out and seal the bag. They can be kept in the freezer for up to 1 month for the best result
4. Simply reheat the frozen rice in a microwave for 1 minute or so or until heated through or warm it up on a stove with a bit of water
Did you make this red rice recipe?
I love it when you guys snap a photo and tag to show me what you've made 🙂 Simply tag me @WhatToCookToday #WhatToCookToday on Instagram and I'll be sure to stop by and take a peek for real!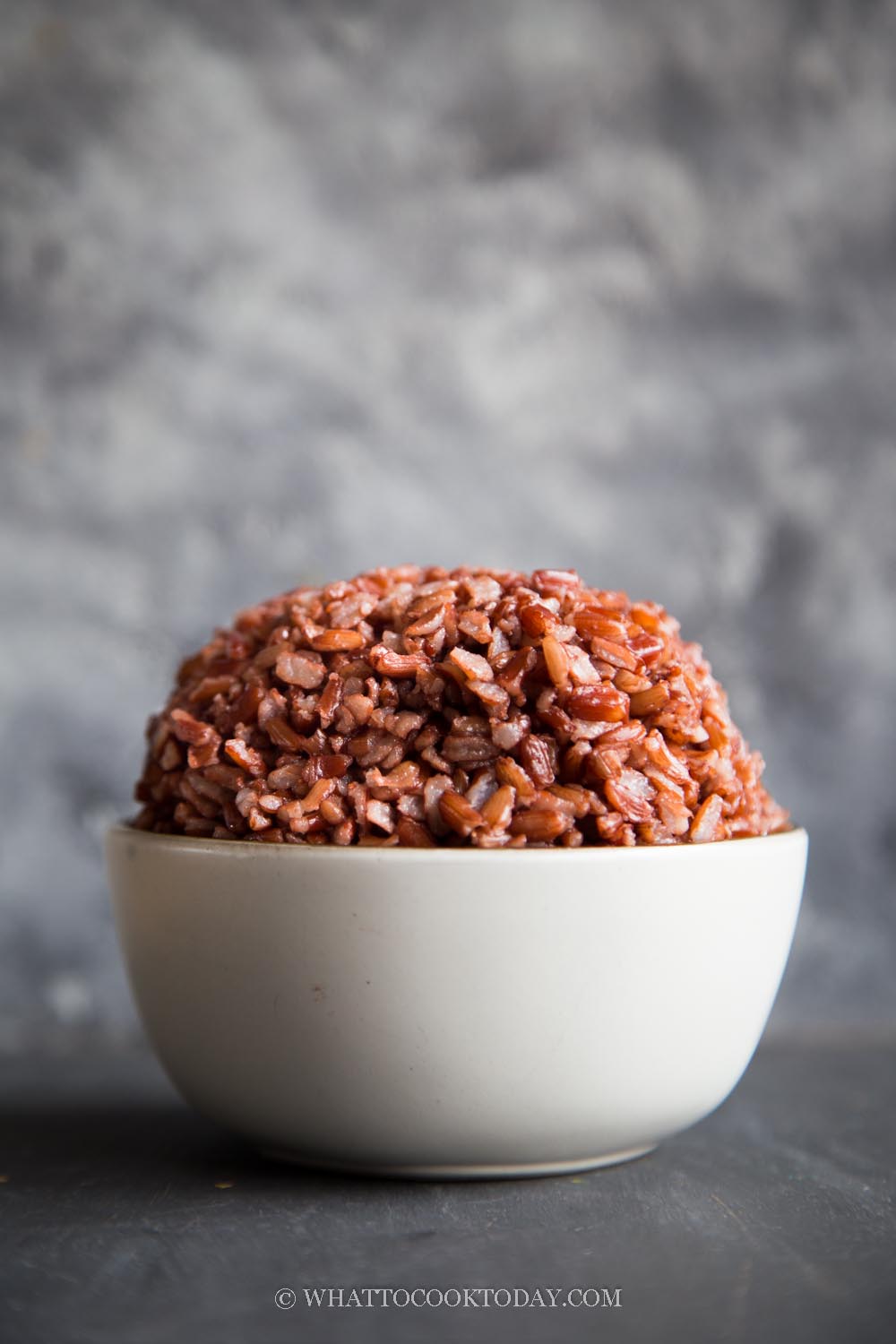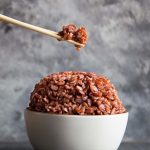 How To Cook Whole Grain Thai Red Rice (Cargo Rice)
Ingredients
Cooking on the stove:
2

cups

water/broth

for unsoaked rice

1 ½

cups

water/broth

if soaking for at least 2 hours

½

tsp

salt

1

Tbsp

cooking oil
Cooking with rice cooker or pressure cooker:
1 ½

cups

water/broth

for unsoaked rice

1 ¼

cups

water/broth

if soaking for at least 2 hours

½

tsp

salt

1

Tbsp

cooking oil
Instructions
IMPORTANT : Whatever cup that you use to measure the rice, will be the same cup you use to measure the liquid

Rinse the rice in several changes of water to get rid of any impurities. Not much starch will come out of this because the rice is whole-grain and unpolished. Drain off excess water
Cooking on the stove:
Use a heavy-bottom pot with a tight-fitting lid. Pour water into the pot and bring to a boil. When the water comes to a boil, add the rice and the rest of the ingredients. Give it a stir and bring it back to a boil and then lower the heat to let it gently simmer. Cover with a lid and let it cooks for the next 45-50 minutes for unsoaked rice and about 25-30 minutes for soaked rice or until the rice are soft and fluffy

Turn off the heat and let it rests for 10 minutes before opening the lid. After that, uncover the lid and fluff the rice with a fork. The rice is ready to be served
Cooking with rice cooker:
Put the rice and the rest of the ingredients in the rice cooker. Stir to mix. Close the lid and if your rice cooker has the option to choose the setting, choose the brown rice setting or multigrain setting. When it's done cooking, wait 10 minutes before opening the lid to fluff the rice with a fork or a rice paddle
Cooking with an Instant Pot pressure cooker:
Put all ingredients in the inner pot of Instant pot. Give it a stir to mix. Close the lid and turn the pressure release valve to sealing. Choose "pressure cooker" and make sure it's on "high pressure". Set the timer to 25 minutes for unsoaked rice and 12 minutes for soaked rice. Then do natural release. This may take about 10-15 minutes. Carefully unlock the lid and fluff the rice with a fork or a rice paddle

If the rice still appears wet when you fluff it, don't panic. Close the lid back and press the "warm" button and let it warm up for about 10 minutes and when you check on it again, the liquid should have dried up
Recommended products:
Nutrition
Serving:
1
serving
|
Calories:
201
kcal
|
Carbohydrates:
37
g
|
Protein:
4
g
|
Fat:
4
g
|
Saturated Fat:
1
g
|
Trans Fat:
1
g
|
Sodium:
581
mg
|
Potassium:
1
mg
|
Fiber:
2
g
|
Sugar:
1
g
|
Calcium:
1
mg
|
Iron:
1
mg