This steamed Mandarin orange huat kueh is soft, light, airy, and has a great intense orange flavor. The recipe is eggless and doesn't use yeast.

This week I have been really into baking huat kueh. My mom usually does the same thing during the Chinese New Year time. She needs the huat kueh as an offering to pai thin kong (worship the God). I have baked quite a bit of eggless and no yeast huat kueh like this eggless no yeast banana huat kueh, eggless no yeast sweet potato huat kueh, and also rice-based huat kueh such as this apam beras and this eggless rice flour huat kueh.
With many oranges around the house, especially after the Chinese New Year is over, many people are looking for ways to use up their oranges stash. I could have just eaten them like that, but I was itching for experimenting with them. I have made orange chiffon cake and this time I want to make a steam cake and so I decided to go for something light and simple.
The recipe rundown
Taste: Not too sweet with nice aroma of orange. The addition of orange zest really makes a big difference
Texture: Soft, light, and airy
Level: Easy
Pros: It's a kind of steamed cake you can prepare in a jiff since it uses basic pantry ingredients that most people have
Cons: It may be an easy straigh-forward recipe, but there may be a chance the cake may not bloom or crack open to give you that smile if you don't follow the recipe exactly

What kind of oranges to use
I have experimented with Mandarin oranges, Naval oranges, and Cara cara oranges and they all worked great. The level of sweetness may differ slightly with different types of oranges. I love cara cara oranges the best as they are sweeter and with a great aroma too.
How to make steamed eggless orange huat kueh
1. Whisk all-purpose flour, baking powder, and salt (omit if using self-raising flour) to combine


2. Add orange juice, sugar, and oil. Stir to combine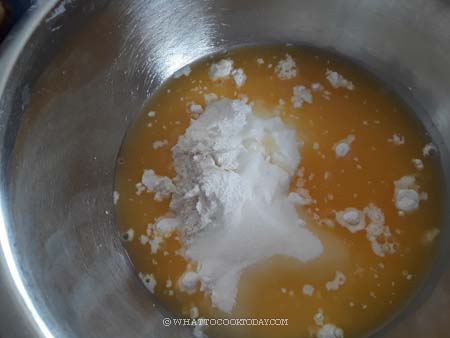 3. Add orange zest and goji berries. There's no need to soak the dried goji berries as we are steaming the cake, so the berries won't dry out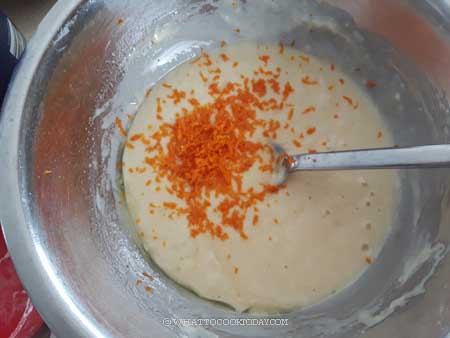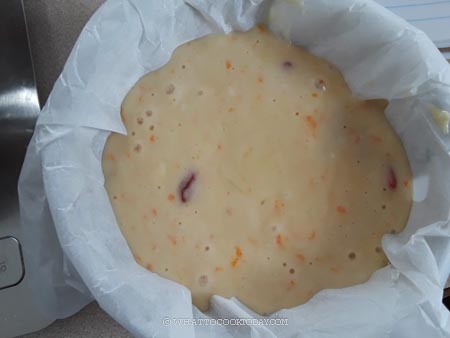 4. For one large cake, line the round pan with parchment paper and pour the batter into the pan. For muffin size, line the cup with muffin liners. For a large cake, use a skewer or chopstick to break up any large bubbles.


5. Put in the steamer immediately and steam over high heat for 30-35 minutes for large cake and 20 minutes for cupcakes or until a cake tester comes out clean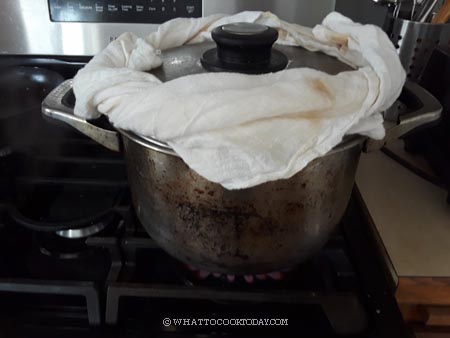 6. Remove from the steamer and let the cake cools down in the pan for 5 minutes and then remove to a cooling rack to cool down completely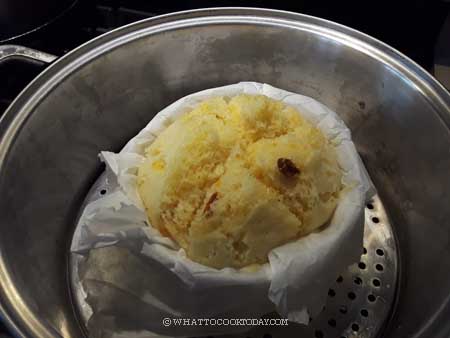 Tips for success
1. Check the baking powder to make sure it's fresh by using 1/2 tsp of baking powder and mix with 1 tablespoon of hot boiling water. It should sizzle immediately. If it doesn't, don't proceed until you get a fresh batch
2. Make sure the steamer is ready to go as soon as you finish preparing the cake batter
3. Fill the cake batter up to the brim to ensure the cake crack open and smile
4. Steam over high heat. This is very important or the cake will not rise and crack open and don't open the lid of the steamer during the steaming process

How to store orange huat kueh
1. Let them cool down completely
2. For a large cake, I wrap it with a cling wrap and put it in a zipper bag, push all the air out and seal. I cut on the day I want to serve
3. For muffin size, I individually wrap them with a cling wrap and put them in a zipper bag and push all the air out and seal
4. They can be kept at room temperature for 2-3 days if humidity is not an issue, otherwise, keep them in the fridge for up to one week or in the freezer for up to one month
5. Simply reheat in the steamer or microwave or if frozen, thaw in the fridge ovenight and then steam them. You can also steam from frozen. I recommend using moist heat to reheat as it prevents the cake from drying out

Did you make this recipe?
I love it when you guys snap a photo and tag to show me what you've made 🙂 Simply tag me @WhatToCookToday #WhatToCookToday on Instagram and I'll be sure to stop by and take a peek for real!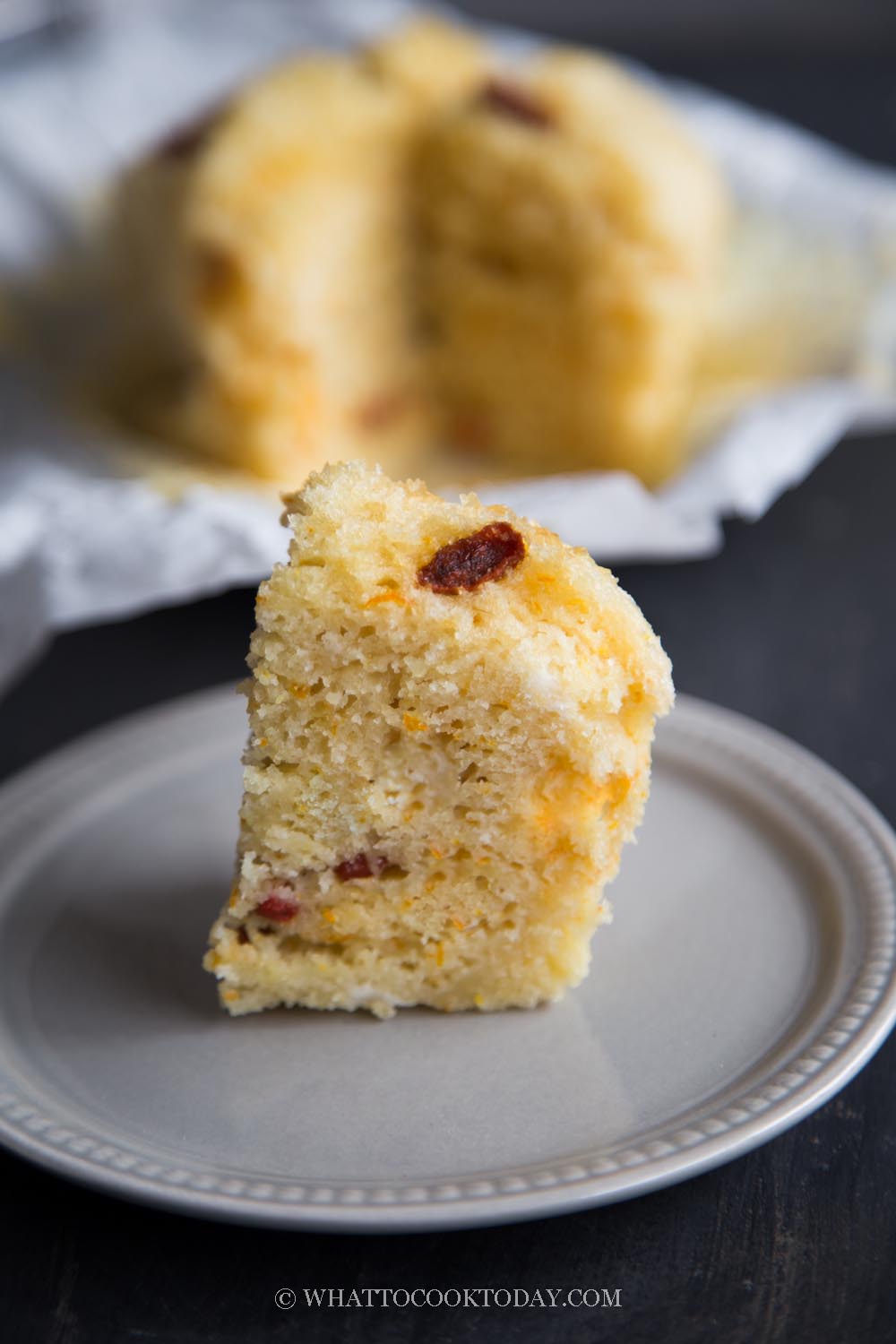 Steamed Mandarin Orange Huat Kueh (No Yeast, Eggless)
Ingredients
If using self-raising flour:
If not using self-raising flour:
Other ingredients (for both methods):
Instructions
Prepare the cake batter:
Test the baking powder for freshness by using 1/2 teaspoons of baking powder with 1 Tbsp of hot water. It should sizzle immediately. If it doesn't, do not proceed with the recipe until you get a fresh batch

Prepare the steamer by bringing the water to a boil. If you are steaming one large cake, make sure the water is enough for at least 30 minutes of steaming over high heat

Whisk all-purpose flour, baking powder, and salt (omit if using self-raising flour) to combine. Add orange juice, sugar, and oil. Stir to combine. Add orange zest and goji berries. There's no need to soak the dried goji berries as we are steaming the cake, so the berries won't dry out
Steaming:
For one large cake, line the metal round pan with parchment paper and pour the batter into the pan. Do not use thick glass or ceramic dish as they don't conduct heat very well. Use a skewer or chopstick to break up any large bubbles. Put in the steamer immediately and steam over high heat for 30-35 minutes or until a cake tester comes out clean

For cupcake/muffin size, line the cup with muffin liner. Do not use silicone cups as they do not conduct heat well and the cake won't crack and smile. Pour the batter into the cups, about 90% full. Put in the steamer immediately and steam over high heat for 20 minutes or until a cake tester comes out clean
Cool down the cake:
Remove from the steamer and let the cake cools down in the pan for 5 minutes and then remove to a cooling rack to cool down completely
Recommended products:
Nutrition
Serving:
1
cupcake or 1/8 of large cake
|
Calories:
253
kcal
|
Carbohydrates:
38
g
|
Protein:
4
g
|
Fat:
9
g
|
Saturated Fat:
1
g
|
Trans Fat:
1
g
|
Sodium:
74
mg
|
Potassium:
94
mg
|
Fiber:
1
g
|
Sugar:
15
g
|
Vitamin A:
63
IU
|
Vitamin C:
16
mg
|
Calcium:
8
mg
|
Iron:
1
mg