This is an easy version of eggless wa ko kueh or apam beras (apam kukus) without long fermentation and the recipe uses ingredients that are easy to find. 

This week I have been making lots of huat kueh, sort of experimenting and also since it is still a Chinese New Year week, most people in Asia will buy or make huat kueh as an offering for praying. Wa ko kueh  or Apam beras is very similar to the Chinese huat kueh. Traditional wa ko kueh is usually made by fermenting cooked rice with rice wine yeast ball. The fermentation process may take hours or days. In Indonesia, we use toddy palm wine (tuak) instead of yeast.
The recipe rundown
Taste: Lightly sweetened with mild fermentation aroma
Texture: Soft and bouncy (QQ) when they are warm. They will turn hard once refrigerated, but will be soft again once you reheat them
Level: Easy
Why you'll like this recipe
1. The recipe is easy and doesn't require long fermentation and you don't need to use ENO
2. Taste and texture-wise are pretty spot on
Ingredients
1. Leftover cooked rice
I use cooked long-grain white rice. You can use brown rice too but the cake may come out drier or denser. The addition of cooked rice gives that mild aroma similar to the traditional apam made with wine rice balls
2. Rice flour
I use Thai Erawan brand rice flour. You can use any brand as long as it is pure rice flour
3. Cake flour
The addition of cake flour gives apam its softer texture. Apam or huat kueh made with rice flour alone tends to yield harder and drier cake
4. Yeast
You can use instant yeast or active dry yeast
5.Coconut Milk
I use canned coconut milk
6. Sugar
I use granulated sugar. You can use brown sugar too
7. Salt
A small pinch of salt brings the overall taste out so much better
How to make easy wa ko kueh or apam beras
1. Put the cooked rice and coconut milk in a blender and blend into a smooth slurry. This is optional, but you can warm up the mixture in the microwave or on the stove until it is just lukewarm (NOT hot), this will help to speed up the fermentation process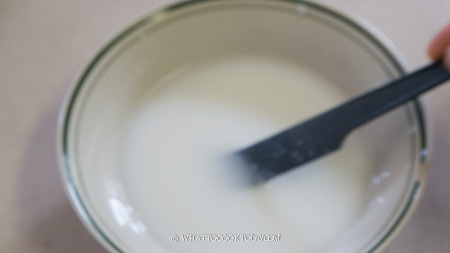 2. Put a yeast with 1 Tbsp of lukewarm water and 1/4 tsp of sugar. Stir to combine and let it sits for 5 minutes or until it turns bubbly. If it doesn't, your yeast is no longer good or the water you use might be too hot and kill the yeast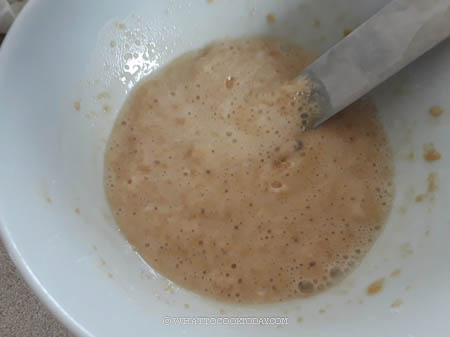 3. In a mixing bowl, mix rice flour, cake flour, sugar and salt. Whisk to mix. Pour in the blended rice slurry and the yeast mixture. Stir to combine


4. It will be a sticky paste. If you want to put in food coloring, you can add few drops.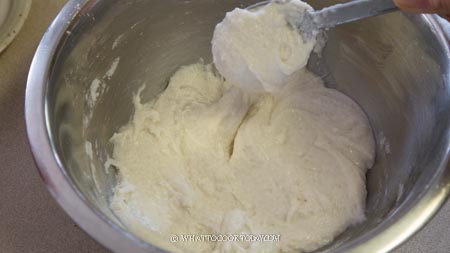 5. Cover and let it ferment for about 45 minutes to 1 hour in a warm place. It may take longer if the temperature is not warm enough. The mixture will be foamy with some bubbles


6. Bring the water in the steamer to a rolling boil. Grease some teacups or metal cups with some oil. Put the cups inside the steamer and let them preheat for 5 minutes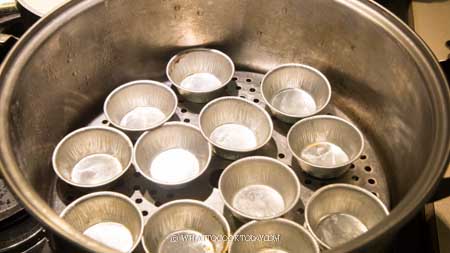 7. Give the cake batter a stir again and use an ice cream scoop to scoop the batter into the cups. Try to fill the cups all the way to the brim. This will help the cake to crack open a bit


8. Steam over high heat for 15 minutes. Remove from the steamer and let the cake cools down for 10 minutes and then unmould from the cups and enjoy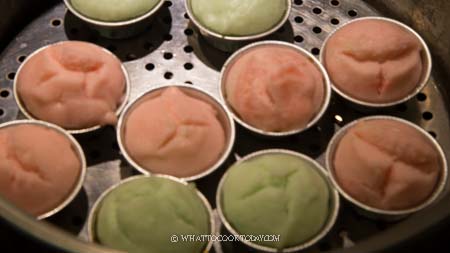 Tips for success
1. Preheat the cups in the steamer for 5 minutes. This prevents the cake from sticking and for the cake to rise well
2. Fill the batter into the cups to the brim (or at least close to it)
3. Steam the cake over high heat
How to store wa ko kueh /apam beras
1. Let the apam beras cool down completely
2. Individually wrap them up with a cling wrap and put them inside a zipper bag, push all the air out and seal. They can be kept at room temperature for 2-3 days if humidity is not an issue
3. They can be kept in the fridge for up to one week
4. For longer storage, freeze them for up to one month
How to reheat wa ko kueh /apam beras
1. If frozen, thaw them overnight in the fridge
2. You can reheat by using the microwave on high heat for 1 minute or until warm or using a steamer. I prefer using moist heat as it restores the softness and prevents the cake from drying out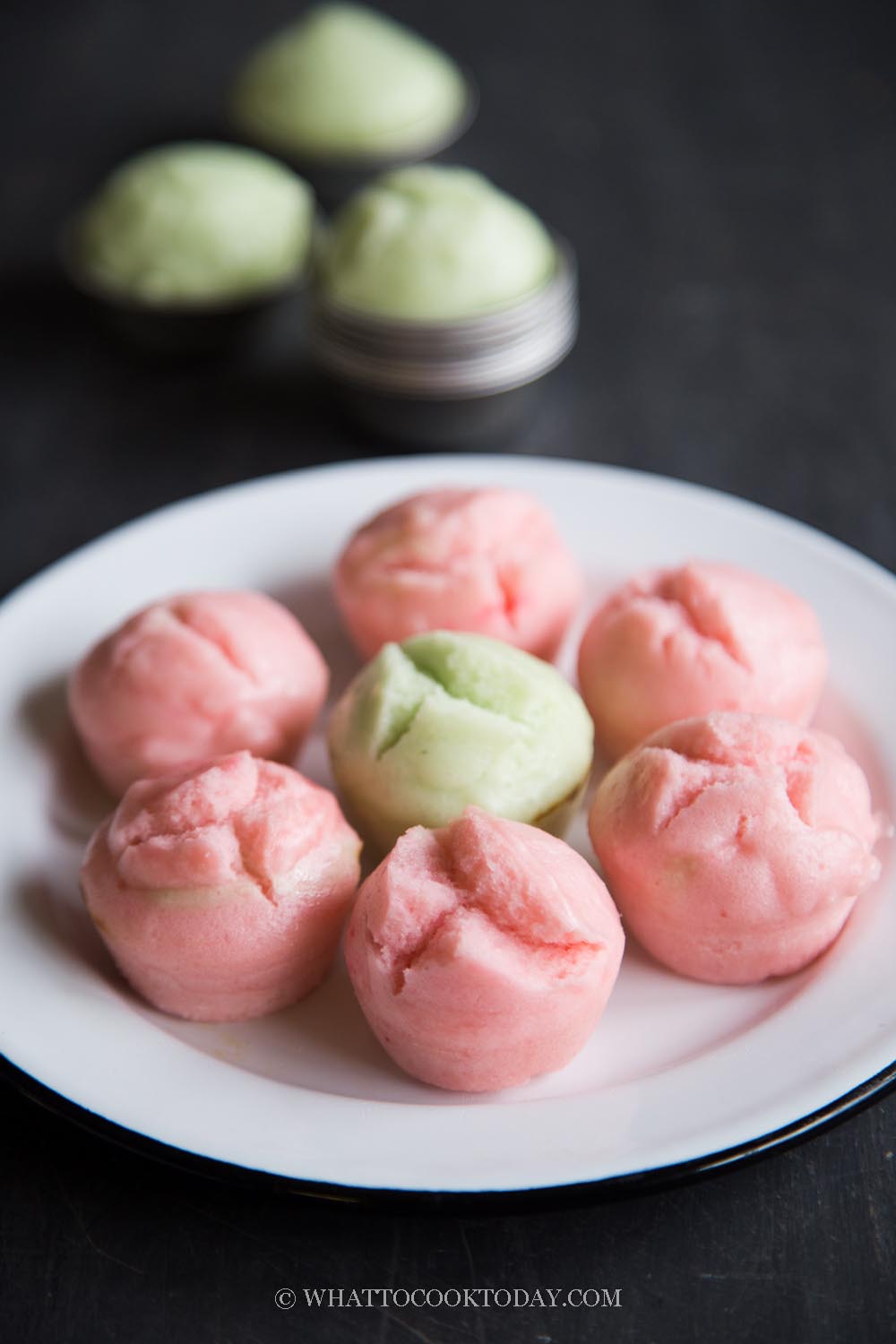 Did you make this easy wa ko kueh or apam beras recipe?
I love it when you guys snap a photo and tag to show me what you've made 🙂 Simply tag me @WhatToCookToday #WhatToCookToday on Instagram and I'll be sure to stop by and take a peek for real!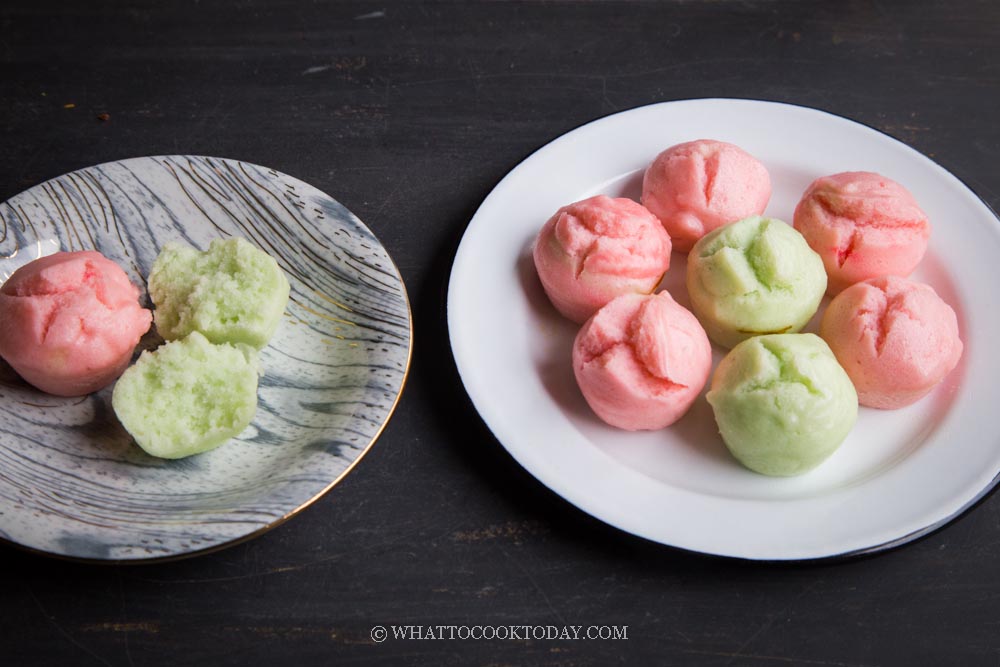 Wa Ko Kueh / Easy Apam Beras / Apam Nasi
Ingredients
Activate the yeast:
5

gr

yeast

instant yeast or active dry yeast

¼

tsp

sugar

1

Tbsp

warm water
Instructions
Put the cooked rice and coconut milk in a blender and blend into a smooth slurry. This is optional, but you can warm up the mixture in the microwave or on the stove until it is just lukewarm (NOT hot), this will help to speed up the fermentation process
Activate the yeast:
In the video, I didn't activate the yeast and it took about 2-3 hours for the batter to ferment

Put a yeast with 1 Tbsp of lukewarm water and 1/4 tsp of sugar. Stir to combine and let it sits for 5 minutes or until it turns bubbly. If it doesn't, your yeast is no longer good or the water you use might be too hot and kill the yeast
Prepare cake batter:
In a mixing bowl, mix rice flour, cake flour, sugar and salt. Whisk to mix. Pour in the blended rice slurry and the yeast mixture. Stir to combine. It will be a sticky paste. If you want to put in food coloring, you can add few drops. Cover and let it ferment for about 45 minutes to 1 hour at a warm place. It may take longer if the temperature is not warm enough. The mixture will be foamy with some bubbles
Steam the cake:
Bring the water in the steamer to a rolling boil. Grease some teacups or metal cups with some oil. Put the cups inside the steamer and let them preheat for 5 minutes

Give the cake batter a stir again and use an ice cream scoop to scoop the batter into the cups. Try to fill the cups all the way to the brim. This will help the cake to crack open a bit

Steam over high heat for 15 minutes. Remove from the steamer and let the cake cools down for 10 minutes and then unmould from the cups and enjoy
Recommended products:
Nutrition
Calories:
104
kcal
|
Carbohydrates:
18
g
|
Protein:
2
g
|
Fat:
3
g
|
Saturated Fat:
2
g
|
Sodium:
2
mg
|
Potassium:
45
mg
|
Fiber:
1
g
|
Sugar:
5
g
|
Vitamin A:
1
IU
|
Vitamin C:
1
mg
|
Calcium:
5
mg
|
Iron:
1
mg