If you are looking for ideas to use up your Chinese nian gao, you need to try these fried sweet potato balls filled with soft and chewy nian gao . It's crunchy on the outside and soft chewy on the inside.

One of the things I often hear during or after Chinese New Year celebration is the leftover nian gao. What to do with nian gao? Not very many people like to eat nian gao just like that. Well, fried nian gao in sweet potato balls is definitely one of my favorite ways to use up the nian gao stash.
The recipe rundown
Taste: Just lightly sweetened
Texture: Slightly crispy on the outside and that soft and chewy nian gao on the inside
Level: Easy
Ingredients
1. Sweet potatoes
I use orange color sweet potato. If you use purple sweet potatoes, just know that they are drier and you may need some water to help you form a dough
2. Nian gao
Use nian gao that has been refrigerated so it's hard and can be easily cut into cubes
2. Glutinous rice flour
This is also known as mochiko flour or sweet rice flour. Do not use regular rice flour
3. Cornstarch
In Singapore and Malaysia, it is usually known as corn flour, but here in the U.S. corn flour is different from cornstarch. Corn flour is made by grinding the whole corn whereas cornstarch is the starch extracted from the corn. We want the starch. Please make sure you use the right one
4. Sugar
I use granulated sugar. You can use caster sugar
5. Salt
6. Oil
Any neutral-tasting cooking oil works here
How to make fried nian gao sweet potato balls
1. The nian gao used needs to be chilled and hardened, not the freshly made nian gao as it is too soft. Cut the nian gao into small cubes. The size depends on how big or small you want to make the balls. I cut mine into about 1-inch cube


2. Peel the sweet potato and cut it into cubes. Steam on high heat for 10 minutes or until easily mashed with a fork. Get 150 grams of mashed sweet potatoes


3. While the mashed sweet potato is still hot, add the rest of the ingredients, except for water. Use a spatula to mix into a rough dough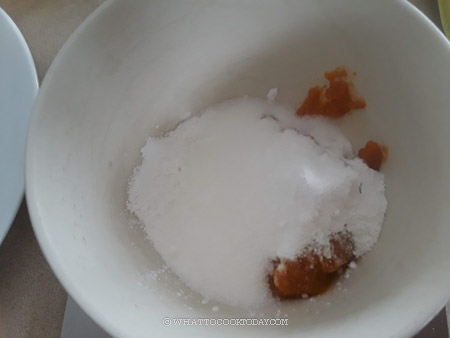 4. When it's cool enough to handle, use your hand to knead into a smooth flexible dough. If the dough is too dry, add a bit of water, teaspoon by teaspoon until the dough comes together. If the dough is too wet, add a bit more glutinous rice flour until the dough comes together


5. Divide the dough into 14 equal pieces, roughly about 15 grams each. Roll them into balls. Use your thumb to make a hole in the center


6. Put a piece of nian goa cube in the middle and wrap the dough around it and shape it into a smooth round ball


7. Repeat with the rest of the dough and nian gao cubes. Keep them covered with a damp cloth or cling wrap to prevent drying out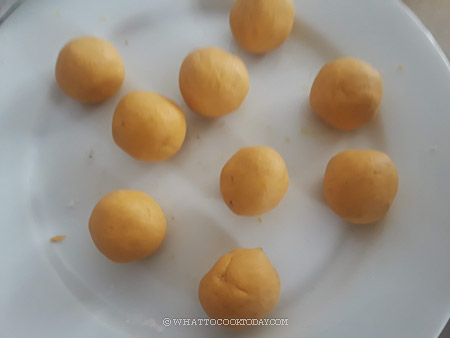 8. If you want to coat them with sesame seeds, mix glutinous rice flour with water to make a runny paste. Coat each ball in the paste and then dip in the white sesame seeds. The seeds will stick to the balls and you won't lose them during the frying process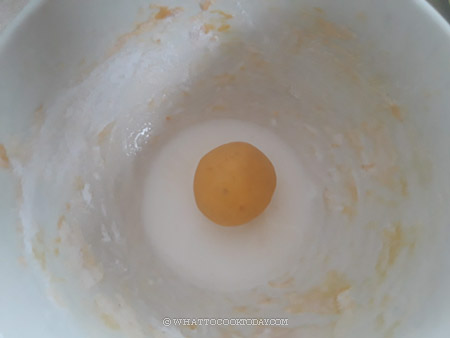 9. Fry the nian gao balls over low-medium heat. This is to prevent the balls from exploding. Keep rolling them around to fry them evenly, about 3 minutes or so


10. Once they float to the top you can increase the heat a bit so they have a nice golden brown color


11. Place on an absorbent paper towel to remove excess oil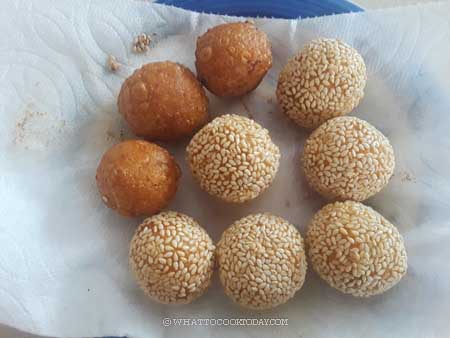 Can I air fry the fried nian gao balls?
The air fryer version yields a harder crust and drier. My kids complained about the crust being too chewy and dry when I air fry them. If you want to try, preheat your air fryer at 320 F (160 C) for 5 minutes. Brush the nian gao balls with some oil and put them in the air fryer basket. Air fry for about 15 minutes. Then increase the temperature to 350 F (180 C) and air fry for another 15 minutes or until lightly golden brown. The timing is just for reference. Check on them once or twice in between. They should be crispy on the outside and just lightly golden brown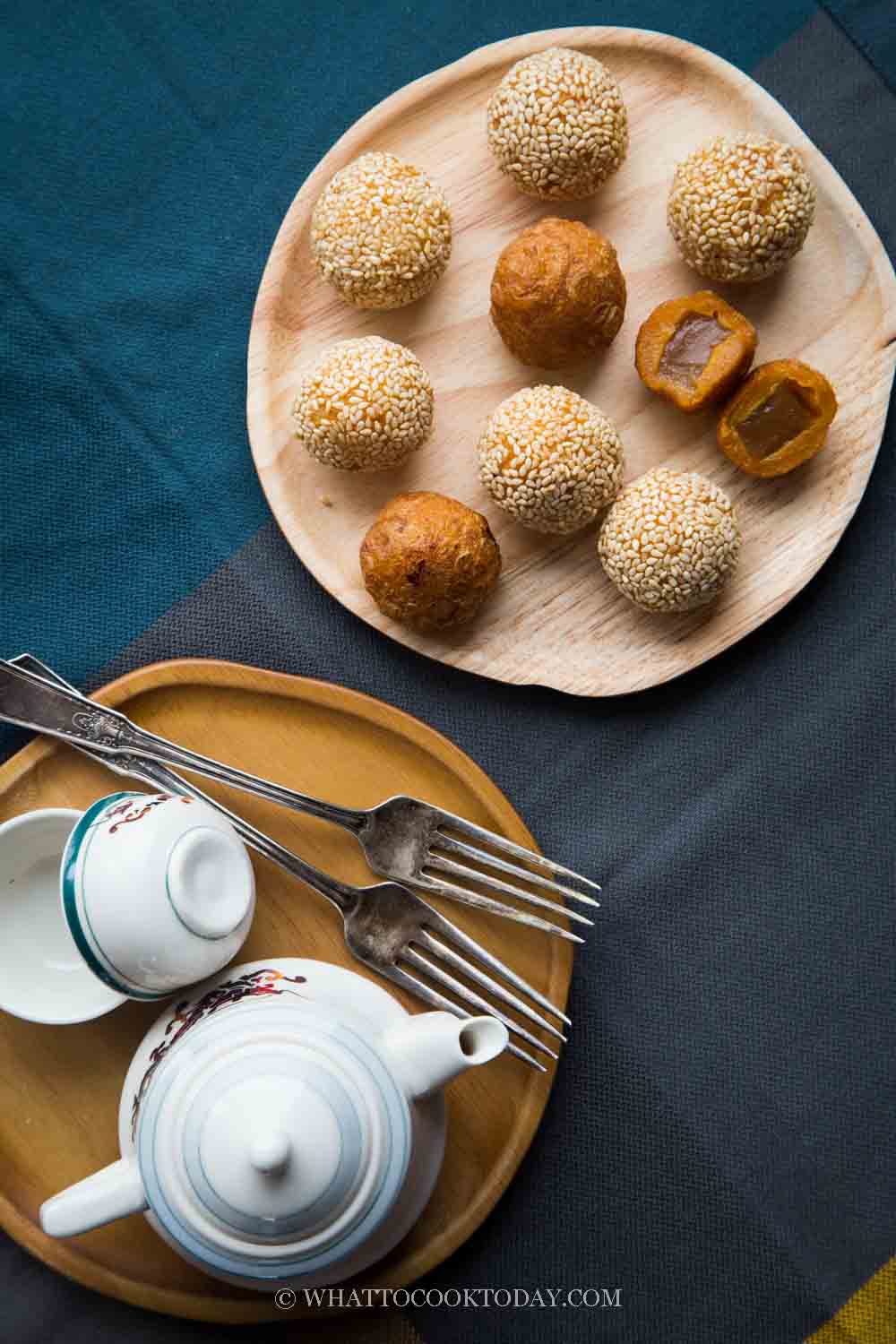 How to store and reheat nian gao balls
1. Let the fried nian gao balls cool down completely
2. Line a baking sheet with parchment paper. Place them on the baking sheet, not touching each other and pop them into the freezer for about 1 hour. They won't be completely frozen yet. Transfer to the freezer bag and they won't stick to each other anymore
3. They can be reheated in a toaster oven, air fryer, or oven at 325 F for about 5 minutes or until they are crispy again

Did you make this Fried Nian Gao Sweet Potato Balls recipe?
I love it when you guys snap a photo and tag to show me what you've made 🙂 Simply tag me @WhatToCookToday #WhatToCookToday on Instagram and I'll be sure to stop by and take a peek for real!

Fried Nian Gao Sweet Potato Balls (炸年糕球)
Ingredients
Filling:
150

gr

rice cake

(nian gao)
Instructions
The nian gao used needs to be chilled and hardened, not the freshly made nian gao as it is too soft. Cut the nian gao into small cubes. The size depends on how big or small you want to make the balls. I cut mine into about 1-inch cube
Prepare the dough:
Peel the sweet potato and cut it into cubes. Steam on high heat for 10 minutes or until easily mashed with a fork. Get 150 grams of mashed sweet potatoes. While the mashed sweet potato is still hot, add the rest of the ingredients, except for water. Use a spatula to mix into a rough dough. When it's cool enough to handle, use your hand to knead into a smooth flexible dough. If the dough is too dry, add a bit of water, teaspoon by teaspoon until the dough comes together. If the dough is too wet, add a bit more glutinous rice flour until the dough comes together
Fill and shape:
Divide the dough into 14 equal pieces, roughly about 15 grams each

Flatten the dough into about 3-inch circle. It doesn't have to be a perfect circle. Put a piece of nian goa cube in the middle and wrap the dough around it and shape into a smooth round ball. Repeat with the rest of the dough and nian gao cubes. Keep them covered with a damp cloth or cling wrap to prevent drying out

If the dough becomes dry while you are working at filling and shaping, dab with a bit of water and roll them smooth again

If you want to coat them with sesame seeds, mix glutinous rice flour with water to make a runny paste. Coat each ball in the paste and then dip in the white sesame seeds. The seeds will stick to the balls and you won't lose them during the frying process
Frying:
Preheat oil over medium heat. If you put a chopstick or skewers into the oil and there are bubbles around it, the oil is too hot. Lower the heat and wait for 5 minutes. Fry the nian gao balls over low-medium heat. This is to prevent the balls from exploding. Keep rolling them around to fry them evenly, about 3 minutes or so. Once they float to the top you can increase the heat a bit so they have a nice golden brown color. Place on absorbent paper towel to remove excess oil
Recommended products:
Nutrition
Serving:
1
ball
|
Calories:
83
kcal
|
Carbohydrates:
18
g
|
Protein:
1
g
|
Fat:
1
g
|
Saturated Fat:
1
g
|
Trans Fat:
1
g
|
Sodium:
32
mg
|
Potassium:
79
mg
|
Fiber:
1
g
|
Sugar:
3
g
|
Vitamin A:
2027
IU
|
Vitamin C:
1
mg
|
Calcium:
6
mg
|
Iron:
1
mg