Learn how to make a simplified version of the traditional Chinese rice flour huat kueh without using any eggs and yeast and the huat kueh are soft and fluffy. I'm sharing how to make original flavor huat kueh and gula Melaka huat kueh.


Rice flour huat kueh was actually the kind of huat kueh I grew up eating. Mom usually bought the iconic pink rice flour huat kueh from the market and use them as an offering for praying. In Indonesia, we call this kue mangkok, which literally means cake in a cup. Some kue mangkok also used fermented cassava (tape singkong) as one of the ingredients.
Traditional Chinese rice huat kueh is made by soaking rice and grind up your own rice flour and then the rice batter is fermented with toddy palm wine (tuak). Then there is also rice huat kueh made with leftover cooked rice and yeast balls are used to ferment the rice.
Then in these modern days, rice flour huat kueh is made by using store-bought rice flour and leavened by either baking powder, club soda (or carbonated drink) or ENO, which is a combination of baking soda, citric acid, and soda. I honestly don't really like the version made with ENO because it gives a funny taste IMHO.
An easy version of rice flour huat kueh
This recipe doesn't use yeast, toddy palm wine, and ENO. It just uses a baking powder as a leavening agent. The cake depends solely on this to rise and bloom open (huat). This huat kueh despite being very easy to make, actually has a very soft and fluffy texture. It tastes really good too. Just lightly sweetened. I'm very impressed actually. I used to think that this type of rice flour huat kueh is only good for praying but not edible (that's what my mom used to say LOL!), but this recipe changes my mind!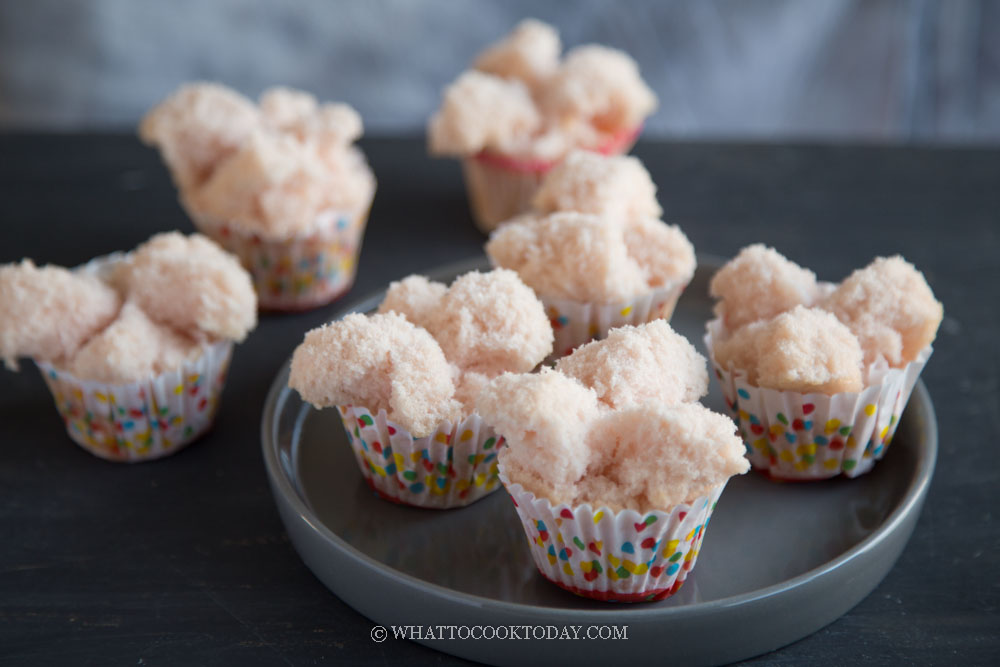 The recipe rundown
Taste: lightly sweet
Texture: very soft and fluffy
Pros: you only need a few ingredients and this rice flour huat kueh actually stays soft and fluffy and doesn't taste like you are eating baking powder.
Cons: I can't think of any really. I'm very happy with this improved version
Level: Easy
Ingredients
1. Rice flour
I use Thai Erawan rice flour. You can use any other brand just make sure it is pure rice flour and not a mixture of rice flour with other flour/starch
2. Sugar or Palm sugar (gula Jawa/gula Melaka)
For the pink version I use icing sugar and for the brown color, I use palm sugar
3. Baking powder
I use double-acting baking powder, which is a common type these days
4. Milk
You can use dairy or non-dairy milk or water (will not taste as good if using water)
5. Salt
A pinch of salt really is all you need to bring out the flavor
6. Cooking oil
Use neutral-tasting cooking oil like avocado oil, grapeseeds oil, canola oil, vegetable oil
7. Food coloring (optional)
I use a tiny drop of red food coloring for the pastel pink color

What to expect
This rice flour huat kueh stays soft and fluffy even after they have cooled down completely. Most people prepare rice flour huat kueh like this mainly for praying purpose and they don't really care whether they taste good or not, but I can tell you this improved version of the rice flour huat kueh actually tasted very decent, soft, and fluffy.
Tips for success
1. Use metal or ceramic cups to steam the cake. Silicone and paper cup materials are not a good heat conductors and will not give your cake a nice crack and smile. Your cake may end up dense and not rising
2. Please make sure the steamer can accommodate steaming the cake all at once because you don't want the batter to sit around and wait
3. The steamer is ready to go when you are done filling up the batter to the cups
4. Steam over high heat for the maximum bloom. Please use the largest burner on your stove and on the highest setting for the heat
How to store rice flour huat kuih
1. Let the rice flour huat kuih cools down completely on a cooling rack
2. Individually wrap it up with a cling wrap and put in a freezer bag, push all the air out and they can be kept in the refrigerator for up to one week and one month in the freezer
3. Simply thaw them overnight in the fridge if you remember and then reheat by steaming them until they are warm and soft again. They can be reheated without thawing too, they will just take a bit longer to reheat through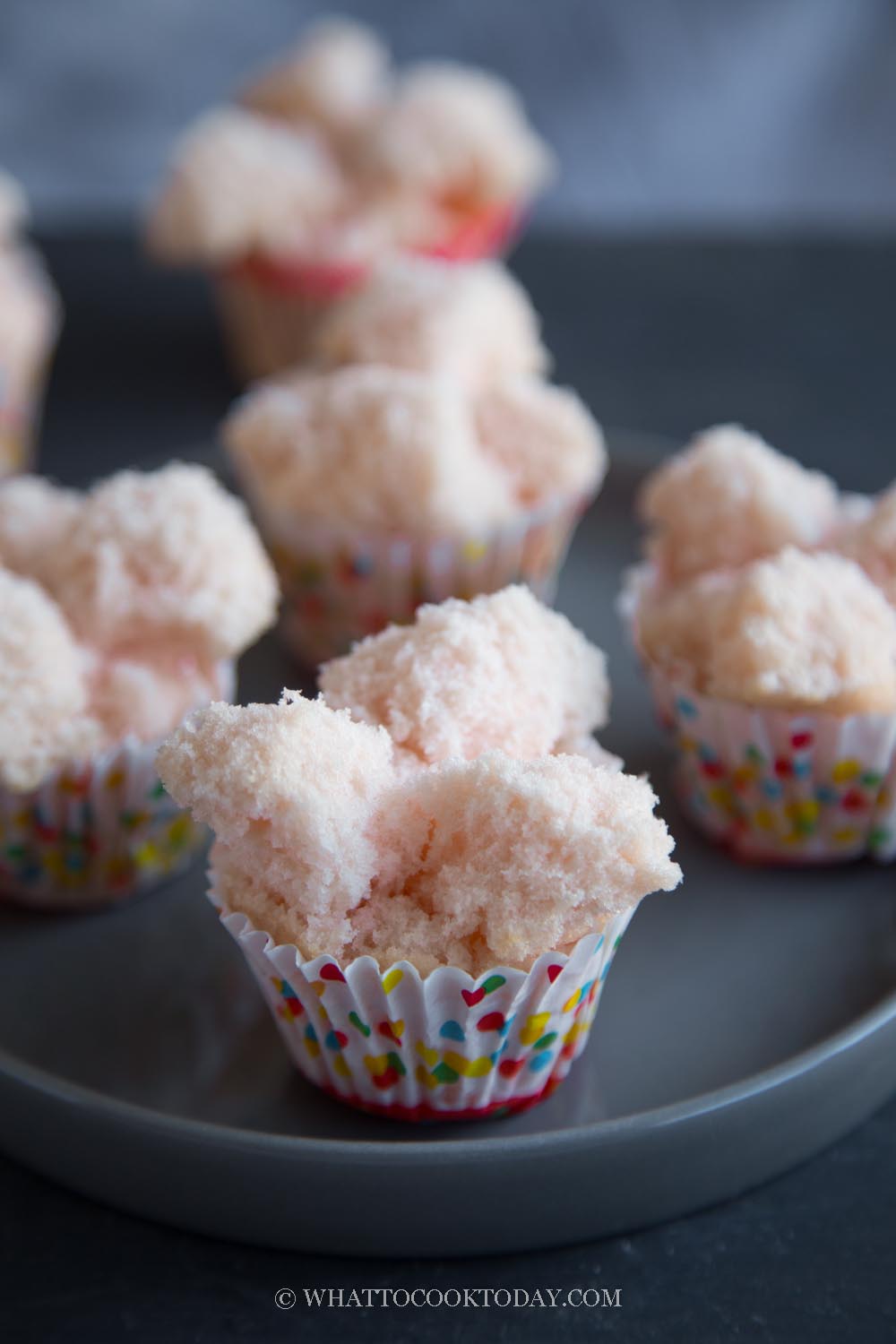 Did you make this rice flour huat kueh recipe?
I love it when you guys snap a photo and tag to show me what you've made 🙂 Simply tag me @WhatToCookToday #WhatToCookToday on Instagram and I'll be sure to stop by and take a peek for real!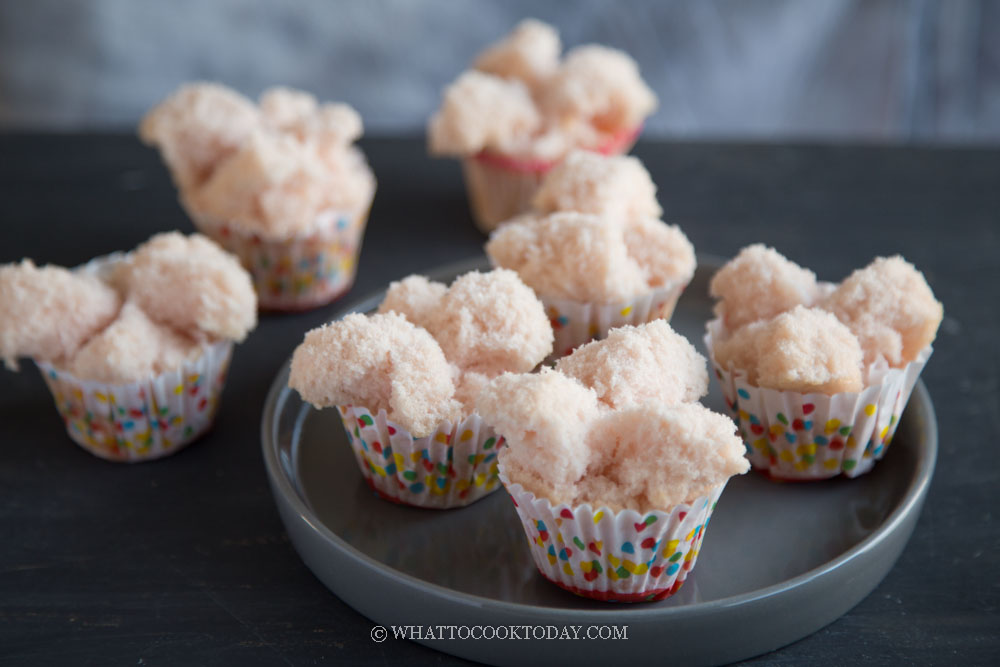 This recipe was last published in 2021 and the recipe has been improved and updated on February 2022. This version is actually very soft and fluffy and you actually will enjoy eating them and not just "good for praying". I hope you feel the same way!
Easy Soft and Fluffy Rice Flour Huat Kueh (No Yeast, No ENO)
Ingredients
For original pink color version:
For gula Jawa/Melaka version:
Instructions
Bring the water in the steamer to a rolling boil. Wrap the lid of the steamer with a cloth to prevent condensation from dripping on the cake surface. Prepare the cups by lining them with a paper liner. I use aluminum muffin cups. OR you can use small ceramic/glass tea cups . I don't recommend silicone molds as they are poor heat conductors and the cakes did not bloom open when I use them

If you use ceramic or glass material type of cups, I highly recommend that you preheat the cups in the steamer for 5 minutes. Please note that if you use ceramic or glass cups/bowls, the cake won't split open as big as if you use aluminum tins/cups
Prepare the cake batter:
Combine rice flour and baking powder. Whisk to combine.
For original/pink cupcakes:
Heat up milk, sugar, and salt in a saucepan just until sugar melts. There's no need to bring it to a boil. Let it cool down a little bit. Add vanilla extract (if using) and oil and stir to combine. The batter is runny and pourable. Add a few drops of red food coloring. The amount depends on how light or deep the color you want
For gula Melaka version:
For gula Melaka version, put milk, salt, and gula Melaka in a saucepan. Bring to a gentle simmer just to cook until sugar melts. Strain the mixture and let it cool down a little bit. Add the gula Melaka mixture, and oil to the flour mixture and oil and stir until combined. The batter is runny and pourable
Steaming:
It's easier to transfer the batter into a measuring cup with a spout. Pour the batter into the cups , about 80% full only, if you fill them up all the way up, they may not bloom or won't bloom open properly

Steam over high heat for 15 minutes. Make sure the heat is really high or the cake will not split open and you will have a dense cake. I use my largest burner on the stove, so make sure you do the same too. Check with a cake tester and it should come out clean

Let them cool down in the cup for 5 minutes and then transfer to a cooling rack to let them cool down completely
Storing:
Individually wrap the cake with a cling wrap and store in air-tight container. They can be stored at room temperature for 2-3 days. For longer storage, freeze them for up to one month. Simply reheat in the steamer until warm through again and they will be soft and fluffy again
Recommended products:
Nutrition
Serving:
1
cake
|
Calories:
101
kcal
|
Carbohydrates:
21
g
|
Protein:
2
g
|
Fat:
1
g
|
Saturated Fat:
1
g
|
Polyunsaturated Fat:
1
g
|
Monounsaturated Fat:
1
g
|
Trans Fat:
1
g
|
Sodium:
100
mg
|
Potassium:
43
mg
|
Fiber:
1
g
|
Sugar:
10
g
|
Vitamin A:
54
IU
|
Calcium:
64
mg
|
Iron:
1
mg