This eggless no-yeast steamed sweet potato huat kueh (Fatt Koh) is one of my favorite Chinese steamed cakes I like to make. They are easy and quick to put together and they crack open beautifully.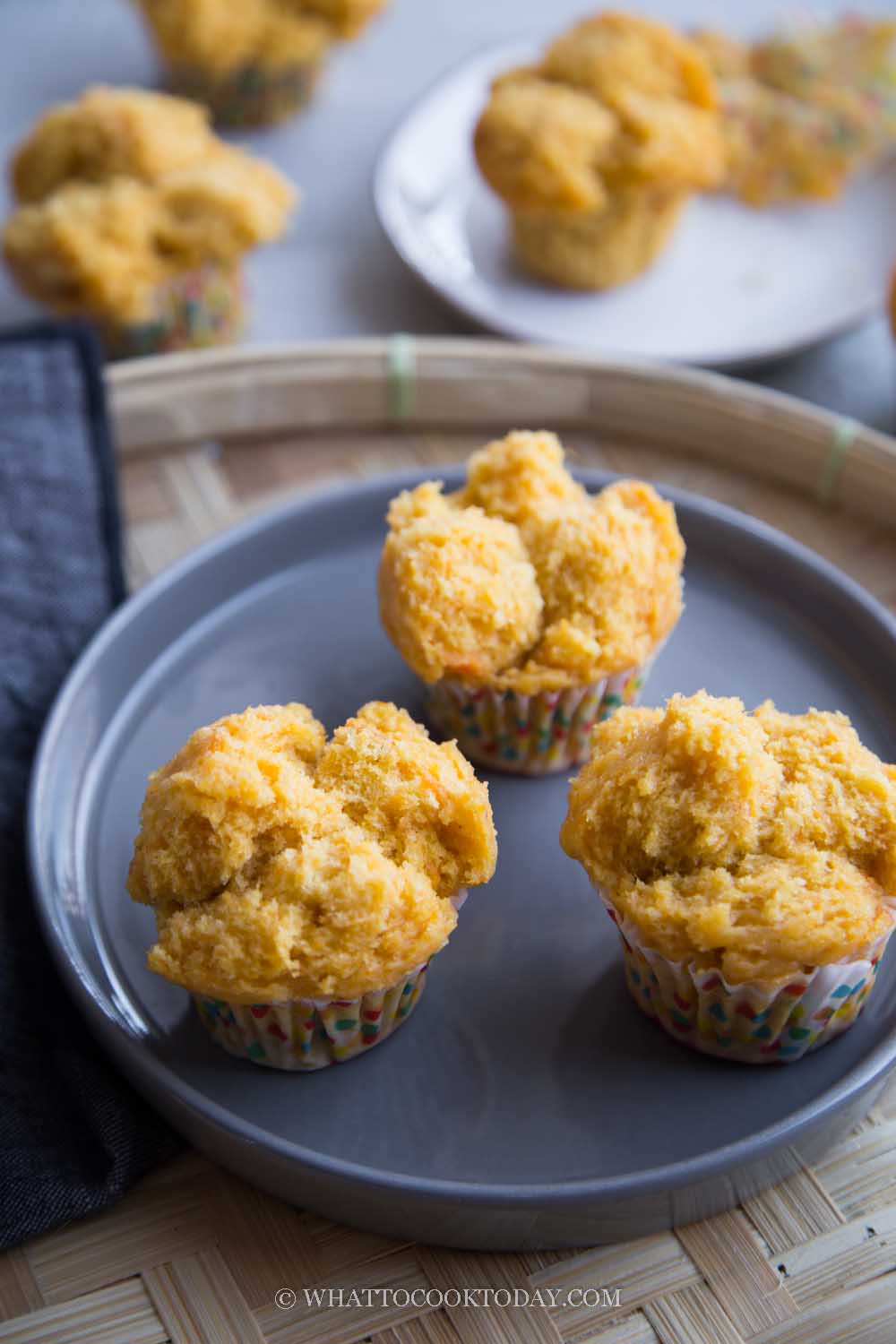 I love making huat kueh especially an easy version like this recipe that requires no yeast and eggs. They are convenient and my kids love them for breakfast and as snacks. My mom usually makes huat kueh for praying.
The recipe rundown
Taste: Lighty sweet with nice aroma of sweet potatoes and the brown sugar. If you use dark brown sugar, it will give an even better aroma
Texture: Soft and airy like a cake texture. It' s a different texture from huat kueh made with rice flour
Level: Easy
Ingredients
1. All-purpose flour
This recipe yields very soft huat kueh. I've tried it with cake flour before and the result was the huat kueh was way too crumbly. So I suggest using all-purpose flour (medium gluten content)
2. Baking powder
This huat kueh depends on baking powder as a leavener. Make sure the baking powder is still fresh
3. Sweet potatoes
I use sweet potatoes with orange flesh. If you choose to use purple sweet potatoes, know that the baking powder may react with the purple color and turns greenish and/or bluish
4. Light brown sugar
Light brown sugar gives a nice "molassey" aroma that I absolutely love and it goes well with sweet potatoes. If I have dark brown sugar, I would use it instead. You can use gula Melaka too
5. Coconut milk
I use canned coconut milk
6. Cooking oil
Any neutral-tasting cooking oil like vegetable oil, avocado oil, grapeseeds oil, canola oil, etc can be used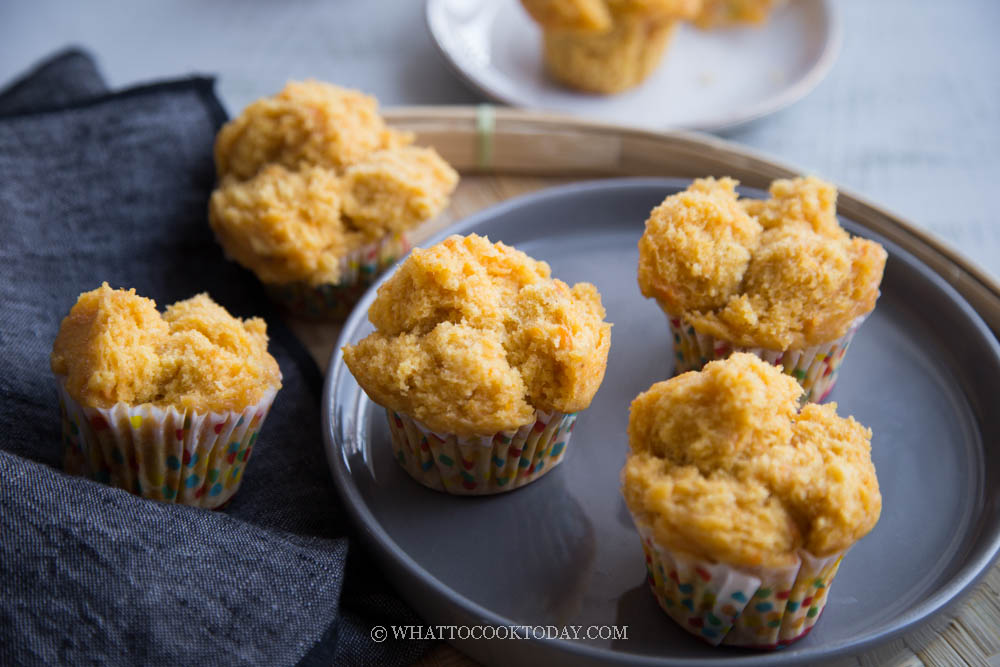 How to make eggless no-yeast sweet potato huat kueh
1. Peel and cut the sweet potatoes into smaller pieces and steam on high heat until fork-tender for 10 minutes. Get the steamer ready to steam the cake over high heat. Make sure the steamer is filled with enough water for steaming the huat kueh


2. Mash the sweet potatoes while they are warm. Add sugar, coconut milk, and oil


3. Stir to combine everything


4. Sift in the dry ingredients and stir to combine until you no longer see loose flour. The batter will be lumpy and thick. As long as you don't see any more loose flour, don't over mix it anymore


5. Scoop the batter (using an ice cream scoop is easier if you have one) into the cups and fill it up to the brim


6. Place this inside the steamer and steam over high heat for 15 minutes


7. Remove from the steamer and let them cool down inside the cups for few minutes and then transfer out from the cups and place on a cooling rack to cool down completely

Can I make this sweet potato huat kueh with yeast?
If you prefer huat kueh made with yeast and okay with the recipe having eggs, you can try these:
Sweet Potato Moho Kuih / Huat Kueh (with yeast)
Pumpkin Huat Kueh /Moho Kueh (with yeast)
Tips for success
1. Check the baking powder
You can use 1/2 tsp of baking powder and pour hot water on it. If it sizzles immediately, it's good. If it doesn't, do not proceed with the recipe until you get a fresh batch
2. Do not over stir the batter
When you work with wheat flour like all-purpose flour, you want to make sure you don't over work it to minimize gluten development, which will make the huat kueh dense and dry
3. Steam over high heat
It's important to steam the huat kueh over high heat so it can crack and bloom open to give that smile

How to store huat kueh
1. Let them cool down completely
2. I like to individually wrap them with a cling wrap and store them in a zipper bag, push all the air out and seal. They can be kept at room temperature for 2-3 days
3. For longer storage, I would keep them in the fridge for a maximum of one week or in the freezer for up to one month
4. When ready to eat, simply thaw in the fridge overnight (if frozen) and reheat in the microwave or in the steamer
Did you make this eggless sweet potato huat kueh recipe?
I love it when you guys snap a photo and tag to show me what you've made 🙂 Simply tag me @WhatToCookToday #WhatToCookToday on Instagram and I'll be sure to stop by and take a peek for real!

Easy Sweet Potato Huat Kueh (Eggless, No Yeast)
Ingredients
Wet ingredients:
300

g

sweet potato

mashed

120

g

light brown sugar

See notes

250

g

coconut milk

50

g

oil
Instructions
Mix all the dry ingredients and whisk to mix. Line the muffin cups with paper

Peel and cut the sweet potatoes into smaller pieces and steam on high heat until fork-tender for 10 minutes. Get the steamer ready to steam the cake over high heat. Make sure the steamer is filled with enough water for steaming the huat kueh

Mash the sweet potatoes while they are warm. Add sugar, coconut milk, and oil and stir to combine. Sift in the dry ingredients and stir to combine until you no longer see loose flour. The batter will be lumpy and thick. As long as you don't see any more loose flour, don't over mix it anymore

Scoop the batter (using an ice cream scoop is easier if you have one) into the cups and fill it up to the brim. Place this inside the steamer and steam over high heat for 15 minutes

Remove from the steamer and let them cool down inside the cups for few minutes and then transfer out from the cups and place on a cooling rack to cool down completely
Notes
If you choose to use gula Melaka/gula Jawa, melt the sugar with the coconut milk over low heat just until the sugar melts and then strain the mixture and proceed with the recipe
Recommended products:
Nutrition
Serving:
1
cake
|
Calories:
215
kcal
|
Carbohydrates:
32
g
|
Protein:
3
g
|
Fat:
9
g
|
Saturated Fat:
4
g
|
Trans Fat:
1
g
|
Sodium:
174
mg
|
Potassium:
168
mg
|
Fiber:
1
g
|
Sugar:
11
g
|
Vitamin A:
3547
IU
|
Vitamin C:
1
mg
|
Calcium:
82
mg
|
Iron:
2
mg