Learn how to make this Cantonese-style flaky pastry filled with sweet, slightly chewy, and nutty filling. Step-by-step instructions with photos are included.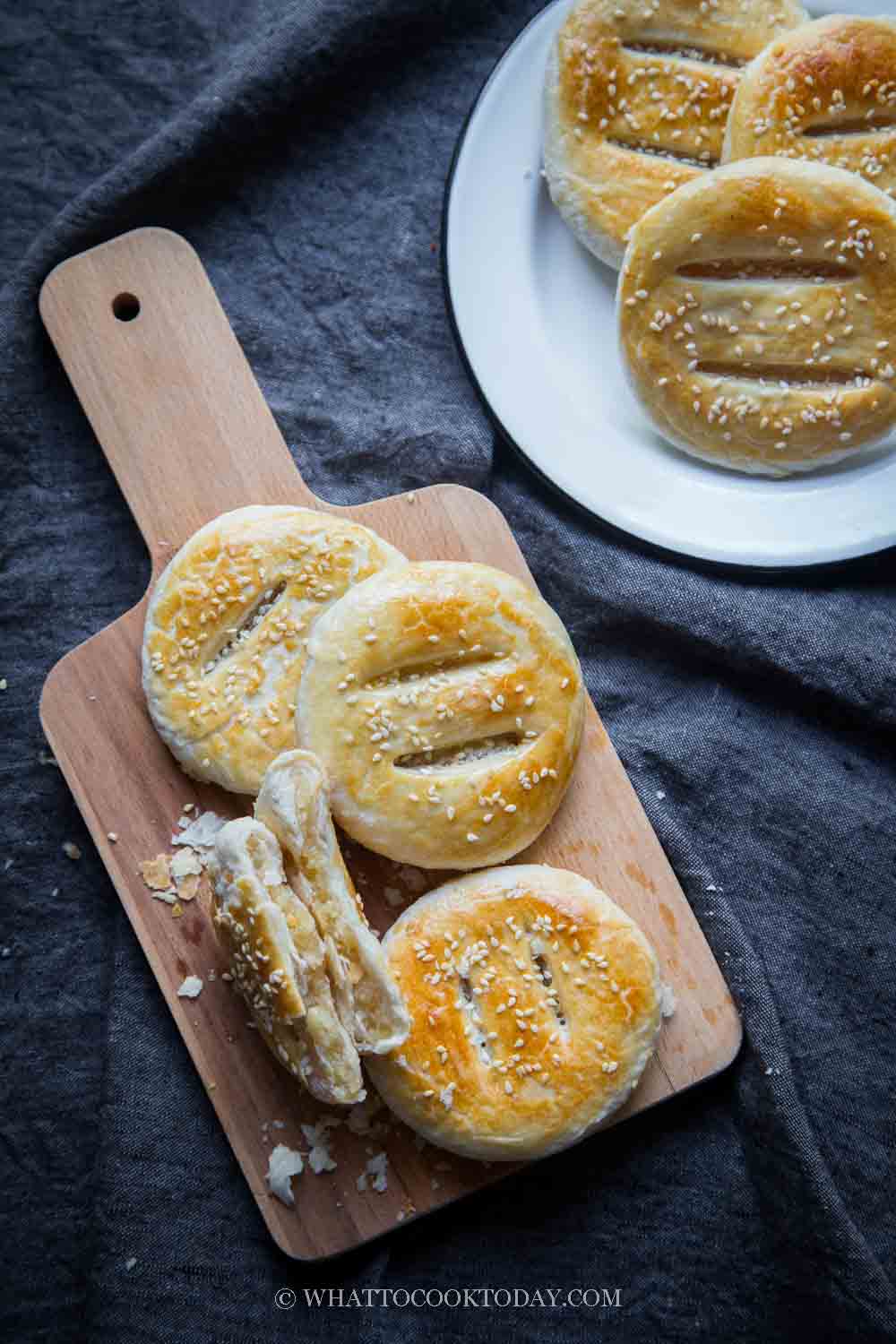 Lau Po Bing is one of my most favorite pastries. My dad, who was really into anything kueh, cakes, pastries, sweets of anykind, would bring home lau po bing and we had this as our afternoon snack with a cup of tea! So perfect.
In Medan where I grew up, the lau po bing has a slightly different filling. It also has a very flaky pastry and there is an addition of candied kumquat in the filling and the lau po bing is made much thinner too. I also love this Cantonese version of lau po bing with its soft chewy and lightly sweetened and nutty filling.
The recipe rundown
Taste : The right amount of sweetness and slightly nutty from the toasted sesame seeds and a hint of coconut that doesn't overwhelm
Texture : Flaky crust with soft and slightly chewy filling
Level: Intermediate
Ingredients
1. All-purpose flour
All-purpose flour is the common name here in North America. You can use flour with medium gluten content
2. Lard
Lard is traditionally used to make lau po bing. It gives a nice flaky texture to the crust. You can substitute with shortening, though shortening lacks flavor. You can try to use half shortening and half butter, but the combination may alter the taste and flavor a bit
3. Cooking oil
Use any neutral-tasting cooking oil of your choice
4. Sugar
Granulated or caster sugar can be used in this recipe. Do not use icing sugar as it won't give the same result
5. Gao Fen (Cooked glutinous rice flour)
If you can get gao fen from the store, that's great. Gao fen has been precooked. If you can't find any, you can always dry fry the glutinous rice flour on the pan like I did
6. Candied winter melon
Candied winter melon is easy to find in Asia. If you can't find any, I have substituted with dried pineapple chunks and they worked very well, and no, it won't taste like pineapple
7. White sesame seeds
Toasting the sesame seeds briefly on a dry pan makes a difference in flavor
8. Unsweetened desiccated coconut
This is available in major grocery stores. If you use a sweetened version, you may want to cut back on sugar a little bit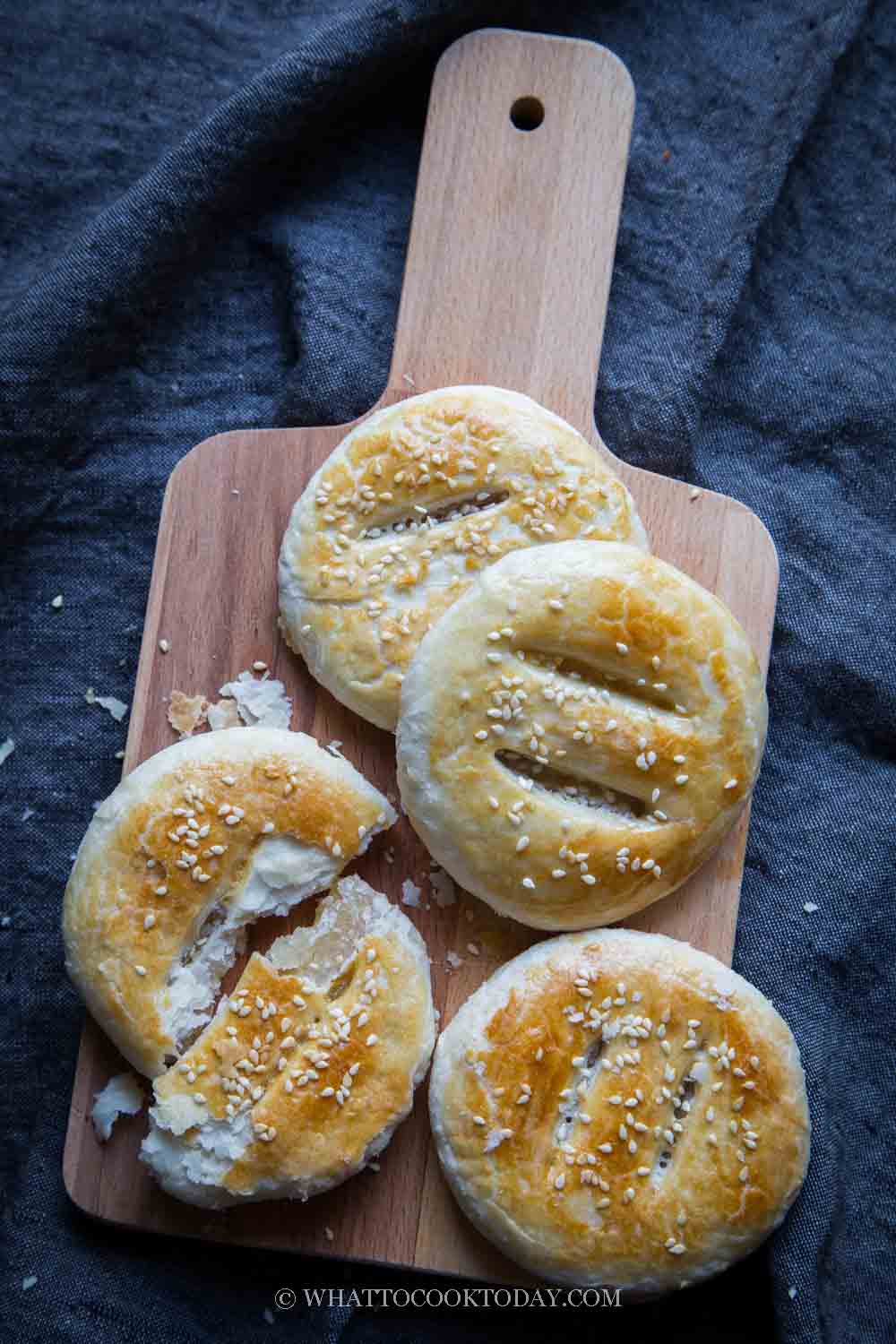 How to make lau po bing from scratch
1. Mix the stir-fried glutinous rice flour (gao fen), sugar, salt, and warm water in a large mixing bowl and stir to combine


2. Add oil and knead until the oil half absorbed, you still see some oil around. Add candied winter melon, toasted sesame seeds, grated coconut and continue to mix into a sticky paste.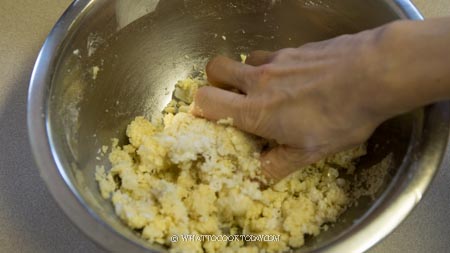 3. Cover and chill the filling for 2 hours


4. Wear gloves or oil your palms or use a cooking spray, portion the filling into about 45 grams each or 15 equal portions. Keep them covered and chill in the fridge while you prepare other things


5. Prepare the water dough by mixing all-purpose flour, sugar, lard, and water in a mixing bowl. Knead into a smooth dough. Cover and set aside


6. Prepare the oil dough by mixing flour and lard. The flour will be crumbly at first but continue to knead until you can form a smooth shiny dough


7. Divide water dough into 15 pieces and oil dough into 15 pieces. Keep them covered and work with one dough at a time


8. Flatten the water dough


9. Place one oil dough on the water dough


10. Wrap it around the oil dough. Repeat with the rest of the dough pieces. Keep them covered


11. Take one dough, roll it into a rectangle using a rolling pin.


12. Then roll it up like a Swiss roll


13. Turn 45 degrees, so it's vertical now


14. Roll it out using a rolling pin into a rectangle again


15. Then roll it up like a Swiss roll again


16. Bring both ends together


17. Flatten the dough


18. Use a rolling pin to roll it into a round circle, about 4 inches in diameter


19. Take one portion of the filling and put it on the dough. Wrap the dough around the filling and pinch to seal


20. Place the seam side down and flatten with your palm slightly and use a rolling pin to roll it out again into a round circle, about 3 inches in diameter


21. Use a sharp knife to make two cuts on the surface


22. Place them on a baking sheet lined with parchment paper. They don't expand much during baking, so you can put them about 1/2-inch apart. Continue working on the rest. Once you are done shaping and filling.


23. My oven is conventional with bottom heat. If yours is a convection oven with a fan, you may want to lower the temperature to 350 F (180 C). Bake in a preheated oven at 375 F (190 C) for 10 minutes and then remove from the oven.


24. The pastries are still pale in color. Brush the top with some egg wash and sprinkle with sesame seeds on top.


25. Return to the oven and bake for another 20-25 minutes or until they are nicely golden brown

Not so bad right? Rolling out the dough may seem a bit confusing at first, but it's not. I hope the step-by-step photos help to make some sense.

How to store lau po bing pastry
For short period of time (one or two days): Let the lau po bing cools down completely. Transfer the pastry in a paper bag. Then put this inside a zipper bag, push out all the air and seal. This help to maintain that crispiness and flakiness for about a day or two.
For longer storage (about one week): Individually wrap lau po bing in a cling wrap. Put them in a zipper bag, push all the air out and seal. Put this in the fridge for about a week. Simply reheat them in the oven at 350 F (180 C) for about 8-10 minutes
For anything beyond one week: The same method with the above by individually wrapping each one and put in a zipper bag. Freeze for no more than 1 month. Simply thaw them on the counter at room temperature before reheating at 350 F (180 C) for about 8-10 minutes

Did you make this lau po bing recipe?
I love it when you guys snap a photo and tag to show me what you've made 🙂 Simply tag me @WhatToCookToday #WhatToCookToday on Instagram and I'll be sure to stop by and take a peek for real!

Recipe is adapted from here

Lau Po Bing - Cantonese Wife Cake / Sweet Heart Pastry (老婆饼)
Instructions
Prepare the filling: (can be done few days ahead)
If you can get gao fen (fried glutinous rice flour) from the store, then you can skip this step. I can't, so put the glutinous rice flour on a pan and dry fry it over low heat for 15 minutes. Let it cools down completely while you prepare other things
Toast the sesame seeds:
Toast the white sesame seeds on a dry pan until nutty over low heat, about 10 minutes. Set aside

Put the candied winter melon in a food processor and grind into fine pieces. Mix the stir-fried glutinous rice flour (gao fen), sugar, salt, and warm water in a large mixing bowl and stir to combine. Add oil and knead until the oil half absorbed, you still see some oil around. Add candied winter melon, toasted sesame seeds, grated coconut and continue to mix into a sticky paste. Cover and chill the filling for 2 hours

Oiled your palms or use a cooking spray, portion the filling into about 45 grams each or 15 equal portions. Keep them covered and chilled in the fridge while you prepare the dough
Prepare the water dough:
Mix all-purpose flour, sugar, lard, and water in a mixing bowl. Knead into a smooth dough. Cover and set aside
Prepare the oil dough:
Mix flour and lard. The flour will be crumbly at first but continue to knead until you can form a smooth shiny dough
Water dough + oil dough:
Divide water dough into 15 pieces and oil dough into 15 pieces. Keep them covered and work with one dough at a time. Flatten the water dough, place one oil dough on the water dough and wrap it around the oil dough. Repeat with the rest of the dough pieces. Keep them covered
Shape and fill the dough:
Take one dough, roll it into a rectangle using a rolling pin. Then roll it up like a Swiss roll. Turn 45 degrees, so it's vertical now. Roll it out using a rolling pin into a rectangle again and then roll it up like a Swiss roll again. Bring both ends together and flatten. Use a rolling pin to roll it into a round circle, about 4 inches in diameter

Take one portion of the filling and put it on the dough. Wrap the dough around the filling and pinch to seal. Place the seam side down and flatten with your palm slightly and use a rolling pin to roll it out again into a round circle, about 3 inches in diameter

Place them on a baking sheet lined with parchment paper. They don't expand much during baking, so you can put them about 1/2-inch apart. Continue working on the rest. Once you are done shaping and filling. Use a sharp knife to make two cuts on the surface
Baking:
Combine an egg with a small pinch of salt for an egg wash. Lightly beaten and set aside

My oven is conventional with bottom heat. If yours is a convection oven with a fan, you may want to lower the temperature to 350 F (180 C). Bake in a preheated oven at 375 F (190 C) for 10 minutes and then remove from the oven. The pastries are still pale in color. Brush the top with some egg wash and sprinkle with sesame seeds on top. Return to the oven and bake for another 20-25 minutes or until they are nicely golden brown

Let them cool down on the pan for 5 minutes then transfer to a cooling rack to cool down completely. I feel like they taste better the next day as the flavor has developed and the oil and lard have been distributed evenly and not as dry when you just freshly baked them
Notes
Candied winter melon can be difficult to find especially if you are outside of Asia. I found dried pineapple tastes so similar to the candied winter melon and perfect as substitute
Recommended products:
Nutrition
Serving:
1
piece
|
Calories:
251
kcal
|
Carbohydrates:
43
g
|
Protein:
5
g
|
Fat:
7
g
|
Saturated Fat:
2
g
|
Trans Fat:
1
g
|
Cholesterol:
12
mg
|
Sodium:
51
mg
|
Potassium:
77
mg
|
Fiber:
2
g
|
Sugar:
14
g
|
Vitamin A:
487
IU
|
Vitamin C:
3
mg
|
Calcium:
60
mg
|
Iron:
2
mg