Pressure Cooker Chicken Feet Dim Sum (Ceker Ayam Dim Sum) – Chicken Feet is fried briefly and then pressure cooked in spices and seasonings is one of the popular dim sum dishes across Asia.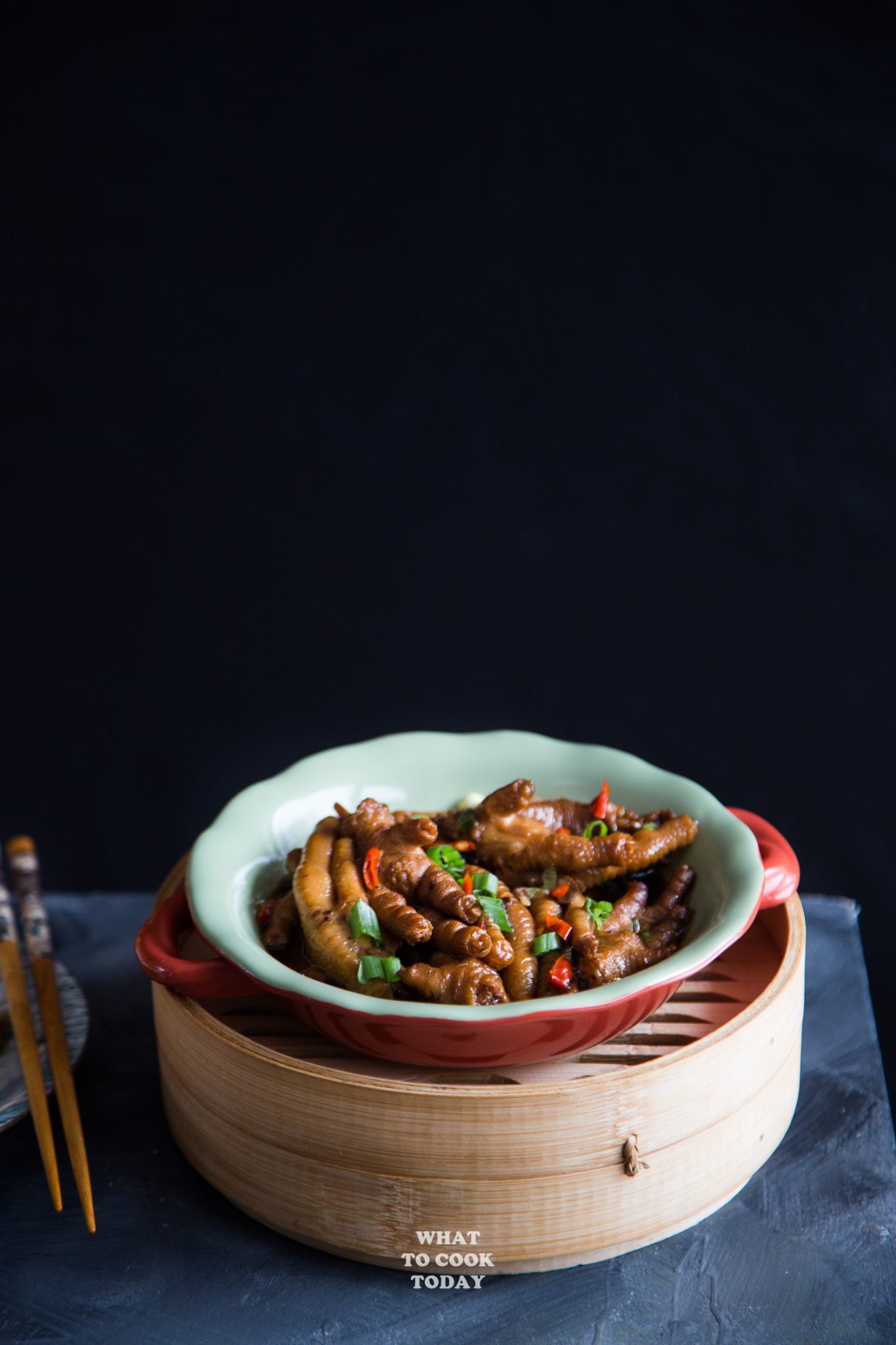 Chicken Feet! Why in the world would somebody want to eat chicken feet? I can't tell you exactly why either to be honest! I love chicken feet too since I was a kid. My mom perhaps was the one responsible for all the food addiction I have 🙂 but I'm not blaming her! In fact, I'm glad I had the opportunity to try weird food!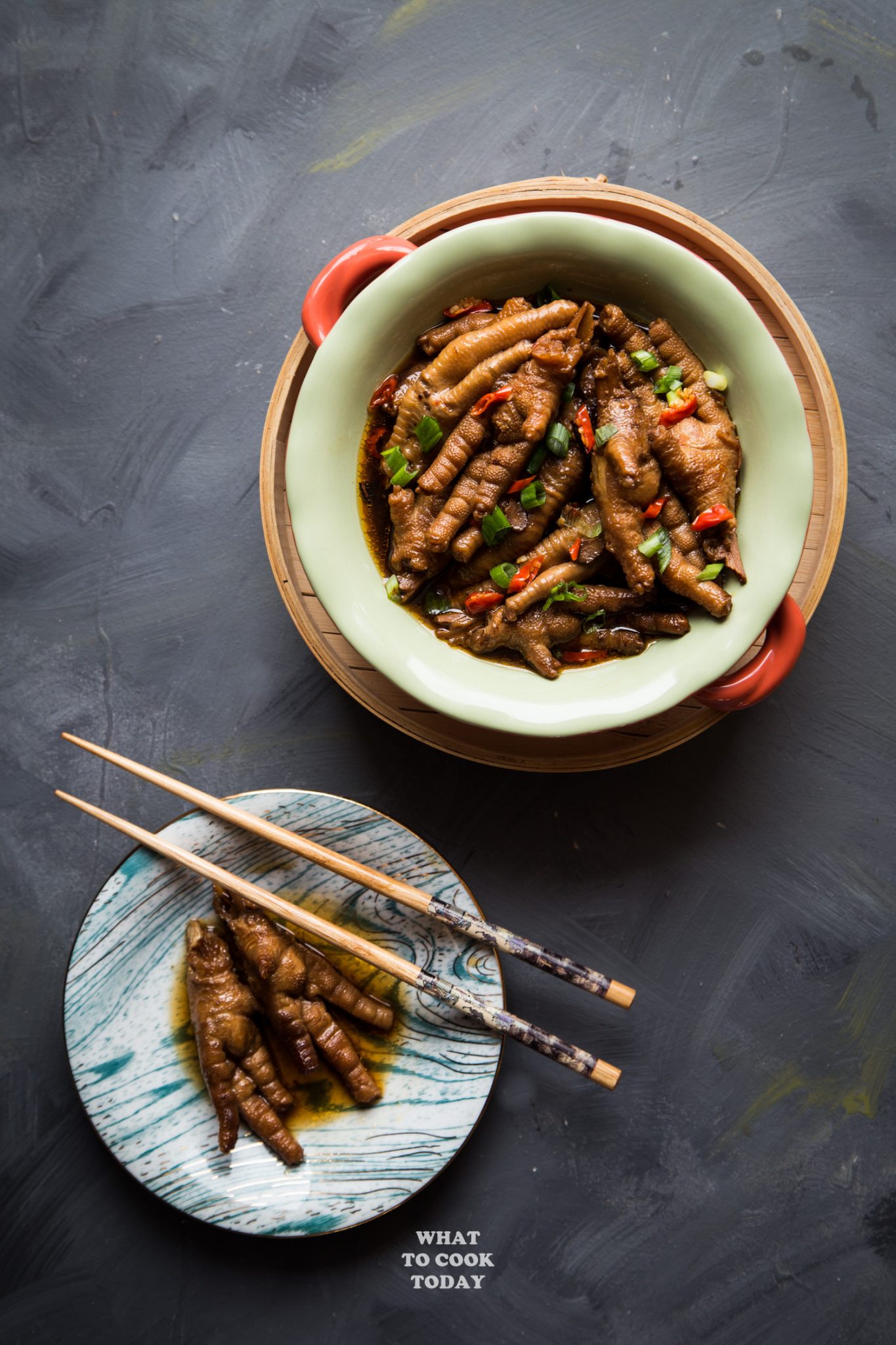 IS THERE ANY NUTRITIONAL BENEFIT IN CHICKEN FEET?
Chicken feet or sometimes called chicken claws in Asia is rich in collagen. Yes, women…collagen! It is also high in protein and calcium.
HOW CAN I PROPERLY CLEAN THE CHICKEN FEET?
Yes, I know the thought of the chicken feet had been everywhere and who knows what the chicken has stepped on is kinda like gross!!! But I can assure you that these feet are properly cleaned before they are cooked. They are rubbed in salt and nails are trimmed 😉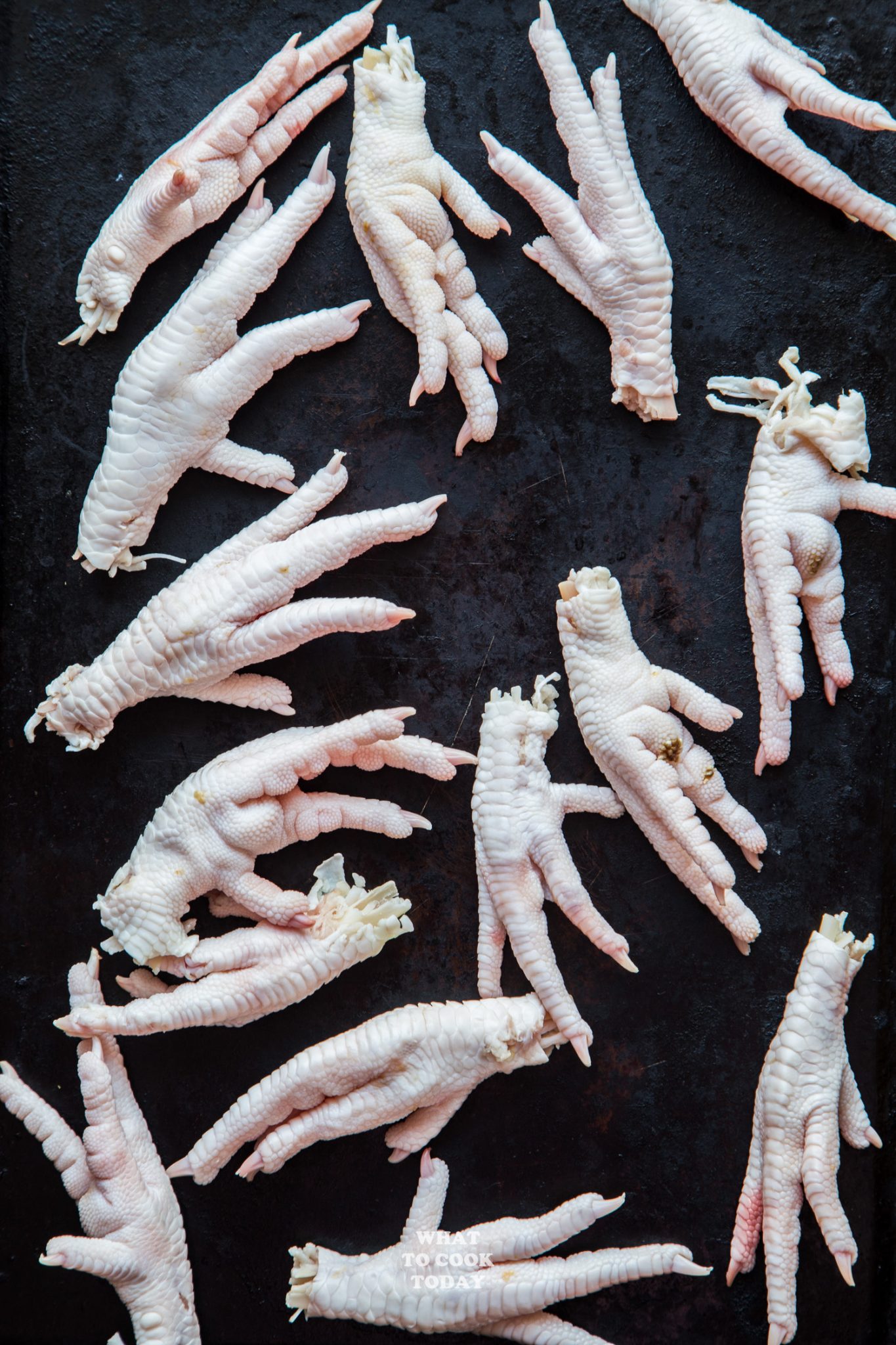 IS CHICKEN FEET REALLY EDIBLE?
Many people use chicken feet to make chicken stock, but in Asia, they are being eaten more often than not. This dim sum chicken feet is one of the most commonly seen. Yes, they are edible. Yes, the thought of it grosses you out probably, but if you can pass that mental block, you will come to enjoy it! Like I do 🙂
WHY DO I NEED TO FRY THE CHICKEN FEET?
By frying the chicken feet and then steaming or pressure cooking the chicken feet later, will make the chicken feet plump up and it's one of the desirable "features" of dim sum chicken feet if you ask me. The skin and the little bit of meat are easier to pull off the bones too. You can choose not to deep fry it first too, but if you have eaten dim sum chicken feet before at the dim sum restaurant, you can immediately tell the difference 🙂
WHAT DOES CHICKEN FEET TASTE LIKE?
I honestly do not consume chicken feet for the collagen or nutritional benefit 🙂 It's because I like it. There is very little meat in the chicken feet if you can't tell already from the photo. They are mostly soft bones. I like soft bones. I like munching on those plump skin and a bit of meat and spitting out the little bones after that is somewhat a weird and an addicting activity for me. It tastes like…well..chicken of course!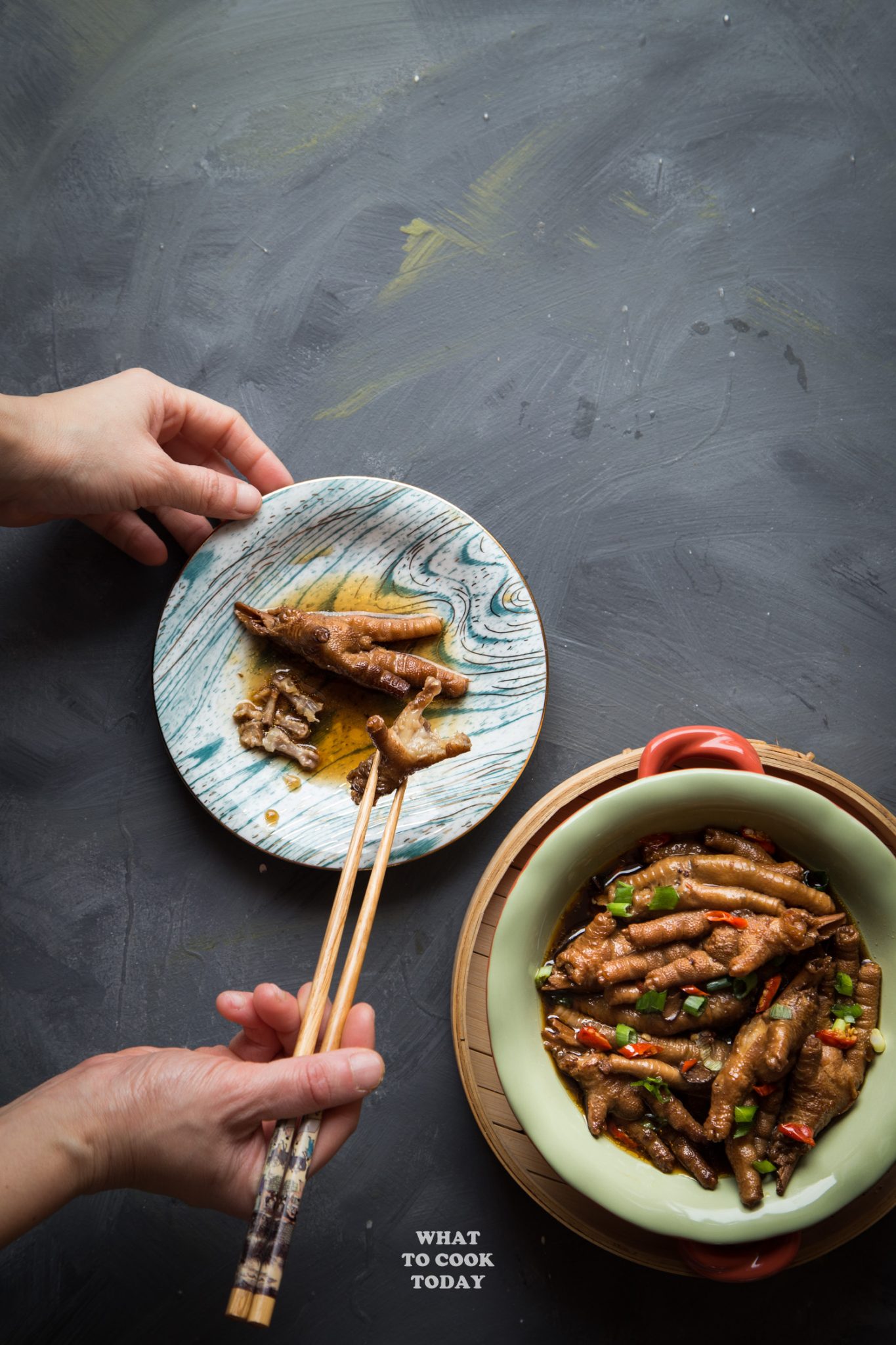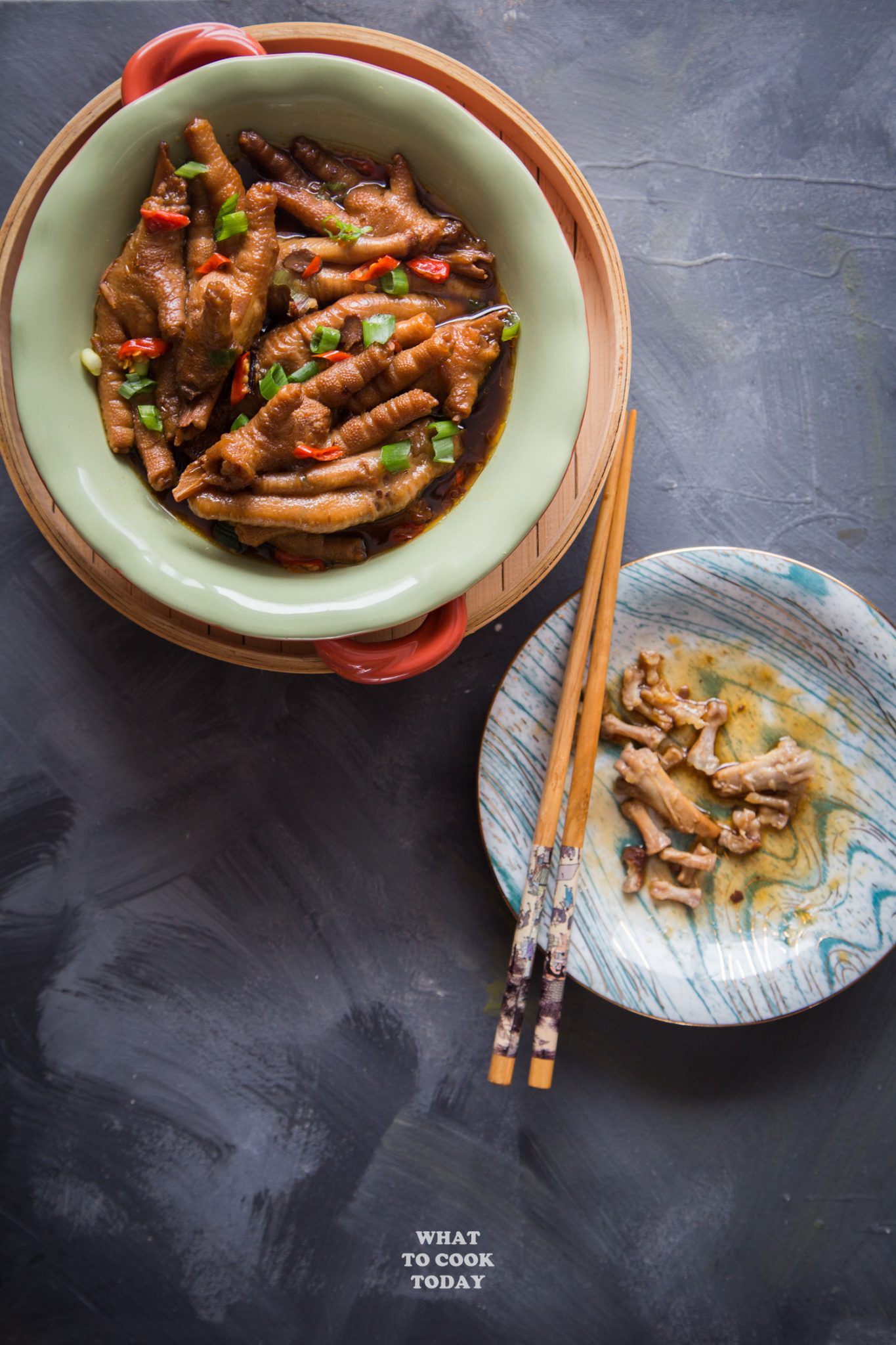 I watched mom made dim sum chicken feet since I was a kid. Mom had an "open" kitchen, which is outdoor and as you've guessed it…open, that she cooked at often. The "real" kitchen inside the house is pretty much just a display. She didn't want to get it dirty and greasy! The making of dim sum chicken feet requires some deep frying of the chicken feet. This is the part that I honestly hate the most when making this dim sum chicken feet. The oil usually will splatter (pretty bad sometimes!). I usually pat dry them really good, but they will still splatter some.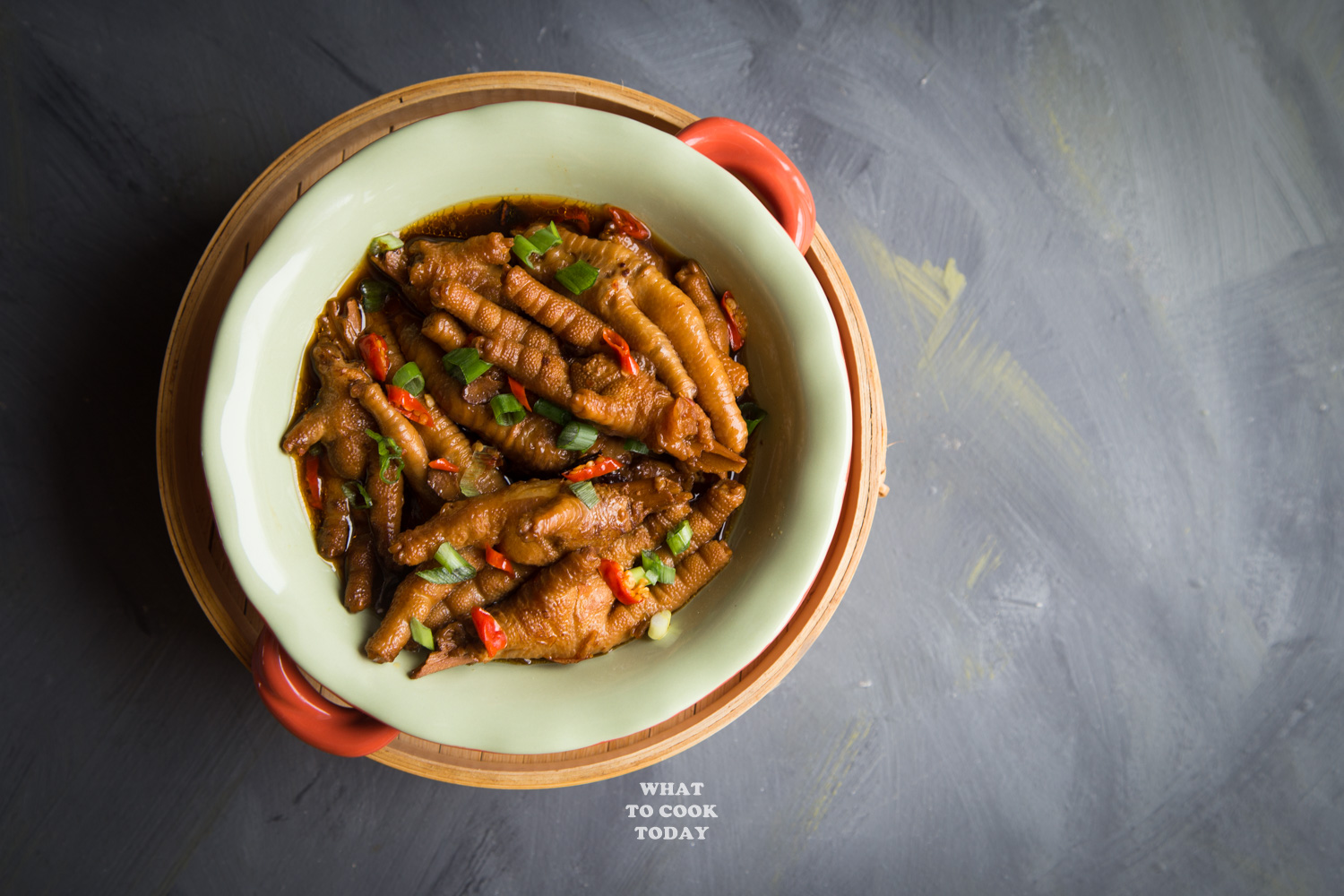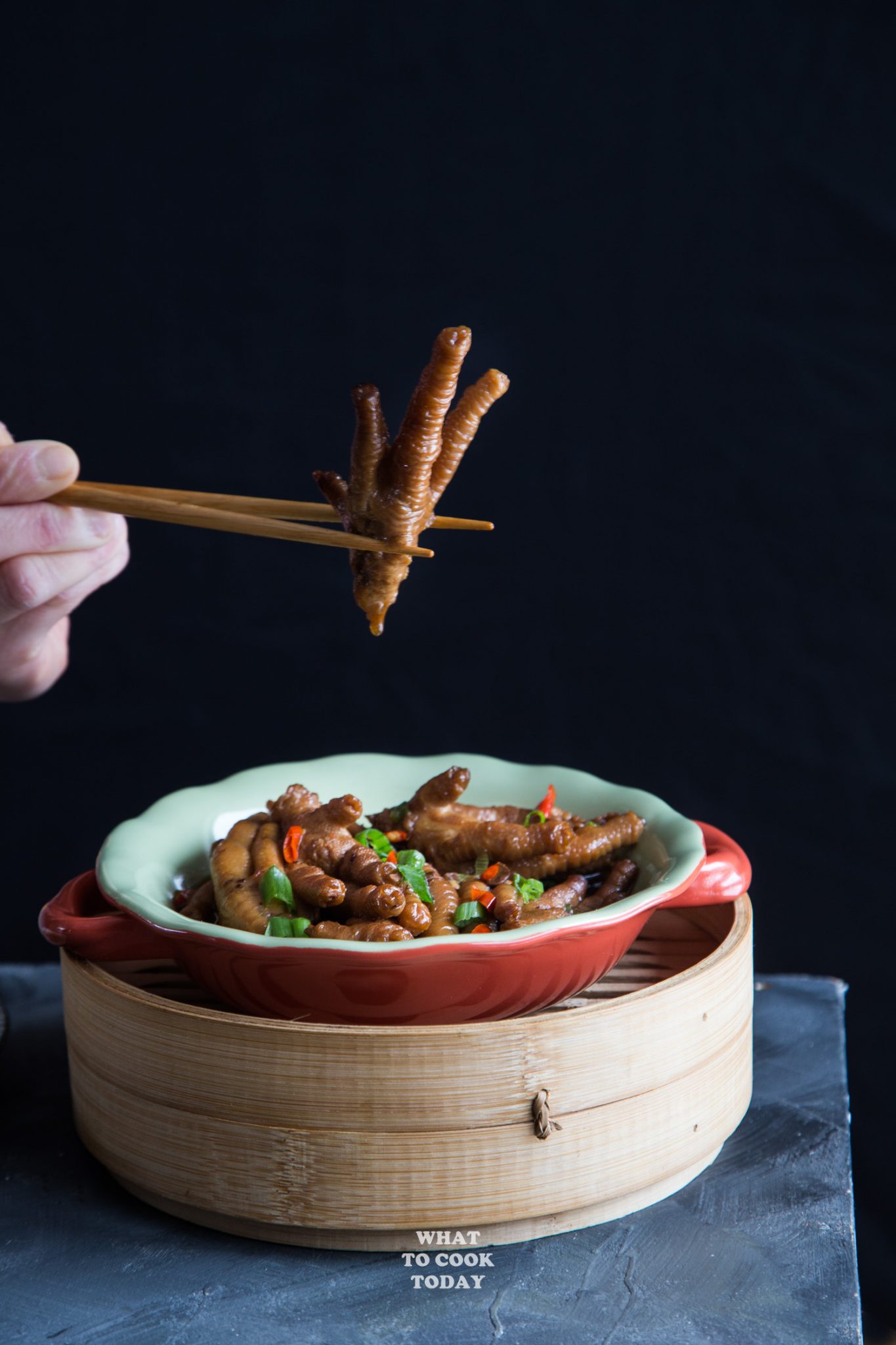 So what do you think? Do you think you will ever try chicken feet?
*Recipe is written for 6-quart Instant Pot. Cooking time should remain the same for 8-quart size but will take longer to pressurize. For mini duo (3-quart), I suggest to half the recipe and use the same amount of time to cook*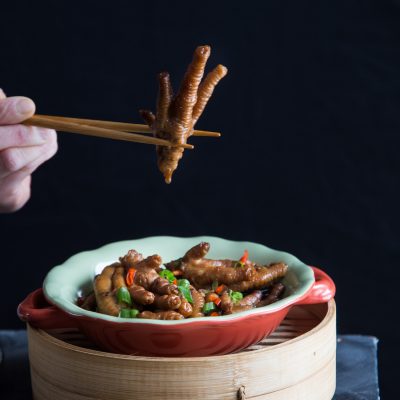 Chicken Feet is fried briefly and then pressure cooked in spices and seasonings is one of the popular dim sum dishes across Asia
For baking/ kueh making: I highly encourage to weigh ingredients with a digital kitchen scale instead of using measuring cups as they are not very accurate especially when it comes to recipe that requires precision.
GRAMS TO CUPS CONVERSION (UNSIFTED)
INGREDIENTS
1

Tbsp

Salt

-

to rub the chicken feet

500

gr

chicken feet

Cooking oil -

for deep frying

ice water

-

enough to submerge the fried chicken feet

1

Tbsp

cooking oil -

if braising
Seasoning:
2

cloves

garlic

-

finely chopped

1

Tbsp

fresh chopped ginger

1

Tbsp

oyster sauce

1

Tbsp

dark soy sauce

1/4

cup

Chinese rock sugar

-

or use 2 tsp regular sugar or brown sugar to your taste

2

Red chili

-

finely chopped

1

cup

water
Garnish:
1

stalk

green onion

-

green part only, finely chopped
INSTRUCTIONS
Preparing Chicken feet:
Use a sharp knife to cut off the nail from the feet. Remove any brownish or yellowish spots from the skin if you see any. Rub the chicken feet with salt all over. Rinse off the salt of the chicken feet in a clean water. Pat them really dry with an absorbent paper towel

Preheat enough oil to deep fry the chicken feet. Preferably in a pot or wok that has a lid (because it will splatter when you deep fry them). You may need to do this in batches. While the oil is heating, get the seasoning ingredients ready.

Deep fry the chicken feet batch by batch if necessary. Fry until they turn pale golden brown and dry, about 5 minutes. Remove the chicken feet and submerge into the ice-cold water. Repeat with the rest of the chicken feet. Let the feet soak in the ice cold water for 2 hours.
Steaming with Instant Pot or pressure cooker:
Pour 2 cups of water in the inner pot. Place the trivet on top. Transfer the soaked chicken feet in a large bowl (that can fit in your instant pot). Pour the seasoning ingredient over. Place the bowl on top of the trivet. Close the lid and press Pressure Cooker, High Pressure and set the timer to 30 minutes. When the timer is done, do quick release by carefully turning the steam release handle to vent and wait until the pressure valve to collapse all the way and then uncover the lid. Sprinkle some chopped green onion and serve immediately
Braising with Instant Pot:
Press saute on instant pot. Add oil and when it says "hot", add garlic and ginger and saute for 1 minute. Add star anises and stir fry for another 30 seconds. Add the chicken feet, oyster sauce, soy sauce, red chili and stir to mix everything. Pour in the water. Turn off saute and close the lid. Press Pressure Cooker, high pressure and set the timer to 25 minutes. Do quick release by carefully turning the steam release handle to vent and wait until the pressure valve to collapse all the way and then uncover the lid. Sprinkle some chopped green onion and serve immediately
Steaming on stove-top:
Get your steamer ready and bring the water to a boil. Transfer the soaked chicken feet in a large bowl and pour the seasoning ingredient over. Steam for the next 45-50 minutes or until the chicken feet is tender
Braising on stove-top:
Preheat a pot with a lid and add cooking oil. Add garlic and ginger and saute for 1 minute. Add star anises and stir fry for another 30 seconds. Add the chicken feet, oyster sauce, soy sauce, red chili and stir to mix everything. Pour in the water and let it come to a gentle simmer. Close the lid and let it gently simmer for the next 1 hour or until the chicken feet is tender. Sprinkle some chopped green onion and serve immediately
RECOMMENDED PRODUCTS:
Other Dim Sum recipes you might like:
PORK AND SHRIMP SIU MAI (COOK AND SELL DUMPLINGS)


LENG HONG KIEN (MAYONAISE UDANG / SWEET MAYONNAISE SHRIMP)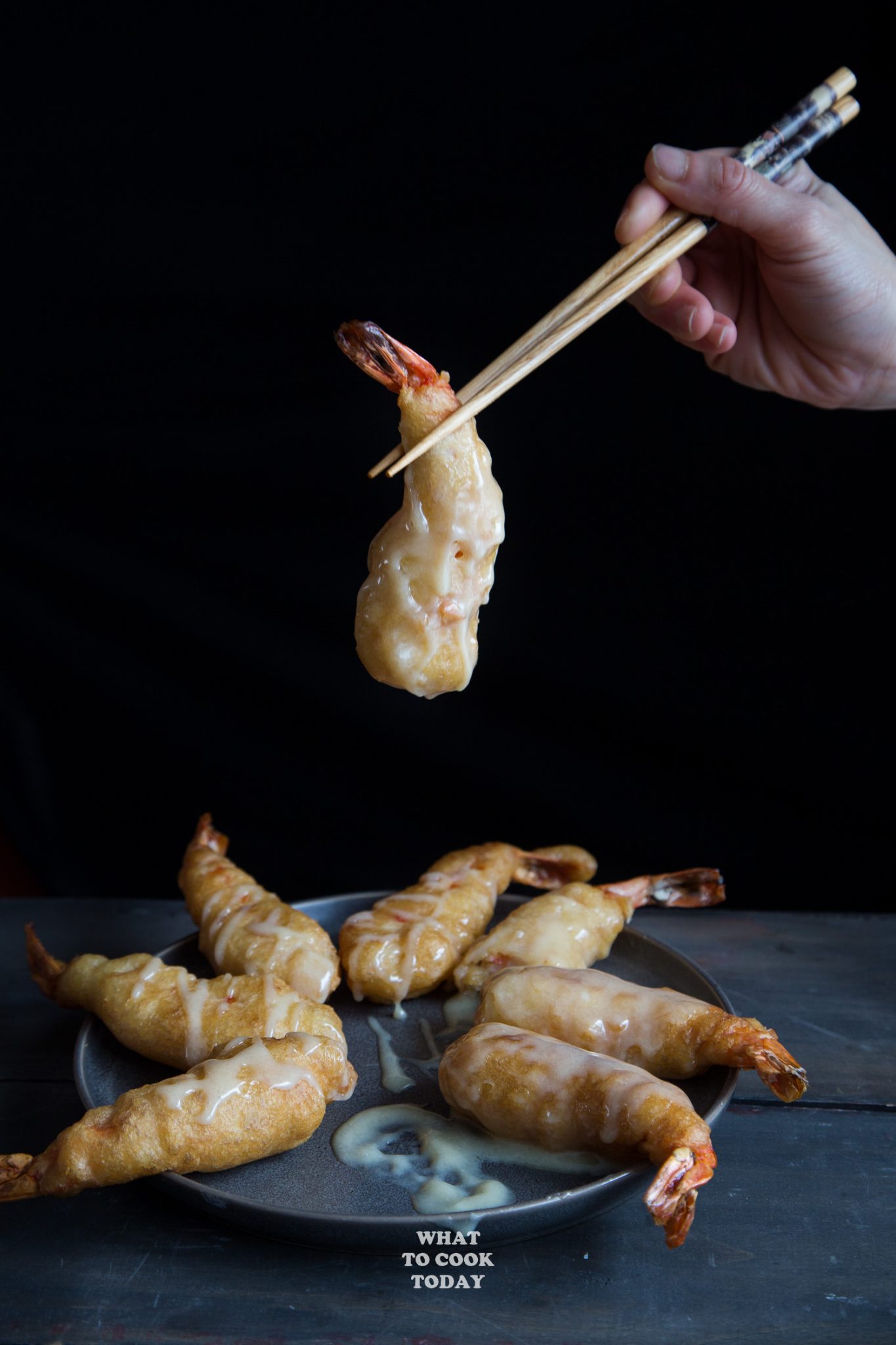 KUE LOBAK / CHAI TOW KWAY (CHINESE SAVORY DAIKON / TURNIP CAKE)