Learn how to bake this super soft, fluffy, and moist double chocolate chiffon cake flavored with cocoa powder and studded with semi-sweet chocolate chips. Recipes for 6, 7, 8, and 9 inches chiffon tube pan are included.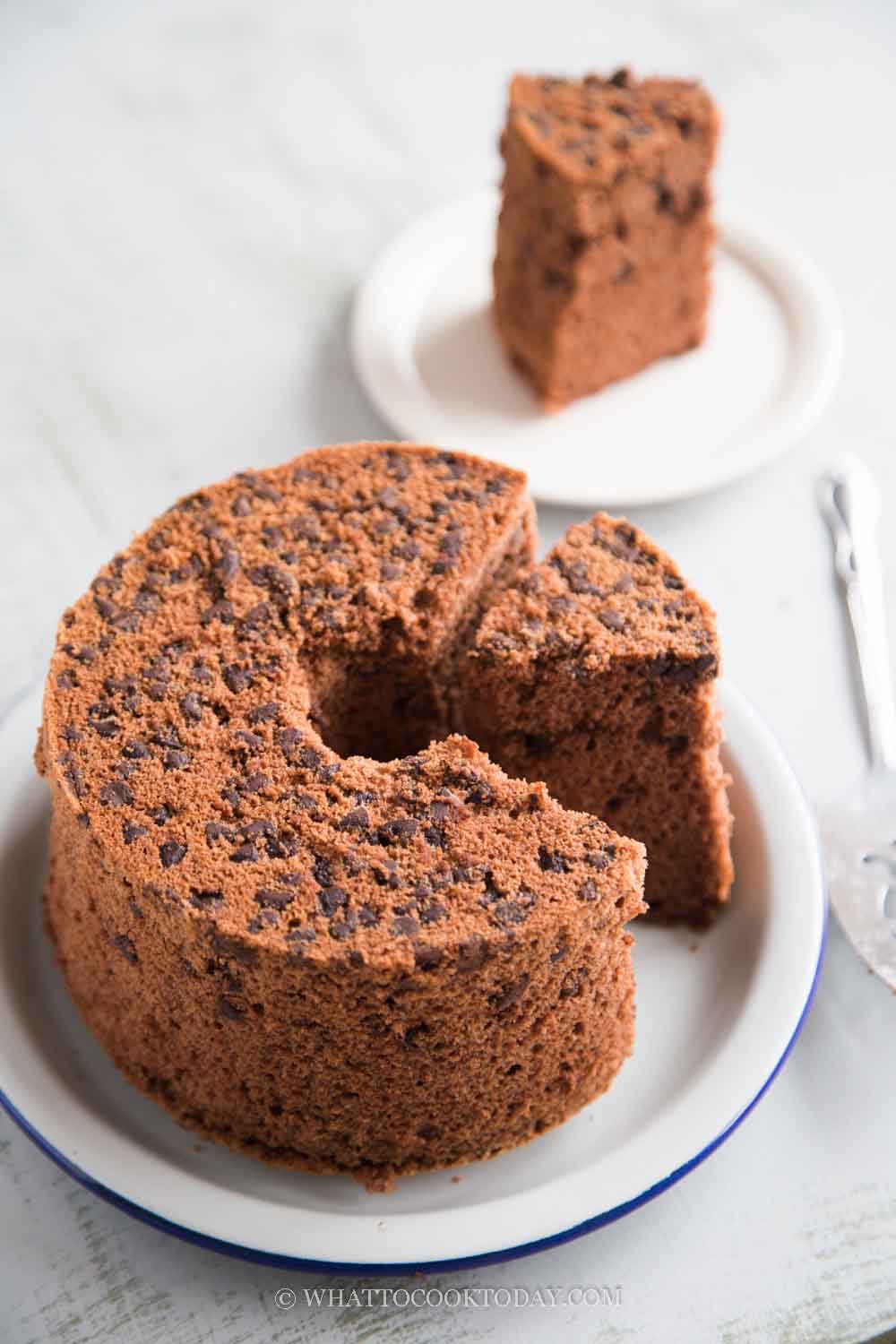 I'm not really a chocolate cake person, though I love chocolate chip cookies, especially this soy sauce chocolate chip cookies. I often find chocolate cakes are too rich and dense for my taste. Perhaps I'm the minority here because I seriously don't know anyone who doesn't like chocolate. My own son is a chocolate addict! BUT, I will eat this double chocolate chiffon cake! It is so light, fluffy, and just the right amount of sweetness.
My chiffon cake collection is not complete without the addition of this soft and fluffy chocolate chiffon cake. The very first chiffon cake I have ever baked was this Pandan Chiffon Cake and never looked back. I've since baked more than a dozen in a short period of time. I'm addicted to baking chiffon cake LOL!
The recipe rundown
Taste: Just the right amount of sweetness and I used semi-sweet chocolate chip morsels, which balance well with the sweetness
Texture: Soft, fluffy, and spongey
Level: Intermediate
Pros: I love chiffon cake because it is light and made with oil and no butter
Cons: whipping the egg white meringue to the right consistency is probably one of the challenges in making chiffon cake
Ingredients
1. Cake flour
I swear by cake flour when it comes to chiffon cake. It makes a difference compared to using all-purpose flour, which is not as soft
2. Baking powder
Baking powder is not mandatory, it's more of an "insurance" that the cake will rise well
3. Semi-sweet chocolate chips
I recommend semi-sweet chocolate chips or dark chocolate (if you prefer). My kids don't like the dark chocolate version, but adults who are chocolate aficionados may appreciate it
4. Cocoa powder
I use Dutch cocoa powder
5. Sugar
I use granulated sugar. Caster sugar can be used as well
6. Eggs
I usually use large egg, which is about 55-58 grams with the shell
7. Milk
8. Oil
9. Cream of tartar
If you don't have the cream of tartar, you can always use lemon juice, apple cider vinegar, or regular vinegar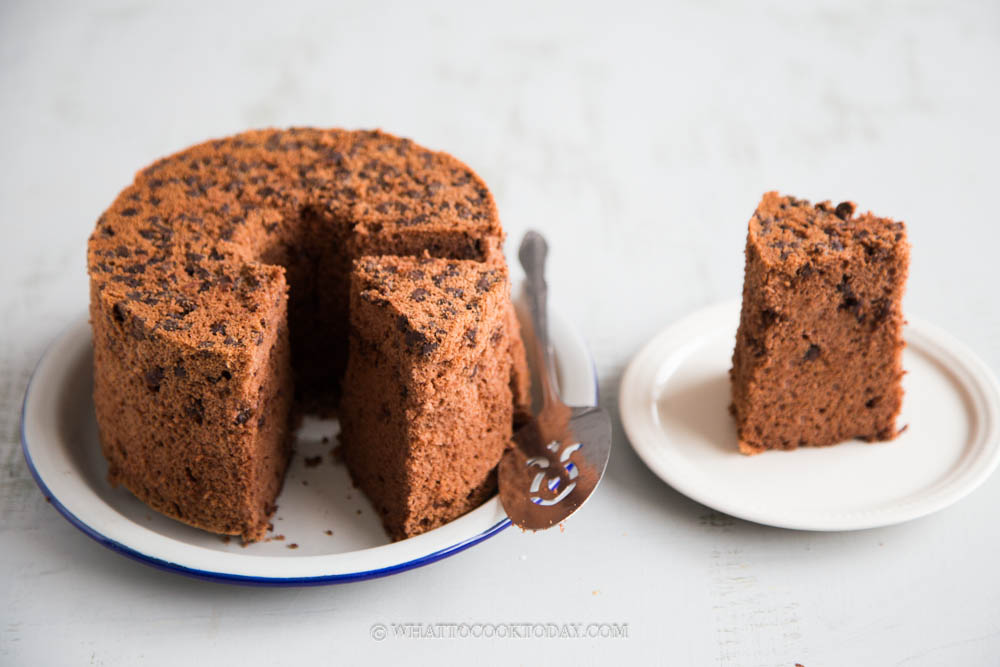 How to make double chocolate chiffon cake
1. Before you start making the recipe, make sure eggs and milk are at room temperature. Get them out from the fridge 20-30 minutes and let them sit at room temperature before you plan to start working on this.
2. Coat the chocolate chips with some flour. Shake off any excess flour. The purpose of this is so that the chocolate chips float better in the batter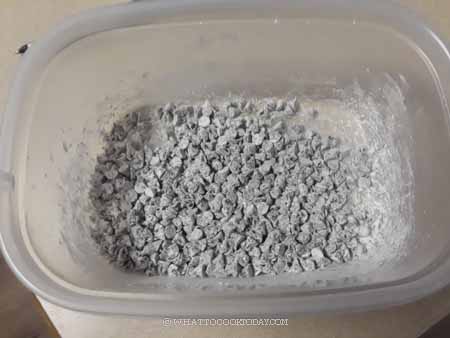 3. In a separate bowl, whisk the egg yolks with sugar, milk, cooking oil, cocoa powder until combined


4. Sift in the dry ingredients to the cake batter. Whisk until the batter is smooth. Set aside


5. Preheat your oven to 330 F (165 C). Place the oven rack 3rd from the top (or middle of the oven)
Place the egg whites in a clean bowl. Beat the egg whites on medium speed until frothy, add cream of tartar or lemon juice/vinegar


6. Whip until it turns whitish. Gradually add the sugar as you beat


7. I beat them on high speed (speed 6 on Kitchen Aid) until you get a stiff peak. Stop once you reach a stiff peak. You will know you get to the stiff peak when you hold your whisk up and your meringue holds its shape. If you turn the bowl upside down, it won't drip. Do not overbeat the meringue or it will separate and break


8. Gently fold in 1/3 of the meringue into the thick batter. Using a rubber spatula or a balloon whisk, swipe from the side and gently fold over to mix and then continue. Repeat this motion several rounds


9. Continue on with the second 1/3 of the meringue again to mix.


10. Continue to do this until you are done with the meringue and the batter and meringue are nicely mixed


11. Fold the chocolate chips into the batter and using the swipe and fold method again to combine them. Make sure to work gently but quickly so you won't deflate the meringue too much


12. Pour the batter into an UNGREASED chiffon cake pan. Use a rubber spatula to smooth the surface. Gently drop the cake pan from about 10 cm height on the counter 2-3 times. This helps to pop large bubbles inside the cake batter. You can also use a skewer to run through the cake to pop any large bubbles inside the batter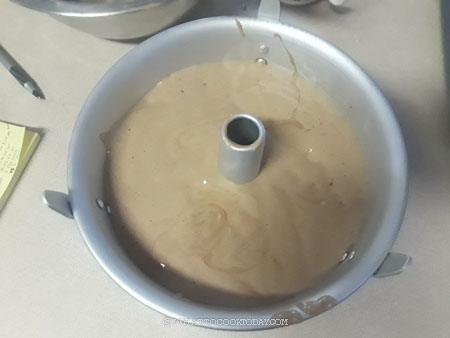 13. Pop into the oven and let it bake at 330 F for 50 minutes (for 8-inch chiffon cake), see my post above for more details on cooking time for a different size). DO NOT open your oven door at least for the first 30 minutes of baking or you will deflate the cake. Then lower the heat to 300 F (150 C) and bake for another 10-15 minutes or until the toothpick inserted into the middle of the cake comes out clean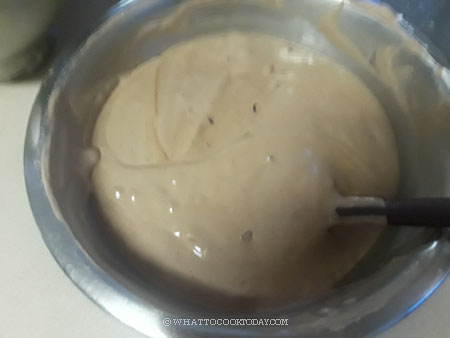 14. Once out of the oven, drop the cake pan from about 10 cm height on the counter several times to prevent shrinkage. Then carefully invert the pan upside down. Your chiffon pan may have little stands for you to invert

Baking temperature and time for different chiffon tube pan sizes
The baking temperature below is for conventional oven. If you have a convection oven, lower the temperature by 20 F (15 C).
For 6-inch chiffon cake: 330 F (165 C) for 35-40 minutes, then lower temperature to 300 F (150 C) for 5-10 minutes
For 7-inch chiffon cake: 330 F (165 C) for 40-45 minutes, then lower temperature to 300 F (150 C) for 5-10 minutes
For 8-inch chiffon cake: 330 F (165 C) for 45-50 minutes, then lower temperature to 300 F (150 C) for 10-15 minutes
For 9-inch chiffon cake: 330 F (165 C) for 50-55 minutes, then lower temperature to 300 F (150 C) for 10-15 minutes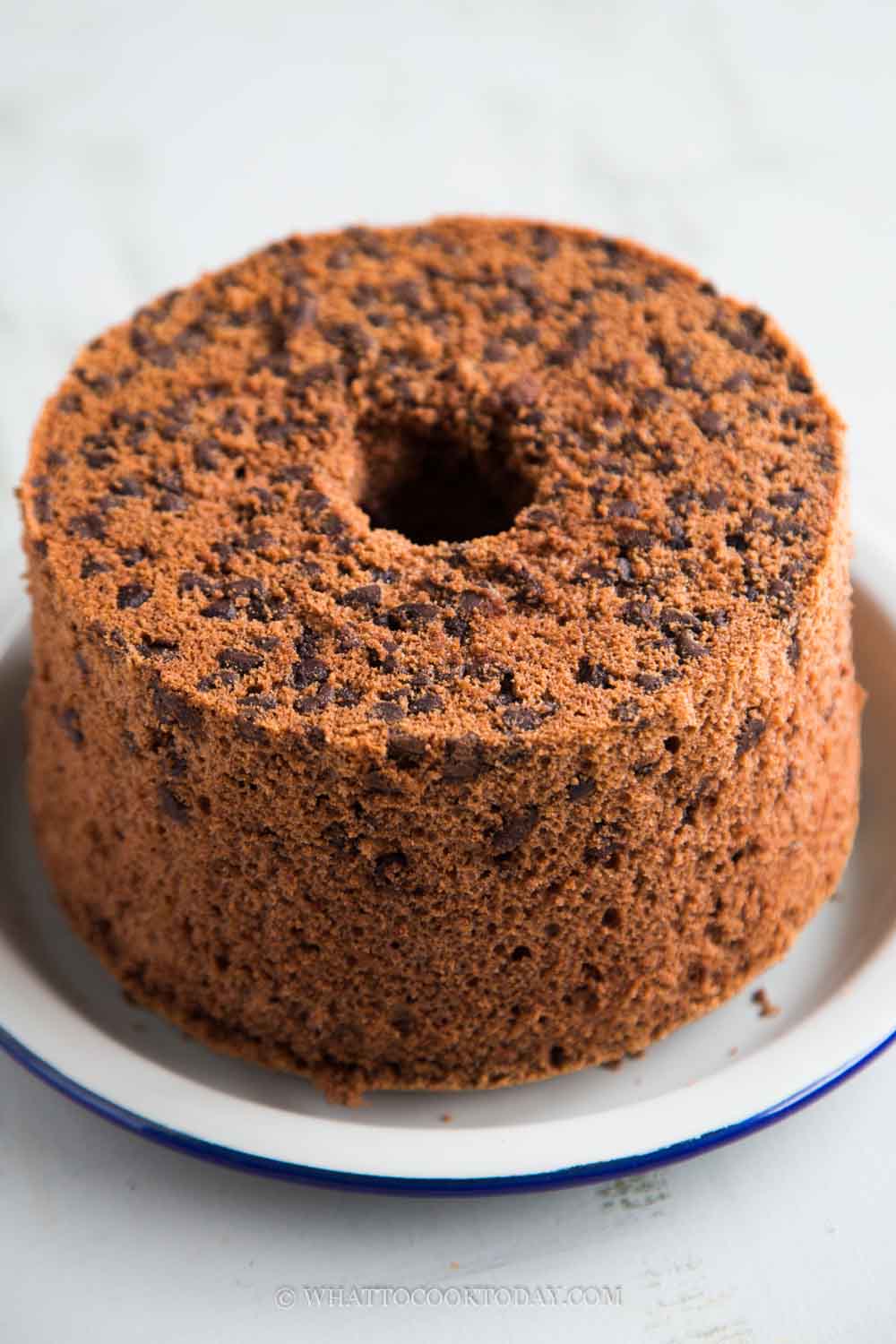 Did you make this soft fluffy double chocolate chiffon cake recipe?
I love it when you guys snap a photo and tag to show me what you've made 🙂 Simply tag me @WhatToCookToday #WhatToCookToday on Instagram and I'll be sure to stop by and take a peek for real!

Soft and Fluffy Double Chocolate Chiffon Cake
Ingredients
Instructions
Make sure your chiffon cake pan does not have a non-stick coating or your cake will not rise. The cake needs to cling to the side of the pan to rise tall

Before you start making the recipe, make sure eggs and milk are at room temperature. Get them out from the fridge 20-30 minutes and let them sit at room temperature before you plan to start working on this

Coat the chocolate chips with some all-purpose flour. This will help the chocolate to float in the batter. Strain off any excess flour. Set aside
Prepare cake batter:
Separate the egg yolks from the white. The meringue whips better at room temperature

In a separate bowl, whisk the egg yolks with sugar, milk, cooking oil, vanilla extract, cocoa powder. Sift in the dry ingredients to the cake batter. Whisk until the batter is smooth. Set aside
Whipping the meringue:
Preheat your oven to 330 F (165 C) for conventional oven. 310 F (150 C) for convection oven. Place the oven rack 3rd from the top (or middle of the oven)

Place the egg whites in a clean bowl. You will have trouble whipping your meringue if there's a trace of grease in your utensils or bowls. Beat the egg whites on medium speed until frothy, add cream of tartar or lemon juice/vinegar and whip until it turns whitish. Gradually add the sugar as you beat. I beat them on high speed (speed 6 on Kitchen Aid) until you get a stiff peak. Stop once you reach a stiff peak. You will know you get to the stiff peak when you hold your whisk up and your meringue holds its shape. If you turn the bowl upside down, it won't drip. Do not overbeat the meringue or it will separate and break
Fold meringue into the cake batter:
Gently fold in 1/3 of the meringue into the thick batter. Using a rubber spatula or a balloon whisk, swipe from the side and gently fold over to mix and then continue. Repeat this motion several rounds. Continue on with the second 1/3  of the meringue again to mix. Continue to do this until you are done with the meringue and the batter and meringue are nicely mixed
Fold in the coated chocolate chips:
Fold the chocolate chips into the batter and using the swipe and fold method again to combine them. Make sure to work gently but quickly so you won't deflate the meringue too much
Bake the cake:
Pour the batter into an UNGREASED chiffon cake pan. Use a rubber spatula to smooth the surface. Gently drop the cake pan from about 10 cm height on the counter 2-3 times. This helps to pop large bubbles inside the cake batter. You can also use a skewer to run through the cake to pop any large bubbles inside the batter

Pop into the oven and let it bake for 50 minutes (for 8-inch chiffon cake), see my post above for more details on cooking time for a different size). DO NOT open your oven door at least for the first 30 minutes of baking or you will deflate the cake. Then lower the heat to 300 F (150 C) and bake for another 10-15 minutes or until the toothpick inserted into the middle of the cake comes out clean.

Don't be alarm if your cake has some cracks on top. What you are looking at will become the bottom of your cake
Invert to cool down immediately:
Once out of the oven, drop the cake pan from about 10 cm height on the counter several times to prevent shrinkage. Then carefully invert the pan upside down. Your chiffon pan may have little stands for you to invert

Please don't be tempted to remove the cake from the pan if it's still warm. It takes about one to two hours to cool down completely

Once it's cool down completely, use a spatula knife to run through the edge and the outer center of the tube to help release the cake. Gently push the base to lift the cake out. Use the knife again to run through the base of the pan and then carefully release the cake. The cake actually tastes the best the next day onwards if you have the patience to wait 🙂 The flavor develops further and the cake is so much more moister
Storage:
The cake can be kept in an air-tight container at room temperature for 3 days then store in the fridge for no more than a week. The longer you keep in the fridge, the drier it gets