Roasted peanuts are coated with a crispy layer of seasonings and flour mixture make for a perfect munching snack.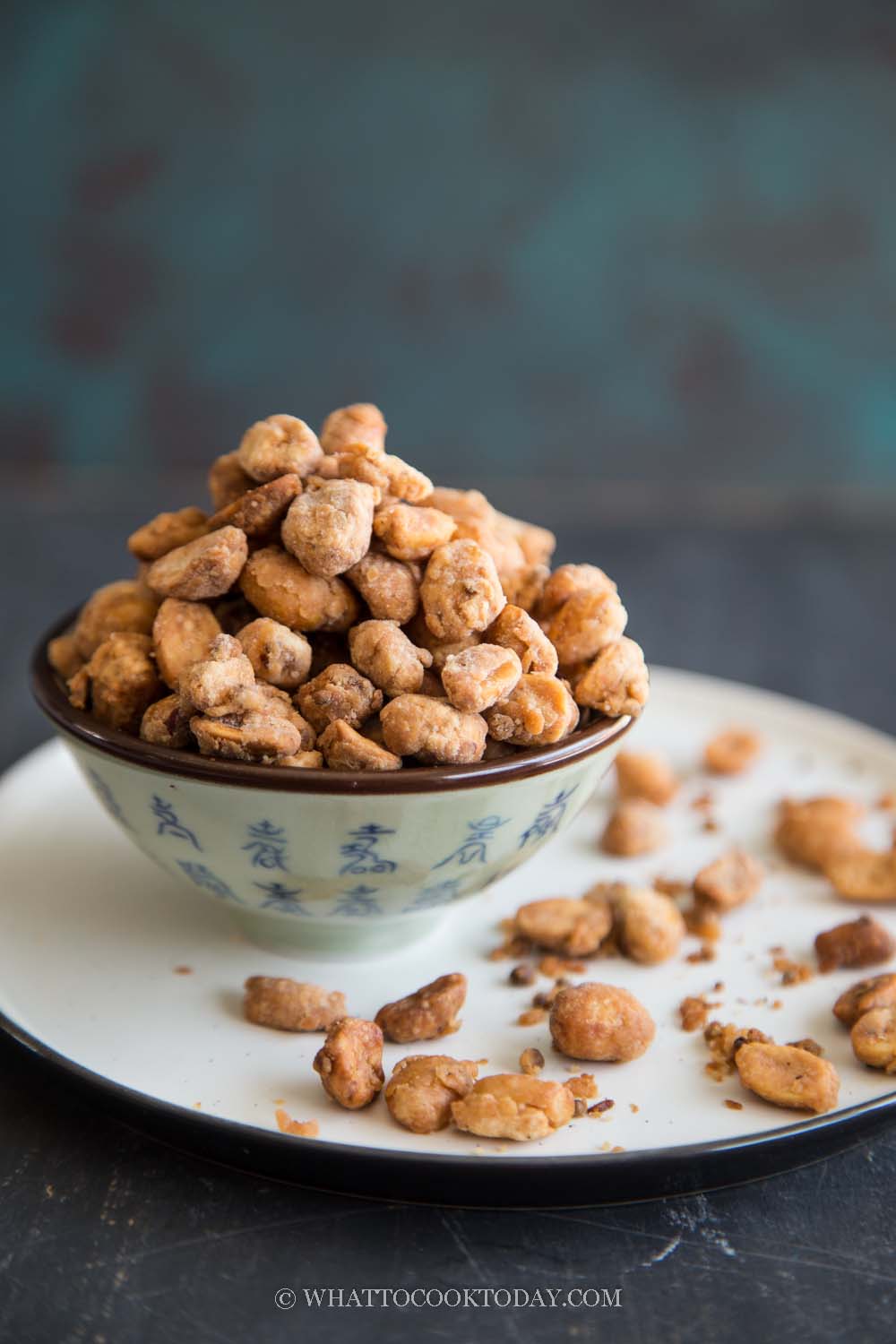 The other day mom showed me a photo of this kacang goreng tepung or what we call kacang disco Bali in Medan, that she bought from the market. She usually just called it kacang Bali. Immediately it made me feel so nostalgic. I grew up munching this snack as a kid, especially during celebrations like Chinese New Year, when my mom often stocked this as one of the snacks for guests (and us) to munch on when they came over to visit. So, I haven't had this kacang goreng tepung for probably close to 20 years? yes, it's been a while, yet I remember the taste and texture so vividly to this date!
Kacang goreng means fried peanuts and salut roughly means "covered/coated" and tepung means flour/starch in general. This is more of what they call this type of fried peanuts in Malaysia and Singapore. It gets its name kacang disco because of the layer of flour coating that gives its irregular shape, as if once performing a disco dance (what a name I know!)
The recipe rundown
Taste: Savory with some sweetness and aromatic from the spices
Texture: Crunchy
Level: Medium
Pros: This is a much-simplified version without using whole eggs and coconut milk but still tasty one
Cons: A high-calorie snack for sure 🙂
Ingredients
1. Peanuts
Use shelled and skinless peanuts and roast them for the best result. I just bought store-bought shelled unsalted roasted peanuts. Save me lots of time not having to shell and remove the skin of the peanuts myself
2. Egg white
The egg white is used as a "binder" between the peanuts, the aromatics, and the flour mixture. Many recipes call for using the whole egg, but I prefer using just egg white because the peanuts stay crispy much longer
3. Garlic
I use finely minced garlic. You can grate the garlic using a Microplane too
4. Five-spice powder
I feel like the five-spice powder gives a nice combination of aromas to the nuts. You can use other spices like coriander powder and also herbs like kaffir lime leaves, etc
5. Sugar
I use granulated sugar. The sugar actually adds a nice sweetness to balance the savoriness. A nice combo of savory sweet
6. Salt
7. All-purpose flour
All-purpose flour has medium-gluten content
8. Tapioca starch
The addition of tapioca starch add that extra crunch to the finished product
How to make kacang goreng salut tepung (kacang disco Bali)
1. I use store-bought shelled roasted peanuts. If you use raw peanuts, please roast them on a dry pan for 10-15 minutes over medium heat until aromatic. You can also roast them in the oven at 350 F for 10-15 minutes. Set aside to cool down completely


2. Beat egg white with a fork until frothy. Add the minced/grated garlic and mix again.


3. Stir in the roasted peanuts and stir to combine everything


4. In a separate bowl whisk all the ingredients together to mix


5. Add this to the peanut mixture


6. Stir to make sure the flour mixture is coating the nuts and the nuts are not clumping together


7. Preheat about 2 inches of oil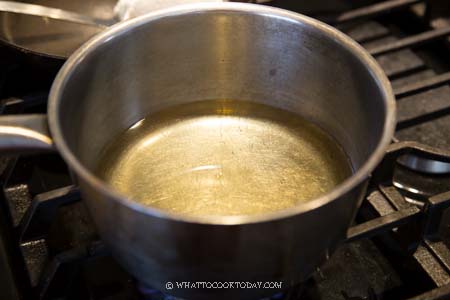 8. When you dip a skewer or chopstick into the oil, there are bubbles around it, the oil is hot enough for frying. Lower the heat to medium-low. It's important not to fry on high heat or the coating will get burn before it has a chance to get crispy and dry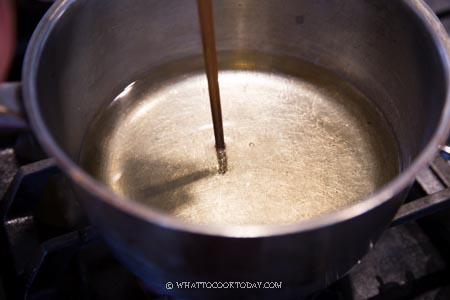 9. Fry in small batches. Let them fry undisturbed for few seconds and then gently separate any peanuts that clump together if you see any. Continue to fry over medium heat until they are light golden brown


10. Remove to an absorbent paper towel and let them cool down completely before storing in an air-tight container or jar. They should stay crispy for a week or so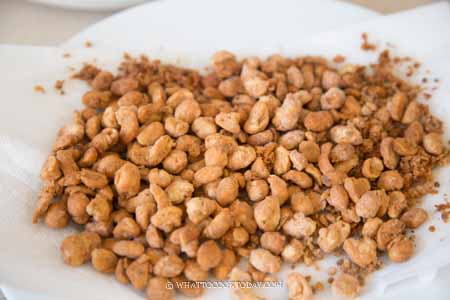 Tips for success
1. Make sure you coat the peanuts well with the egg whites and gently coat them with flour mixture and separate any clumps so you won't have like 10 peanuts clump together when you fry
2. Make sure the oil is hot enough before frying, but lower the heat to medium-low and fry the peanuts at this heat level to prevent the flour coating from getting burnt on the outside but still wet inside
3. Fry in small batches will give you a good result

Variations
1. Make it spicy: you can add chili powder or finely chopped and seeded bird's eye chili
2. Add other spices and herbs of your choice: You can also add some grated galangal (or galangal powder), coriander powder, or curry leaves, etc
3. Other flavors: In Bali, there are other varieties with cheese or dried shrimp added

Did you make this kacang goreng salut tepung recipe?
I love it when you guys snap a photo and tag to show me what you've made 🙂 Simply tag me @WhatToCookToday #WhatToCookToday on Instagram and I'll be sure to stop by and take a peek for real!

Kacang Goreng Salut Tepung (Kacang Disco)
Ingredients
200

gr

peanuts

shelled, skinless, and roasted

30

gr

egg white

from 1 large egg

2

cloves

garlic

finely minced/grated
Instructions
I use store-bought shelled roasted peanuts. If you use raw peanuts, please roast them on a dry pan for 10-15 minutes over medium heat until aromatic. You can also roast them in the oven at 350 F for 10-15 minutes. Set aside to cool down completely

Beat egg white with a fork until frothy. Add the minced/grated garlic and mix again. Stir in the roasted peanuts and stir to combine everything

In a separate bowl whisk all the ingredients together to mix. Add this to the peanut mixture and stir to make sure the flour mixture is coating the nuts and the nuts are not clumping together
Deep-frying:
Preheat about 2 inches of oil. When you dip a skewer or chopstick into the oil, there are bubbles around it, the oil is hot enough for frying. Lower the heat to medium-low. It's important not to fry on high heat or the coating will get burn before it has a chance to get crispy and dry

Fry in small batches. Let them fry undisturbed for few seconds and then gently separate any peanuts that clump together if you see any. Continue to fry over medium heat until they are light golden brown

Remove to an absorbent paper towel and let them cool down completely before storing in an air-tight container or jar. They should stay crispy for a week or so
Recommended products: