Nyonya or Peranakan style of braising pork in seasonings, aromatics, and fermented soybean sauce. The recipe can be made with a pressure cooker, slow cooker, or on the stove.
I have been watching the remade of The little Nyonya show and both my husband and I were salivating with the sight of the Nyonya kuih and cooking. One of the character in the show loves babi pongteh and the mention of it reminds me that I haven't made babi pongteh for a while. Babi pongteh is one of my favorite Peranakan dishes. In Medan, we have a similar dish to babi pongteh that we call tau yu bak. My mom made it so often that it has become my go-to dish whenever I'm not sure what to cook to feed the family.
The recipe rundown
Taste: Savory and umami with just a hint of sweetness
Texture: Soft and tender pork belly with mixture of pork butt/shoulder
Level: Easy
Pros: This can be made in big batch and tastes even better the next day
HOW NYONYA BABI PONGTEH IS MADE
The pork is usually braised slowly in seasonings aromatics and one savory umami ingredients, fermented soy bean sauce (similar to the Japanese Miso if I can say that), which makes it incredibly flavorful. It's very similar to how I make this Chinese Braised Pork Belly (Kong Bak). The final taste is savory with hint of sweetness. So good. My kids LOVE babi pongteh a lot!
WHICH CUT OF PORK TO USE
For juicy and tender results, I highly recommend a mixture of pork belly and pork butt. I would steer clear from pork loin as it is too lean. Sometimes my mom will make it using just pork butt too, but the addition of pork belly sure adds an extra flavor. I won't use all pork belly because it's too greasy
MY FAVORITE WAY OF COOKING BABI PONGTEH
Before I own Instant Pot, I would cook it mostly with a slow cooker or on the stove. Enter Instant Pot electric pressure cooker and I have put my slow cooker to retirement! Using a pressure cooker is definitely my favorite way to cook tau yu bak. The pork is tender and juicy and I can pretty much set and forget. It's a bit faster compare to cooking on the stove and much more convenient too. So if you have been thinking about getting an Instant Pot, I will tell you that it worths the investment. I can't live without it anymore (and I'm not paid to say this either LOL!)
HOW TO MAKE BABI PONGTEH WITH PRESSURE COOKER
1. Press saute on Instant Pot and when it's hot, add chopped shallots, garlic, and ginger and saute until fragrant, about 3 minutes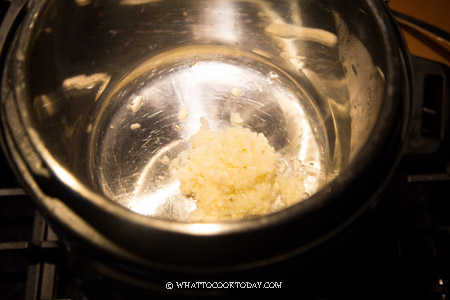 2. Add the pork followed by seasonings and the rest of the aromatics. Stir to mix everything.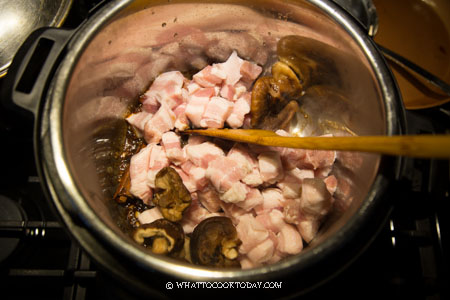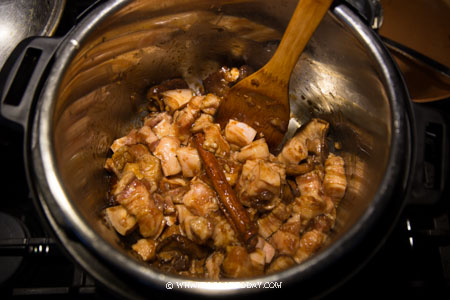 3. Pour in the liquid from soaking the mushrooms to deglaze the pot. Scrape the bottom to make sure nothing gets stuck. Top up with water if necessary, just enough to barely cover the pork. Add hard-boiled eggs if using (I didn't this round). Turn off saute mode


4. Close the lid. Press "pressure cooker" and make sure it's on "high pressure". Set the timer to 30 minutes. Turn the steam release valve to "sealing"


5. When the time is up, release pressure immediately, add chunks of potatoes. Turn the saute mode back on and let the potatoes cooked until soft, but not mushy. Adjust seasonings to your taste

POSSIBLE VARIATIONS
Use different meat: You can use boneless skinless chicken meat like thighs cut into bite-size (I won't recommend using breast) and pressure cook on high for 6 minutes or use bone-in skin-on drumsticks and pressure cook on high for 10 minutes, and about 15 minutes for bone-in skin-on chicken thighs.
Add canned bamboo shoots: Parboil the bamboo shoots for 5 minutes and then drain off the water
My kids would ask "What's that wonderful smell mom?" They get really excited whenever they see tau yu bak is being served for dinner 😉

DID YOU MAKE THIS BABI PONGTEH RECIPE?
I love it when you guys snap a photo and tag to show me what you've made 🙂 Simply tag me @WhatToCookToday #WhatToCookToday on Instagram and I'll be sure to stop by and take a peek for real!

Pressure Cooker Babi Pongteh (Peranakan Braised Pork in Fermented Bean Sauce)
Ingredients
Aromatics:
100

gr

shallots

peeled, finely chopped

50

gr

garlic

peeled, finely chopped

2

cm

fresh ginger

1

stick

cinnamon
Optional add-ons:
400

gr

potatoes

peeled and quartered

6

hard-boiled eggs

optional
Instructions
Parboil the pork:
Cut the pork into bite-size. Bring a large pot of water to a boil and then boil the pork for about 5 minutes and then discard the water and rinse the pork with clean water
Prepare the aromatics and mushrooms:
Place shallots, garlic, and ginger in a food processor and finely chopped them. Set aside. Soak the shiitake mushrooms in hot water for 15 minutes or until they are softened. Keep the liquid
If using Instant Pot pressure cooker:
Mix all ingredients for seasonings and set aside. Press saute and when it says "hot", add cooking oil. Add the chopped shallots, garlic, and ginger in there and saute until fragrant, about 3 minutes

Add the pork followed by seasonings. Stir to mix everything. Pour in the liquid from soaking the mushrooms and top up with water if necessary, just enough to barely cover the pork. Scrape the bottom of the pot to make sure nothing gets stuck. Add hard-boiled eggs. Turn off saute mode

Close the lid. Press "pressure cooker" and make sure it's on "high pressure". Set the timer to 30 minutes. Turn the steam release valve to "sealing". It will take about 10 minutes or maybe less to pressurize

When the time is up, release pressure immediately, add chunks of potatoes. Turn the saute mode back on and let the potatoes cooked until soft, but not mushy. Adjust seasonings to your taste
If cooking on the stove:
Preheat a dutch oven. Add cooking oil. Add the chopped shallots, garlic, and ginger in there and saute until fragrant, about 3 minutes

Add the pork followed by seasonings. Stir to mix everything. Pour in the liquid from soaking the mushrooms to deglaze the pot and top up with water if necessary, just enough to barely cover the pork. Add hard-boiled eggs. Bring to a boil and then lower the heat to let it gently simmer for the next 1 hour or until the pork is fork-tender. 15 minutes before the end of cooking time, add the potatoes and cook until soft but not mushy. Adjust seasonings to your taste
If cooking with a slow cooker:
Preheat a dutch oven. Add cooking oil. Add the chopped shallots, garlic, and ginger in there and saute until fragrant, about 3 minutes. You can skip this step if you want to without stir-frying the spices, but I feel like it adds extra flavor to the overall dish

Transfer to a slow cooker. Add the pork, seasonings, and the rest of the aromatics. Pour the liquid from soaking mushrooms and top up with some water if needed to barely cover the pork. Cook on low for 4 hours or until the pork is really tender. Adjust seasonings to your taste. The end result should be savory with hint of sweetness
Serving:
Serve babi pongteh with some rice as part of multi-course meal
Recommended products: