Pork belly is pressure cooked with Instant Pot in aromatic spices and soy sauce to give you that melt-in-the-mouth meat that you can later turn into kong bak pau or for other use.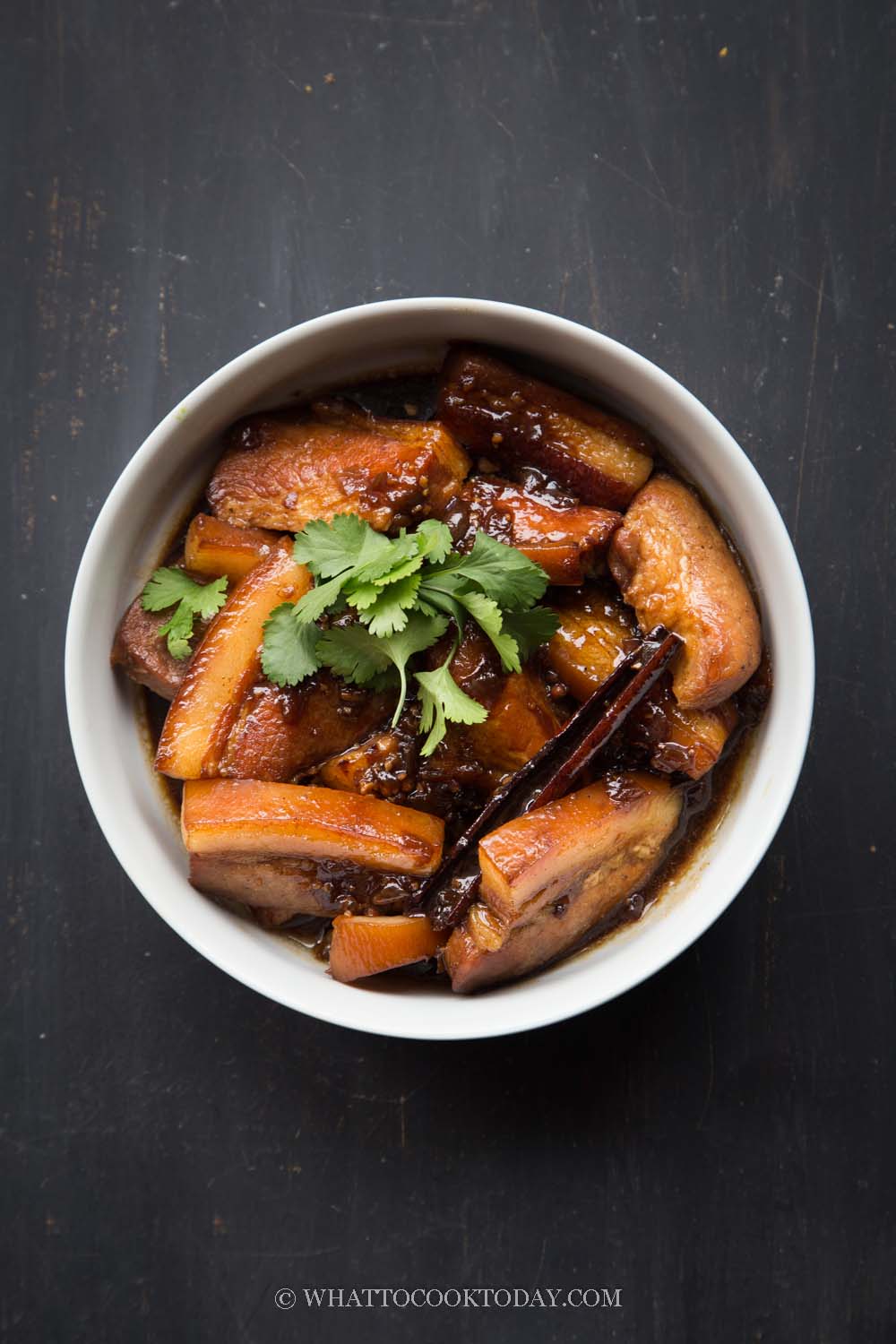 KONG TAU YU BAK
The talk about pork belly gets my kids' eyes wide open. They LOVE pork belly. This piece of meat probably gets the most loves in our household 🙂 I grew up with my mom's braised pork belly dish that we usually called kong bak or kung bak or kong tau yu bak in Hokkien, which means braised pork in soy sauce. The pork are usually cut into smaller pieces and then braised in soy sauce and other aromatics, potatoes and hard-boiled eggs, similar to what the Vietnamese call Thit Kho Tau. The golden brown color in this kong bak is achieved by braising the meat in soy sauce and dark soy sauce and not from caramelizing sugar like in the Vietnamese Thit Kho.
This time I'm making this kong bak to accompany the momofuku flat steamed buns to make kong bak pau or translated to braised pork steamed buns/slider.
SPECIAL INGREDIENTS
1. Chinese rock sugar
They look like crystal rocks. Sometimes known as rock sugar or bing tang in Mandarin. The Chinese likes to use rock sugar to sweeten the drinks, dessert, and in cooking. It's not as sweet as regular sugar and it's a nice addition to this dish because it has that subtle sweetness
Substitution: Regular granulated sugar

2. Dark soy sauce
You may be familiar with regular soy sauce, or sometimes known as light soy sauce. Dark soy sauce is usually added to add that dark caramel color to the overall dish. In Indonesia, this is usually kecap manis. But Chinese dark soy sauce isn't as sweet compared to kecap manis. The texture is thicker and less salty compared to regular soy sauce.
I LIKE TO USE INSTANT POT PRESSURE COOKER TO PRESSURE COOK PORK BELLY(not sponsored)
The meat is tender without breaking apart and instant pot may not be "instant" like you think, but I really like the convenience of it. I feel safe using the pressure cooker feature, which I never felt that way with a regular pressure cooker. The pork belly really tastes like it has been braised the traditional way on stove-top!
HOW TO MAKE PRESSURE COOKER KONG BAK
1. You can leave the pork belly in one whole piece or cut into 1-inch thick slices. I don't want to cut them too thin as they may fall apart during pressure cooking. I prefer to have one piece of kong bak to make kong bak bao, but if you don't mind shredded pork, then you can cut the pork belly into smaller pieces


2. Pat the pork belly dry with an absorbent paper towel. Add the marinade seasonings and rub them into the pork belly all over. Let it marinade for about 15 minutes at room temperature or you can do it overnight in the fridge too


3. Searing the meat help to keep the meat moist


4. You can sear the meat in Instant pot by pressing saute and then once it's hot, add about 1 tbsp of cooking oil and sear the meat until golden brown on both sides. Do this in batches as they may not brown properly if it's too crowded


5. Remove the seared meat from the pot


6. Add another tablespoon of oil and saute the onion, garlic, star anise, white peppercorn, rock sugar and cinnamon for about 5 minutes


7. There will be some caramelization stuck at the bottom of the pot. Deglaze the pot by adding 2 Tbsp of Shaoxing wine and use the spatula to scrape the bottom of the pot to make sure nothing gets stuck on the bottom of the pot


8. Add the seared pork belly followed by seasonings


9. Stir to combine. Turn off the saute mode. Notice that no water or any liquid need to be added. There will be some juices from cooking the pork later


10. Cover the lid, turn the pressure release valve to "sealing", set the pressure cooker timer to 15 minutes and then natural release (about 10 minutes). If you keep the pork belly whole in one piece, set the timer to 30 minutes if you want to use it for kong bak pao. If you want to shred the meat, set it to 45 minutes


11. Once the pressure valve has collapsed, unlock the lid and transfer the pork belly slices to a plate and wait for 10 minutes before slicing. After 10 minutes, you can cut the thick slices into thinner slices if you prefer or shred the meat if that's what you prefer


12. Turn on saute mode again and reduce the sauce in the inner pot slightly. Let it simmer for about 5 minutes. Save the sauce if serving with kong bak bao. If serving it as a meal, pour the sauce over the sliced pork belly

WHAT TO SERVE WITH THIS KONG TAU YU BAK
1. KONG BAK PAU. Sandwich that slice of pork belly in between this Momofuku Style Flat Steamed Buns
2. PORK BELLY TACO. Shred the meat for your taco..pork belly taco? ring any bell?
2. SOMEN NOODLE WITH PAN-FRIED PORK BELLY. Lightly pan fry the slices of pork belly and served it with noodle such as this somen noodle with pan-fried pork belly
4. CHASU RAMEN. Serve it with ramen noodles. This soy sauce braised pork belly is very similar to the Japanese Chasu.
5. PORK BELLY SALAD
Serve these slices of braised pork belly (or even pan fried them a bit) and served with some spring mix
6. PORK BELLY CONGEE
Serve this with a bowl of plain rice porridge (congee)
The family loves this pressure cooker soy sauce braised pork belly so much. Even my daughter who is not much of a meat-eater gave her thumbs UP!
WHAT ELSE CAN I COOK WITH PORK BELLY?
I got 10 lbs of pork belly from Costco and I portion them out into 4 and freeze. You can make these with pork belly:
HAKKA KAU YUK (PORK BELLY AND TARO)


SOMEN NOODLE SOUP WITH PAN-FRIED PORK BELLY


THE EASIEST CRISPY SIO BAK / SIU YUK / ROASTED PORK BELLY WITH CRACKLINGS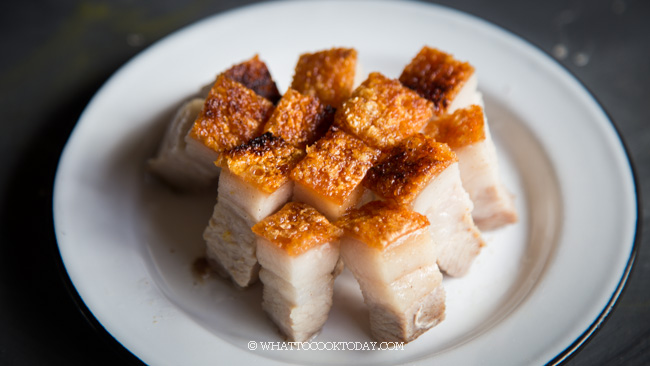 DID YOU MAKE THIS PRESSURE COOKER KONG BAK RECIPE?
I love it when you guys snap a photo and tag to show me what you've made 🙂 Simply tag me @WhatToCookToday #WhatToCookToday on Instagram and I'll be sure to stop by and take a peek for real!

*Recipe is written for 6-quart Instant Pot. Cooking time should remain the same for 8-quart size but will take longer to pressurize. For mini duo (3-quart), I recommend to half the recipe and use the same amount of time to cook*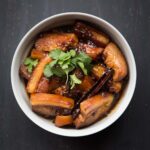 Pressure Cooker Kong Bak (Chinese Braised Pork Belly)
Ingredients
1

kg

pork belly with skin

2

Tbsp

cooking oil

divided

2

Tbsp

shaoxing wine
Aromatics:
1

large

onion

peeled and diced

5

cloves

garlic

peeled and minced

1

large

cinnamon stick

1

Tbsp

white peppercorns
Optional:
Cilantro leaves for garnish
Instructions
You can leave the pork belly in one whole piece or cut into 1-inch thick slices, or into cubes. It really depends on what you plan to use it for. If you plan to use it for kong bak bao, I prefer one bigger slice, but of course you can make kong bak bao with cube-size meat

Pat the pork belly dry with an absorbent paper towel. Add the marinade seasonings and rub them into the pork belly all over. Let it marinade for about 15 minutes at room temperature or you can do it overnight in the fridge too
Cooking with Instant pot:
If you cut your pork belly into bigger thicker slice, searing the meat help to keep the meat moist. You can sear the meat in Instant pot by pressing saute and then once it's hot, add about 1 tbsp of cooking oil and sear the meat until golden brown all over. Do this in batches as they may not brown properly if it's too crowded. If you cut the pork belly into cube size, you can skip searing the meat and proceed to the next step

Remove the seared meat from the pot. Add another tablespoon of oil and saute the onion, garlic, star anise, white peppercorn, rock sugar and cinnamon for about 5 minutes. There will be some caramelization stuck at the bottom of the pot. Deglaze the pot by adding 2 Tbsp of Shaoxing wine and use the spatula to scrape the bottom of the pot to make sure nothing gets stuck on the bottom of the pot

Add the seared pork belly followed by seasonings and stir to combine. Turn off the saute mode. Notice that no water or any liquid need to be added. There will be some juices from cooking the pork later

Cover the lid, turn the pressure release valve to "sealing", set the pressure cooker timer to 15 minutes and then natural release (about 10 minutes) for a 1-inch thick slices. If you keep the pork belly whole in one piece, set the timer to 30 minutes if you want to use it for kong bak pao. If you want to shred the meat, set it to 45 minutes. For cube size meat, set the timer to 15 minutes and then you can do quick release

Once the pressure valve has collapsed, unlock the lid and transfer the pork belly slices to a plate and wait for 10 minutes before slicing (for bigger thicker slice). After 10 minutes, you can cut the thick slices into thinner slices if you prefer

Turn on saute mode again and reduce the sauce in the inner pot slightly. Let it simmer for about 5 minutes. Save the sauce if serving with kong bak bao. If serving it as a meal, pour the sauce over the sliced pork belly
Cooking on stove-top:
If you cut the pork belly into cube size, you can skip searing the meat and proceed to the next step. Searing the meat help to keep the meat moist. Preheat your heavy-bottom pot .Add about 1 tbsp of cooking oil and sear the meat until golden brown all over. Do this in batches as they may not brown properly if it's too crowded

Remove the seared meat from the pot. Add another tablespoon of oil and saute the onion, garlic, star anise, white peppercorn, rock sugar and cinnamon for about 5 minutes. There will be some caramelization stuck at the bottom of the pot. Deglaze the pot by adding 2 Tbsp of Shaoxing wine and use the spatula to scrape the bottom of the pot to make sure nothing gets stuck on the bottom of the pot

Add the pork belly followed by seasonings and stir to combine. Add some water, just enough to barely cover the meat. Don't add too much as there will be more juice coming from the pork as you cook. Bring it to a boil and then lower the heat and cover with a lid and let it simmer for the next 45 minutes or until the pork is tender but doesn't fall apart if you plan to use this for kong bak bao. If you want to shred the meat, you can cook longer until you can shred the meat easily

Transfer the pork belly slices to a plate and wait for 10 minutes before slicing. After 10 minutes, you can cut the thick slices into thinner slices if you prefer

You can reduce the sauce in the pot slightly by simmering it for another 5 minutes or so. Save the sauce if serving with kong bak bao. If serving it as a meal, pour the sauce over the sliced pork belly
Recommended products:
Nutrition
Serving:
1
serving
|
Calories:
1060
kcal
|
Carbohydrates:
35
g
|
Protein:
18
g
|
Fat:
93
g
|
Saturated Fat:
33
g
|
Polyunsaturated Fat:
11
g
|
Monounsaturated Fat:
44
g
|
Trans Fat:
1
g
|
Cholesterol:
120
mg
|
Sodium:
1063
mg
|
Potassium:
395
mg
|
Fiber:
2
g
|
Sugar:
26
g
|
Vitamin A:
21
IU
|
Vitamin C:
4
mg
|
Calcium:
37
mg
|
Iron:
2
mg