Learn how to make soft and fluffy Momofuku steamed buns (fold over steamed buns) that you can later use to make pork steamed buns.
FOLD OVER STEAMED BUNS
I never heard of Momofuku steamed buns until probably 5 years ago. I've never been to any of the Momofuku restaurants. They are definitely made famous here in the U.S. by Momofuku in NYC. My husband loves their steamed buns. Momofuku pork belly buns to be exact. Unlike the regular steamed buns with fillings stuffed inside the buns, the steamed buns are folded over in half and can be opened and filled up with whatever you want in between like a sandwich.

I used my basic soft and fluffy Asian steamed bun recipe to make this Momofuku steamed buns. I wrote in more details how to make a soft and fluffy steamed bun in that post if you are interested in reading more about it.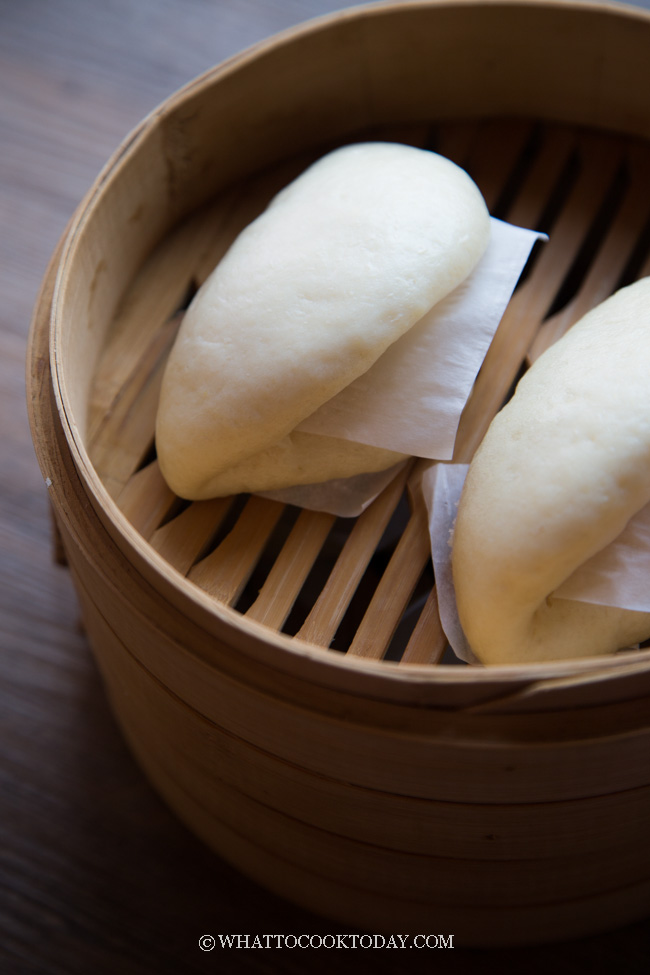 MOMOFUKU FOLD-OVER STEAMED BUNS STEP-BY-STEP MAKING GUIDE
I used my Basic Chinese Steamed Buns Recipe to make this fold-over steamed buns.
1. PREPARE THE DOUGH
Place the flour, instant yeast, sugar, and cooking oil in a mixing bowl. If you are using a stand mixer, use a dough hook attachment. Add cold milk or room temperature water. Add cooking oil. You may need to add more milk/water if the dough is still a bit dry. Add more teaspoon by teaspoon until the dough comes together and continue to knead for 5 minutes. Then add in the salt and continue to knead until the dough is smooth again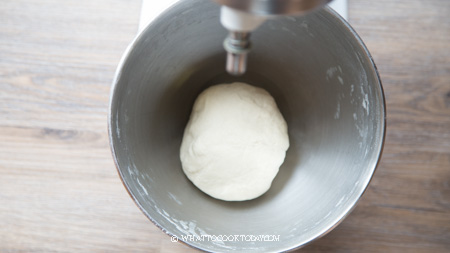 2. SHAPE THE DOUGH
Divide the dough into 10 equal portions. Work with one dough at a time. Pull and tuck the dough from top to bottom so the seams are at the bottom and the surface is relatively smooth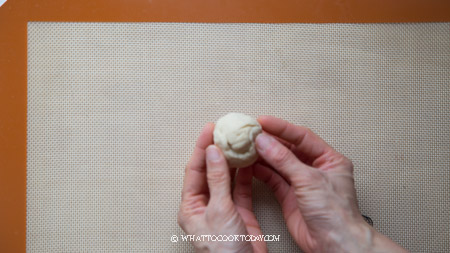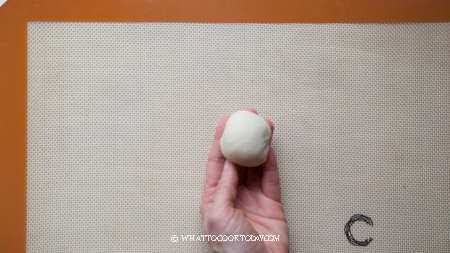 Roll the dough into a smooth round ball in between the palm of your hand or as I did in the video. REALLY make sure the dough is smooth.

Slightly flatten with your palm and roll into a circle or slightly oval, about 1/2-inch in thickness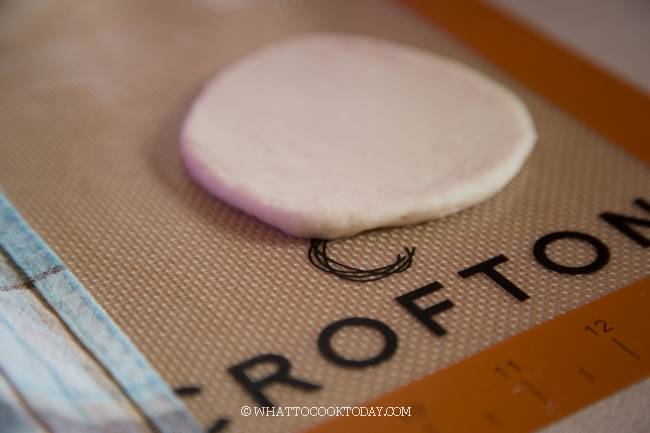 Place the parchment paper on one half of the flattened dough. It's fine too if you choose not to do this step. The folded bun can still be opened without any problem as I showed you in the video.
Fold the other half over to form a half circle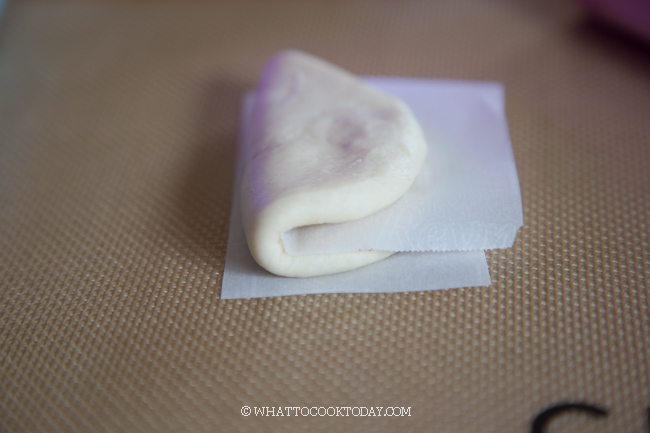 3. PROOF THE DOUGH TO ABOUT 50% ITS ORIGINAL SIZE
Place the shaped buns on a tray cover with a clean cloth and let them proof for about 15-20 minutes to about 50% of its original size. They don't have to double in size. Do not overproof them

4. STEAM THE BUNS
Wrap the lid with a cloth: to prevent water condensation dripping back onto the buns
Bring water to a rolling boil in the steamer and then LOWER the heat to LOW (yes, not high or medium)
5. DO NOT RUSH TO OPEN THE LID
Turn off the heat and let the steamed buns rest for 1 minute before opening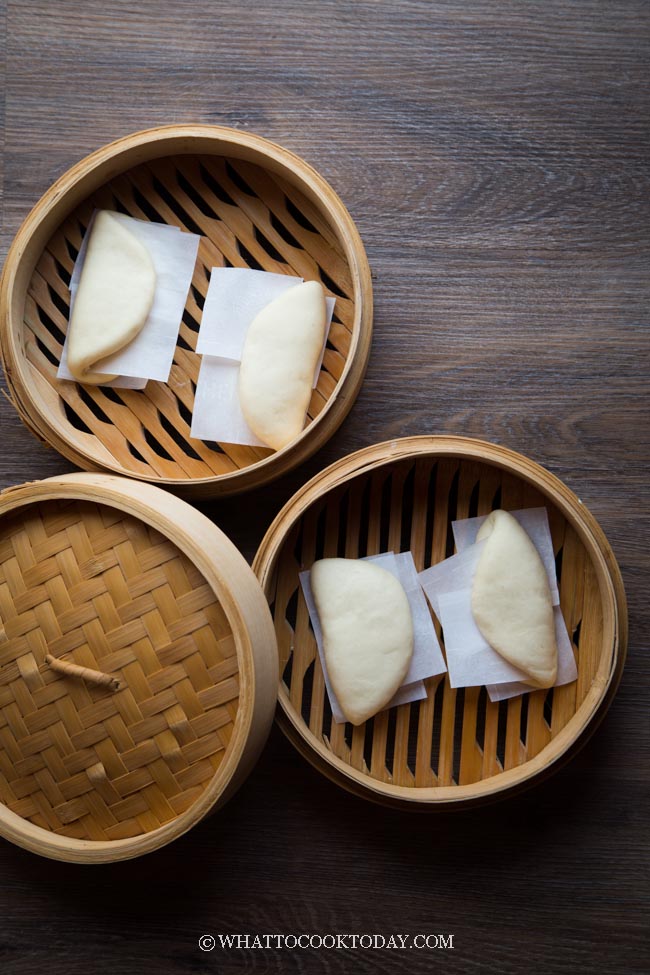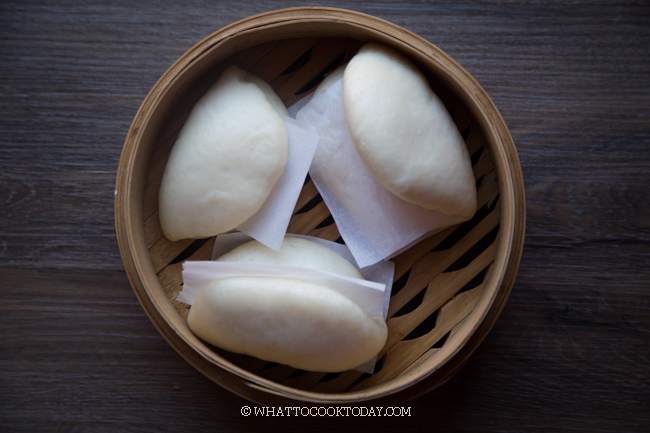 WHAT TO SERVE WITH MOMOFUKU STEAMED BUNS
MOMOFUKU PORK BELLY BUNS
MEAT: 1 thick slice of braised pork belly
VEGGIE: slices of fresh cucumber or pickled mustard greens, chopped green onion
TOPPING: Crushed roasted peanuts

MOMOFUKU CHAR SIU BAO
MEAT: 2-3 thinly sliced char siu
VEGGIE: slices of fresh cucumber, chopped green onion
SAUCE: a drizzle of hoisin sauce, kewpie mayo
What will you sandwich in between this Momofuku steamed buns?

How to Make Momofuku Pork Steamed Buns
Learn how to make soft and fluffy Momofuku steamed buns (fold over steamed buns) that you can later use to make pork steamed buns.
Proofing the dough:
20
minutes
Total Time:
1
hour
25
minutes
PIN RECIPE
PRINT RECIPE
Ingredients
300

gr

cake flour

3

tsp

sugar

divided

4

gr

instant yeast

1/4

tsp

salt

1

Tbsp

cooking oil

150

ml

milk or water to start with

cold or room temperature (NOT warm)
Serve with:
Pressure cooker braised pork belly or Chinese char siu

Slices of fresh cucumber

Crush roasted peanuts
Instructions
Kneading:
Place the flour, instant yeast, sugar in a mixing bowl.

Use a dough attachment hook to knead the dough on medium speed and add the liquid followed by cooking oil and knead until it is smooth and not sticky, about 5 minutes. If you are kneading by hands, you need to knead for around 10 minutes until the dough is really smooth and no longer sticky. Add the salt and knead again until the dough is smooth. The kneading part is very important in yielding that smooth steamed buns

Cover the dough and let it rest for 15 minutes
Shaping:
Divide the dough into 10 equal portions

Keep the dough balls covered to prevent drying out. Work with one dough at a time. Pull and tuck the dough from top to bottom so the seams are at the bottom and the surface is relatively smooth

Flatten the dough ball with your palm and use a small roller to roll it out into an oval shape and then fold the buns over to form a half circle. You can put a parchment paper in between before folding, but it's fine too if you don't
Proofing:
Let the dough rise at room temperature. If it's winter where you are, you can use your oven "bread proof" function to let them proof in there, or simply turn on your oven to lowest temperature and then turn off and after 15 minutes, place the shaped buns in there to let them proof. They won't necessarily double in size, but at least puff up to about 50% of original size. Do not overproof your dough
Steaming:
Most likely your steamer won't be able to accommodate steaming all buns at one go. You may need to steam in 2-3 batches, which means, the rest of the batches will sit longer and continue to proof while waiting for the steamer. Not good for the buns! Here's what you can do: Make sure the cover them with plastic wrap and then place them in the refrigerator to slow down the yeast activity or halt it all together until they are ready to be steamed

Bring the water in your steamer to a boil. Wrap the lid of your steamer with a kitchen towel to prevent moisture dripping back on the steamed buns as this will create "burn" spots

LOWER THE HEAT TO LOW (Yes, I type this in caps so you don't miss it!). Place the buns in there, leaving about 1-inch space in between and steam over low heat for 5 minutes

After 5 minutes, turn off the heat. DO NOT OPEN THE LID of the steamer. Let the buns sit there for 1 minute like this. The buns will not sink or wrinkle due to the sudden change in temperature
Storing:
If you make extra and plan to store them, place them on a baking sheet, not touching each other, and then put the entire tray inside the freezer for about 1 hour. They will harden, but not completely frozen yet. Transfer to a freezer bag and they will not stick to each other anymore. Try not to keep for more than 1 month
Serving suggestion:
Place 2 slices of cucumber on one side of the flat steamed buns. Place 1 slice of braised pork belly or Chinese bbq pork (char siu). My kids like a drizzle of hoisin sauce and kewpie mayo and then top with some crushed roasted peanuts. Garnish with small sprinkle of green onion slices