Whole duck is braised in aromatics and seasonings to give you tender and delicious duck meat you will love. The recipe can be made with a pressure cooker or on the stove.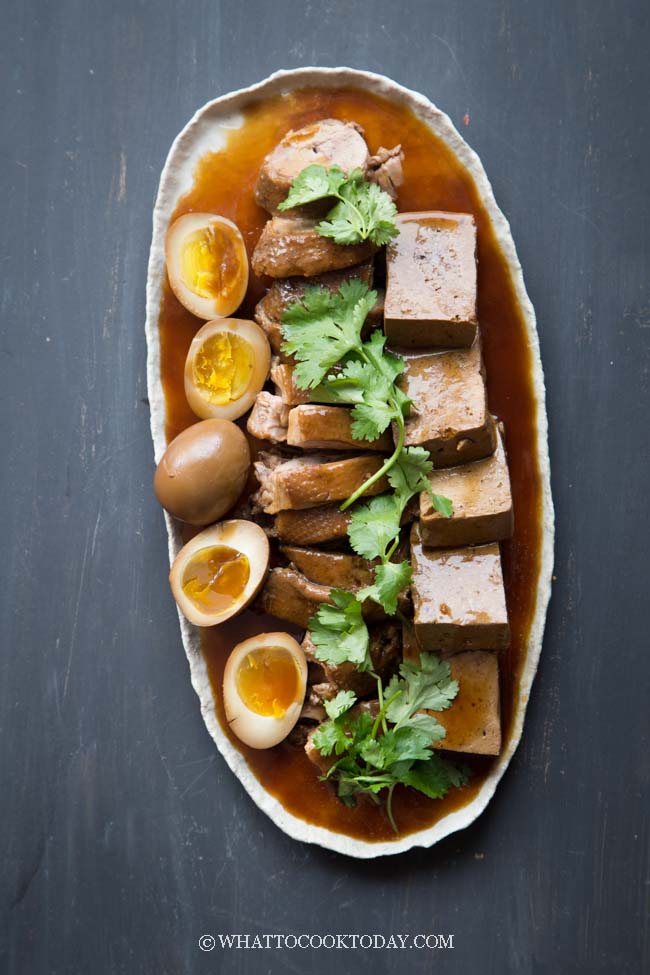 Teochew braised duck is one of my favorite hawker foods when I was in Singapore. I remember the long queue at this hawker center near my workplace and my colleagues and I could hardly ever get a chance to eat it. The braised duck is served with a yummy taro/yam rice. What a treat!! I don't really cook duck that often, but when I do, my two kiddos devour it. It's been a while since I cooked a duck. My kids had been nagging me to cook this Szechuan Fragrant Crispy Duck that they love to order when we go to a Szechuan restaurant. I told them I was going to let them try something new and so I made this Teochew braised duck instead. I should say that I'm blessed with two good eaters who are willing to try just about anything 🙂 They loved this braised duck and the braised tau kwa and eggs.
I didn't make any yam rice though, but we happily ate it with regular plain white rice.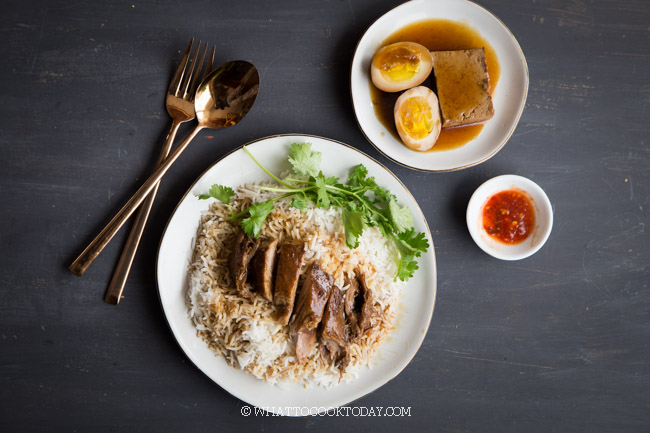 HOW TO MAKE SINGAPORE TEOCHEW BRAISED DUCK
1. Prepare the duck
Trim off any excess fat from the duck. Remove gibblets and neck. Bring a large pot of water to a boil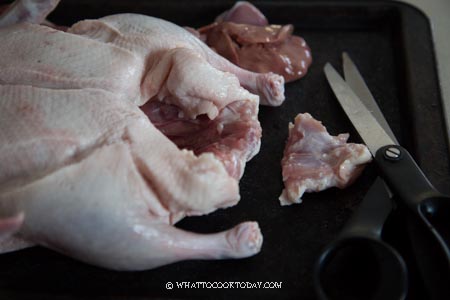 While waiting for water to boil, rub the duck with some salt and marinate for about 15-20 minutes and then wash off the salt


When water is hot boiling, very carefully and gently submerge the duck into the hot water for 5 minutes and then remove and place on a cutting board


Pluck off any visible hair from the skin if you see any


2. Cooking on the stove or pressure cooker
Preheat a large braising pot or wok. Press saute mode on Instant pot. Add cooking oil. Add garlic, shallots, ginger, and galangal and stir fry until aromatic, about 3 minutes or so. Add the rest of the spices followed by the dark soy sauce and regular soy sauce.


Add the duck, doesn't matter breast side up or down in this case. Top up with some water just enough to cover the duck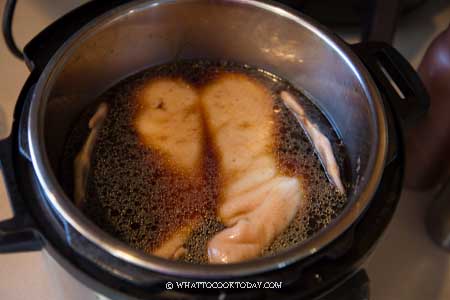 Bring it to a boil and then lower the heat to simmer and cover and let it braise for the next 1 to 1 1/2 hours or until the duck is cooked through. It will take about 40 minutes to pressure cook and 10-15 minutes to release pressure.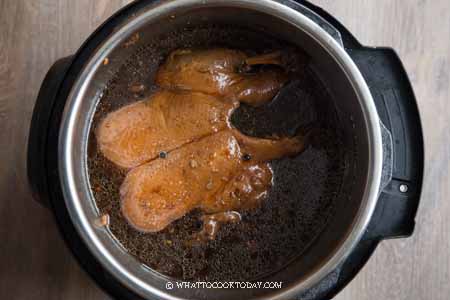 Very carefully remove the duck from the pot or Instant pot. Let it rest on the chopping board or a large plate. Do not cut straight away. Wait for 10 minutes or so.


Proceed to braise tau kwa and boiled eggs if you choose to. Let them braise in a simmering liquid for about 30 minutes. Remove tau kwa and eggs


Strain the liquid and discard the solid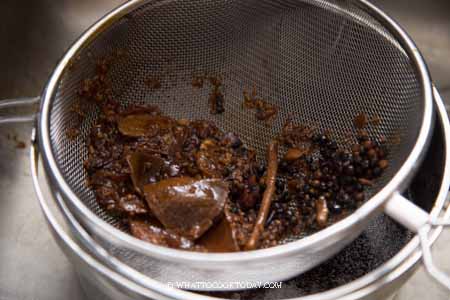 Pour it back into the pot and have a taste and adjust the seasonings to suit your taste. I used only 1/4 of the braising liquid to make the gravy and save the rest for other use. Bring the liquid back to a gentle simmer


Mix tapioca starch with water. Pour it while stirring at the same time and the liquid will start to thicken. You can add more tapioca mixture if you don't think the gravy is thick enough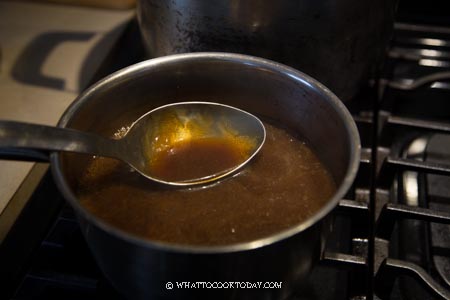 3. Serve
Slice the duck and put on a serving platter along with some braised tau kwa and boiled eggs. Ladle the gravy over and garnish with some fresh cilantro leaves
ADJUST COOKING TIME BASED ON WEIGHT
I use a 5-lb (3 kg) duck in this recipe. I followed Instant Pot Cooking Time Tables for whole duck. You need 10-15 minutes for every 450 grams (1 lb) of duck. So, in my case it's 50 minutes for 5 lbs if I use 10 minutes/lb rule. But I pressure cooked for 40 minutes and then natural release, which took another 10 minutes and it turned out perfect. I don't want to overcook the duck.
WHAT TO DO WITH THE LEFTOVER BRAISING LIQUID
I did not thicken the entire pot of the braising liquid as I think it is a lot of gravy and I don't think we really need that much to serve it with the duck. Like I mention in the recipe card, I only use 1/4 of the liquid and save the rest for other use. You can make Singapore lor mee (braised noodle) with the leftover liquid. You already do half of the work. You only need to braise the pork 🙂
You can also use the liquid to braise some chicken and make this soy sauce chicken noodle (you ji mian)

DID YOU MAKE THIS TEOCHEW BRAISED DUCK RECIPE?
I love it when you guys snap a photo and tag to show me what you've made 🙂 Simply tag me @WhatToCookToday #WhatToCookToday on Instagram and I'll be sure to stop by and take a peek for real!
Singapore Teochew Braised Duck (Lor Ark)
Ingredients
3

kg

whole duck

about 5 lbs

Salt

to rub the duck

4

Tbsp

cooking oil
Spices:
50

gr

galangal

cut into thick slices

50

gr

ginger

cut into thick slices

5

cinnamon sticks

10

cloves

5

dried mandarin peels

1

Tbsp

white peppercorns
Aromatics:
10

cloves

garlic

peeled, leave them whole or minced

5

shallots

peeled and finely chopped
To thicken the braising liquid:
2

Tbsp

tapioca starch + 4 Tbsp water

more or less depending on how thick you want the gravy to be
Optional:
10

hard-boiled eggs

1

block

extra-firm tofu (or tau kwa)

about 450 grams ( 1 lb)
Chili sauce (short-cut version):
3

Tbsp

sambal oelek

I used store-bought. You can use any ground red chili paste

1

tsp

sugar

2

tsp

vinegar

salt

to taste (I don't need any as sambal oelek is seasoned already)
Instructions
Prepare the duck:
Trim off any excess fat from the duck. Remove any giblets or neck for other use. Bring a large pot of water to a boil

While waiting for water to boil, rub the duck with some salt and marinate for about 15-20 minutes and then wash off the salt

When water is hot boiling, very carefully and gently submerge the duck into the hot water for 5 minutes and then remove and place on a cutting board. Pluck off any visible hair from the skin if you see any
Cooking on the stove:
Preheat a large braising pot or wok. Add cooking oil. Add garlic, shallots, ginger, and galangal and stir fry until aromatic, about 3 minutes or so. Add the rest of the spices followed by the dark soy sauce and regular soy sauce. Add the duck, doesn't matter breast side up or down in this case. Top up with some water just enough to cover the duck

Bring it to a boil and then lower the heat to simmer and cover and let it braise for the next 1 to 1 1/2 hours or until the duck is cooked through. Very carefully remove the duck from the pot or Instant pot. Let it rest on the chopping board. Do not cut straight away. Wait for 10 minutes or so. Proceed to braise tau kwa and boiled eggs if you choose to
Cooking with Instant Pot pressure cooker:
Turn on saute mode. When it says "hot", add the cooking oil and add garlic, shallots, ginger, and galangal and stir fry until aromatic, about 3 minutes or so. Add the rest of the spices followed by the dark soy sauce and regular soy sauce. Add the duck, doesn't matter the breast side up or down in this case. Top up with some water just enough to cover the duck

Turn off saute mode. Close the lid. Turn the steam release valve to "sealing". Press "pressure cooker" and make sure it's on high pressure. Set the timer to 40 minutes. Read my post above on how to determine the cooking time based on weight.

Then wait for it to naturally release pressure, it may take 10-15 minutes. After that turn the steam release valve to "release" and carefully unlock the lid. Very carefully remove the duck from the pot or Instant pot. Let it rest on the chopping board. Do not cut straight away. Wait for 10 minutes or so. Proceed to braise tau kwa and boiled eggs if you choose to
Braise some tau kwa and eggs (optional)
Cut the tau kwa into large pieces. Peel the hard-boiled eggs. Place them in the braising liquid and let them braise over medium heat for about 20-30 minutes. If you are using instant pot, you can turn the saute mode back again. If you have a glass lid, I recommend to cover it so it won't splatter. You can also transfer the liquid out into a large pot and braise it on the stove instead of instant pot. Remove tau kwa and eggs
Thicken the braising liquid:
Strain the liquid and discard the solid. Pour it back into the pot and have a taste and adjust the seasonings to suit your taste. I used about 1/4 of the braising liquid and save the rest as it is a lot of liquid. Bring the liquid back to a gentle simmer. Mix tapioca starch with water. Pour it while stirring at the same time and the liquid will start to thicken. You can add more tapioca mixture if you don't think the gravy is thick enough
Prepare chili sauce:
Place the chili sauce ingredients in a small saucepan and cook until the sugar melts over medium heat. Remove from the heat and serve
Serve:
Slice the duck and put on a serving platter along with some braised tau kwa and boiled eggs. Ladle the gravy over and garnish with some fresh cilantro leaves
Recommended products: