You won't believe this easy pandan pound cake is eggless as it is moist, light, and infused with the amazing aroma of coconut oil and pandan. I decorated it with dalgona whipped coffee cream as a frosting. So good!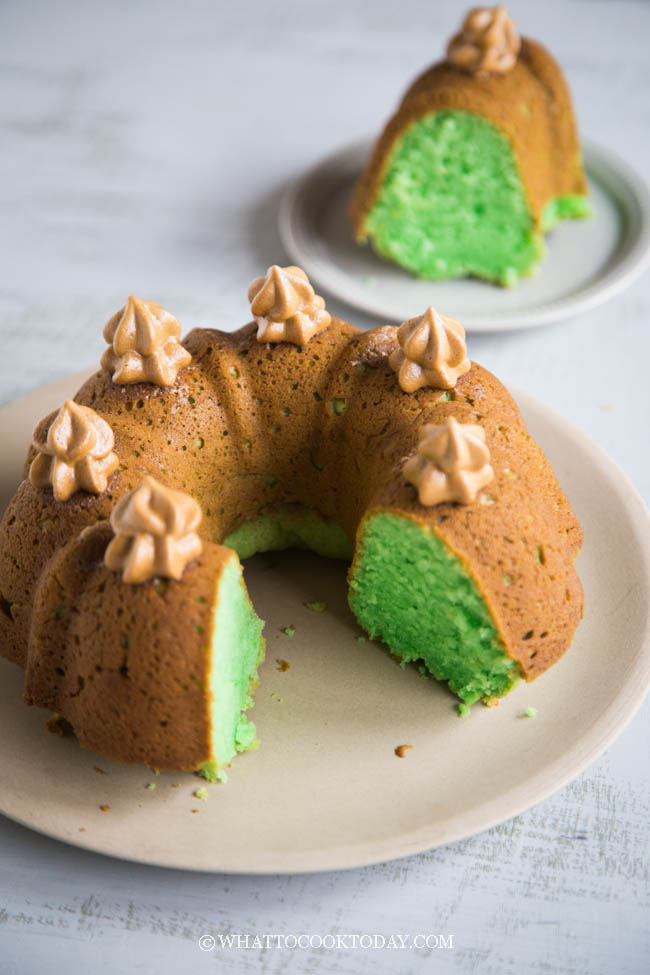 I've been in a baking spree lately ever since the stay-at-home thing started. Now I realize baking is truly therapeutic, despite the facts that I failed a lot too ha..ha..! Some recipes I have to tried like 5-6 times before I got them right, but I have to admit that I have learned a lot from baking. Precision and patience 🙂
POUND CAKE WITH COCONUT OIL
This easy eggless pandan coconut oil pound cake is one of my favorite cakes I have baked. I love the aroma of pandan and also pandan pairs so very well with coconut milk and coconut oil. I grew up in Indonesia and many recipes use coconut milk, coconut oil, coconut meat, coconut water, and can you blame me that I'm a coconut freak now?
DALGONA WHIPPED COFFEE/MOCHA AS FROSTING
I'm not big on the heavy, cloyingly sweet and rich frosting. I'm leaning more towards the whipped cream type of frosting usually. They are lighter and not as sweet (because I don't make them sweet). This dalgona whipped coffee/mocha cream is one of my favorites. I actually used dalgona whipped mocha as frosting for this cake. I didn't put a whole lot of dalgona whipped mocha frosting on top of the cake, but feel free to put more as you wish.

INGREDIENTS
1. Cake flour
I highly recommend using cake flour instead of all-purpose flour. It makes a difference in terms of softness
2. Baking powder and baking soda
These two are the only leavening agents in this cake. So please do not omit these
3. Coconut oil
It's important to use soft coconut oil and not melted. You can also use soft unsalted butter (not melted)
4. Plain yogurt
Any plain yogurt will work, whether it is non-fat, low-fat, or whole milk. The whole milk will of course, make your cake more tender and moister
5. Coconut milk
I used canned coconut milk and not the beverage type. Shake the can of coconut milk before opening
6. Pandan leaves
If you can't find pandan leaves, you can just substitute with 1/2 tsp of pandan extract, though my kids told me they prefer "real" pandan leaves 🙂 but sometimes you gotta do what you gotta do
7. Sugar
I use regular granulated sugar. You can also use caster sugar. I haven't tried substituting with keto-friendly sugar, but you can try and see how it turns out
8. Salt
The addition of salt brings out the flavor of everything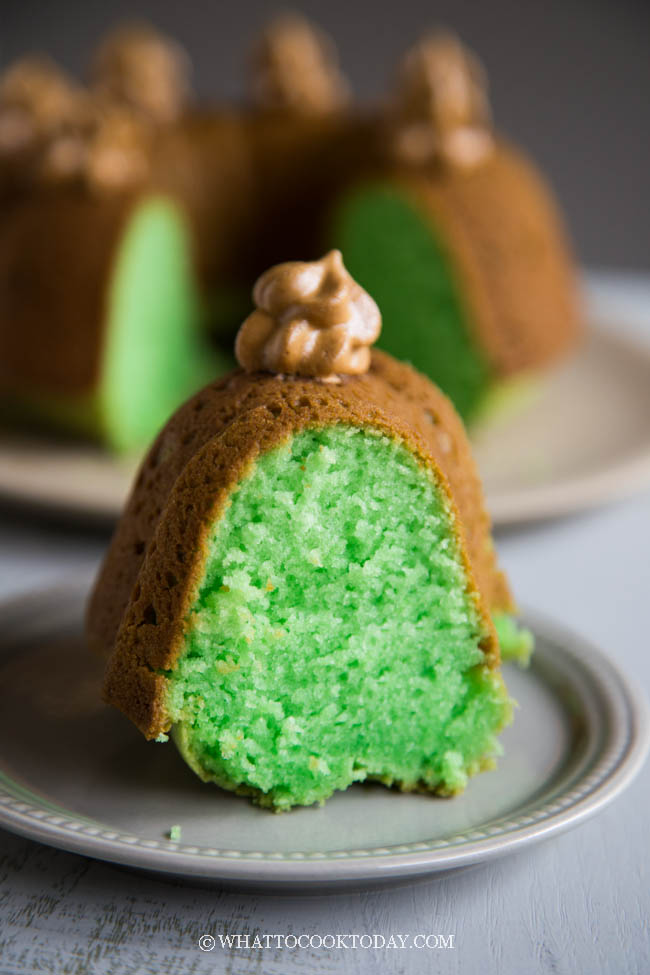 HOW TO MAKE EASY EGGLESS COCONUT OIL POUND CAKE FROM SCRATCH
1. Mix all the dry ingredients. Whisk and set aside


2. Put the softened coconut oil and sugar in a mixing bowl and use a paddle attachment (if using a stand mixer) to cream both for about 1 minute at speed 6, or you can use an electric hand mixer to do so on medium speed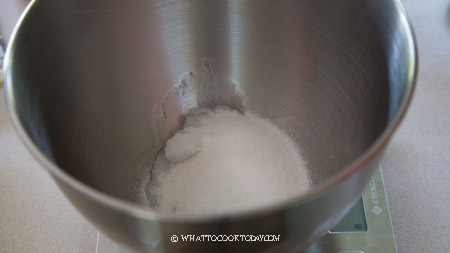 3. Lower the speed and add yogurt and mix until just combined


4. Add the dry ingredient alternating with the coconut milk pandan mixture over low speed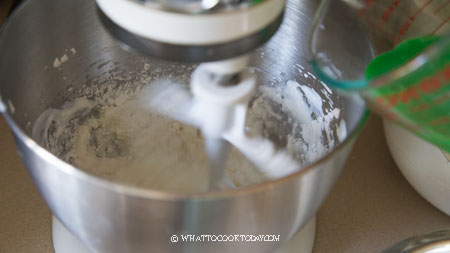 5. Do not over mix. Just mix until you don't see any more loose flour. The batter will be very thick


6. Pour the batter into the prepared pan and smooth with a spatula


7. Put in the oven, on the 3rd rack (or middle of the oven) and bake for 50-55 minutes or until toothpick inserted into the cake comes out clean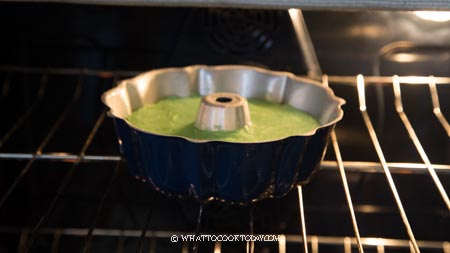 8. Remove cake from the oven and gently invert the pan onto a cooling rack. The cake should release. Let it cools down on the cooling rack completely before slicing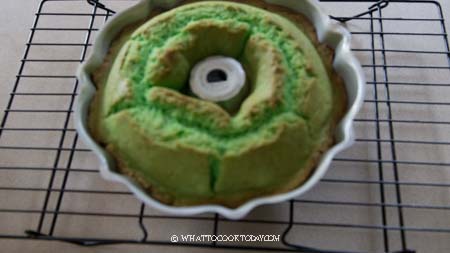 9. You can serve as it or decorate with your favorite frosting. I use dalgona whipped coffee/mocha to serve with the cake

I really like how this eggless pound cake turns out. My husband said "It's pretty light actually, not dense". I've made some eggless cake before in the past and they came out really heavy and dense, but not this. Of course, do not expect the cake to be light and airy like chiffon cakes. This is a pound cake that is supposed to be moist but not dense. I love the aroma of pandan and coconut fused together! It's one of my most favorite scents 🙂

VARIATIONS
1. Use butter instead of coconut oil
The original recipe uses butter, so you can use the same amount of softened butter (unsalted)
2. Instead of pandan juice and pandan extract, you can use regular milk or non-dairy milk and also use other extract like vanilla if you like
3. You can also bake in a 7 inch round or 6 inch square pan. Make sure you oil the pand and then line the pan with a parchment paper for easy release later
DID YOU MAKE THIS EASY EGGLESS COCONUT OIL POUND CAKE RECIPE?
I love it when you guys snap a photo and tag to show me what you've made 🙂 Simply tag me @WhatToCookToday #WhatToCookToday on Instagram and I'll be sure to stop by and take a peek for real!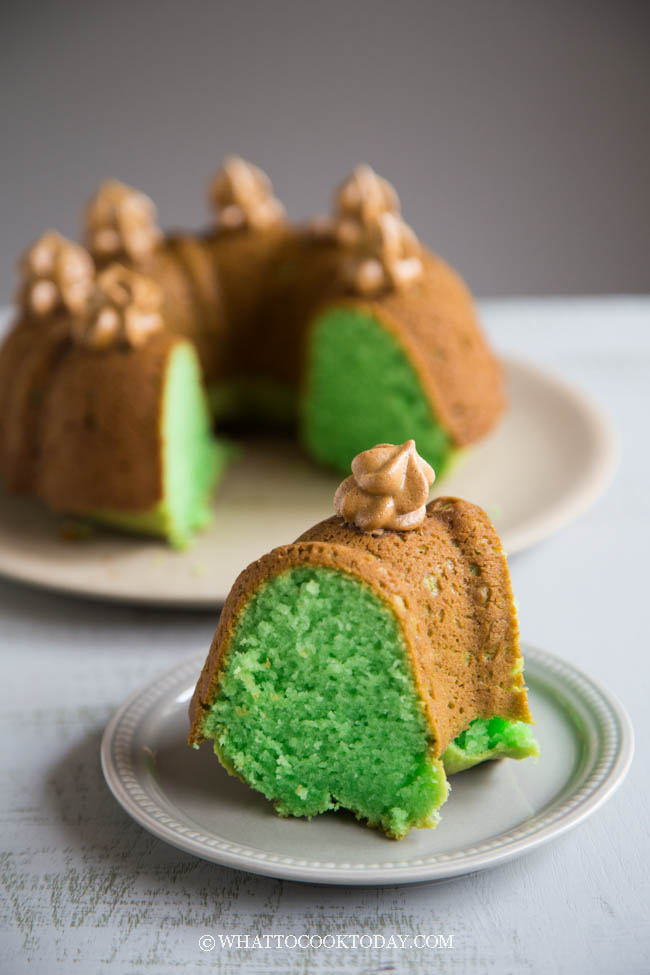 Recipe is adapted from here with some modifications.
Easy Eggless Pandan Coconut Oil Pound/Bundt Cake (So Good!)
Ingredients
Wet ingredients:
125

gr

coconut oil

soft but NOT melted, you can use softened butter too

100

gr

sugar

245

gr

plain yogurt

I used non-fat, you can use whole milk or low fat too
For pandan juice:
100

ml

coconut milk

7

pandan leaves

¼

tsp

pandan essence

optional (for a vibrant greener color)
Instructions
I use nordicware 8-inch bundt pan (6-cup capacity). Grease the bundt pan with some oil and then dust with some flour and tap out any excess. I used non-stick baking spray that has flour in it. It works really well to release cake from bundt pan

Preheat oven to 350 F (180 C) for conventional oven, 330 F (165 C) for convection oven. Put the softened coconut oil and sugar in a mixing bowl and use a paddle attachment (if using a stand mixer) to cream both for about 1 minute at speed 6, or you can use an electric hand mixer to do so on medium speed. Lower the speed and add yogurt and mix until just combined
Prepare pandan juice:
Cut the pandan leaves into small pieces and then blend with coconut milk in a blender. Strain and squeeze out more liquid from the pandan leaves. Make sure it measured 100 ml or you can top up with a bit of water if needed
Prepare cake batter:
Mix all the dry ingredients. Whisk and set aside.

Beat the softened coconut oil (or butter if using butter) with sugar until combined, light and fluffy on medium speed. Add the yogurt and beat until combined

Add the dry ingredient alternating with the coconut milk pandan mixture over low speed. Do not over mix. Just mix until you don't see any more loose flour. The batter will be very thick
Baking:
Pour the batter into the prepared pan and smooth with a spatula. Put in the oven, on the 3rd rack (or middle of the oven) and bake for 50-55 minutes or until toothpick inserted into the cake comes out clean
Cool down:
Remove cake from the oven and gently invert the pan onto a cooling rack. The cake should release. Let it cool down on the cooling rack completely before slicing
Serve as is or decorate:
I recommend waiting for the next day to serve if you can. The cake tastes much more better as the flavor has time to develop. The cake may feel dry if you serve it on the same day. You can serve as it or decorate with your favorite frosting. I use dalgona whipped coffee/mocha to serve with the cake
How to store the cake:
The cake can be stored at room temperature for up to 3 days in an air-tight container. After that you can wrap in a cling wrap and put in an air-tight container and keep in the fridge for a maximum one week. The longer you keep in the fridge, the drier the cake will be

Please note that the cake will be "hard" after you keep in the fridge because coconut oil will harden at a cool temperature. Simply place the cake at room temperature for 30 minutes to 1 hour before you plan to serve and they will soften OR you can put it in a microwave for few seconds until they are just warm enough to get back to that soft texture
Nutrition
Serving:
1
serving
|
Calories:
347
kcal
|
Carbohydrates:
40
g
|
Protein:
5
g
|
Fat:
20
g
|
Saturated Fat:
16
g
|
Polyunsaturated Fat:
1
g
|
Monounsaturated Fat:
1
g
|
Cholesterol:
4
mg
|
Sodium:
461
mg
|
Potassium:
109
mg
|
Fiber:
1
g
|
Sugar:
14
g
|
Vitamin A:
31
IU
|
Vitamin C:
0.3
mg
|
Calcium:
90
mg
|
Iron:
1
mg
YOU MAY ALSO LIKE THESE EGGLESS RECIPES