You have to try this incredible Dalgona whipped coffee (or mocha flavor) cream or using only 3 to 4 ingredients. It is dairy-free, no butter, no eggs, and suitable for vegan and can be made keto-friendly. Step-by-step photos and easy video tutorial is included.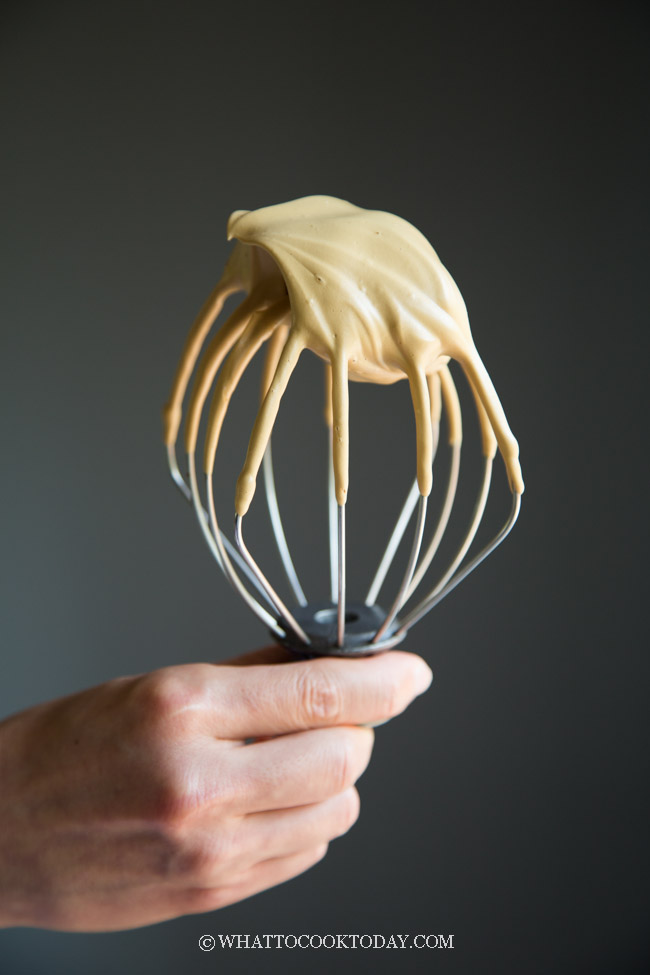 Dalgona whipped coffee has taken social medias like Instagram, TikTok, Youtube by storm during this stay-at-home period. Some people call it TikTok Coffee or whipped coffee. Everybody is making dalgona coffee cream. I'm a bit late to the game, but you know, it's better late than never 😉 My husband absolutely loves this whipped dalgona coffee cream.
WHAT IS DALGONA COFFEE / WHIPPED COFFEE BY THE WAY?
I thought it was the name of a coffee shop or company that comes up with this genius whipped coffee cream. According to Wikipedia, the name comes from a Korean candy calls dalgona, which is a sugary toffee with a sponge-like texture. People have been whipping their instant coffees at home by hands (I salute those people) to the point of whipped cream-like during the stay-at-home time in South Korea. A famous Korean actor made a comment about how this whipped coffee looked and tasted like dalgona on social media and it went viral. The next thing you know, dalgona coffee is all over the world now 🙂
INGREDIENTS
1. INSTANT COFFEE
Use a plain granulated instant coffee without any other addition of flavors. You can also use instant espresso coffee
2. COCOA POWDER (if you want mocha flavor)
I use Dutch-processed cocoa powder, but any cocoa powder should work
3. SUGAR
I use granulated sugar. You can also use powdered sugar (icing sugar), coconut sugar, brown sugar, honey, maple syrup
4. HOT WATER
You definitely need hot water to dissolves the coffee and sugar. They whip better this way
HOW TO MAKE WHIPPED DALGONA COFFEE/MOCHA CREAM EASILY AT HOME
1. Place all ingredients in a mixing bowl and stir to dissolve the coffee and sugar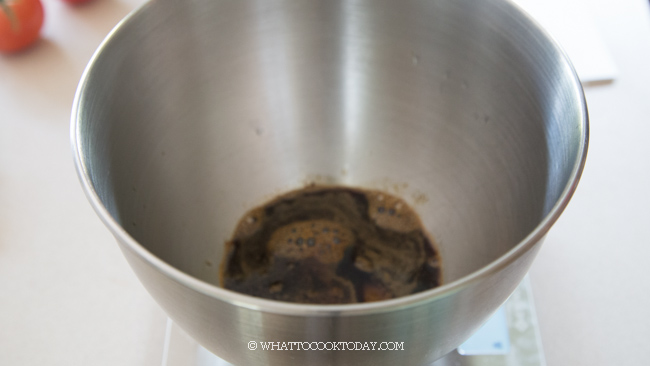 2. Start whipping using a stand mixer or hand mixer on high speed or manually by hand using a whisk
It takes about 2-3 minutes to whip on speed 6 on my Kitchen Aid to get it to a creamy, glossy, and stiff texture. It may take 5 minutes or so using a hand mixer on high speed. By hand whisking vigorously? well, let's say about 10 minutes or so ? (I haven't tried this myself)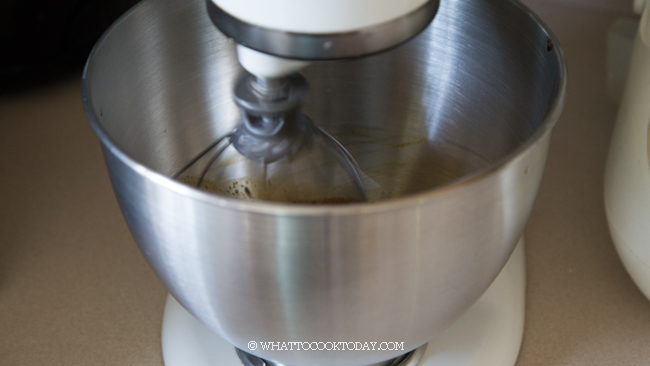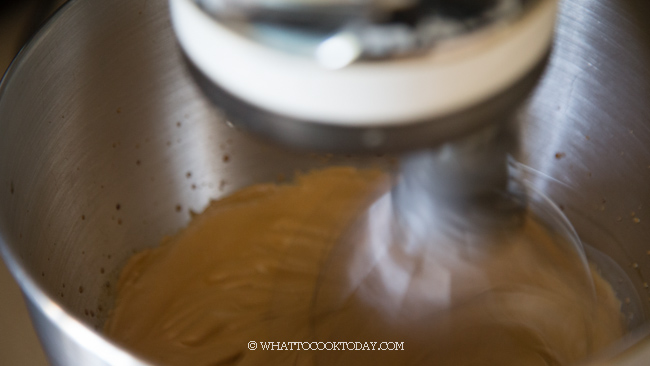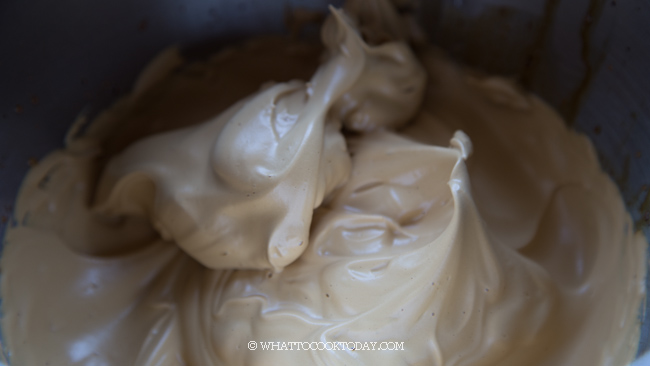 3. When you held the whisk up, the cream stays stiff and doesn't drop or bend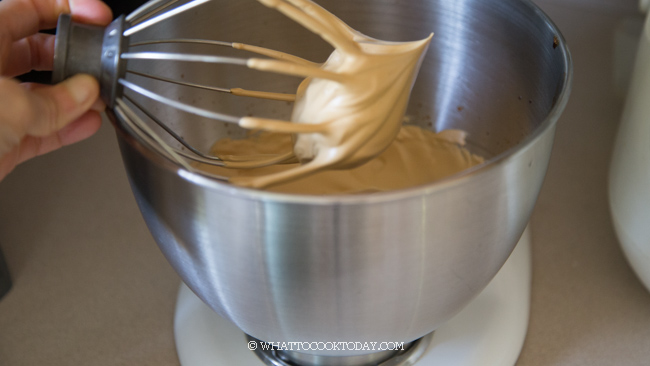 4. Transfer to a container and cover. You can keep it in a fridge for 3-4 days if you whipped it really stiff, otherwise, it may start to separate after maybe 2 days or so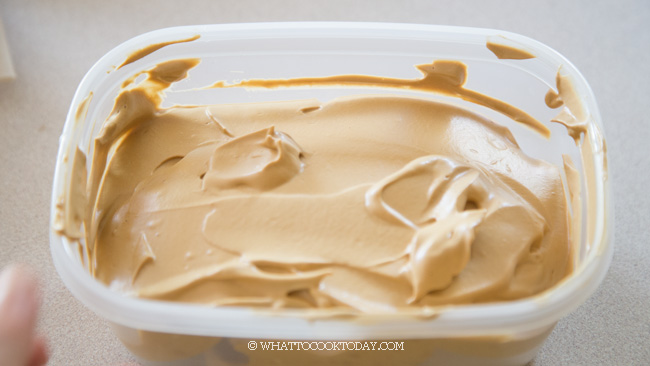 WHY DO I NEED INSTANT COFFEE TO MAKE WHIPPED COFFEE?
Instant coffee goes through a special drying process to turn it into granules, making it possible to be whipped.
CAN I MAKE DALGONA COFFEE WITH GROUND COFFEE?
Yes, you can, but I won't really recommend. The coffee flavor may not be as strong and you need lots of ground coffee to get close to that strong punch that instant coffee gives. It also takes longer to whip. But if you really want to try it, here's how you can do it:
1. Make sure it's a finely ground coffee
2. Mix 4 tablespoons of finely ground coffee with 6 tablespoons of hot water. The brand of coffee also affects the strength and aroma too
3. Let this steep for 5 minutes
4. Filter with a coffee filter
5. Add sugar and proceed to whip. It may take 5 minutes or longer with a stand mixer and definitely much longer with a hand mixer or handheld milk frother. I have no clue how long it's going to take if whisking by hand if you use ground coffee (probably a REALLY long time?)
CAN I USE INSTANT DECAF COFFEE?
Yes you can. Instant decaf coffee work perfectly. Yay for me! I'm sensitive to caffeine 🙂
CAN I USE HONEY OR MAPLE SYRUP INSTEAD OF SUGAR?
You certainly can use honey or maple syrup to replace the same amount of sugar.
CAN I USE ARTIFICIAL SWEETENER TO MAKE DALGONA COFFEE ?
I haven't tried it myself, but I've read that you can use Stevia powder and some have tried it with monk fruit sweetener. The result may not be as fluffy.
CAN I OMIT SUGAR ALTOGETHER IN WHIPPED COFFEE?
Yes you can, but the result won't be as nice. Like in whipping egg white meringue, the sugar helps to give structure,give that nice gloss/shine to the cream, and helps the cream stays fluffy longer. You can definitely reduce the amount of sugar, but I won't omit it altogether.
CAN I WHISK DALGONA COFFEE CREAM BY HANDS?
You absolutely can. In fact, that was how it got started, whisking by hand. I have no experience whisking meringue, cream, etc by hands. I'm spoiled with my stand mixer and hand mixer. I've watched someone do this whipped coffee whisking by hands vigorously for a good 9 minutes! That's a long time for me LOL! Perhaps you'll gain muscles or lose some weights by just doing this ha..ha..!
CAN I REPLACE INSTANT COFFEE WITH COCOA POWDER IN DALGONA COFFEE?
If you want to use only cocoa powder, you have to add heavy whipping cream. Why? cocoa powder doesn't whip well on its own. So you need heavy whipping cream. To me though, it simply turns into whipped cream with cocoa flavor 🙂
You can however use both instant coffee and cocoa powder together to make a mocha flavor without having to add any heavy whipping cream!
IDEAS TO USE DALGONA COFFEE/MOCHA CREAM
1. Beverage
Top cold or warm milk (dairy or non-dairy) with this whipped coffee. Simply spoon the cream on top of the beverage and you are good to go
2. Breads, cakes and pastries
I use it as a spread on my toast (call me crazy!), or as a frosting on top of the cakes like this eggless pandan coconut oil pound cake, or as a filling for pastries like cream puffs/eclair/profiteroles for example. If you don't want to frost the cake, simply serve the cake with a dollop or two on the sides
THE BEST TOOL TO MAKE WHIPPED COFFEE
1. A whisk
If you don't want to invest in any machine and you want to exercise and build some muscles, a good ol' whisk works. Many others at TikTok and Youtube have done it and they did it well 🙂 I've tried whisking it myself and after 10 minutes of vigorous whisking, I gave up and switch to a handmixer isntead LOL. This is perfect if you are making a very small batch
2. Electric hand mixer
I don't need to say much with this, do I? An electric hand mixer will definitely get the job done in 5 minutes or less. This is perfect if you are making a very small or bigger batch
3. Handheld milk frother
Some said handheld milk frother may not work as well compared to an electric hand mixer. You need to make sure it's a powerful machine and you need to do it longer compared to using hand mixer
4. Stand mixer
You definitely don't need a stand mixer to do this. I happened to have one and so that's what I use. The only thing about a stand mixer is that, you need to times 4 or 5 the recipe so the whisk can actually touch the liquid in the bowl. If you are doing only 1 Tbsp of everything, an electric hand mixer is a better choice. In other words, a stand mixer is great for a bigger batch whipped coffee 😉 (like I did in the video)
VARIATIONS
1. PALEO LOW-CARB KETO DALGONA WHIPPED COFFEE
Use equal amount of Stevia or monk fruit granulated sugar
2. VEGAN DALGONA WHIPPED COFFEE
Serve it with non-dairy milk like almond, soy, coconut milk (not a canned version)
DID YOU MAKE THIS EASY DALGONA COFFEE/MOCHA CREAM RECIPE?
I love it when you guys snap a photo and tag to show me what you've made 🙂 Simply tag me @WhatToCookToday #WhatToCookToday on Instagram and I'll be sure to stop by and take a peek for real!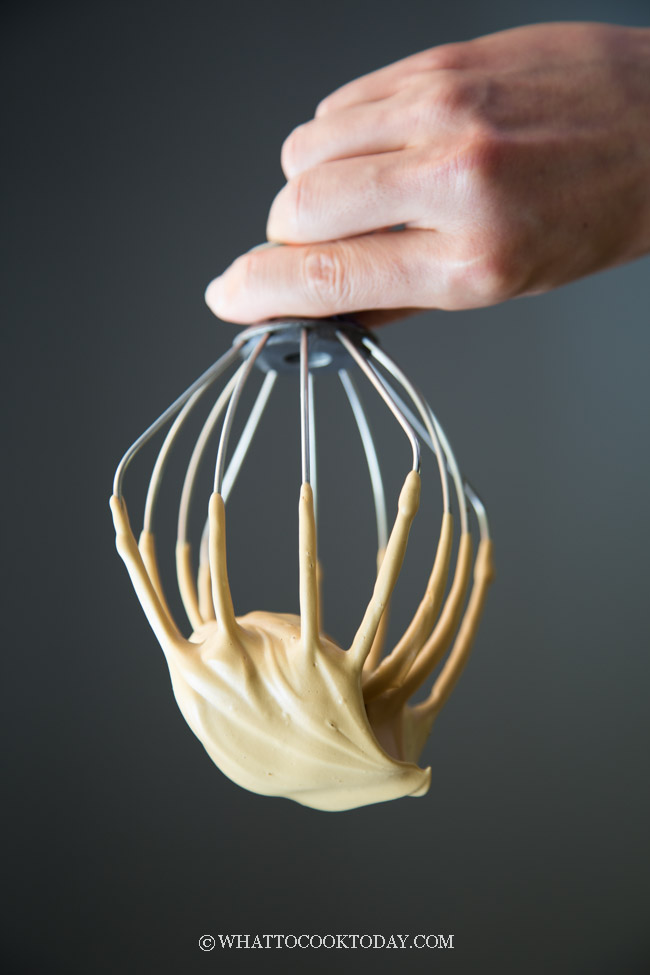 The Best Dalgona Whipped Coffee/Mocha Cream
Ingredients
To use Dalgona coffee cream in beverage (this ratio makes a strong bitter cream):
To use Dalgona coffee cream as frosting:
Instructions
Place all ingredients in a mixing bowl. Start whipping using a stand mixer or hand mixer or manually by hand using a whisk

It takes about 2-3 minutes to whip on speed 6 on my Kitchen Aid to get it to creamy, glossy, and stiff texture. If you go on a higher speed, let's say 8, you can achieve a stiff peak in less than 2 minutes. It takes 5 minutes or so using a hand mixer on a high speed to get medium soft peak. By hand whisking vigorously? I have tried whisking vigorously for 10 minutes and I decided to switch to a handmixer LOL. I think if I whip for another 5 minutes maybe I will get a soft peak, maybe!!!

When you held the whisk up, the cream stays stiff and doesn't drop or bend

Transfer to a container and cover. You can keep it in a fridge for 3-4 days if you whipped it really stiff, otherwise, it may start to separate after maybe 2 days or so