Make this easy, simple, and crispy salt, pepper, chili tofu cubes. This meatless dish is one of our family's favorites. I pan fry the tofu cubes instead of deep-frying to make it healthier. The tofu can be baked or air-fried to make them crispy.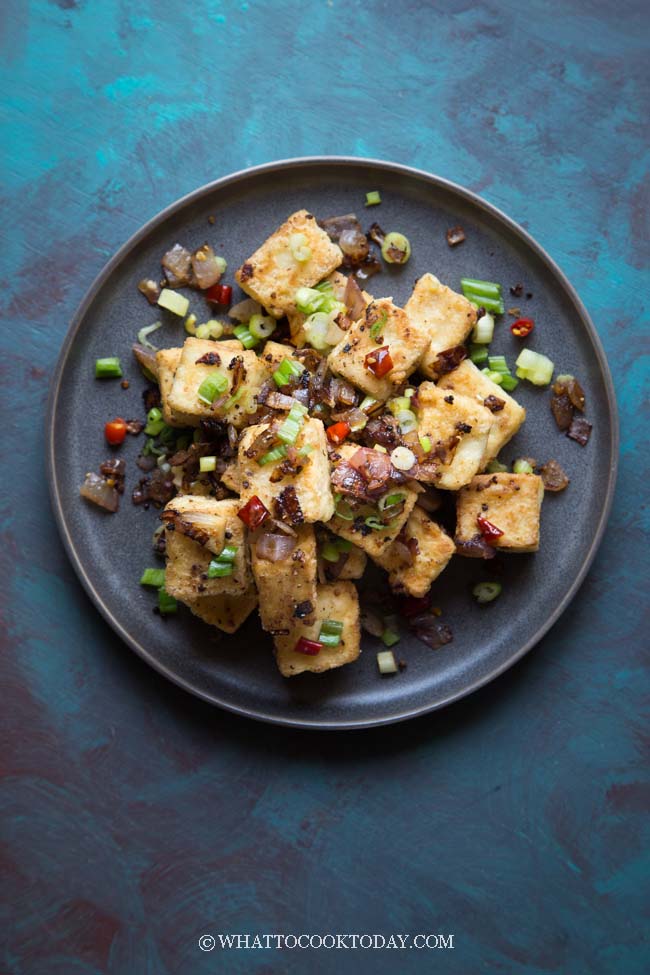 I love anything salt and pepper flavor. It's such simple seasonings that most of us have in our pantry, I believe, yet these two seasonings really shine through in this salt, pepper, chili tofu dish. You can omit the chili if you want. In Indonesia, people love to eat hot spicy food and it's not unusual to find chili in most dishes including this one. Salt pepper chili tofu is popular restaurant dish in Indonesia too.
TIPS TO MAKE REALLY GOOD AND CRISPY SALT PEPPER AND CHILI TOFU
1. Use firm or extra-firm tofu
The firmer the tofu, the less water it has. I use extra-firm tofu. You can also go an extra mile by pressing the tofu to squeeze out more water. I didn't do it this time
2. Use freshly ground salt and pepper
I love freshly ground salt and pepper, especially with pepper. It's more aromatic and you can really taste the aromatic peppercorns
3. Less is more
This is one of the recipes that you really don't need much of other spices and herbs because you want the salt and pepper to really come through

HOW TO MAKE CRISPY SALT PEPPER AND CHILI TOFU
1. Cut the tofu into 2×2 inch cubes or smaller if you prefer. Coat each piece of tofu with the cornstarch and shake off any excess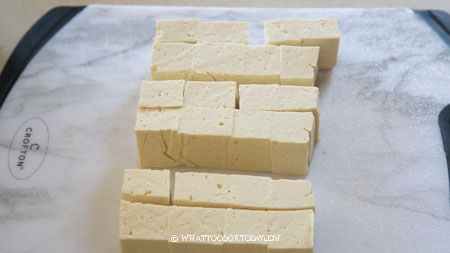 2. Gently place the tofu pieces in the hot oil and pan fry until golden brown on all sides. Do this in 2 batches if you need to. Place in an absorbent paper towel


3. When you are done pan frying all the tofu, clean the pan and add 1 Tbsp of oil. Add diced onion and stir fry until they are soft, about 3 minutes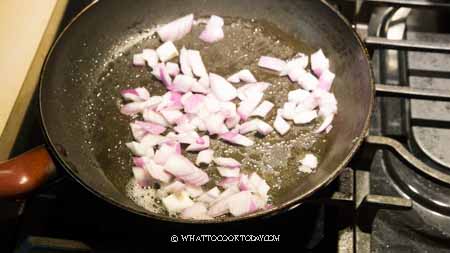 4. Add chili (if using) and garlic. Stir fry for another minute


5. Add the pan-fried tofu back into the pan. Add the rest of the seasonings and toss to mix everything


6. Turn off the heat and sprinkle in the chopped green onion

My kids really like this salt pepper and chili tofu. I actually didn't make mine very spicy. I only used 2 Thai red chilis. My kids can handle that. You can totally omit the chili too if you like. You can also use less spicy chili like red or green jalapeno or serrano peppers too

HOW TO BAKE OR AIR FRY THE TOFU INSTEAD OF PAN-FRYING OR DEEP-FRYING
You can still get crispy tofu with baking instead of frying. Here's how:
1. HOW TO PRESS THE TOFU
-Line a chopping board with an absorbent paper towel
-Place another piece of paper towel on top of the tofu
-Put another cutting board on top of the tofu. Place heavy objects on top like pots, pans, or anything heavy that can sit on top of the cutting board and leave it for 30 minutes
-Remove all the heavy objects after that and cut tofu into desired size
2. COAT THE TOFU
Drizzle the tofu with a bit of cooking oil and gently toss to mix. If baking in the oven, coat the tofu pieces in a cornstarch and place on a baking sheet lined with a parchment paper
3. BAKE IN THE OVEN
Bake in a preheated oven at 400 F for 15 minutes and then flip to the other sides and bake for another 10 minutes or until nicely golden brown and proceed with the recipe
4. AIR FRYER METHOD
Once you have air-fried the tofu, don't coat them with cornstarch, put the tofu in the air-fryer basket and air fry at 375 F for 10 minutes or until crispy and golden brown

DID YOU MAKE THIS EASY CRISPY SALT PEPPER AND CHILI TOFU RECIPE?
I love it when you guys snap a photo and tag to show me what you've made 🙂 Simply tag me @WhatToCookToday #WhatToCookToday on Instagram and I'll be sure to stop by and take a peek for real!

Easy Crispy Salt Pepper and Chili Tofu (Tahu Lada Garam Cabe)
Ingredients
1

block

extra-firm tofu

12 oz (396-400 grams)

5

Tbsp

cornstarch

or more as needed

5

Tbsp

cooking oil

divided
Seasonings:
4

Thai chili

seeded and finely chopped (you can omit too)

½

tsp

salt

⅓

tsp

freshly ground black pepper

¼

tsp

sugar
Aromatics:
1

small

onion

you can use white, yellow, or purple onion, diced

3

cloves

garlic

finely minced

1

stalk

green onion

finelychopped
Instructions
Preheat 4 Tbsp of cooking oil in a non-stick pan or skillet over medium heat

Cut the tofu into 2x2 inch cubes or smaller if you prefer. Coat each piece of tofu with the cornstarch and shake off any excess. Gently place the tofu pieces in the hot oil and pan fry until golden brown on all sides. Do this in 2 batches if you need to. Place in an absorbent paper towel

When you are done pan frying all the tofu, clean the pan and add 1 Tbsp of oil. Add diced onion and stir fry until they are soft, about 3 minutes. Add chili (if using) and garlic. Stir fry for another minute

Add the pan-fried tofu back into the pan. Add the rest of the seasonings and toss to mix everything. Turn off the heat and sprinkle in the chopped green onion
Recommended products: