Make this really easy soft and fluffy Chinese huat kueh / kuih infused with sweet mashed banana and recipe is made without eggs and yeast. It is also dairy-free and vegan. The huat kueh also gives you a nice smiling top after steaming.
EGGLESS DAIRY-FREE BANANA HUAT KUEH
A while ago I made this No-yeast Pandan Coconut Huat Kueh and they turned out so well and the kids love them so much. They have a great signature "smiling top" that people want when it comes to huat kueh. This time around I decided to make an eggless huat kueh and to keep it dairy-free. My mom likes to use huat kueh as an offering and so she prefers to have the vegetarian version. Another reader also asked me if I could try out eggless banana huat kueh that she used to have as a kid. I honestly never had banana-flavor huat kueh before, but I'm so glad I gave it a try. My kids LOVE this banana huat kueh. Now I have to make sure I have ripened bananas every week so they can have banana huat kueh LOL!

INGREDIENTS
1. CAKE FLOUR
Cake flour gives softer tender crumbs. You can use all-purpose flour too, but I found it more "dense" when I use all-purpose flour
2. RICE FLOUR
Rice flour adds some softness to the kueh too
3. LIGHT BROWN SUGAR
You can use coconut sugar too. The color of your cake may be darker and coconut sugar is less sweet compared to brown sugar so you may want to add another 15-20 grams more or to your taste
4. BANANAS
I use the cavendish banana. Make sure they are really ripened so they are sweet. If you can get raja bananas, or saba bananas, that would be even better
5. BAKING POWDER
It is needed in this recipe as a leavening agent
6. BAKING SODA
You might ask do I really need baking powder AND baking soda in this recipe? I highly encourage you to use both because baking soda is a pretty powerful leavening agent and we only need a bit of it. Since our batter is eggless and we don't whip the batter either, it really depends on these two to make it "huat" and to ensure that it breaks into that smiling top
7. COOKING OIL
The cooking oil is what keeping the huat kueh moist. So, I won't encourage you to cut down on the amount. I feel like the amount is appropriate and the huat kueh is still light and fluffy

HOW TO MAKE SOFT FLUFFY BANANA HUAT KUEH (No EGGS)
1. LINE MUFFIN CUPS WITH CUPCAKE LINERS


2. PREPARE THE BATTER
Mash the banana with a fork or you can use immersion blender or blender to make it smooth. I prefer to still able to bite into small pieces of banana. It's a personal preference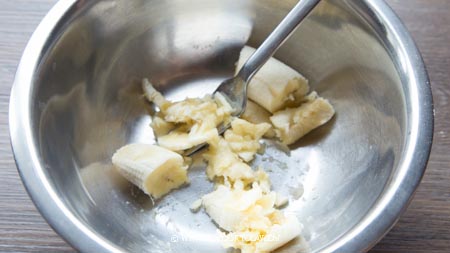 Mix all the wet ingredients together in one bowl. Mix the dry ingredients in a separate bowl


Fold in the dry ingredients into the wet in 2-3 batches


Stir until you don't see anymore loose flour


A little bit of a lumpy batter is fine


3. TO MAKE TWO COLORS (OPTIONAL)
Scoop about 2 tablespoonfuls of the batter into a separate bowl and add cocoa powder


Stir to mix


4. STEAM THE CAKE
Fill up the muffin cups to about a little over 3/4 full, almost to the rim of the cup. Spoon a small amount of the cocoa batter into the middle of the batter. If your steamer can only fit half of the recipe, fill up only those that can be steamed right away


Make sure the water in the steamer is on a rolling boil. Put the muffin cups in there and steam for 12 minutes over high heat. You can wrap the lid with towel to prevent condensation dripping on the cake


Remove from the steamer and let them sit on the muffin cups for about 5 minutes and then remove to a cooling rack to let them cool down further. This will prevent the bottom of the cake from being "wet" and soggy

VARIATIONS
Flavor ideas: You can substitute with other flavors such as mashed pumpkin, mashed purple sweet potatoes, mashed ube yam, etc

DID YOU MAKE THIS EGGLESS STEAMED BANANA HUAT KUEH RECIPE?
I love it when you guys snap a photo and tag to show me what you've made 🙂 Simply tag me @WhatToCookToday #WhatToCookToday on Instagram and I'll be sure to stop by and take a peek for real!

The Recipe is adapted from here with some modifications.
Steamed Banana Huat Kueh / Kuih (No Yeast, No Eggs)
Ingredients
Wet ingredients:
250

gr

mashed ripe banana

120

gr

brown sugar

250

ml

water

or you can use milk for richer taste

70

gr

cooking oil

¼

tsp

apple cider vinegar

or white vinegar
To make two colors (optional):
Instructions
Line individual muffin cups with baking paper. Bring water in a steamer to a boil
Prepare the batter:
Mix all the dry ingredients together and stir to mix thoroughly. Set aside.

You can mash the banana with a fork or you can use immersion blender or blender to make it really smooth. My kids like to still able to bite into small pieces of bananas. It's a personal preference

Mix all the wet ingredients together. Fold in the dry ingredients and stir until you don't see any more loose flour. A little bit of a lumpy batter is fine.
To make two colors:
Scoop about 2 tablespoonfuls of the batter into a separate bowl and add cocoa powder and stir to mix

Fill up the muffin cups to about a little over 3/4 full, almost to the rim of the cup. Spoon a small amount of the cocoa batter into the middle of the batter. If your steamer can only fit half of the recipe, fill up only those that can be steamed right away
Steam:
Make sure the water in the steamer is on a rolling boil. Put the muffin cups in there and steam for 15 minutes over high heat. You can wrap the lid with towel to prevent condensation dripping on the cake. Remove from the steamer and let them sit on the muffin cups for about 5 minutes and then remove to a cooling rack to let them cool down further

Fill up water in the steamer if necessary and bring it back up to a boil. Fill up the next batch and continue steaming the rest
Nutrition
Serving:
1
piece
|
Calories:
162
kcal
|
Carbohydrates:
27
g
|
Protein:
2
g
|
Fat:
5
g
|
Saturated Fat:
1
g
|
Polyunsaturated Fat:
1
g
|
Monounsaturated Fat:
3
g
|
Trans Fat:
1
g
|
Sodium:
97
mg
|
Potassium:
91
mg
|
Fiber:
1
g
|
Sugar:
10
g
|
Vitamin A:
11
IU
|
Vitamin C:
1
mg
|
Calcium:
31
mg
|
Iron:
1
mg