Nourishing, tasty, and warming Chinese-style coconut soup and pork ribs are pressure cooked with Chinese herbal.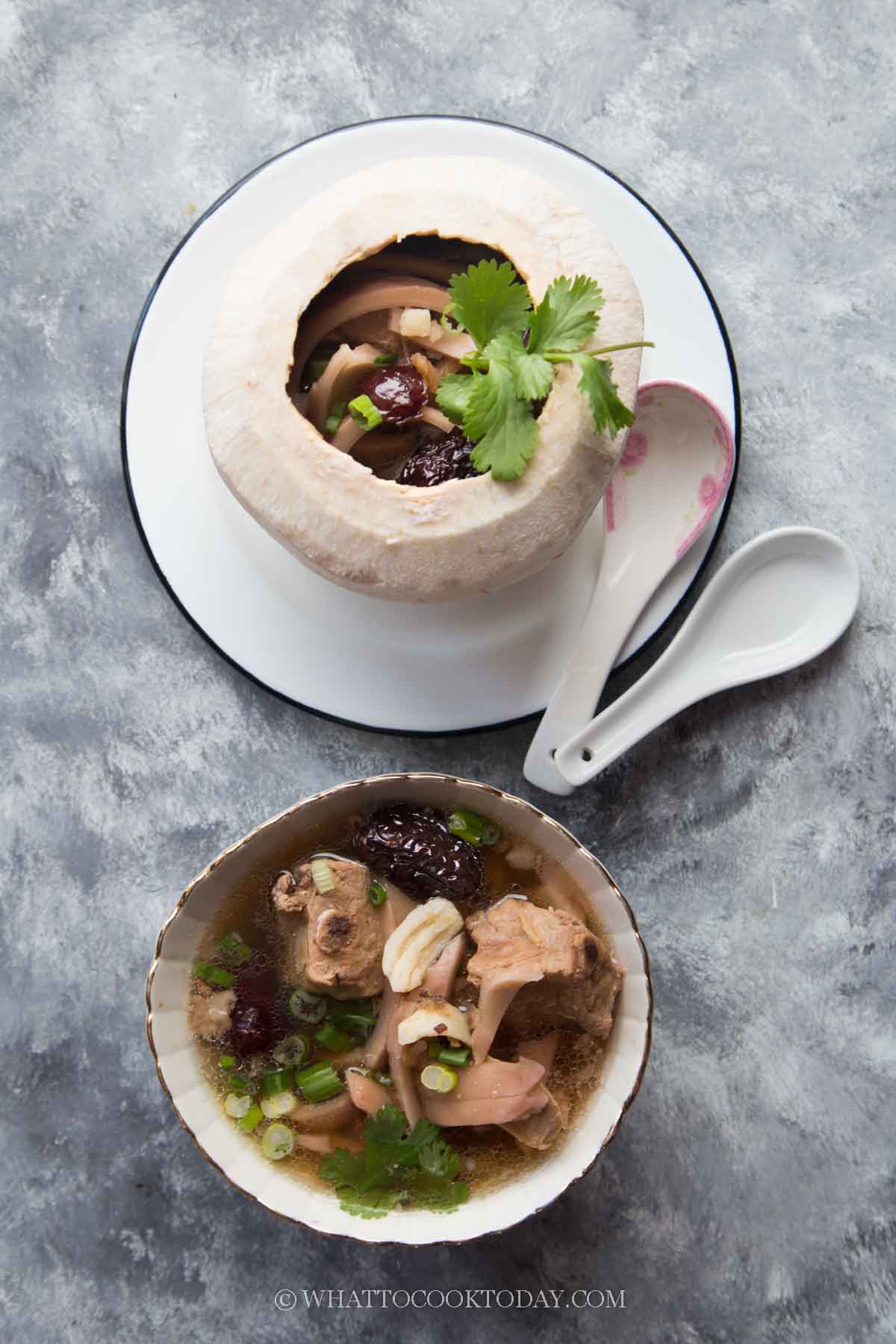 This Chinese-style coconut soup is very popular in Asia. The soup is made with coconut water, coconut meat, chicken or pork ribs, and other Chinese herbs such as red dates, goji berries, and sometimes Chinese yam (huai san), lily bulbs, ginseng, and other herbal can be added too.
What is the benefit of Chinese coconut soup?
In Asia, most women consume Chinese-style coconut soup for beauty reasons. The soup is also known for its nourishing, anti-aging, improving skin complexion, and boosting the immune system property
Why you'll like this recipe
1. Simplified process
Instead of having to crack open the coconut myself, I get a young coconut that has been cracked open and all I need to do is cut the top part to open
2. Instead of boiling for hours, I use Instant Pot pressure cooker which makes it really convenient and still taste good

How to make Chinese coconut soup with Instant Po pressure cooker
1. Since I bought a young coconut that has been cut opened, I don't have to deal with cracking the shell of the coconut open, which is not an easy task


2.All I need to do is cut the top part of the coconut open


3. Pour out the coconut water and save it


4. Scrape the meat off the inside wall of the coconut with a spoon. We will be using the water and meat for cooking


5. Rinse the coconut meat with water and then cut into about 1cm wide strips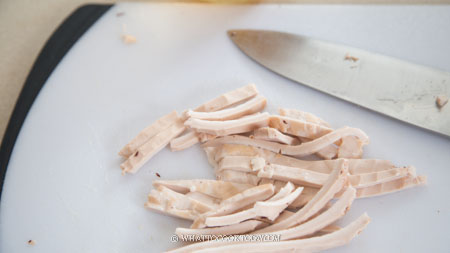 6. Cut the chicken or pork ribs into larger chunks. Bring a large pot of water to a boil and then blanch the meat for 5 minutes. Rinse off the scum with clean water


7. Put the blanched meat and the rest of the ingredients into the inner pot of the Instant Pot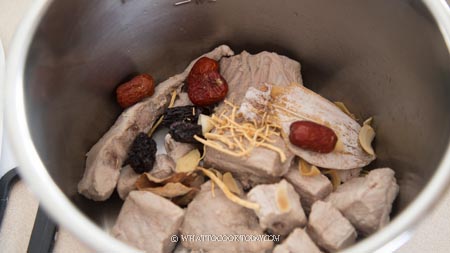 8. Don't forget the coconut meat and the coconut water. Top up with more water to just barely cover everything


9. Close the lid and turn the pressure release valve to "sealing". Press "pressure cooker" and make sure it's on high pressure. Set the timer to 20 minutes and then natural release
Carefully unlock the lid. Stir in the goji berries (I was out and so I didn't use any at the time I prepared this soup). The residual heat will soften the goji berries. Have a taste and adjust by adding salt, pepper, and a pinch of sugar to your taste
10. For a fun presentation, you can fill up the empty coconut shell with the soup and serve. Garnish with some green onion and cilantro leaves

Did you make this recipe?
I love it when you guys snap a photo and tag to show me what you've made 🙂 Simply tag me @WhatToCookToday #WhatToCookToday on Instagram and I'll be sure to stop by and take a peek for real!

Pressure Cooker Chinese Coconut Soup
Ingredients
1

young coconut

save the coconut juice and the meat
Meat choice (choose either one or half of each):
900

gr

free-range chicken / silkie chicken / Cornish hen

chop into large chunks

900

gr

pork riblets

cut into large chunks
Other ingredients:
10

gr

fresh ginger

40

gr

Chinese yam (huai san)

4

black dates

1

Tbsp

Goji berries

10

gr

dried squid

optional

1

piece

dried orange peel

Water

enough to cover
Seasoning:
Salt and ground white pepper to taste

½

tsp

sugar
Instructions
Prepare the coconut:
Since I bought a young coconut that has been cut opened, I don't have to deal with cracking the shell of the coconut open, which is not an easy task. All I need to do is cut the top part of the coconut open and pour out the coconut water and save it and scrape the meat off. We will be using the water and meat for cooking

Use a metal spoon to scrape the meat inside the coconut. Rinse with water and then cut into about 1cm wide strips
Blanch the meat:
Cut the chicken or pork ribs into larger chunks. Bring a large pot of water to a boil and then blanch the meat for 5 minutes. Rinse off the scum with clean water
Cooking:
Put the blanched meat and the rest of the ingredients into the inner pot of the Instant Pot. Don't forget the coconut meat and the coconut water. Top up with more water to just barely cover everything

Close the lid and turn the pressure release valve to "sealing". Press "pressure cooker" and make sure it's on high pressure. Set the timer to 20 minutes and then natural release

Carefully unlock the lid. Stir in the goji berries (I was out and so I didn't use any at the time I prepared this soup).The residual heat will soften the goji berries. Have a taste and adjust by adding salt, pepper, and pinch of sugar to your taste
Serving:
For fun presentation, you can fill up the empty coconut shell with the soup and serve. Garnish with some green onion and cilantro leaves
Recommended products: