Tender and aromatic kong bak (braised pork belly) is sandwiched in between soft and pillowy lotus steamed buns to make Singapore /Malaysia kong bak bao or also known as gua bao in Taiwan.
After making the lotus steamed buns or momofuku style flat buns, and this kong bak, it only makes sense to combine them both to make kong bak bao.
What is kong bak bao or gua bao?
Gua bao 割包 literally means "cut bread" in Chinese. It is popular Taiwanese street food. In English, gua bao is known as pork belly buns. In Singapore and Malaysia, it is known as kong bak bao /khong bak pao 扣肉包. Here in the U.S., the pork belly buns are made popular by David Chang's Momofuku restaurant and you will often hear people refer to it as Momofuku pork belly buns. Gua bao is basically a braised pork belly sandwiched in between lotus leaf steamed buns and in Taiwan, it is often topped with pickled mustard green and ground/chop peanuts. Gua bao is usually served as a snack (heavy snack LOL)!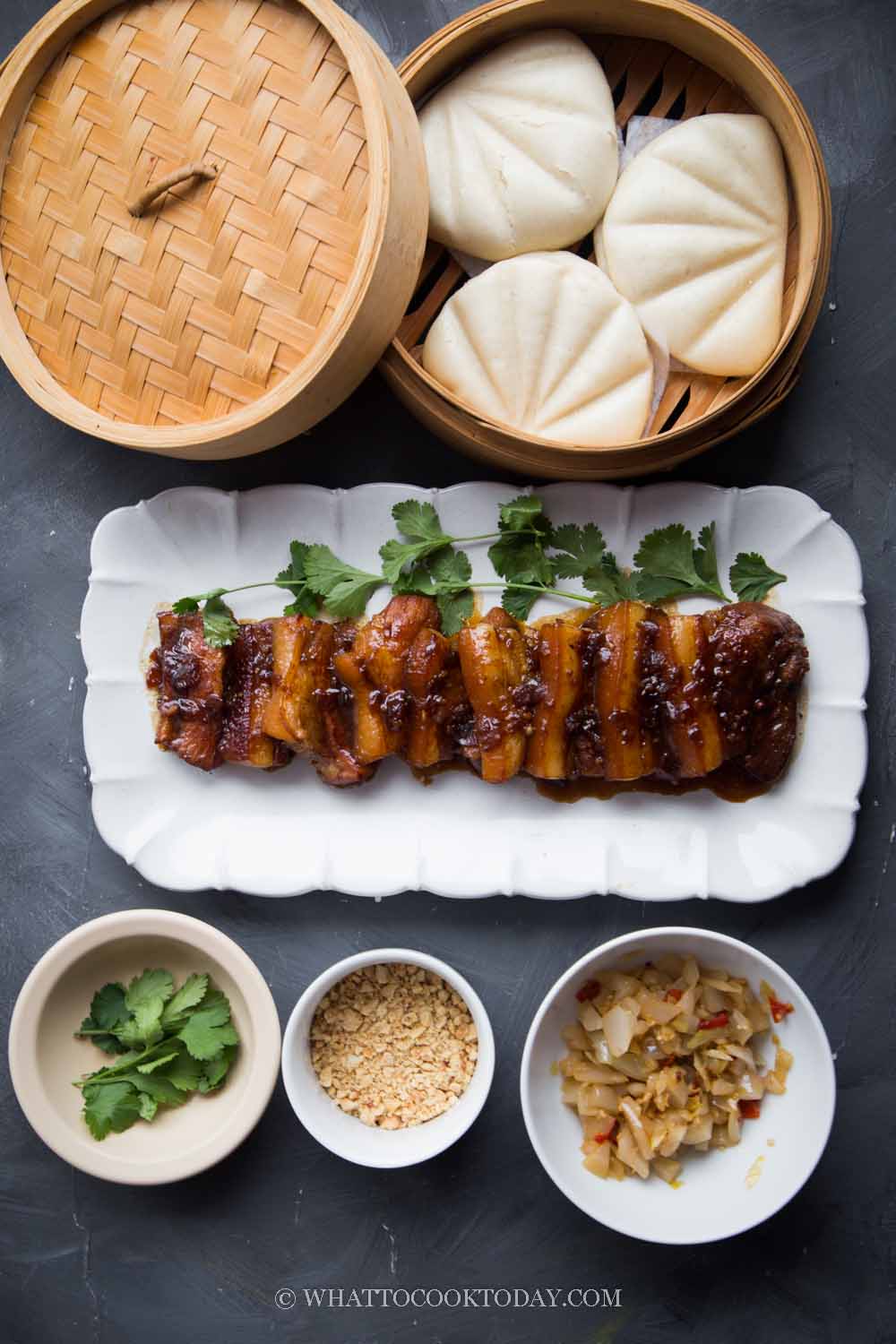 WHAT MAKES KONG BAK BAO (GUA BAO) SO GOOD
When you take that first bite, imagine the soft pillowy steamed buns with the tender, aromatic, savory and sweet kong bak! It's like an explosion of texture, flavor, and taste! My kids love kong bak pau and they would happily eat them every day if I let them.
HOW TO MAKE KONG BAK BAO
1. PREPARE KONG BAK
2. PREPARE LOTUS LEAF STEAMED BUNS
3. REST THE KONG BAK
Once the kong bak is done cooking, let them rest for 10 minutes on the chopping board before slicing.
4. REDUCE THE BRAISING LIQUID
If you prepare the day before, you will see a white layer of fat on top and the liquid will be gel-like consistency after you refrigerate the kong bak. Remove the fat layer with a spoon and discard it. Bring it to a boil until the gel turns back into a liquid and remove the pork belly to a chopping board. Lower the heat and let the liquid simmer away for the next 20 minutes or a bit longer until the liquid is reduced and thickened to a syrup consistency. You can make it thicker if you like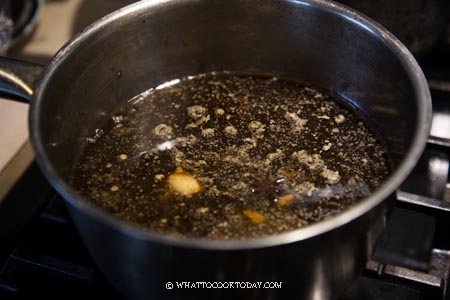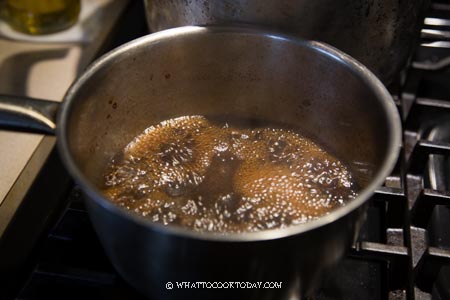 4. SLICE KONG BAK
My husband is very picky about how thick the kong bak should be sliced to make kong bak pau. He wants it to be not too thick, but not too thin either. The good size is about 1/2 inch in thickness.


5. PREPARE PICKLED MUSTARD GREEN TOPPING
Preheat a skillet. Add oil and saute garlic and chili for about 10 seconds


Add the chopped pickled mustard greens for about 2-3 minutes


Add sugar and saute for another 1 minute. Turn off the heat and set aside


6. SERVE WITH STEAMED BUNS
Place one slice of kong bak in between the flat steamed buns. Spoon some of the thickened sauce over the meat. Add some pickled mustard topping, sprinkle of chopped peanuts and few sprigs of fresh cilantro leaves. Serve immediately


I call this the Chinese version burger or slider 🙂 It's so darn good that I wish I could eat this everyday LOL!
DID YOU MAKE THIS KONG BAK BAO/GUA BA RECIPE?
I love it when you guys snap a photo and tag to show me what you've made 🙂 Simply tag me @WhatToCookToday #WhatToCookToday on Instagram and I'll be sure to stop by and take a peek for real!
The recipe was last published in 2015 and is recently updated with improved recipe, new photos and a video tutorial.
Kong Bak Bao / Gua Bao / Momofuku Pork Belly Buns
Ingredients
Caramelized pork belly:
Toppings for Taiwanese gua bao:
1

cup

chopped pickled mustard green

1

tsp

cooking oil

1

red chili

seeded, finely chopped

1

clove

garlic

grated/minced

1

tsp

sugar

½

cup

roasted peanuts

finely chopped
Veggies you can include:
Slices of fresh cucumber

Bibb lettuce
Garnish:
Fresh sprigs of cilantro leaves
Instructions
Things you can do a day or two before:
Start by making pressure cooker kong bak but do not slice it until you are ready to serve them on that day. Keep them in the braising liquid and refrigerate it. Also make these lotus leaf steamed buns. It's less overwhelming not to do everything on the same day.
Prepare mustard green (suan cai) topping:
Preheat a skillet. Add oil and saute garlic and chili for about 10 seconds. Add the chopped pickled mustard greens for about 2-3 minutes. Add sugar and saute for another 1 minute. Turn off the heat and set aside
Reduce the braising liquid:
If you prepare the day before, you will see a white layer of fat on top and the liquid will be gel-like consistency after you refrigerate the kong bak. Remove the fat layer with a spoon and discard it. Bring it to a boil until the gel turns back into a liquid and remove the pork belly to a chopping board. Lower the heat and let the liquid simmer away for the next 20 minutes or a bit longer until the liquid is reduced and thickened to a syrup consistency. You can make it thicker if you like
On the day you plan to serve kong bak bao:
Slice the pressure cooked pork belly into about 1/2-inch thickness after resting it for 10 minutes. If you want to, you can pan fry the slices of pork belly on a pan without any oil until golden brown. This is optional
How to assemble kong bak bao:
Place one slice of kong bak in between the flat steamed buns. Spoon some of the thickened sauce over the meat. Add some pickled mustard topping, sprinkle of chopped peanuts and few sprigs of fresh cilantro leaves. Serve immediately
Recommended products: