Alternating layers of pork belly and taro slices are fried and steamed in umami sauce is a Hakka delicacy treasured by many Chinese.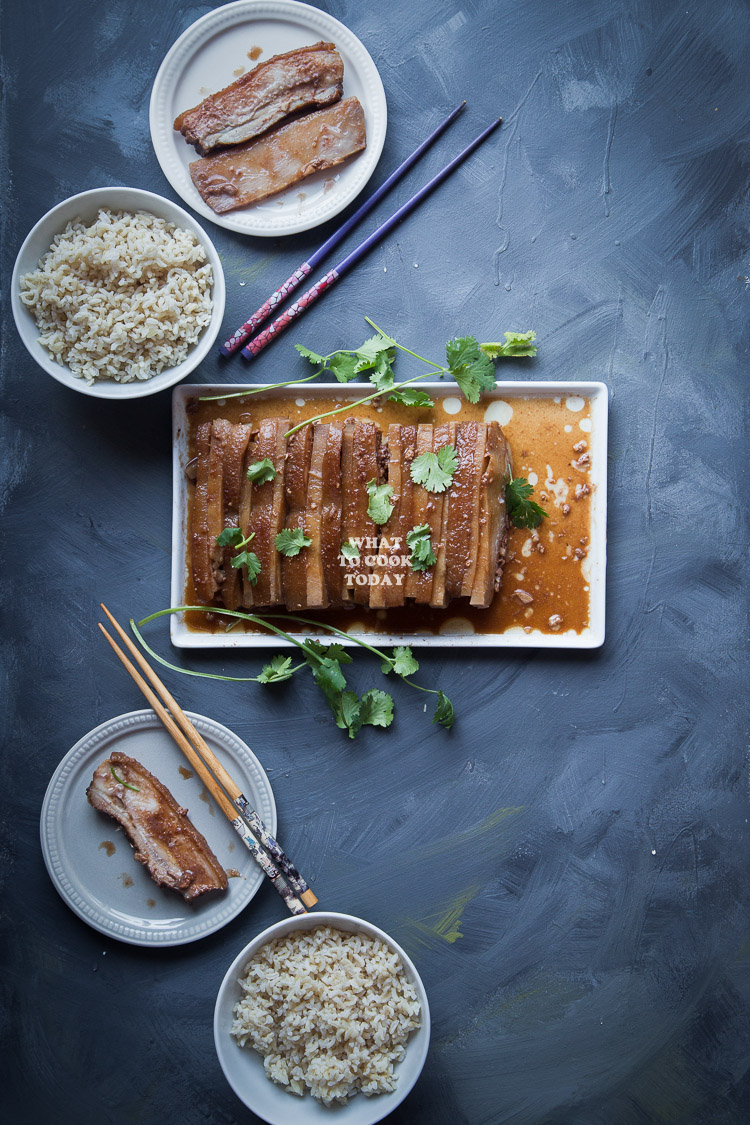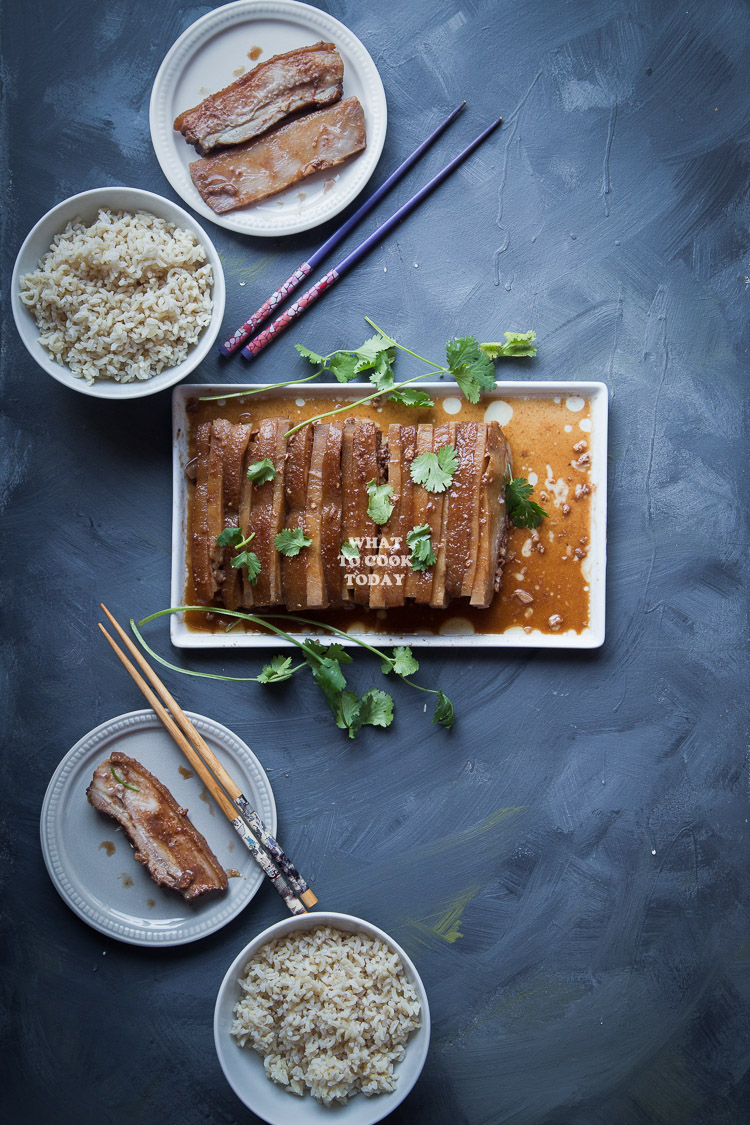 Pork belly is very much well-loved by many people in Asia, our family included. Every Chinese new year mom will prepare kau yuk and that was one of the dishes I looked forward to the most. My mom's version of kau yuk is actually different with what I have here. There are cuttlefish and dried shrimp used in the recipe and there is no taro. My father-in-law is a Hakka and he told me that was how the kau yuk he had when he lived in Aceh as a kid, pork belly with cuttlefish and dried shrimp. That is just another variation of Hakka Kau Yuk, but I think with a more wonderful intense flavor.
This version of Hakka kau yuk used taro, which I absolutely love too, is much more subtle, but seriously good too. The sauce is made with red fermented beans and tau cheo (soy bean sauce) which contribute to the overall savory umami taste.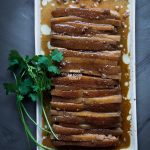 Hakka Kau Yuk (Pork Belly and Taro)
Ingredients
1

kg

slab of pork belly

800

gr

peeled taro

cut into 1/2-inch thickness

Cooking oil for deep-frying
Marinade:
2

Tbsp

Shao Xing wine

2

Tbsp

soy sauce

1

Tbsp

sugar

1

tsp

salt
Sauce:
1

Tbsp

cooking oil

3

large

shallots

peeled and finely chopped

3

cloves

garlic

peeled and finely chopped

5

cubes

red fermented bean curd

mashed with fork

1

tsp

soy bean paste (tau cheo)

1

Tbsp

sugar
Instructions
To prepare one day before:
Place the pork belly in large pot of water, enough to cover the pork and let it boil for about 5 minutes. Turn off the heat and discard the water and rinse the pork with cold water. Use a fork to prick the skin of the pork belly all over. Place the pork belly in a plastic bag with zip and pour and rub the marinade all over the pork. Push out the air from the bag and zip to seal and let it marinade overnight
On the day of serving:
Preheat about 2 inches of oil in a wok or large pan. Remove the pork belly from the plastic bag and use an absorbent kitchen towel to dab the meat dry with it. Keep the marinating juice. Gently place the pork belly, skin side down, in the oil and let it fry until golden brown and then turn to the other side and fry until golden brown. Remove and set aside.

Fry the yam in the oil until lightly golden brown. Remove to absorbent paper towel. Slice the pork belly, about the same size with the taro, 1/2-inch thickness.

Use a loaf pan or any rectangle dish and arrange the slices of pork belly alternating with the taro slices in the loaf pan. Get the water in the steamer ready

In a medium-size wok or pan, preheat about 1 Tbsp of cooking oil. Stir fry the shallots and garlic until fragrant, about 2 minutes or so. Add the red fermented bean curd, soy bean paste, sugar, and the marinating juice you save from above. Cook for about 2 minutes and then pour this on top of the pork belly and taro slices you assemble in the loaf pan. Steam this for the next 3 hours or until the pork belly is really tender. You may need to replenish the water in the steamer during that 3 hours

After 3 hours, very gently transfer the pork and taro slices into serving platter or you can wait until it's cool down a little bit and gently invert the pan into a serving platter. Garnish with few sprigs of cilantro leaves and ready to serve
Notes
You can try not to fry the taro, but they are easier to break after you steam them.
The pork belly is so tender and just melt in your mouth. Eating it together with the slices of taro is simply just incredible!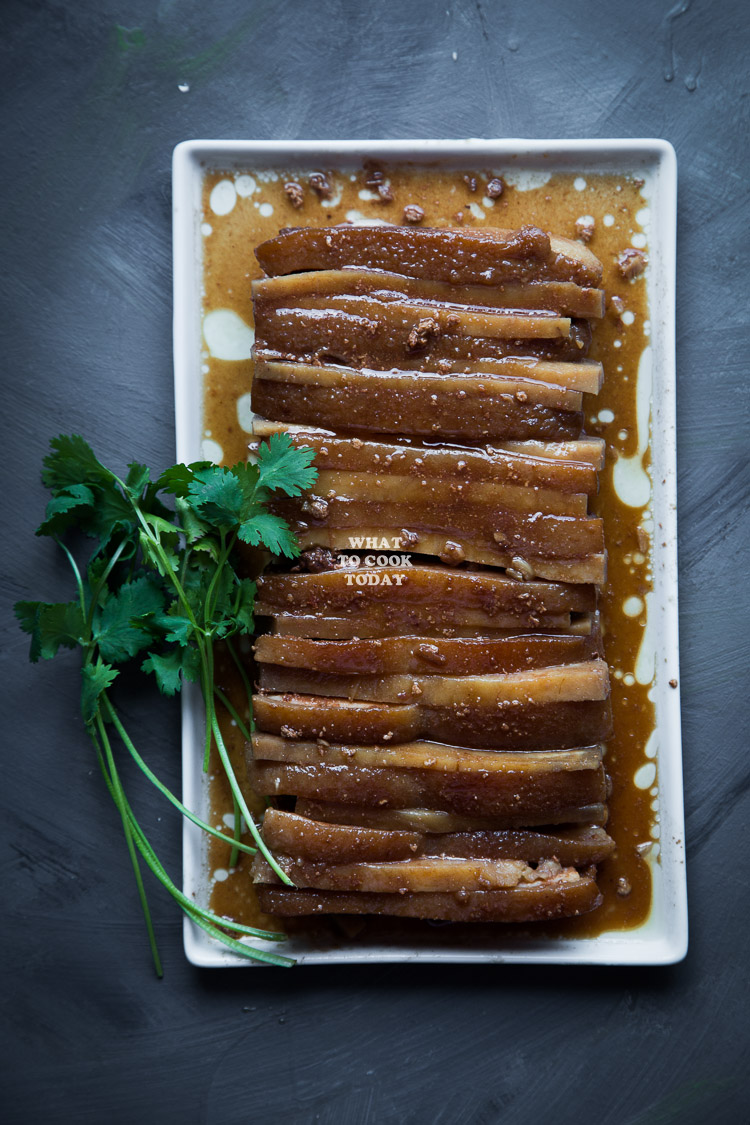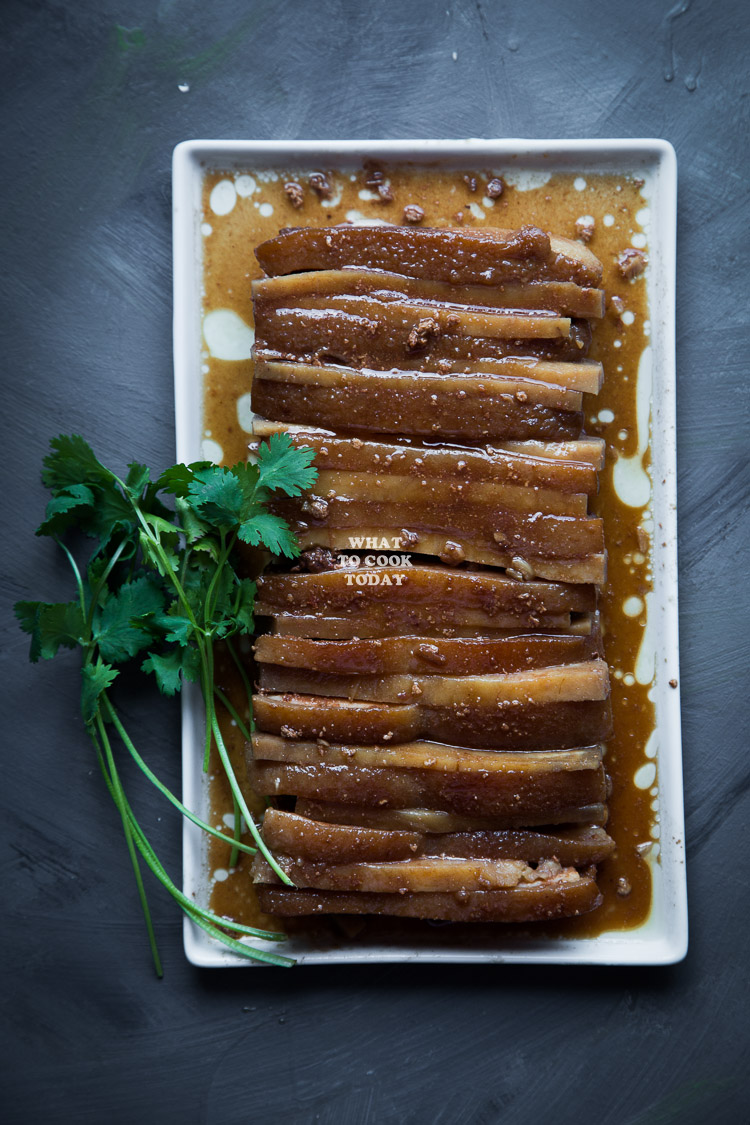 *This post contains affiliate links. You don't pay extra as a consumer if you choose to click on the link and purchase from there. What To Cook Today just receives a small commission from this. That's all. It helps to pay for some of the cost to have this blog up and running. Thank you so much for your support !