Yin Yang Sweet Mung Bean Paste Steamed Buns – Soft fluffy steamed buns stuffed with homemade sweet mung bean paste in a fun Yin Yang presentation.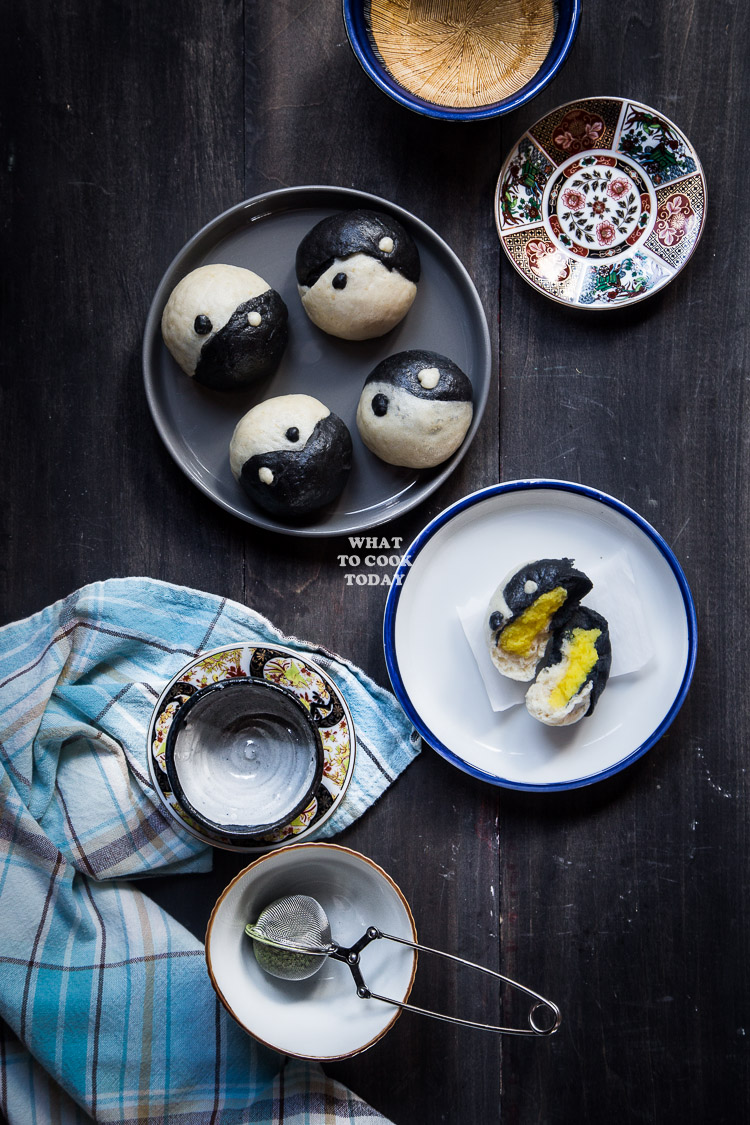 I got an email from school about a uniform sale and back to school stuff. Year in and out and I seriously do not know how the end of summer is almost upon us now. We truly have been enjoying our summer so far. The kids didn't go to any summer camps, which I'm glad they don't have to because they could stay with me and we got to do so many things together.
We listed out a few things that we wanted to do this summer. Learning how to bike and to swim was on the list for the girl. She learned to bike without training wheels in less than a day. I thought it's going to take the entire summer to do that LOL. You gotta see the smug on her face for that accomplishment 🙂 She was happy that she knew how to swim and other basic survival skills too.
I was talking to a friend about wanting to do new things for myself too. Wanting to be a bit more adventurous. So, we went for a little kayaking and had a ride on a pontoon boat. The kayaking was a bit scary for me at first because I had a 3-year old in front of me (which I probably shouldn't to begin with) and he couldn't stop moving and I thought we gonna toppled. But alas we didn't. Will I go kayak again? I will but without a 3-year old!!!!
Anyway, I just purchased an activated charcoal and ideas have been brewing inside the head. It's a coconut activated charcoal to be exact. I have been wanting to do this yin yang steamed buns for a long time and so put the two together and we got ourselves some yin yang steamed buns. Yin yang is the Chinese symbol for light and dark, men and women, positive and negative, fire and water, and so on and so forth. You get the idea. The two seemingly opposite forces are believed to actually complement each other. Too much of one thing or the other will disrupt the "balance". It's definitely one of my favorite symbols and the kids love putting the "dots" on the buns 😉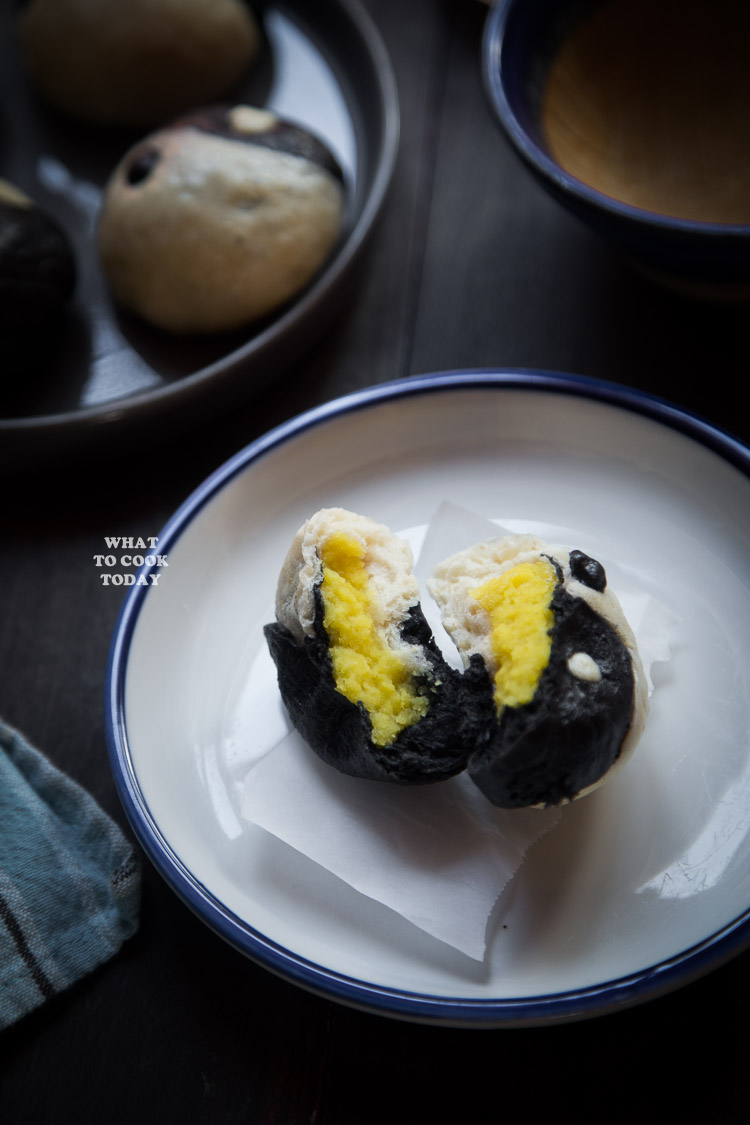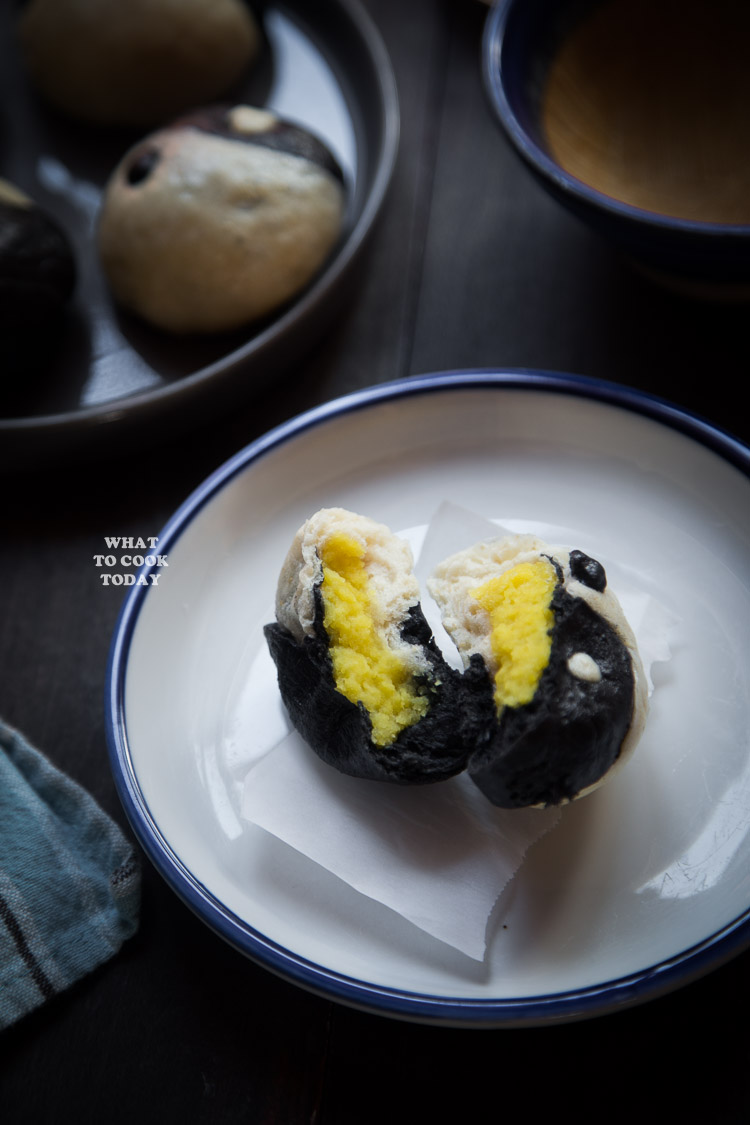 DISCLOSURE: This post contains affiliate links, which support this site at no extra cost to you. I only recommend products that I've personally used or liked. It's also a good way to show you how the products look like and you can always purchase at your local stores or wherever the cheapest. Learn more.
Yin Yang Sweet Mung Bean Paste Steamed Buns
Soft fluffy steamed buns stuffed with homemade sweet mung bean paste in a fun Yin Yang presentation.
PRINT
INGREDIENTS:
Filling (recommended to prepare one day before):
INSTRUCTIONS:
Prepare the sweet mung bean paste filling:
Soak the split mung beans for at least 6 hours. Drain off the water and steam on high heat for about 30 minutes. If you can easily mash it with fork, then it's done. I put this in a blender and blend into a smooth paste

Place the mung bean paste, sugar, and oil in a large skillet. Cook until the sugar melted and the mung bean paste is smooth and doesn't stick to the skillet anymore. Remove from the heat and let it cool down and store in refrigerator until ready to use. They can be stored in the fridge for up to 7 days
Preparing the dough:
Place 1 tsp sugar, yeast, and warm water in a bowl. Give it a stir and let it sit for 10 minutes to activate the yeast. In another bowl, mix flour and sugar

Pour the yeast mixture into the dry ingredients.. Add the oil. Use a dough attachment hook and start kneading the dough until it forms a smooth non-sticky dough, about 8 minutes. If you are kneading by hands, you need to knead for around 15 minutes until the dough is really smooth and no longer sticky. The kneading part is very important in yielding that smooth steamed buns

Divide the dough into two equal portion. Place one in a lightly oiled large bowl and cover with plastic wrap and let it rise at a warm place. Add charcoal powder to the other dough and knead until the color is evenly distributed, which is black. Cover and let it rest at a warm place too
Wrapping:
Place both doughs on a lightly floured surface. Roll them into long logs and then divide equally into 16 pieces of yin and 16 pieces of yang. Reserve a tiny portion of yin and yang dough (for the dots)

Work with two pieces at a time and cover the rest to prevent drying. Place both doughs next to each other and then flatten the dough with your palm and use a small rolling pin to roll into a circle about 4 inches in diameter. So half will be white and the other half will be black.

Divide the mung bean paste into 16 equal balls or you can use a cookie scoop to scoop the filling on the center of the wrapper and gather all the sides to the middle and pinch to seal. Place it on a parchment paper seam side down. Continue with the rest. Pinch a very tiny dots from the dough you reserved earlier and place one on a black portion and the other on the white portion.

Place the steamed buns on a large tray cover with a large clean towel and let them proof for 30 minutes. It won't double in size, but will puff up some
Steaming:
Bring the water in a steamer to a rolling boil. Wrap the lid with a cloth. This will prevent water dripping from the lid and too much steam will make the bao has burn spots. Place some of the buns on the steamer and lower the heat and steam on medium-low heat for about 10 minutes.


Turn off the heat and let the buns sit in the steamer for 2 minutes and then remove from the steamer to let them cool down
Storing:
I usually made this in a big batch and store the rest by placing them in a freezer bag. They can be stored up to 1 month. Place them on a baking sheet, not touching each other. Let them freeze for about 1 hour and then transfer to zip lock bag.

They can be reheated on the steamer over medium-high for about 5 minutes and as good as new
RECIPE NOTES:
You can increase the amount of sugar and oil in the mung bean paste filling. I half the amount of sugar in the recipe as I don't want it to be too sweet and if you add more oil, it should be even smoother. It's your call!
The sweet mung bean paste can be used for Chinese moon cake, ang ku kueh, or other Asian pastries and desserts