Super Easy Pressure Cooker Japanese Chicken Curry – Moist and tender pressure-cooked chicken pieces are simmered in thick and rich Japanese-style curry roux sauce (カレーソース karē sōsu) will quickly become your household staple.
WHAT IS JAPANESE CURRY (Karē)?
Curry is also a popular dish in Japan. According to wikipedia, curry was introduced to Japan during the Meiji era (1869–1913) by the British. The dish became popular and available for purchase in supermarkets and restaurants in the late 1960s. It has been adapted since its introduction to Japan, and is so widely consumed that it can be called a national dish. The curry is made with spices and then thickened with a starch and more often that not, sweetened with grated apple. A wide variety of vegetables and meats are used to make Japanese curry. The basic vegetables are onions, carrots, and potatoes. For the protein, beef, pork, and chicken are commonly used. The Japanese curry is more like a stew with curry roux added in the end if you ask me.

I learned about the Japanese curry back in college more than 2 decades ago. It's easy and it's so delish and it somehow reminds me of the Indonesian Sate Padang sauce, which is also a thickened sauce with very similar spices profile. The curry roux can be made from scratch or from ready-made/instant curry roux. This is the brand I've always used since the first time I was introduced to it (not sponsored). You can use whatever brand you like. There are mild, medium, and hot versions. The hot version barely made a ding to me though :), but that's just me. I tolerate crazy spicy food just so you know!
A QUICK RUN DOWN ON HOW TO MAKE GOOD JAPANESE CHICKEN CURRY:
1. Caramelized the onions first
The onions will definitely add that depth of flavor and sweetness to the curry
2. Cut the veggies and meat into equal size the best you can
This will ensure that everything will cook at the same time
3. Add grated apple
The Japanese homecooks like to add grated apples to their curry for that extra sweetness
4. Add curry roux last
Unlike Indonesian curry or Indian curry I've cooked where spices are added at the beginning of the cooking, Japanese curry roux is added last
WHY I LIKE TO MAKE THIS JAPANESE CHICKEN CURRY WITH PRESSURE COOKER (INSTANT POT)
This post is not sponsored by Instant pot, but I love my Instant pot. I've been finding ways to cook everything I can in that 6-quart pot I own. I like it because:
1. The convenience
I can pretty much set and forget
2. Everything in one pot
I can saute the veggies in there and pressure cook after that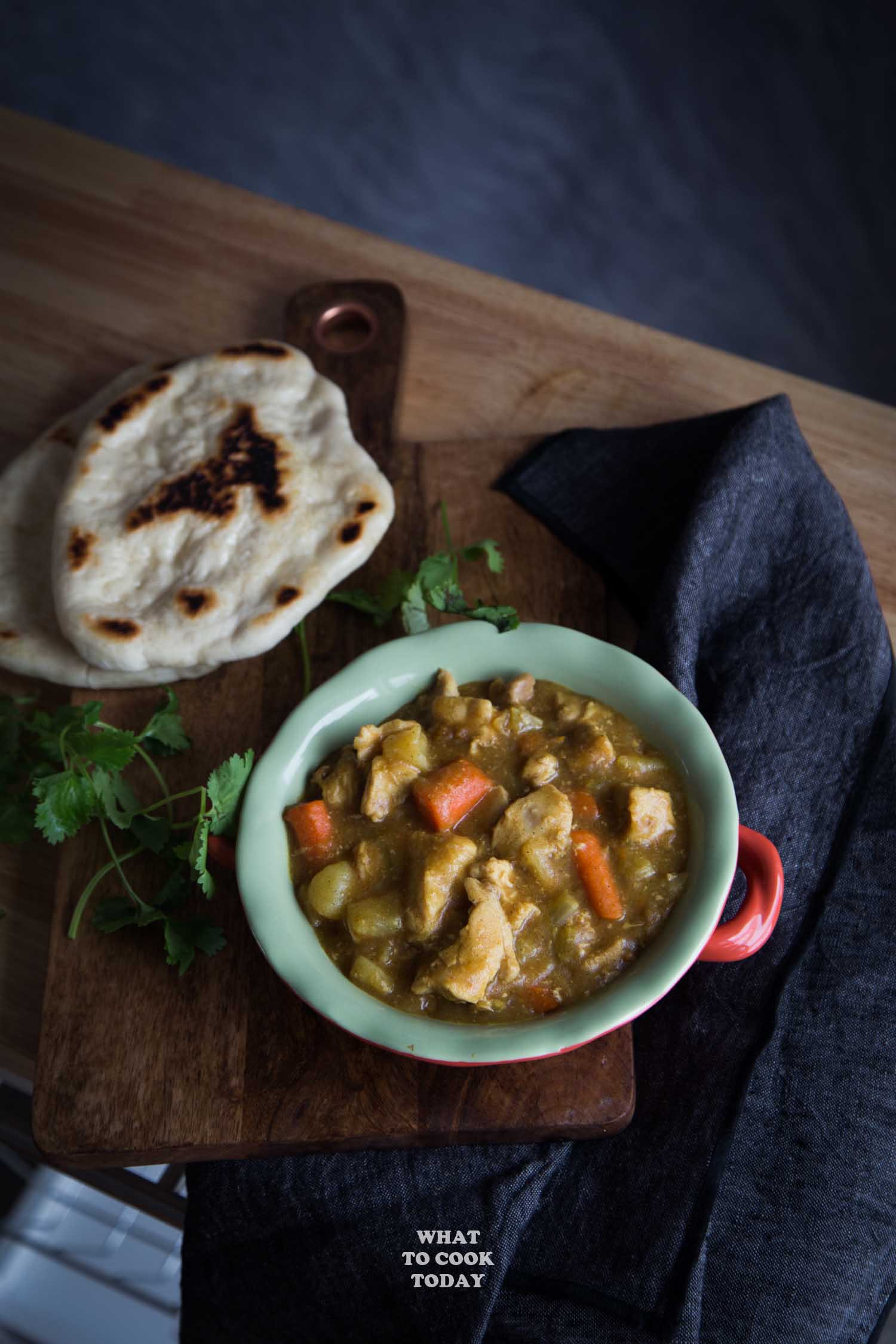 WHAT TO SERVE WITH THIS JAPANESE CHICKEN CURRY?
Japanese curry is typically served with rice (Kare Raisu). It's a little unorthodox, but I served the curry with this seriously good homemade garlic naan. Moping that thick sauce with the bread is the best thing one can do.

*Recipe is written for 6-quart Instant Pot. Cooking time should remain the same for 8-quart size but will take longer to pressurize. For mini duo (3-quart), I recommend to half the recipe and use the same amount of time to cook*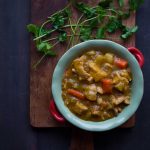 Super Easy Pressure Cooker Japanese Chicken Curry
Ingredients
2

Tbsp

cooking oil

1

large

onion

peeled finely chopped

1 ½

lbs

boneless skinless chicken thigh

cut into bite-size pieces

2

stalk

celery

cut into 1/2-inch pieces

2

large

Yukon potatoes

peeled and quartered

2

medium size carrots

peeled and cut into large chunks

2

cups

chicken stock

½

cup

grated apple

honey crisp is a good one

100

gr

Instant Japanese curry roux block

about 3.5 oz
Instructions
Using Instant Pot:
Press saute on instant pot. Once it says "hot", add cooking oil and swirl to cover the base of the pot. Add onion and cook until the onion is soft and slightly caramelized about 5 minutes. Add chicken pieces and stir until they turn opaque. Add the carrot, potato, celery, and grated apple. Stir to mix everything. Add 2 cups of chicken stock

Turn off saute mode. Cover the lid and turn the steam release handle to seal and press "pressure cook" and set the timer for 10 minutes. When the timer is up, release pressure immediately. Once the pressure valve has collapsed, unlock the lid. Break in the curry roux block into pieces and let the curry roux melt into the stew. Stir to mix everything. The curry would be thick and rich. Serve immediately with rice or flatbread
Stove-top method:
Preheat oil in a large heavy-bottom pot. Add onion and cook until the onion is soft and slightly caramelized about 5 minutes. Add chicken pieces and stir until they turn opaque

Add the carrot, potato, and celery, and cook for another minute. Add the grated apple, and chicken stock. Bring it to a boil and then lower the heat to let it gently simmer until the chicken is cooked through and the veggies are soft but not mushy

Break the instant curry roux into pieces and add to the stew. Stir to mix and the sauce will start to get thickened. Turn off the heat and serve immediately with rice or flatbread
Recommended products: